As peace talks to end war in Yemen continue, three local aid workers from the Norwegian Refugee Council describe its devastating impact
M

ore than 10,000 people in Yemen have been killed and 3 million forced to flee their homes as a result of almost four years of fighting. An estimated 22 million people are now in need of aid and up to 13 million face starvation. As talks to end the conflict continue in Sweden, three Yemeni aid workers from the Norwegian Refugee Council talk of the physical and emotional destruction the fighting has brought to their country.
Marwan Al-Sabri, 32, water and sanitation officer in Taiz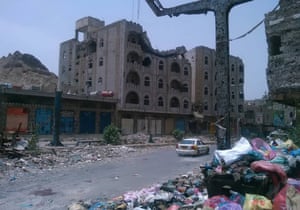 I was young when the war started, aspirational and ambitious. I could never have imagined the power war has to trash our dreams.
I have already lost friends and relatives in this brutality. Some that have died and others I have been cut off from. I don't know where they are now; whether they are alive or dead.
We have lost the right to live safely and with dignity
If you haven't seen Taiz, it is impossible to imagine what war has done to this city. The damage hits in every way. The missiles have torn apart buildings and the siege has torn apart families. Movement from the north to the south of the city can take six hours, using dangerous roads and tunnels. Before the war, it took 10 minutes.
War brings out the worst in a society. People are subjected to extortion, threats and detention at checkpoints. The violence has destroyed our social fabric and created smaller conflicts. It has eroded us materially and morally, we have lost the right to live safely and with dignity.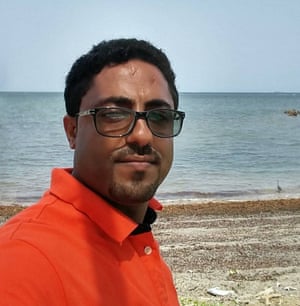 Marwan Al-Sabri: 'The damage hits in every way.' Photograph: NRC
I already live in this war, but humanitarian work exposes you to the very worst of it, to the sadness and tragedy of people suffering the most. We already know that the shelling kills people, but I am seeing what a broken economy does too. People have been left so desperately poor that they kill themselves before the hunger does.
Our work is important, but it is also horrifying.
There used to be at least 20 young people from my village enrolling in university every year, most of them to study medicine or engineering. No one considered joining the army or even thought of carrying weapons. But almost no one can afford university now. Jobs are scarce, prices are high, joining an armed group is one of the only ways to earn a living. Young, untrained men are going to the frontlines because they have no other choice.
Some of the stories break me. I met recently a 55-year-old man named Mohammad Mahioub Ahmed Saif who told me that his daughter, Taybeh, had stepped on a landmine the week before her wedding. It blew off one of her legs and badly damaged the other, leaving her bedridden and entirely dependent. Mohammad's village is literally a minefield. He sold everything he could and brought his family to the house of a family member, where they are sharing a half-built room with no doors and no windows.
Mohammad cried when he told me his story and I cried too.
Hadil Al-Senwi, 27, education officer in Sana'a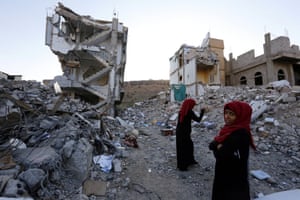 Four years of war makes me miss the old days, even if they were not ideal. I realise now that there is nothing more important in life than safety. That's something this war has taken from us.
With its bombs and missiles, this war has brought immense fear to our lives. We live under constant threat, we are socially unstable, our chance of education is dead, and our country is politically insecure and economically broken.
We are never free of anxiety.
Every person in Yemen has had their life radically changed by his war. People seem empty to me now; we do whatever we have to each day to let time pass and try to forget about the situation.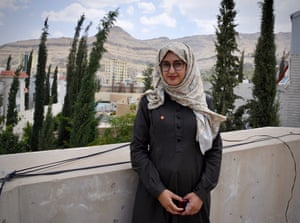 Hadil Al-Senwi: 'Children now carry the burden of stress and labour like adults.' Photograph: Becky Bakr Abdullah/NRC
We hide our inner beliefs because we know that silence is a safer option than saying anything that could upset people in power and cause us more problems.
The idea of childhood that I knew has disappeared and children now carry the burden of stress and labour like adults. An Italian friend said to me that Yemeni children have facial features of people far older.
I feel desperately sorry that our children have tasted nothing but the bitterness of war.
The education that should be their right has instead become a dream. Parents whose salaries are not paid or [whose] jobs are lost cannot provide for the basic needs of their children and education is, as usual, the first casualty.
We used to have dreams but now we live in a nightmare. We are so eager to hear the sound of peace and to rebuild our country. We deserve better than this.
RIMBO, Sweden (Reuters) – Yemen's Houthi movement and the Saudi-backed government on Tuesday exchanged lists of some 15,000 prisoners for a swap agreed as a confidence-building measure at the start of U.N.-sponsored peace talks.
Both parties at the consultations in Sweden, set to last until Dec. 13, have yet to settle major sticking points, including a ceasefire in the port of Hodeidah, reopening of Sanaa airport and shoring up of the central bank.
The talks are being held as Western allies press Saudi Arabia and the United Arab Emirates, leaders of a military coalition backing the government of Abd-Rabbu Mansour Hadi, to end a war that has pushed Yemen to the verge of famine.
Delegates said the prisoner swap would be conducted via Houthi-held Sanaa airport in north Yemen and government-held Sayun airport in the south – a process overseen by the United Nations and the International Committee of the Red Cross.
"We have exchanged more than 7,000 names from each side, including some 200 high-ranking officers," said Ghaleb Mutlaq, a delegate for the Iran-aligned Houthis.
Hadi's foreign minister tweeted that the government had submitted a list of 8,576 prisoners, including activists and journalists.
Area that has been home to foreign embassies and key ministries has been inaccessible to most Iraqis since 2003 US-led invasion
Iraq has begun removing cement walls from areas surrounding its capital's most fortified enclave, opening parts of the so-called Green Zone to traffic in a symbolic move coinciding with nationwide celebrations to mark the anniversary of the country's costly victory over Islamic State.
The partial reopening of parts of the high-security area is intended to portray increased confidence in the country's overall security situation and has also been billed as an act of transparency following protests against corruption and poor public services.
The enclave on the west bank of the Tigris became home to foreign embassies and key government buildings after the US-led invasion of 2003 and has since then been surrounded by blast walls and barbed wire, inaccessible to most Iraqis.
GENEVA (Reuters) – Up to a 250,000 Syrian refugees could return to their devastated homeland in 2019, while many others face problems with documentation and property that the Damascus government must help resolve, the U.N. refugee agency UNHCR said on Tuesday.
FILE PHOTO: Syrian refugee women stand in front of their homes at Azraq refugee camp, near Al Azraq city, Jordan, December 8, 2018. REUTERS/Muhammad Ham
Some 5.6 million Syrian refugees remain in neighboring countries – Turkey, Lebanon, Jordan, Egypt and Iraq – Amin Awad, UNHCR director for the Middle East and North Africa, said.
They include 1 million Syrian children born abroad whose foreign birth certificates the Assad government has agreed to recognize, he said.
KABUL, Afghanistan (AP) — An Afghan official says a suicide car bomber has struck a security convoy on the outskirts of Kabul, killing four security forces.
Nasrat Rahimi, deputy spokesman for the Interior Ministry, said six other forces were wounded in Tuesday's attack.
No one immediately claimed responsibility, but the Taliban and an Islamic State affiliate have both carried out attacks in the capital.
Elsewhere in Afghanistan, the Taliban attacked a checkpoint in the southern Kandahar province late Monday, killing eight police.
Aziz Ahmad Azizi, the spokesman for the provincial governor, said 11 insurgents were killed in the battle.
The Taliban control nearly half of Afghanistan and carry out daily attacks that mainly target security forces.
By Khaama Press on 11 Dec 2018 10:29am .
An explosion took place in the vicinity of Paghman district of Kabul earlier today, leaving at least 12 dead or wounded.
The security officials confirm that an explosion has taken place in the vicinity of Bala Chinar area of Paghman district.
The Ministry of Interior spokesman Najib Danish says at least four security personnel have lost their lives in the explosion.
Deputy interior ministry spokesman Nusrat Rahimi, had earlier said a convoy of the security forces have been targeted in the blast.
In the meantime, officials in the Ministry of Public Health are saying at least six people have lost their lives in today's attack and at least six others have sustained injuries.
No individual or group has so far claimed responsibility behind the explosion.