Families of Isis militants are outcasts to their own society and unwanted by the countries of their foreign fathers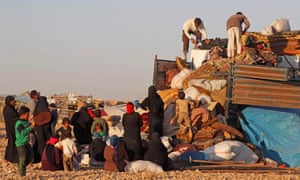 New arrivals at the Ain Issa camp in Syria for people displaced by fightings between the Syrian Democratic Forces and Islamic State militants. Photograph: Erik de Castro/Reuters
I

n a corner of a teeming refugee camp, 40 miles north of Raqqa, a small group of women and children are kept alone. They mill together at the back of a blue building; blond and brown haired children darting in between blankets that their mothers have hung as doors across small, dank rooms. Others in the Ain Issa camp call them "the Daeshis", meaning Islamic State families. No one wants to know them.
The women are widows of dead Isis fighters. All are foreigners, with futures more bleak than the 12,000 or so newly displaced of Syria and Iraq in the camp, or the many millions more victims of war and insurgency now living in tents across the Middle East.
They arrived with hordes that fled Raqqa from early May. Their faces, and those of their children, were distinctive from the local people, who soon gave them up to the Kurdish officials who run the camp. Families of vanquished jihadis who were thought to be of intelligence value were segregated and taken elsewhere. The broken families left behind are deemed to be of much less use.
UNITED NATIONS (AP) — Saudi Arabia's U.N. envoy said Friday "there is no justification whatsoever" for the Saudi-led coalition fighting rebels in Yemen to be on a U.N. blacklist for killing and injuring nearly 700 children in 2016.
Ambassador Abdallah Al-Mouallimi rejected "the inaccurate and misleading information and figures" in the U.N.'s annual report on Children and Armed Conflict.
But he told a news conference that one casualty is too many, and "we continue to endeavor to reduce this number to the lowest possible level."
This year's report was eagerly awaited because last year the U.S.-backed coalition was put on the blacklist but removed by then-Secretary-General Ban Ki-moon under intense pressure from Saudi Arabia.
His successor, Secretary-General Antonio Guterres, changed the blacklist which for the first time this year lists governments, rebel groups and other parties to conflicts that are taking action to protect children — and those combatants that aren't doing anything.
ANKARA/BEIRUT (Reuters) – Syrian rebel fighters are launching a major military operation backed by Turkish forces into a northwestern area of Syria largely controlled by jihadists, Turkish President Tayyip Erdogan said on Saturday.
Rebels said they were preparing to start the operation soon in Idlib province and surrounding areas, which represent Syria's most populous rebel-held area, and residents reported Turkish authorities removing sections of a border wall.
The incursion is being carried out after Iran and Russia, which back President Bashar al-Assad, and Turkey, which supports the rebels, agreed last month to reduce fighting between insurgents and the government in the northwest.
It seems aimed at curbing the Tahrir al-Sham alliance, Syria's strongest jihadist group apart from Islamic State, and at securing Turkey's frontier.
Baghdad (IraqiNews.com) Five persons were wounded in a bomb blast in western Baghdad, a security source said on Sunday.
"A bomb exploded near stores in al-Bakriya region, west of Baghdad, leaving five persons injured," the source told Baghdad News.
In related news, the Baghdad Operations Command announced seizure of nine explosives in different parts in the capital.
Violence in the country has surged further with the emergence of Islamic State Sunni extremist militants who proclaimed an "Islamic Caliphate" in Iraq and Syria in 2014.
DIBIS, Iraq — The prisoners were taken to a waiting room in groups of four, and were told to stand facing the concrete wall, their noses almost touching it, their hands bound behind their backs.
More than a thousand Islamic State fighters passed through that room this past week after they fled their crumbling Iraqi stronghold of Hawija. Instead of the martyrdom they had boasted was their only acceptable fate, they had voluntarily ended up here in the interrogation center of the Kurdish authorities in northern Iraq.
For an extremist group that has made its reputation on its ferociousness, with fighters who would always choose suicide over surrender, the fall of Hawija has been a notable turning point. The group has suffered a string of humiliating defeats in Iraq and Syria, but the number of its shock troops who turned themselves in to Kurdish officials at the center in Dibis was unusually large, more than 1,000 since last Sunday.
The fight for Mosul, Iraq's second-largest city, took nine months, and by comparison, relatively few Islamic State fighters surrendered. Tal Afar fell next, and more quickly, in only 11 days. Some 500 fighters surrendered there.
The Iraqi military ousted the Islamic State, also known as ISIS and ISIL, from Hawija in 15 days, saying it had taken its forces only three days of actual heavy fighting before most of the extremists grabbed their families and ran. According to Kurdish officials, they put up no fight at all, other than planting bombs and booby traps.
Seen up close, the fighters' pretense of bravado soon disappears.
BAGHDAD — The office of Iraq's parliament speaker says Salim Jabouri is traveling to the country's Kurdish region to meet with its leader, Masoud Barzani.
The move comes in the wake of the Kurdish regional vote for independence in a controversial referendum two weeks ago.
Jabouri's office says the two leaders will meet Sunday in Irbil.
Baghdad, Turkey and Iran have all threatened punitive measures against the Kurdish region if it does not annul the results of September's non-binding referendum, saying they will not accept Iraq's disintegration.
Iraq's landlocked Kurdish region produces up to a quarter of Iraq's petroleum output.
KABUL, Afghanistan (AP) — An Afghan official says at least seven Taliban insurgents have been killed during an airstrike by Afghan security forces in northern Sari Pul province.
Nasratullah Jamshidi, spokesman for the Army Corps in the northern region, says 11 other insurgents were wounded late Saturday when air forces targeted a militant training center in Kohistanat district.
There was no immediate comment from the Taliban.
In a separate report from northern Baghlan province, two police officers were killed after militants attacked their check point, said Zabihullah Shuja, spokesman for the police chief. One other police officer was wounded in the attack, which took place in the Dand-e Ghori area of the province, he said.
A recent Taliban propaganda video indicates just how emboldened the group has become: showing its fighter staging a public demonstration in Afghanistan's Nimruz province.
In a video reported by Military Times, a long line of military vehicles and pickups can be seen moving in broad daylight and unopposed across a desert in the southwestern province.
Propaganda videos are par for the course for the Taliban, but the most recent demonstrates the group's ability to organize a large concentration of vehicles and personnel openly and without fear of reprisal from Afghan or coalition forces.
Afghan President Mohammad Ashraf Ghani once again called on Taliban group to renounce violence and join peace process, insisting that the option lies with the group and therefore they should be specific in their review. Speaking during a ceremony for the transfer of the UH-60 Black Hawks to the Afghan forces in Kandahar Airfield, President
The commander of the NATO-led Resolute Support mission and the US forces in Afghanistan General John Nicholson has said the Taliban and their supporters will never win. Speaking during a ceremony for the transfer of the UH-60 Black Hawk helicopters to the Afghan forces, Gen. Nicholson said the war against terrorism is not only the
The Taliban group reacted in panic regarding the handover of the first batch of the modern UH-60 Black Hawk helicopters to the Afghan security forces. The Taliban group spokesman Zabiullah Mujahid in a statement said "US commander & Ashraf Ghani must remember that our fight is not based on technology but is an ideologically motivated
The Taliban supreme leader Mullah Hebatullah Akhundzada has reportedly started efforts to end the conflict with the Islamic State of Iraq and Syria (ISIS) terrorist group. A source in South of Afghanistan privy of the development has said the leader of the Taliban group has instructed his fighters to end the war with the terror