14 Dec
United States Wars, News and Casualties
Damn The War Criminals,
Bush,Cheney,Rice,Rumsfeld,Wolfowitz, Powell and Blair from England.
.
The war ended for those children, but it has never ended for survivors who carry memories of them. Likewise, the effects of the U.S. bombings continue, immeasurably and indefensibly.
How many Iraqis have died as a result of the invasion 15 years ago? Some credible estimates put the number at more than one million. You can read that sentence again.
The invasion of Iraq is often spoken of in our country as a "blunder," or even a "colossal mistake." It was a crime.
Those who perpetrated it are still at large. Some of them have even been rehabilitated thanks to the horrors of a mostly amnesiac citizenry.

We condemned children to death, some after many days of writhing in pain on bloodstained mats, without pain relievers. Some died quickly, wasted by missing arms and legs, crushed heads. As the fluids ran out of their bodies, they appeared like withered, spoiled fruits. They could have lived, certainly should have lived – and laughed and danced, and run and played- but instead they were brutally murdered. Yes, murdered!

The McGlynn

War News
Millions of people face slaughter or starvation – the UK must stop sending billions in arms exports to Saudi Arabia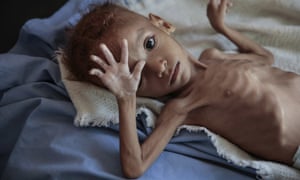 'About 14 million people are on the edge of famine as a result of a war in which the UK government is complicit.' Photograph: Hani Mohammed/AP
C

ount the number of times you see or hear the phrase "peace on Earth" in the next week or so. It's one of the great Christmas themes – or great Christmas cliches, if you want to be cynical. But in the year when we remember the centenary of the end of the first world war, when the image of mass graves for millions is fresh in our minds, it needs to be more than a seasonal bromide.
It's not even as though British involvement in war were a thing of the past. Thank God, most of us have not directly experienced in our lifetimes the impact of full-scale war; but our official policies are still helping to support large-scale slaughter and long-term misery elsewhere in the world. Think of Yemen, where up to 14 million people are on the edge of famine as a result of a war that continues to claim countless lives; a war in which the UK government is complicit through its sales of arms to Saudi Arabia. These arms sales have increased by two thirds since 2016, and now account for nearly half of Britain's major arms exports.
A report published today by the charity Christian Aid on the UK government's double standards highlights the painful tension between our words and actions about building peace and the volume of arms-related British exports we continue to take for granted. About half of our development spending goes to states and regions affected by chronic violent conflict, and about half of our arms exports go to states where military force is used against its citizens or vulnerable neighbours. It's as if we are creating, or at least helping to maintain, the very conflicts whose terrible effects we then spend money on mitigating.
This is both economic and moral nonsense. Sustainable development needs political security and the rule of law. It means people having a safe place to call home, a secure food supply and guaranteed access to medical and educational services. The best use of our aid budget will always be in projects that create this kind of stable environment – which means that peace-building is an intrinsic aspect of development. If we want to avoid wasting our foreign aid funds, we must invest in secure institutions, just process, and above all the avoidance of armed conflict. We cannot do this if we are at the same time unapologetically resourcing war.
The US Senate has voted to withdraw US military aid for Saudi Arabia's war on Yemen and to blame the kingdom's crown prince for the murder of a journalist.
The historic vote is the first time any chamber of US Congress has agreed to pull US forces from a military conflict under the 1973 War Powers Act.
Some of President Donald Trump's fellow Republicans defied him to pass the measure with Democrats by 56-41.
But the resolution is seen as largely symbolic and unlikely to become law.
What did the Senate actually do?
The non-binding "war powers resolution" calls upon President Trump to remove all American forces engaging in hostilities in Yemen, except for those combating Islamist extremists.
The Senate then unanimously passed a resolution blaming Saudi Crown Prince Mohammed bin Salman for Washington Post reporter Jamal Khashoggi's murder in October, and insisting that the kingdom hold accountable those responsible.
The US chose to cease refuelling Saudi war planes last month, and Thursday's resolution – if it were ultimately passed into law – would prohibit that practice from resuming.

What did senators say?
Independent Vermont Senator Bernie Sanders, who co-sponsored the measure with Republican Mike Lee of Utah, hailed the vote.
"Today we tell the despotic government of Saudi Arabia that we will not be part of their military adventures," he said.
He described the outcome as a signal to "the world that the United States of America will not continue to be part of the worst humanitarian disaster on the face of the earth".
Republican Senator Bob Corker told MSNBC: "If he was before a jury, the crown prince, he would be convicted in my opinion in 30 minutes."
Syrian Democratic Forces capture Hajin in Deir ez-Zor province after heavy fighting
Kurdish-led fighters have captured the last Syrian town held by Islamic State, activists said.
The fall of Hajin follows days of intense battles in Isis's last remaining stronghold near the Iraqi border in eastern Syria. The group still holds some villages nearby.
The US-backed Syrian Democratic Forces have been fighting to take Hajin and the surrounding villages in Deir ez-Zor province for more than three months. The offensive intensified in recent weeks with the arrival of reinforcements from northern Syria.
The UK-based Syrian Observatory for Human Rights said the SDF took Hajin early on Friday morning, after fierce fighting under the cover of US-led airstrikes. It said some Isis fighters had withdrawn to the villages and that fighting was still going in the fields surrounding Hajin.
Omar Abu Layla, of the Deir Ezzor 24 monitoring group, which is also based in Europe, said Hajin had been taken, and that some Isis fighters were still holed up in small pockets on the edge of the town.
The area is home to about 15,000 people, including 2,000 Isis fighters who have been mounting suicide attacks and counteroffensives against the SDF. Hundreds of civilians have fled the enclave in recent days toward areas controlled by the SDF east of the Euphrates and government-controlled regions on the west bank of the river.
AIN ISSA, Syria (Reuters) – The U.S.-backed Syrian Democratic Forces will respond strongly to any Turkish attack but is pressing diplomatic efforts to deter an assault, its commander-in-chief said on Thursday.
In a rare interview, Mazloum Kobani told Reuters that Washington had made "serious attempts" to prevent a Turkish offensive against Kurdish fighters who control a swathe of northern Syria at the Turkish border, but the United States should ramp up its efforts further.
The SDF, which is spearheaded by the Kurdish YPG militia, has been at the heart of the U.S.-backed fight against Islamic State. It has seized vast territory from the jihadists with the help of U.S. warplanes and special forces.
SDF commander-in-chief Kobani warned that a Turkish assault would tie up YPG fighters who are currently fighting Islamic State remnants in eastern Syria, allowing the jihadists to spread again.
"We are ready for any attack and will respond strongly…within our areas," said Kobani, a founder of the SDF and YPG. "Till now, our diplomatic attempts are ongoing to deter this."…………U.S. support for the YPG has infuriated NATO ally Ankara, which deems the Kurdish fighters terrorists. Turkey says the YPG is an extension of the outlawed PKK movement that has waged a decades-long insurgency in southeast Turkey.
KABUL, Afghanistan (AP) — The U.S. military says an American service member has died in a non-combat-related incident in Afghanistan, without offering further information.
The military's statement says the incident happened on Thursday and is being investigated.
The service member's identity was being withheld until his family could be notified.
The following reports compile all significant security incidents confirmed by New York Times reporters throughout Afghanistan. It is necessarily incomplete as many local officials refuse to confirm casualty information. The toll here does not generally include claims of insurgents killed by the government, because of the difficulty of verifying such claims. Similarly, the reports do not include attacks on the government claimed by the Taliban. Both sides routinely inflate casualties of their opponents.
Afghan security force casualties greatly increased in the past week, with 152 dead, despite the cold weather at a time when the fighting normally slows down. Instead of focusing on taking over government positions and looting bases, the insurgents appear to be focusing on maximizing casualties in hit-and-run attacks. There was also an unusual increase in Taliban attacks in the west of the country, especially in Herat Province, where five attacks were carried out in the week. Previously, attacks at all were rare there. Farah Province continued to be another focus of Taliban offensives. There appeared to be relatively few government counterattacks.
Dec. 13 Kandahar Province: one police officer killed
A district police chief in Kandahar City was killed by a mine that had been attached to his vehicle.
Dec. 13 Badghis Province: four security forces killed
Three members of the National Directorate of Security and one police officer were killed in a Taliban attack on a security outpost in the Mel-e Monje area of Qades District. Two N.D.S. members and two police officers were wounded in the attack.
Dec. 12 Kunduz Province: one police officer killed
The Taliban opened fire on security forces in the center of Ali Abad District, killing a police officer and wounding a member of the National Directorate of Security. The attackers used a gun with silencer.
Dec. 11 Badakhshan Province: six soldiers killed
Six soldiers were killed and four others were wounded in a Taliban attack on a military outpost in the Pol-e-Soch village of Jurm District. The insurgents captured the post, which was later recaptured by Afghan forces.
Dec. 11 Baghlan Province: seven security forces killed
The Taliban Red Unit, an elite insurgent force, attacked two security outposts in Baghlan-e-Markazi District. Seven police officers were killed and three others were wounded in the fighting. The Taliban captured one of the outposts.
Dec. 11 Kunduz Province: 12 security forces killed
Two soldiers were killed and three others were wounded in a Taliban rocket attack on their vehicle in the Khwaja Pesta village of Khanabad District.
The Taliban Red Unit attacked 15 local police outposts in Chardara District. Ten local police officers were killed and 12 others were wounded in the clashes. Reinforcement forces did not arrive despite several calls. Taliban fighters were pushed back, and they were not able to capture any outposts.
Dec. 11 Herat Province: six security forces killed
Four soldiers were killed and seven others were wounded in a Taliban attack on an Afghan National Civil Order Police (ANCOP) outpost in Pashtun Zarghoon District. The ANCOP recently became a part of the Afghan military. A group of police reinforcement forces who were trying to reach the area were hit by a Taliban roadside bomb in the district. Two police officers were killed and five others were wounded in an explosion.
Dec. 11 Badghis Province: two local police officers killed
The Taliban attacked a local police outpost in Band-i-Sharm area of Ab Kamari District. Two local police officers were killed and three others were wounded over four hours of fighting.
Dec. 11 Kabul Province: four security forces and eight civilians killed
A car bomb targeting a convoy of security forces in the district of Paghman killed four security forces and eight civilians, including two women and one child. Twelve people were wounded in the incident. Officials did not provide a breakdown of those wounded.
By Khaama Press on 14 Dec 2018 11:26am .
President Mohammad Ashraf Ghani has said no peace deal would be concluded behind the doors and in the absence of the will of people.
He made the remarks during a meeting with the people and representatives of various sects of Herat province on Thursday.
President Ghani further added that all decisions regarding peace deal would be approved by the parliament and people of the country.
He assured that no compromise would be made regarding the fate of the women of country in peace deal with the militants.
In other parts of his speech, President Ghani said the elections will be conducted in its time, emphasizing that the future government of the country must have clear authorities regarding its authorities.
President Ghani also added that protection of the votes of people is the responsibility of the government as he assured that the government would do all it can to pave the way for the elections.
C

asualties, Exclusive of Civilians
Recent Casualties
Color 

Denotes Today's Confirmation
The Department of Defense announced today the death of a soldier who was supporting Operation Freedom's Sentinel.
Sgt. Jason Mitchell McClary, 24, from Export, Pennsylvania, died Dec. 2, 2018, in Landstuhl, Germany, as a result of injuries sustained from an improvised explosive device on Nov. 27, 2018, in Andar District, Ghazni Province, Afghanistan. The incident is under investigation.
McClary was assigned to 1st Battalion, 38th Infantry Regiment, 1st Stryker Brigade Combat Team, 4th Infantry Division, Fort Carson, Colorado.
The Department of Defense announced today the deaths of two soldiers and one airman who were supporting Operation Freedom's Sentinel.
The service members died Nov. 27, 2018, from injuries sustained when their vehicle was struck by an improvised explosive device in Andar, Ghazni Province, Afghanistan.
The soldiers were assigned to 1st Battalion, 3rd Special Forces Group (Airborne), Fort Bragg, North Carolina. The airman was assigned to the 26th Special Tactics Squadron at Cannon Air Force Base, New Mexico.
The incident is under investigation.
The deceased are:
Army Capt. Andrew Patrick Ross, 29, of Lexington, Virginia.
Army Sgt. 1st Class Eric Michael Emond, 39, of Brush Prairie, Washington.
Air Force Staff Sgt. Dylan J. Elchin, 25, of Hookstown, Pennsylvania.
War Casualties By Name
More
Care for Veterans:
PTSD: National Center for PTSDPTSD Care for Veterans, Military, and FamiliesSee Help for Veterans with PTSD to learn how to enroll for VA health care and get an assessment.
All VA Medical Centers provide PTSD care, as well as many VA clinics.Some VA's have programs specializing in PTSD treatment. Use the VA PTSD Program Locator to find a PTSD program.
If you are a war Veteran, find a Vet Center to help with the transition from military to civilian life.
Please do not forget the children.
The McGlynn