18 Dec
United States Wars, News and Casualties
Damn The War Criminals,
Bush,Cheney,Rice,Rumsfeld,Wolfowitz, Powell and Blair from England.
.
The war ended for those children, but it has never ended for survivors who carry memories of them. Likewise, the effects of the U.S. bombings continue, immeasurably and indefensibly.
How many Iraqis have died as a result of the invasion 15 years ago? Some credible estimates put the number at more than one million. You can read that sentence again.
The invasion of Iraq is often spoken of in our country as a "blunder," or even a "colossal mistake." It was a crime.
Those who perpetrated it are still at large. Some of them have even been rehabilitated thanks to the horrors of a mostly amnesiac citizenry.

We condemned children to death, some after many days of writhing in pain on bloodstained mats, without pain relievers. Some died quickly, wasted by missing arms and legs, crushed heads. As the fluids ran out of their bodies, they appeared like withered, spoiled fruits. They could have lived, certainly should have lived – and laughed and danced, and run and played- but instead they were brutally murdered. Yes, murdered!

The McGlynn

War News
Photo

Hagar Yahia holds her 5-year-old daughter Awsaf, who is suffering from malnourishment from living mainly off of bread and tea, in this Feb. 9, 2018 photo in Abyan, Yemen. Yahia, her husband and eight children fled from their hometown on Yemen's western Red Sea coast to escape the war, eventually ending up more than 200 miles away in the village of Red Star in the south. Ever since, they've struggled to find enough food. (AP Photo/Nariman El-Mofty)
AMMAN, Jordan (AP) — As the Middle East ushers in 2019, the decade's ruinous conflicts in Syria, Yemen, Libya and Iraq seem to be winding down after exacting a painful price — many thousands killed, millions uprooted from their homes and entire cities reduced to rubble.
Yet the potential for unrest remains high, including in countries that escaped civil war after the 2011 Arab Spring uprisings, such as Jordan, Lebanon and Egypt. Millions of young people in the region remain locked out of economic and political participation as authoritarian governments fail to tackle soaring youth unemployment and other deep-seated problems.
"I think 2019 is a very challenging year," said analyst Amer Sabaileh in Jordan, where weekly rallies against economic policies toppled a prime minister this year and now take aim at his successor.
Meanwhile, President Donald Trump's policy of siding with one Middle East powerhouse, Saudi Arabia, against its main rival, Iran, has further heightened regional tensions. For now, Tehran seems determined to wait out Trump's presidency, sticking to its 2015 nuclear deal with world powers despite the U.S. withdrawal and restoration of heavy sanctions.
In a region where violent conflict has killed hundreds of thousands of people, the brutal slaying of one Saudi writer, Washington Post columnist Jamal Khashoggi, by Saudi agents has been one of the most significant events of 2018. The killing, for which Saudi Crown Prince Mohammed bin Salman was widely held responsible — including by the Republican-led U.S. Senate — forced a reckoning of Saudi Arabia's involvement in Yemen's civil war and a review of the U.S.-Saudi relationship……………..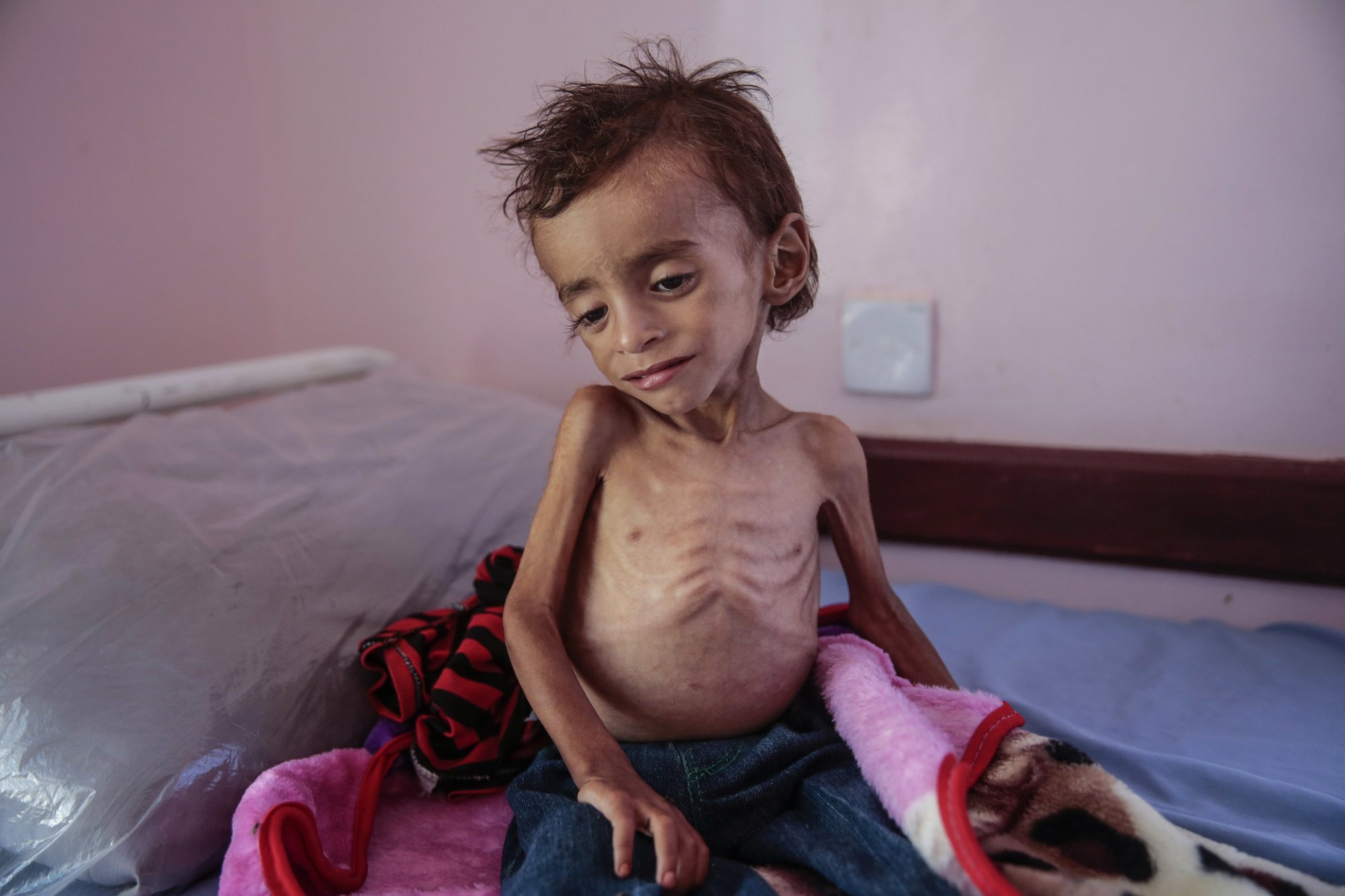 A malnourished boy sits on a hospital bed at the Aslam Health Center in the Yemeni town of Hajjah. (AP Photo/Hani Mohammed,
U.S. POLICY
The Trump administration's staunch support for Saudi Arabia is expected to continue despite the Khashoggi scandal, in part because the alliance with Riyadh serves as a means of pressuring Iran.
After nearly four years of war in Yemen, Houthi rebels and the Saudi-led military coalition appeared to agree to pause fighting. But it wasn't to last.
International pressure has been mounting to end the conflict, which has pushed the country to the verge of starvation.
The BBC's Nawal Al-Maghafi reports from a camp for displaced people, where children hunt desperately for something to eat.
Azizullah with his son, Khaybar, 14, and daughters Marwah, on the left, and Dewah.

Credit

Gabrielle Plucknette-DeVito for The New York Times
Strolling the aisles at a Kohl's department store near his home in Rochester, N.Y., Azizullah Sharifi spoke Pashto with his daughter Marwah as they picked through shorts, T-shirts and flip-flops for the summer. The father and daughter stopped to check their shopping cart, when a woman next to them muttered, "Speak [expletive] English" in a low growl. Once Sharifi realized she was talking to him, he quickly pushed his cart away without responding. But he wasn't fast enough. Though she was only 7, Marwah recognized that the woman had "said something really bad." "Just ignore her," Sharifi told her. It was a drastic shift from the way he was treated in his home country of Afghanistan, where American service members, with whom he had worked closely, treated him with respect. Much of his experience in the United States has been positive, but sometimes, "you feel Islamophobia, the racism — not all people, but you can feel it," Sharifi said.
Sharifi, who worked as an interpreter for American forces in Afghanistan between 2004 and 2014, is one of more than 48,600 Afghans who have been admitted to the United States through the Special Immigrant Visa (S.I.V.) program. Recognizing the incredible risks taken by Afghans like Sharifi who were helping the American-led coalition during the war, Congress passed a bill in 2009 to provide special visas to interpreters and civilians who had worked for at least one year — later changed to two years — for the American government and who could prove there were imminent threats on their lives. Similar legislation was enacted for Iraqi interpreters in 2008.
More than 17,000 Afghans who have applied for the S.I.V. over the years are still waiting for an answer from the State Department as their applications crawl through the grueling vetting process. About 1,240 applicants were rejected in the first three quarters of this fiscal year, mostly for insufficient proof of employment by an American company or failure to provide evidence of the"faithful and valuable service" to American forces that the special visa requires. When applicants appeal, their application is moved to the bottom of the list, but half the initial denials are overturned. For those who receive a visa, the move to the United States raises a new set of problems, like finding employment, housing and a community that makes them feel welcome. While the State Department's United States Refugee Admissions Program gives refugees funding for the first 90 days after arrival, people have to rely on their own resourcefulness and on nonprofit organizations for help acclimating to a new country and culture that's vastly different from the one they fled.
Retired Dutch general due to be deployed to Hodeidah by Wednesday to oversee truce
Yemen's warring parties are observing the first day of a UN-negotiated ceasefire in the key port city of Hodeidah, opening the way for monitors to enter the area and start the process of administering a formal withdrawal of troops over the next month.
The UN special envoy for Yemen, Martin Griffiths, who negotiated the breakthrough agreement at talks in Sweden last week, said he expected a retired Dutch general, Patrick Cammaert, to be deployed to Hodeidah by Wednesday under UN authority to oversee the ceasefire and the two-phase troop withdrawal.
Griffiths said the ceasefire was breached soon after it came into force at midnight on Tuesday, but since then the skies had been silent.
He told BBC Radio 4: "So far, so good, fingers crossed. There was some skirmishing between 1 and 2 o'clock on the frontlines. The skies are quiet above Hodeidah. The pattern at the moment is a positive one."
He said the monitoring committee chaired by Cammaeret would meet for the first time on Wednesday. The aim was for the first phase of withdrawal to be completed by the end of the year and the second phase – taking troops out of the city port area – by the middle of January, allowing aid to travel freely on the road from Hodeidah to the capital, Sana'a.
He stressed that further progress was needed on economic reform, since the risk of famine partly stemmed from the cost of food and the collapse in the value of the rial rather than a lack of supplies………….If the ceasefire continues to hold and is extended to the other ports of Salif and Ras Issa, as intended, the chances of the UN security council being able to agree the terms of a resolution endorsing the outcome of the Sweden talks, and future humanitarian access, will be higher.
UK diplomats, penholders – in charge of drafting decisions – at the UN, held off from formally tabling a resolution before the talks in Sweden after Saudi Arabia raised objections. Both Saudi and its military partners the United Arab Emirates seem content with the truce and argue the previous assault on Hodeidah was necessary to force the Houthis to the negotiating table.
The draft UN resolution calls on all parties to the conflict to take further steps to facilitate the unhindered flow of commercial and humanitarian supplies including food, fuel, medicine and other essential imports and humanitarian personnel into and across the country.
GENEVA (Reuters) – Russia, Iran and Turkey are close to agreement on composition of a Syrian constitutional committee that could pave the way for drafting a new charter followed by elections, diplomats said on Monday.
The foreign ministers of the three nations, who support opposing sides in Syria's nearly eight-year war, meet for talks on Tuesday in Geneva, where they are expected to seek the United Nations' blessing for their joint proposal, they added.
Staffan de Mistura, U.N. Special Envoy for Syria who steps down at year-end, has tried since January to clinch agreement on the identity of 150 members of a new constitutional committee to revitalize a dormant peace process.
President Bashar al-Assad's government and the opposition fighting to topple him have each submitted a list of 50 names, but the three nations have haggled over the final 50 members from civil society and "independent" members, diplomats say.
"The three countries are coming with a proposal for the third list, which has been the heart of the problem," said one diplomat.
Turkey and other nations would consider working with Assad if he won a democratic election, Turkish Foreign Minister Mevlut Cavusoglu said on Sunday, two days before coming to Geneva to meet Russian counterpart Sergei Lavrov and Iran's Javad Zarif.
Turkey supports rebel fighters who control part of northwest Syria. A year ago, Turkish President Tayyip Erdogan described Assad as a terrorist and said it was impossible for Syrian peace efforts to continue with him.
KABUL (Reuters) – Talks between U.S. and Taliban officials aimed at arranging peace negotiations in Afghanistan were set for a second day on Tuesday after discussions around the future of foreign forces and a possible six-month ceasefire, Taliban sources said.
The three-day meeting in Abu Dhabi is at least the third time that U.S. special peace envoy Zalmay Khalilzad has met Taliban representatives as diplomatic efforts to end the 17-year war have intensified this year.
On Monday, a Taliban delegation met officials from Saudi Arabia, Pakistan and the United Arab Emirates ahead of their meeting with Khalilzad, who was appointed to oversee Washington's peace effort in September.
Taliban officials, speaking on condition of anonymity, said the U.S. delegation was pressing for a six-month ceasefire as well as an agreement to name Taliban representatives to a future caretaker government.
The officials said the Taliban, fighting to drive foreign forces from Afghanistan and bring in their version of strict Islamic law, were resisting a ceasefire as they felt it would damage their cause and help U.S. and Afghan forces.
"If these three countries – Saudi Arabia, UAE and Pakistan – become guarantors and the U.S. appoints the head of a caretaker government in Afghanistan that we nominate, then we can think about a ceasefire," one senior Taliban official said.
There was no immediate comment from the U.S. embassy in Kabul.

C

asualties, Exclusive of Civilians
Recent Casualties
Color 

Denotes Today's Confirmation
The Department of Defense announced today the death of a soldier who was supporting Operation Freedom's Sentinel.
Sgt. Jason Mitchell McClary, 24, from Export, Pennsylvania, died Dec. 2, 2018, in Landstuhl, Germany, as a result of injuries sustained from an improvised explosive device on Nov. 27, 2018, in Andar District, Ghazni Province, Afghanistan. The incident is under investigation.
McClary was assigned to 1st Battalion, 38th Infantry Regiment, 1st Stryker Brigade Combat Team, 4th Infantry Division, Fort Carson, Colorado.
The Department of Defense announced today the deaths of two soldiers and one airman who were supporting Operation Freedom's Sentinel.
The service members died Nov. 27, 2018, from injuries sustained when their vehicle was struck by an improvised explosive device in Andar, Ghazni Province, Afghanistan.
The soldiers were assigned to 1st Battalion, 3rd Special Forces Group (Airborne), Fort Bragg, North Carolina. The airman was assigned to the 26th Special Tactics Squadron at Cannon Air Force Base, New Mexico.
The incident is under investigation.
The deceased are:
Army Capt. Andrew Patrick Ross, 29, of Lexington, Virginia.
Army Sgt. 1st Class Eric Michael Emond, 39, of Brush Prairie, Washington.
Air Force Staff Sgt. Dylan J. Elchin, 25, of Hookstown, Pennsylvania.
War Casualties By Name
More
Care for Veterans:
PTSD: National Center for PTSDPTSD Care for Veterans, Military, and FamiliesSee Help for Veterans with PTSD to learn how to enroll for VA health care and get an assessment.
All VA Medical Centers provide PTSD care, as well as many VA clinics.Some VA's have programs specializing in PTSD treatment. Use the VA PTSD Program Locator to find a PTSD program.
If you are a war Veteran, find a Vet Center to help with the transition from military to civilian life.
Please do not forget the children.
The McGlynn