15 Jan
United States Wars, News and Casualties
Damn The War Criminals,
Bush,Cheney,Rice,Rumsfeld,Wolfowitz, Powell and Blair from England.
The war ended for those children, but it has never ended for survivors who carry memories of them. Likewise, the effects of the U.S. bombings continue, immeasurably and indefensibly.
Civilian casualties in the war in Afghanistan (2001–present)
During the war in Afghanistan (2001–present), over 31,000 civilian deaths due to war-related violence have been documented;[1][2] 29,900 civilians have been wounded.[2] Over 111,000 Afghans, including civilians, soldiers and militants, are estimated to have been killed in the conflict.[1] The Cost of War project estimated that the number who have died through indirect causes related to the war may be as high 360,000 additional people based on a ratio of indirect to direct deaths in contemporary conflicts.[3] These numbers do not include those who have died in Pakistan.
The war, launched by the United States as "Operation Enduring Freedom" in 2001, began with an initial air campaign that almost immediately prompted concerns over the number of Afghan civilians being killed[4] as well as international protests. With civilian deaths from airstrikes rising again in recent years,[5] the number of Afghan civilians being killed by foreign military operations has led to mounting tension between the foreign countries and the government of Afghanistan. In May 2007, President Hamid Karzai summoned foreign military commanders to warn them of the consequences of further Afghan civilian deaths.[6] The civilian losses are a continuation of the extremely high civilian losses experienced during the Soviet–Afghan War in the 1980s, and the three periods of civil war following it: 1989–1992, 1992–1996, and 1996–2001.
The McGlynn

War News

FILE PHOTO: Internally displaced people gather to collect food aid from an ICRC aid distribution centre in Bajil, Yemen, December 13, 2018, 2018. REUTERS/Abduljabbar Zeyad/File Photo
GENEVA (Reuters) – The U.N. food agency delivered emergency food and vouchers for over 9.5 million people in Yemen in December, just shy of its 10 million monthly target in the famine-threatened country, a spokesman said on Tuesday.
Yemen's nearly four-year war and economic collapse have left 15.9 million people, 53 percent of the population, facing "severe acute food insecurity", and famine looms if immediate action is not taken, a survey said last month.
"We were at a bit less than 10 million because the actual situation slowed down a bit the distribution in some areas. The security is not as good as expected in some areas," World Food Programme spokesman Herve Verhoosel told a Geneva news briefing.
"Some of our trucks were also stopped for longer than usual in some security checkpoints."
Verhoosel later clarified that the figures represented food aid that was "dispatched" to local distribution centers across Yemen but not all had been handed out to recipients yet.
The WFP, which got supplies to 7-8 million Yemenis in November, is trying to reach as many as 12 million people at risk of starvation. In December it said that some food aid meant for Yemenis was being stolen and sold in some areas controlled by the Iran-aligned Houthi militia.
A senior member of the Saudi royal family has warned against a US troop withdrawal from Syria.
Prince Turki al-Faisal told the BBC the action would have a negative impact, further entrenching Iran, Russia and the rule of President Bashar al-Assad.
US President Donald Trump announced in December that it was time to bring US troops home from Syria.
Prince Turki was speaking just before US Secretary of State Mike Pompeo began a visit to Riyadh.
Mr Pompeo is on a tour of the Middle East, and has already visited Iraq, Jordan, Egypt and Bahrain.
What did Prince Faisal say?
He said that the world community was guilty of neglecting the Syrian people and the US troop withdrawal would make things worse.
"The US actions from my perspective is that it is going to further complicate, rather find any solutions to it and further entrench not only the Iranians, but also the Russians and Bashar al Assad, so from the perspective it is a very negative development," he said.
The prince added that the departure of Defence Secretary James Mattis in December was unlikely to help matters either.
Newly empowered Democrats could force president to use veto to continue unpopular war
Congress is expected to make an unprecedented challenge to Donald Trump's authority to take the US into a war in the coming weeks, with a bipartisan measure calling for the end of US military involvement in the Yemen conflict.
The Senate passed the measure, invoking the 1973 War Powers Resolution, last month but a parallel effort in the House of Representatives was sunk by the Republican leadership. Now the House is under Democratic control, there is a plan to put forward identical measures in both chambers, which would put a permanent end to US refuelling, logistical support, intelligence and special forces operations with the Saudi-led coalition.
It would force Trump to accept the constraints on his executive power, or use his veto to continue an unpopular war, in support of an unpopular ally in Riyadh.
It is unlikely his opponents could muster the two-thirds majorities in each house required to override the veto, but the standoff would highlight the deep divide between the president and Congress over Saudi relations, at a time when Yemen is on the brink of famine, and in the wake of the brutal murder of the Washington Post columnist Jamal Khashoggi in the Saudi consulate in Istanbul……………..Since the murder and dismemberment of Khashoggi by Saudi operatives, Trump, Pompeo and Mattis played down the culpability of Crown Prince Mohammed bin Salman, a close Trump ally, in spite of a CIA assessment that he almost certainly ordered the murder. Administration briefings and attempts to prevent the CIA director, Gina Haspel, briefing Congress, angered members on both sides of the aisle.
"It has made members of Congress more willing to assert their article 1 rights of having a role in foreign policy," Khanna said. The first article of the US constitution formally gives Congress the sole authority to declare war, but that has been largely ignored by a succession of presidents from both parties. Khanna argues that the Trump administration will force the legislature to take its duties more seriously.
"The overreach by the administration and the disregard for Congress has awakened Congress from our slumber," he said.
KABUL (Reuters) – The Afghan Taliban claimed responsibility on Tuesday for a car bomb attack near a heavily fortified foreign compound in Kabul that killed five people, including an Indian national.
The bombing sparked international condemnation as efforts increase to strike a peace deal with the Islamic insurgents to end more than 17 years of war.
More than 110 people were wounded in the blast near the Green Village compound, which houses several international companies and charities, in eastern Kabul.
Taliban spokesman Zabihullah Mujahid said the militants were responsible for the attack in which he claimed dozens of foreign and Afghan security forces were killed and wounded.
"Five attackers, including the suicide bomber driving an explosives-laden vehicle, were involved," Mujahid said in a statement.
The Taliban often inflate casualty figures in attacks against government or foreign targets.
WASHINGTON (AP) — The Supreme Court is rejecting appeals from military veterans who claim they suffer health problems because of open burn pits in Iraq and Afghanistan.
The justices on Monday left in place a federal appeals court ruling that more than 60 lawsuits over the burn pits could not go forward.
The lawsuits said military contractor KBR dumped tires, batteries, medical waste and other materials into open burn pits. The suits claimed the resulting smoke caused neurological problems, cancers and other health issues in more than 800 service members. The complaints said at least 12 service members died.
The appeals court said KBR was essentially under military control and had little discretion in deciding how to manage the waste. KBR's attorney said the decision to use burn pits "was made by the military."
KBR was formerly owned by Halliburton Corp.
KABUL, Afghanistan (AP) — A Taliban suicide bomber killed at least four people and wounded scores when he detonated an explosive-laden vehicle late in the evening in the Afghan capital, officials said Tuesday.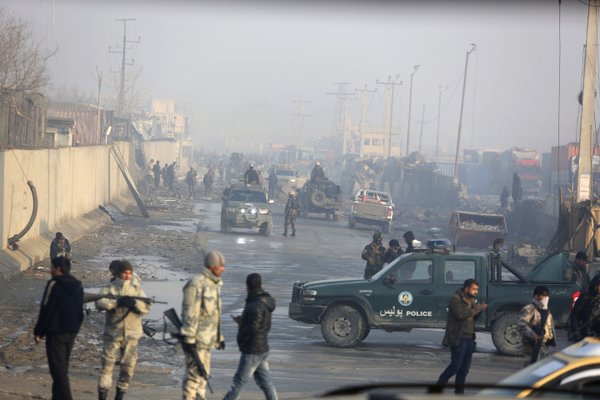 Afghan security forces gather at the site a day after an attack in Kabul, Afghanistan, Tuesday, Jan. 15, 2019. A Taliban suicide bomber detonated an explosive-laden vehicle in the capital Kabul on Monday evening, according to officials. (AP Photo/Rahmat Gul)
It was the latest in a relentless wave of near daily attacks by the Taliban, who now hold sway over about half of the country and regularly target Afghan forces. The violence comes despite stepped-up efforts by the United States to find a negotiated end to the country's 17-year war.
Health Ministry spokesman Wahidullah Mayar said as many as 113 wounded were taken to different hospitals in Kabul after the Monday evening explosion near the Green Village compound, home to several international organizations and guesthouses.
Germany's Foreign Ministry condemned the bombing, in which it said a German police officer was also lightly wounded.
The area has been the frequent target of attacks in the past. Many foreigners live in the compound, which is heavily guarded by Afghan forces and also private security guards. Roads to the area remained blocked by security forces through the night and into Tuesday morning.
Taliban spokesman Zabihullah Mujahid claimed the attack in a statement to the media, saying it involved five attackers, including the suicide bomber. The four other attackers engaged Afghan forces in a clash, he said, without elaborating on what happened to them.
One of the victims, 35-year-old pharmacists Emal Fayzi, said he was wounded by shrapnel in the chest as he was walking home in the evening. The blast was so strong, he couldn't see anything for a while. Later, he realized he was inside an ambulance.
"No one is safe in this country, innocent and poor people are the victims of these attacks," Fayzi said from his hospital bed.
KABUL — Efforts to negotiate a peace deal to end the 17-year war in Afghanistan, already beset by disagreement about the agenda, are facing a new hurdle over the venue for the talks.
Last week, Taliban leaders called off a fourth round of talks with U.S. officials in the Arab Gulf state of Qatar due to an "agenda disagreement", and refused to allow "puppet" Afghan government officials to join.
Zalmay Khalilzad, the U.S. special envoy for peace in Afghanistan, is holding talks with regional powers and was expected to meet the Taliban in the coming days.
But diplomatic sources said differences over the venue had caused a delay.
"Saudi Arabia and the UAE (United Arab Emirates), have made it clear that they will not participate in the peace talks if the meeting takes place in Qatar. But the Taliban insists on holding them in Qatar," said a Kabul-based diplomat whose country shares a border with Afghanistan.

C

asualties, Exclusive of Civilians
Recent Casualties
Color Denotes Today's Confirmation
None
War Casualties By Name
More
Care for Veterans:
PTSD: National Center for PTSDPTSD Care for Veterans, Military, and FamiliesSee Help for Veterans with PTSD to learn how to enroll for VA health care and get an assessment.
All VA Medical Centers provide PTSD care, as well as many VA clinics.Some VA's have programs specializing in PTSD treatment. Use the VA PTSD Program Locator to find a PTSD program.
If you are a war Veteran, find a Vet Center to help with the transition from military to civilian life.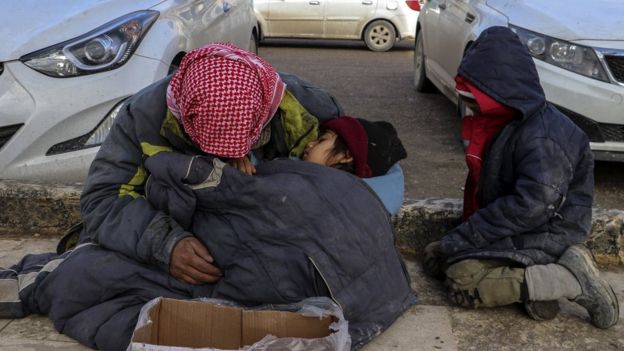 Syrian War Refugees
Please do not forget the children.
The McGlynn