29 Jan
United States Wars, News and Casualties
Damn The War Criminals,

Bush,Cheney,Rice,Rumsfeld,Wolfowitz, Powell and Blair from England.
The war ended for those children, but it has never ended for survivors who carry memories of them. Likewise, the effects of the U.S. bombings continue, immeasurably and indefensibly.
Civilian casualties in the war in Afghanistan (2001–present)
During the war in Afghanistan (2001–present), over 31,000 civilian deaths due to war-related violence have been documented;[1][2] 29,900 civilians have been wounded.[2] Over 111,000 Afghans, including civilians, soldiers and militants, are estimated to have been killed in the conflict.[1] The Cost of War project estimated that the number who have died through indirect causes related to the war may be as high 360,000 additional people based on a ratio of indirect to direct deaths in contemporary conflicts.[3] These numbers do not include those who have died in Pakistan.
The war, launched by the United States as "Operation Enduring Freedom" in 2001, began with an initial air campaign that almost immediately prompted concerns over the number of Afghan civilians being killed[4] as well as international protests. With civilian deaths from airstrikes rising again in recent years,[5] the number of Afghan civilians being killed by foreign military operations has led to mounting tension between the foreign countries and the government of Afghanistan. In May 2007, President Hamid Karzai summoned foreign military commanders to warn them of the consequences of further Afghan civilian deaths.[6] The civilian losses are a continuation of the extremely high civilian losses experienced during the Soviet–Afghan War in the 1980s, and the three periods of civil war following it: 1989–1992, 1992–1996, and 1996–2001.
The McGlynn

War News
Military exports to Saudi Arabia should cease if we are serious about ending the four-year war that has killed 85,000 children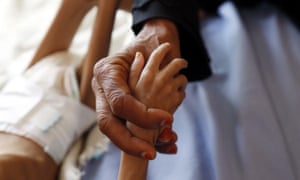 A mother holds her malnourished child's hand at a hospital in Sana'a. In Yemen, one child dies every 10 minutes due to malnutrition and preventable illnesses. Photograph: Mohammed Hamoud/Getty Images
A

lmost 15 months ago to the day I landed in Yemen, home to the biggest humanitarian crisis on the planet. I've been an aid worker for more than a decade, deployed to emergencies in places like Afghanistan, Sierra Leone, Zimbabwe and Timor Leste. But nothing prepared me be for this.
The suffering in Yemen is on a scale that's hard to fathom.
I recently visited a Save the Children-supported feeding centre near the port city of Hodeidah, where I met an eight-month-old boy being treated for severe malnutrition. His face was gaunt and his ribs protruding. He was fighting for his life.
The boy's 18-month-old brother had passed away from a fever not long before.
While I knew well that thousands of children were suffering from malnutrition and stunting across the country, I couldn't hide my shock when I met the boy, who weighed just 4kg, or about half the average for his age.
I was overcome by a profound sadness. My thoughts immediately went to my 10-month-old niece, the first grandchild for my parents. She is an absolute joy to my family: full of life, vibrant, cheeky and inquisitive. But above all, she is healthy and safe.
BEIRUT (Reuters) – A suspected Islamic State suicide attack on the governing council of insurgent-held Idlib in northwest Syria on Tuesday killed one person and injured three others, the Syrian Observatory for Human Rights said.
The target was the National Salvation Government in Idlib city, which is linked to the jihadist Tahrir al-Sham alliance that controls much of the enclave in northwestern Syria.
The attack, which the Observatory said was carried out by a woman, follows a succession of blasts in the rebel-held northwest in recent months, where rival factions have fought for control.
Tahrir al-Sham, formed by merging several groups led by al Qaeda's former Syrian affiliate the Nusra Front, gained control over most of Idlib this month after fighting insurgent factions supported by Turkey.
Its gains there have raised questions over the fate of a deal agreed last year between Damascus' ally Russia and the rebels' ally Turkey to maintain peace in northwest Syria. A Kremlin spokesman was quoted this week saying the deal had not been fully implemented.
BAGHDAD (AP) — The leader of one of the most powerful Iranian-backed Shiite militias in Iraq said Monday that he expects a vote in the coming months by Iraq's parliament calling for the withdrawal of U.S. troops, underscoring the jostling for power between Iran and the U.S. in this key Middle Eastern country.
Qais al-Khazali, who rose to prominence as a leader in the Shiite insurgency after the 2003 U.S.-led invasion, said there's no longer a justification for thousands of U.S. troops to remain in Iraq now that the Islamic State group has been defeated. He suggested U.S. troops may eventually be driven out by force if they do not yield to the will of the Iraqi people.
"I think more than half the members of parliament reject the presence of American military forces as a matter of principle," he said. "If the United States wants to impose its presence by force, and to bypass the Iraqi constitution and parliament, Iraq can treat it the same way and drive it out by force… But the first phase is political," al-Khazali said.
The 45-year-old head of Asaib Ahl al-Haq, or League of the Righteous, spoke with The Associated Press in a wide-ranging interview at one of his group's offices in a highly-fortified area in the Iraqi capital, just across the Tigris River from the U.S. Embassy.
Curbing foreign influence has become a hot-button issue in Iraq after parliament elections in May in which Shiite militias backed by Iran made significant gains. The militias fought alongside U.S.-backed Iraqi troops against IS in recent years, gaining outsized influence and power along the way.
Now, after defeating IS militants in their last urban bastions, Iraqi politicians and militia leaders are increasingly speaking out against the continued presence of U.S. forces on Iraqi soil.
American forces withdrew from Iraq in 2011, but returned in 2014 at the invitation of the government to help battle IS after it seized vast areas in the north and west of the country, including Iraq's second largest city, Mosul. A U.S.-led coalition provided crucial air support as Iraqi forces regrouped and drove IS out in a costly three-year campaign.
Iraqi politicians were angered when U.S. President Donald Trump visited American forces at a base in western Iraq without meeting with any Iraqi officials, a snub that added to calls for U.S. troops to withdraw.
KABUL/WASHINGTON (Reuters) – The United States and the Taliban have sketched the outlines for an eventual peace accord to end 17 years of war in Afghanistan, a U.S. special envoy said on Monday, but there was no sign the insurgent group had accepted key U.S. demands.
"We have a draft of the framework that has to be fleshed out before it becomes an agreement," U.S. special peace envoy Zalmay Khalilzad told the New York Times in an interview in Kabul after six days of talks with the Taliban.
"The Taliban have committed, to our satisfaction, to do what is necessary that would prevent Afghanistan from ever becoming a platform for international terrorist groups or individuals."
There was no sign, however, that the Taliban had agreed to U.S. demands such as committing to a ceasefire before the withdrawal of U.S. troops or that it engage in direct talks with the U.S.-backed government in Kabul, analysts said.
"While the progress in Doha has been the most significant to date, reaching a final agreement is far from guaranteed, as (these) two major sticking points could still derail the process," Ahmad Majidyar, a fellow at the Middle East Institute, wrote on the Washington think tank's website.
Another U.S. official in Kabul, who spoke to Reuters on condition of anonymity, described "significant progress" in the talks in Qatar, but said more negotiations were needed on the issue of the timing of the ceasefire, which looms as a sticking point in the next round of talks on Feb. 25.
Taliban negotiators want a full withdrawal before a ceasefire, but the Americans want the reverse, the official said.
"Of course we don't seek a permanent military presence in Afghanistan," the official said.
"Our goal is to help bring peace in Afghanistan and we would like a future partnership, newly defined with a post-peace government," the official said. "We would like to leave a good legacy."
U.S. forces in 2001 toppled the country's hardline Islamic leaders for harboring the al Qaeda militants responsible for the Sept. 11 attacks that killed about 3,000 people.
A senior Trump administration official who also spoke on condition of anonymity said the Taliban would have to agree to talk to the government in Kabul to make a lasting deal.
"The president has made clear that his priority is ending the war in Afghanistan with an agreement that ensures the country never again serves as a base for terrorists to attack the U.S. or any other country," the official said.
"To achieve such an agreement, the Taliban must engage with other Afghans and all sides must agree to resolve their differences through peaceful means," he added.
Taliban officials have repeatedly refused to talk to the Afghan government, which they regard as a U.S. puppet, throwing into question how effective a peace deal could be. The Taliban do want, however, to join an interim government post-deal.
KABUL, Afghanistan (AP) — Kabul residents are wary of peace talks with the Taliban, even as Afghan officials express hope that negotiations could lead to lasting peace in their war-ravaged country.
Tuesday's reactions came a day after the U.S. envoy tasked with resolving the war, Zalmay Khalilzad, said there've been "agreements in principle" reached in talks with the Taliban.
Nawid, a 21-year-old student who lost his brother and who was himself wounded in a deadly Taliban suicide attack on the Afghan capital's Green Village neighborhood earlier this month, says he holds little hope for peace.
He says that after so many dead, "peace will be meaningless." Like many Afghans, Nawid goes by only one name.
A deputy government spokesman, Faridoon Khwazoon, said he hopes there will be direct negotiations between Kabul and the insurgents.

C

asualties, Exclusive of Civilians
Recent Casualties:
Color Denotes Today's Confirmation
The Department of Defense announced today the death of a soldier who was supporting Operation Freedom's Sentinel.
Staff Sgt. Joshua Z. Beale, 32, of Carrollton, Virginia, died Jan. 22, 2019, as a result of injuries sustained from enemy small arms fire during combat operations in Tarin Kowt, Uruzgan Province, Afghanistan.
Beale was assigned to 1st Battalion, 3rd Special Forces Group (Airborne), Fort Bragg, North Carolina.

The Department of Defense announced today the deaths of one soldier, one sailor and one DOD civilian who were supporting Operation Inherent Resolve.
The deceased are:
Army Chief Warrant Officer 2 Jonathan R. Farmer, 37, of Boynton Beach, Florida. Farmer was assigned to 3rd Battalion, 5th Special Forces Group (Airborne), Fort Campbell, Kentucky.
Navy Chief Cryptologic Technician (Interpretive) Shannon M. Kent, 35, of upstate New York. Kent was assigned to Cryptologic Warfare Activity 66, based at Fort George G. Meade, Maryland.
DOD civilian Scott A. Wirtz of St. Louis, Missouri. Wirtz was assigned to the Defense Intelligence Agency as an operations support specialist.
Farmer, Kent and Wirtz died Jan. 16, 2019, in Manbij, Syria, as a result of wounds sustained from a suicide improvised explosive device.

The Department of Defense announced today the death of a soldier who was supporting Operation Freedom's Sentinel.
Sgt. Cameron A. Meddock, 26, of Spearman, Texas, died Jan. 17, 2019, in Landstuhl, Germany, as a result of injuries sustained from small arms fire during combat operations on Jan. 13, 2019, in Jawand District, Badghis Province, Afghanistan.
Meddock was assigned to 2nd Battalion, 75th Ranger Regiment, Joint Base Lewis-McChord, Washington.
War Casualties By Name
More
Care for Veterans:
PTSD: National Center for PTSDPTSD Care for Veterans, Military, and FamiliesSee Help for Veterans with PTSD to learn how to enroll for VA health care and get an assessment.
All VA Medical Centers provide PTSD care, as well as many VA clinics.Some VA's have programs specializing in PTSD treatment. Use the VA PTSD Program Locator to find a PTSD program.
If you are a war Veteran, find a Vet Center to help with the transition from military to civilian life.
Yemen War Child
A child looks out at buildings that were damaged in an airstrike in the city of Taiz. Photograph: Ahmad Al-Basha/AFP/Getty Images
Please do not forget the children.
The McGlynn