31 Jan
United States Wars, News and Casualties
Damn The War Criminals,

Bush,Cheney,Rice,Rumsfeld,Wolfowitz, Powell and Blair from England.
The war ended for those children, but it has never ended for survivors who carry memories of them. Likewise, the effects of the U.S. bombings continue, immeasurably and indefensibly.
Civilian casualties in the war in Afghanistan (2001–present)
During the war in Afghanistan (2001–present), over 31,000 civilian deaths due to war-related violence have been documented;[1][2] 29,900 civilians have been wounded.[2] Over 111,000 Afghans, including civilians, soldiers and militants, are estimated to have been killed in the conflict.[1] The Cost of War project estimated that the number who have died through indirect causes related to the war may be as high 360,000 additional people based on a ratio of indirect to direct deaths in contemporary conflicts.[3] These numbers do not include those who have died in Pakistan.
The war, launched by the United States as "Operation Enduring Freedom" in 2001, began with an initial air campaign that almost immediately prompted concerns over the number of Afghan civilians being killed[4] as well as international protests. With civilian deaths from airstrikes rising again in recent years,[5] the number of Afghan civilians being killed by foreign military operations has led to mounting tension between the foreign countries and the government of Afghanistan. In May 2007, President Hamid Karzai summoned foreign military commanders to warn them of the consequences of further Afghan civilian deaths.[6] The civilian losses are a continuation of the extremely high civilian losses experienced during the Soviet–Afghan War in the 1980s, and the three periods of civil war following it: 1989–1992, 1992–1996, and 1996–2001.
The McGlynn

War News
Yemen has been devastated by a conflict that began in 2014. On the one side, the Houthis, a group with links to Iran. Against them, a coalition including Yemeni government troops, Saudi Arabia and the UAE, supported by the Americans.
But there's another war going on in Yemen – the US's fight against al-Qaeda. The US has carried out many strikes on al-Qaeda's bases, often using unmanned drones.
A BBC Arabic investigation has gained rare access to one village targeted in a US ground raid.
Reporter Safa Al Ahmad met survivors and found evidence of undeclared civilian casualties.
President Donald Trump has called US intelligence agencies "naive" on Iran and also dismissed their assessment of the threat posed by North Korea.

"Be careful of Iran. Perhaps Intelligence should go back to school!" Mr Trump tweeted.
The testy response came after a US intelligence report said Iran was not making nuclear weapons.
It also said that North Korea remained "unlikely to give up" its weapons stockpiles and production abilities.
National intelligence director Dan Coats and other intelligence chiefs presented the Worldwide Threat Assessment report to the Senate on Tuesday.
Last year, the US pulled out of the 2015 Iran nuclear deal, triggering widespread criticism from Washington's allies.
Martin Griffiths says Saudi Arabia remains intent on reaching deal to end civil war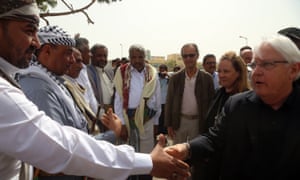 The UN special envoy for Yemen, Martin Griffiths, shakes hands with a Houthi-appointed local official in Hodeidah. Photograph: Abdo Hyder/AFP/Getty Images
Yemen's fragile ceasefire is holding and Saudi Arabia remains intent on reaching a negotiated end to the four-year-old civil war, Martin Griffiths, the UN special envoy for the country, has said.
Admitting the state of the ceasefire looked dire from the outside, he nevertheless said the key metric for the UN was the absence of offensive military operations to take territory and the end of Saudi airstrikes in the area.
Griffiths has been in Yemen's capital, Sana'a, and the Red Sea port of Hodeidah this week to discuss blockages to agreements reached in UN-led talks in Stockholm in December. Yemen has been gripped by civil war between Iranian-backed Houthi rebels and the Saudi-backed – and UN-recognised – Yemen government of Abd Rabbu Mansour Hadi since 2015.
Griffiths said the vital next steps were gaining access to grain in Hodeidah's mills, and a UN-sponsored meeting between the warring factions to start the process of redeploying Houthi troops.
Speaking on BBC Radio 4, he said the UN world food programme needed access to the mills in which enough grain to feed nearly 4 million Yemenis for a month had remained since October. Houthis claimed on Wednesday they were fired on by government forces as they tried to de-mine the route to the mills.
Governments with nationals trapped in Syria should do what Roger Waters did when he saved Mahmud and Ayyub Ferreira

Mahmud and Ayyb Ferreira, their mother (right) and an NGO worker leaving Qamishli in northeast Syria on 21 January. Photograph: Delil Souleiman/AFP/Getty
"P

ink Floyd rescues Trinidadian boys born to Isis dad": it reads like a headline from US satirical outlet the Onion. But the information is real, and the issue it highlights is no laughing matter.
On 21 January, Roger Waters, co-founder of the British rock band Pink Floyd, helped rescue two young brothers from a camp in Syria that was holding wives and children of foreign Islamic State members. Mahmud Ferreira, 11, and his brother Ayyub, 7, have been reunited with their mother and are poised to return to their native Trinidad. The boys were taken to Syria by their father – reportedly now dead – in 2014. A few years later they were found abandoned on a roadside, and put in the camp run by the Kurdish-Arab forces controlling northeast Syria.
About 1,250 children from 46 countries have been held for up to two years in camps in Syria with no end in sight
Waters pulled off Mahmud and Ayyub's rescue with UK-based human rights lawyer Clive Stafford Smith. If only the dozens of governments whose nationals are trapped in Syria because they are children of Isis members would show similar concern. About 1,250 children from 46 countries – including at least 12 from Britain – have been held for up to two years in camps in northeast Syria with no end in sight. Many are toddlers. The children have not been charged with any crime, and the local authorities have repeatedly called on their countries to take them. Yet most governments balk at bringing them back, claiming they may be security threats……………Left in limbo by their governments, these children face indefinite arbitrary detention and potential statelessness. It shouldn't have to take Pink Floyd to bring them home.
WASHINGTON (Reuters) – U.S. lawmakers said on Wednesday they expect Congress will pass a resolution ending U.S. involvement in the Yemen war, which would force President Donald Trump to issue the first veto of his presidency in order to continue supporting the Saudi-led coalition.

Republican and Democratic senators and representatives said on Wednesday they were re-introducing a war powers resolution that passed the Senate by 56-41 in December, a rebuke of Trump amid anger at Saudi Arabia not just over civilian deaths in Yemen, but also the killing of Saudi journalist Jamal Khashoggi at a Saudi consulate in Turkey.
The lawmakers – an alliance of progressive Democrats and Republican constitutional conservatives – deplored the "humanitarian disaster" in Yemen but also said they wanted Congress to reassert its constitutional authority to decide whether the United States should be involved in military conflict.
"That decision has never been debated and discussed and voted on and approved by Congress," Republican Senator Mike Lee, one of the measure's sponsors, told a news conference.
The United States has supported the Saudi-led air campaign against Iran-backed Houthi rebels in Yemen with mid-air refueling support, intelligence and targeting assistance.
Opponents of the resolution are reluctant to risk disrupting the strategic U.S. relationship with Saudi Arabia, seen as an essential counterweight in the Middle East to Iran, arch-enemy of close U.S. ally Israel.
The embassy of Yemen in Washington issued a statement opposing the resolution, saying it would "deliver a massive victory to Iran" if Washington were to stop supporting the coalition.
December's Senate vote was the first time either chamber of Congress backed a resolution to withdraw U.S. forces from a military engagement under the War Powers Act. That law, passed in 1973, limits the president's ability to commit U.S. forces to potential hostilities without congressional approval.
The measure never went further in December because the Republicans who then controlled the House of Representatives did not allow a vote in that chamber before the end of the year.
However, the measure's sponsors insisted it had helped lead to a ceasefire in Yemen that began in December. "Sometimes we underestimate how much influence we have," Democratic Representative Ro Khanna said………………….It would take a two-thirds majority in both houses of Congress to overcome a Trump veto. Trump had threatened a veto in December. The White House did not immediately respond to a request for comment on whether he still intended to do so.
"President Trump is going to have to make a decision," said Senator Bernie Sanders, an independent who caucuses with Democrats.

FILE – In this Nov. 29, 2018, file photo a Afghan Security forces member walks next to a crater caused by suicide bomb attack in Kabul, Afghanistan. As the Trump administration pushes for peace in Afghanistan, a new U.S. watchdog report says Afghan security forces are shrinking, gaps in security are growing, and the Taliban are largely holding their own despite a surge in American bombing. (AP Photo/Rahmat Gul, File)
WASHINGTON (AP) — As the Trump administration pushes for peace in Afghanistan, a new U.S. watchdog report says Afghan security forces are shrinking, gaps in security are growing, and the Taliban are largely holding their own despite a surge in American bombing.
These trends reflect what U.S. military officials call a stalemated war, more than 17 years after U.S. forces invaded following the Sept. 11, 2001, attacks.
Gauges of battlefield momentum have changed little over the past year, according to a watchdog agency known as the Special Inspector General for Afghanistan Reconstruction. In a report to Congress on Thursday, it said the Afghan government controls or influences 54 percent of districts, down from 56 percent a year earlier, and the Taliban's share slipped from 14 percent to 12 percent. Contested territory increased from 30 percent to 34 percent.
The Pentagon insists that military pressure on the Taliban is mounting. Last year the U.S. vastly increased its use of air power in support of Afghan forces. According to U.S. Central Command data, U.S. aircraft dropped 6,823 bombs in the first 11 months of 2018. That compares with 4,361 bombs dropped in all of 2017.
Even so, the Afghan government has been unable to expand its control of the country, and analysts say an outright military victory by either side is beyond reach.
Amid reports that President Donald Trump is considering withdrawing as many as half of the 14,000 U.S. forces in Afghanistan, Afghan President Ashraf Ghani has been publicly emphasizing the sacrifices his troops are making in fighting the Taliban. Ghani was reported to have said at the World Economic Forum in Davos, Switzerland, last weekend that 45,000 Afghan security personnel had died since September 2014. President Barack Obama ended the U.S. ground combat role against the Taliban at the end of 2014 while focusing more on training and advising Afghan forces.
The heavy losses suffered by Afghan forces partly explain why Kabul is unable to build its army and police to their authorized strength of a combined 352,000. Thursday's inspector general report said the army and police are at a combined total of just over 308,000, down from 312,000 a year earlier and nearly 316,000 in 2016. The cost of arming, training, paying and sustaining those forces falls largely to the U.S. government at more than $4 billion a year.

C

asualties, Exclusive of Civilians
Recent Casualties:
Color

 Denotes Today's Confirmation
The Department of Defense announced today the death of a soldier who was supporting Operation Freedom's Sentinel.
Staff Sgt. Joshua Z. Beale, 32, of Carrollton, Virginia, died Jan. 22, 2019, as a result of injuries sustained from enemy small arms fire during combat operations in Tarin Kowt, Uruzgan Province, Afghanistan.
Beale was assigned to 1st Battalion, 3rd Special Forces Group (Airborne), Fort Bragg, North Carolina.

The Department of Defense announced today the deaths of one soldier, one sailor and one DOD civilian who were supporting Operation Inherent Resolve.
The deceased are:
Army Chief Warrant Officer 2 Jonathan R. Farmer, 37, of Boynton Beach, Florida. Farmer was assigned to 3rd Battalion, 5th Special Forces Group (Airborne), Fort Campbell, Kentucky.
Navy Chief Cryptologic Technician (Interpretive) Shannon M. Kent, 35, of upstate New York. Kent was assigned to Cryptologic Warfare Activity 66, based at Fort George G. Meade, Maryland.
DOD civilian Scott A. Wirtz of St. Louis, Missouri. Wirtz was assigned to the Defense Intelligence Agency as an operations support specialist.
Farmer, Kent and Wirtz died Jan. 16, 2019, in Manbij, Syria, as a result of wounds sustained from a suicide improvised explosive device.

The Department of Defense announced today the death of a soldier who was supporting Operation Freedom's Sentinel.
Sgt. Cameron A. Meddock, 26, of Spearman, Texas, died Jan. 17, 2019, in Landstuhl, Germany, as a result of injuries sustained from small arms fire during combat operations on Jan. 13, 2019, in Jawand District, Badghis Province, Afghanistan.
Meddock was assigned to 2nd Battalion, 75th Ranger Regiment, Joint Base Lewis-McChord, Washington.
War Casualties By Name
More
Care for Veterans:
PTSD: National Center for PTSDPTSD Care for Veterans, Military, and FamiliesSee Help for Veterans with PTSD to learn how to enroll for VA health care and get an assessment.
All VA Medical Centers provide PTSD care, as well as many VA clinics.Some VA's have programs specializing in PTSD treatment. Use the VA PTSD Program Locator to find a PTSD program.
If you are a war Veteran, find a Vet Center to help with the transition from military to civilian life.
Yemen War Child
A child looks out at buildings that were damaged in an airstrike in the city of Taiz. Photograph: Ahmad Al-Basha/AFP/Getty Images
Please do not forget the children.
The McGlynn