02 Feb
United States Wars, News and Casualties
Damn The War Criminals,

Bush,Cheney,Rice,Rumsfeld,Wolfowitz, Powell and Blair from England.
The war ended for those children, but it has never ended for survivors who carry memories of them. Likewise, the effects of the U.S. bombings continue, immeasurably and indefensibly.
Civilian casualties in the war in Afghanistan (2001–present)
During the war in Afghanistan (2001–present), over 31,000 civilian deaths due to war-related violence have been documented;[1][2] 29,900 civilians have been wounded.[2] Over 111,000 Afghans, including civilians, soldiers and militants, are estimated to have been killed in the conflict.[1] The Cost of War project estimated that the number who have died through indirect causes related to the war may be as high 360,000 additional people based on a ratio of indirect to direct deaths in contemporary conflicts.[3] These numbers do not include those who have died in Pakistan.
The war, launched by the United States as "Operation Enduring Freedom" in 2001, began with an initial air campaign that almost immediately prompted concerns over the number of Afghan civilians being killed[4] as well as international protests. With civilian deaths from airstrikes rising again in recent years,[5] the number of Afghan civilians being killed by foreign military operations has led to mounting tension between the foreign countries and the government of Afghanistan. In May 2007, President Hamid Karzai summoned foreign military commanders to warn them of the consequences of further Afghan civilian deaths.[6] The civilian losses are a continuation of the extremely high civilian losses experienced during the Soviet–Afghan War in the 1980s, and the three periods of civil war following it: 1989–1992, 1992–1996, and 1996–2001.
The McGlynn

War News
A week at Camp Justice finds proceedings slowed by illness, disputes, and legacy of torture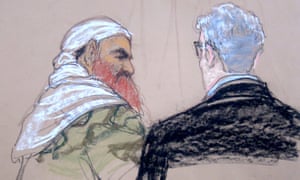 A Pentagon-approved sketch showing Khalid Sheikh Mohammed speaking with the lead defence lawyer, David Nevin. Photograph: Janet Hamlin Illustration/AP
A courtroom door opens in Cuba and Khalid Sheikh Mohammed, the self-proclaimed mastermind of the 9/11 attacks, walks in with a uniformed guard holding each shoulder.
As he takes a chair and begins chatting with his lawyers, the man known almost universally as KSM is unrecognisable from the chubby, bleary-eyed fugitive in a white T-shirt shown in the famous photograph of his arrest almost 16 years ago.
His head is shaved and covered by an Afghan wool hat, and he has grown an extensive thick beard dyed orange with henna, which sprawls out over his white robe.
After his 2003 capture in Pakistan he was held and tortured in secret CIA "black sites" in Afghanistan and eastern Europe for three years, before being flown to Guantánamo Bay, the US military enclave in south-east Cuba.
The base is now the venue for military tribunal hearings into 9/11 – arguably the biggest criminal case in US history, in terms of its 3,000 murder victims, the breadth of the investigation and its political significance. But nearly seven years after they began, those hearings are only inching forward.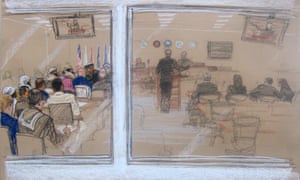 Minutes after Mohammed arrives, his four co-defendants are escorted in one by one: Walid bin Attash, alleged to have run an al-Qaida training camp in Afghanistan where two of the 9/11 hijackers were trained, and Ramzi bin al-Shibh, a Yemeni accused of helping organise logistics for the attack. Both wear camouflage jackets in court, and would have taken part in the attacks, the prosecution says, had they managed to get into the US.
Next is Ammar al-Baluchi, Mohammed's nephew, alleged to have played a critical role in funding the hijackers and organising their flight school training. The fifth defendant is Mustafa Ahmad al-Hawsawi, a Saudi accused of being a fixer for the 9/11 plot, acquiring cash, credit cards and clothing for the hijackers.
They were first charged in 2008 and the military commission proceedings began in 2012. The accused are growing old, some of the witnesses have died and the trial is still a year off, at least, as the hearings have been bogged down in procedural arguments. The 33rd pre-trial hearing began on Monday.
Separated from the accused by a triple-thick layer of glass, half secluded from observers by a curtain, are a handful of the victims' families. Cathy Powell's son Scott was a contractor working in the Pentagon when American Airlines flight 77 hit the building.
For years she tried to flee the constant reminders of her loss.
"I had to move from Washington DC because I couldn't deal with walking where my son walked," Powell said. She had expected the law to run its course long ago. And now, 85 and in fragile health, she had come to Guantánamo to try to understand why the case seems to be fading away from the nation's memory.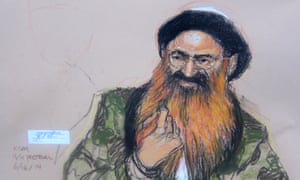 Khalid Sheikh Mohammad, who was arrested 16 years ago. Photograph: Janet Hamlin Illustration/AP
"I want justice," she said. "I think it has gone on too long. Why can't we get this over?"
The families, the judge, lawyers and approved observers fly in together on a charter plane a couple of days before each hearing, and take a ferry across the bay from the airstrip to Guantánamo's eastern shore where the courtroom has been established.
Camp Justice is a small outpost enclosed by fences, black netting and coils of razor wire. And it is surrounded by construction equipment, with workers on the go from before dawn to well into the evening. A $14m (£10.5m) upgrade is under way, including a building for defence counsel, and an oversized holding cell for a bedridden inmate.
Barack Obama failed to close the camp, and there are still 40 prisoners left. Only 12 of those have been charged, or soon will be. The rest are stuck in indefinite detention, including five who have been formally cleared but have not been released.
In January 2018, Donald Trump ordered the prison be kept open and predicted that "in many cases" more terrorist suspects could be shipped in. So far, no new prisoners have arrived, but the construction work is a reminder that the military tribunals are likely to remain for some time.
As the defence lawyers, prosecutors and observers lined up to go through security for the first court session this week, they had to negotiate a uniquely local obstacle, a 2ft-long iguana that had taken up position across the court entrance.
The reptiles are protected and the top commandment on the list of ground rules posted around the base is to do them no harm. They seem entirely unfazed by the base's human visitors.
But for the humans, iguanas are the least of the hazards involved in organising the most complex capital case in the country on a remote island using an improvised hybrid legal system. The events of the past week gave a vivid illustration of some of the reasons the case has dragged on for so long without properly getting off the ground.
On the eve of this week's hearing, flu ripped through the defence teams, knocking an air force lawyer out of action completely, and afflicting two of the lead counsels, one of them so severely she could barely speak or make her way to the bench.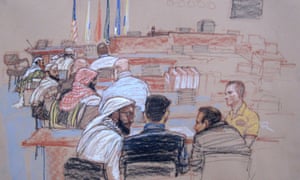 Defendants shown speaking with their lawyers during a break in proceedings. Photograph: Janet Hamlin/AP
The judge, Col Keith Parrella, insisted on carrying on regardless but with the death penalty at stake, proceedings are not supposed to continue in the absence of any senior defence counsel. With five defence teams including lawyers in their 70s, the chance of the hearings stalling for health reasons are great and increasing.
For all Parrella's efforts to push on, it was his own medical emergency which brought the hearing to a halt. He was flown out on Wednesday morning for urgent surgery on a detached retina.
Before the judge's departure, the court had battled over the treatment of a former defence paralegal. Days after leaving Guantánamo, Sgt Brent Skeete had been summoned to Fort Hood army base in Texas on false pretences. He was told he would be briefed on his next deployment, but when he arrived, he was thoroughly searched and interrogated for two and a half hours by FBI agents about the working and personal relationships inside the defence teams. The next day he was polygraphed by officials who just told him they were from "another agency", a routine euphemism for the CIA.
His account of the incident infuriated the defence, with the lawyers arguing they could not properly represent their clients under the shadow of secret investigations. Parrella consulted with a justice department "special review team" and declared there was no conflict of interest, before hearing the arguments from the defence counsels, only adding to their irritation.
They said Skeete's experience was just the latest in a litany of acts of harassment and sabotage. Two years ago hidden microphones were found in meeting rooms for attorneys and their clients. David Nevin, Mohammed's lead attorney, said there was a long history of his former colleagues "being recruited to serve as moles or spies on the defence team".
"I'm telling you about 10 years of repeated shots across our bow that were false, that were specifically designed to intimidate us and to make us stand back from the fence," Nevin said. "And it's gone on long enough. It's gone on too long."
James Harrington, Bin al-Shibh's lawyer, said: "The effect that it had on the members of my team was absolutely devastating. There are still members of my team who were here then who have never fully recovered from that. We had people on our team who wanted to leave right away."
For the defence, as well as human rights advocates and most legal scholars, the military commissions have been poisoned from their inception by the all-enveloping issue of torture.
The 9/11 defendants arrived in Guantánamo having undergone at least three years of "enhanced interrogation" at CIA black sites. Mohammed was subjected to waterboarding – simulated drowning – 183 times. Hawsawi comes to court with a special cushion and is unable to bear sitting down for long after repeated surgeries made necessary by forced rectal examinations in CIA detention.
The FBI took statements from the defendants in 2007, some months after their arrival in Guantánamo, which included extensive confessions. But the defence lawyers say they were still under the sway of the preceding years of torture, which had left a "learned helplessness".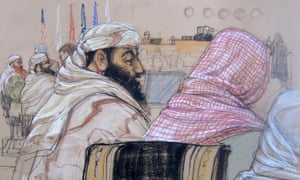 Ramzi Bin al-Shibh (centre) is accused of helping organise logistics for the 9/11 attack. Photograph: Janet Hamlin Illustration/AP
For the prosecution, who do not speak to the press, ignoring the 2007 statements would amount to throwing away clear and decisive evidence. An appeal filed last year said: "The statements made by the accused to the FBI constitute acknowledgments of guilt and responsibility for the largest act of terrorism in the history of the United States."
The status of the 2007 testimony in an eventual trial has yet to be finally decided. For now, the prosecution is disqualified from using the 2007 statements and the defence is blocked from trying to locate or contact any CIA officials or contractors, current or former, who were involved in the rendition programme, or their friends, family or colleagues.
In order to contact anyone involved in the programme, the defence has to go through the government.
For the defence lawyer Alka Pradhan, the obstacles to investigating what happened in the black sites are just the latest effort to cover up state-sponsored torture, which, for her, is in the dock alongside the accused.
"There has always been a deliberate effort by the government to keep these proceedings secret and my opinion is that if the public actually saw what was going on down here, they would be outraged," Pradhan said.
"There has never been any reckoning in the United States regarding the torture programme."
There are several other constraints on the defence that would be unthinkable in federal court, especially in a death penalty case. It is not allowed to reveal classified information, but in a touch of Kafka in the Caribbean, the government has not provided clear guidance on what is classified and what is not. Even more importantly, the defence cannot call its own witnesses but must go through the government, which attorneys claim has turned down 90% of its requests.
"This is by definition a broken system. If the purpose of all this is justice, no one is getting any," said Brig Gen John Baker, who oversees all the defence teams at Guantánamo. "The bedrock principle of our nation is justice, due process and rule of law, making sure people get proper representation. Our system is on trial here. The defence are the only ones standing up for the system."
After witnessing the procedural cut and thrust, with little apparent forward movement, Powell declared herself as bewildered as when she first arrived in Guantánamo over the weekend, looking for answers about her son's death.
"They are just saying the same thing over and over and over again," she said.
Had coming to the camp and seeing proceedings firsthand brought any peace? "No," she said. "When it's over, it will."
UNITED NATIONS (AP) — Yemen's government and its key coalition partners Saudi Arabia and the United Arab Emirates expressed "growing alarm" at what they say are "persistent, deliberate violations" by rival Houthi Shiite rebels of the December cease-fire agreement in the key port of Hodeida.
Ambassadors of the three countries said in a letter to the U.N. Security Council obtained Friday by The Associated Press that they are also alarmed at the Houthis' refusal to redeploy troops from the port area and allow a free flow of humanitarian aid, as called for the in the Dec. 13 agreement signed in Stockholm, Sweden.
The coalition partners said they remain committed to the U.N.-facilitated deal and urged council members "to do everything in their power to demand that the Iran-backed Houthis comply with the terms of the Stockholm agreement."
They warned that if the Houthis fail to comply "they will be held responsible" for the collapse of the Stockholm agreement.
The letter lists what it says were 970 Houthi violations between Dec. 18 and Jan. 29 that killed 71 people and wounded 534.
The coalition's assessment of the cease-fire differed sharply from the U.N.'s.
Kuwait's U.N. Ambassador Mansour Al-Otaibi said the U.N. envoy for Yemen, Martin Griffiths, told the Security Council in a closed briefing Thursday that he "is optimistic" the cease-fire in Hodeida is holding despite some violations. He said Griffiths also cited statements from Yemen's government and Houthi Shiite rebels that they are committed to redeploying their forces.
U.N. spokesman Stephane Dujarric reiterated Friday that Griffiths and the outgoing head of the U.N. operation monitoring the cease-fire, Dutch Maj. Gen. Patrick Cammaert, "have said publicly that the cease-fire is generally holding."
The coalition partners warned, however, that the Houthis' failure to implement the Stockholm agreement could end prospects for peace.
BEIRUT — Nearly 30 children have died in eastern Syria over the past two months after making their way out of the last area controlled by the Islamic State group, a spokesman for the U.N. refugee agency said Friday.
Andrej Mahecic of UNHCR said in Geneva that malnourishment and hypothermia have been the principal causes of the 29 children's deaths. They are among some 10,000 people who have fled the area near the Iraqi border and reached the al-Hol tent settlement in Hassakeh, raising its population to more than 23,000, Mahecic said.
The evacuations from eastern Syria come during frigid winter weather in the desert region, with mostly women and children fleeing amid the fighting there.
The U.S.-backed Kurdish-led Syrian Democratic Forces have captured wide areas from IS in recent months in the eastern province of Deir el-Zour. The extremists are now besieged in a small pocket near Iraq's border. The fighting that began with an SDF offensive on Sept. 10 has left hundreds dead on both sides. The extremists now control only two villages.
As IS loses ground, thousands of people, many of them women and children, are fleeing and most of them are being taken to a tent settlement in the northeastern province of Hassakeh.
Syria's conflict, which began in March 2011, has impacted children heavily, many of whom have been killed or wounded. The Britain-based Syrian Observatory for Human Rights, a war monitor, released a death toll for the conflict in December saying that among the half a million people killed over the past seven years, 20,819 were children or teenagers.
Mahecic said the children who have died since early December — including newborns — have died both during their journey and shortly after their arrival. Medical facilities in Hassakeh, where the most critical cases are referred to from the camp, are overstretched caring for acutely malnourished children.
KABUL, Afghanistan — The Taliban are expected to meet with Afghan opposition leaders in Moscow in the coming days, a development that could further undermine the government of President Ashraf Ghani, which has found itself excluded from the talks seeking an end to the 17-year war.
Even as the insurgents say they are close to a deal on core issues with American diplomats, they have refused to meet with the Afghan government. Mr. Ghani has repeatedly expressed concern that if the Americans rush to make a deal with the Taliban before the insurgents agree to negotiate with his officials, it could undermine a fragile Afghan state built at tremendous cost.
For the Taliban to go around Mr. Ghani to meet with some of the country's major political leaders, many of whom are at odds with him, would surely further anger the Afghan president.
"At this moment, we do not see the need for such a meeting," said Sebghat Ahmadi, a spokesman for the Afghan Foreign Ministry. "We know it will not help Afghanistan toward reaching peace at all, so it's little more than a political drama."
Officials and members of Afghan political parties said invitations to talks in Moscow, scheduled for Tuesday and Wednesday, had been sent to representatives of a broad cross-section of the country's political elite, including all the major parties. It was not immediately clear who was organizing the event or who would attend.
Some who received invitations said an Afghan diaspora group in Moscow was organizing the talks. But the venue — the President Hotel, which is owned by the Kremlin — and the number of visas that would be required suggested that, at the very least, the organizers were working closely with the Russian government.
A senior Afghan official said that Zamir Kabulov, the Russian presidential envoy to Afghanistan, was behind the initiative. In several discussions about the possibility of such a meeting, the Afghan government made it clear that it would participate in direct talks only with the Taliban, not a situation in which the government was one of several parties at the table, according to the official.

C

asualties, Exclusive of Civilians
Recent Casualties:
Color Denotes Today's Confirmation
The Department of Defense announced today the death of a soldier who was supporting Operation Freedom's Sentinel.
Staff Sgt. Joshua Z. Beale, 32, of Carrollton, Virginia, died Jan. 22, 2019, as a result of injuries sustained from enemy small arms fire during combat operations in Tarin Kowt, Uruzgan Province, Afghanistan.
Beale was assigned to 1st Battalion, 3rd Special Forces Group (Airborne), Fort Bragg, North Carolina.

The Department of Defense announced today the deaths of one soldier, one sailor and one DOD civilian who were supporting Operation Inherent Resolve.
The deceased are:
Army Chief Warrant Officer 2 Jonathan R. Farmer, 37, of Boynton Beach, Florida. Farmer was assigned to 3rd Battalion, 5th Special Forces Group (Airborne), Fort Campbell, Kentucky.
Navy Chief Cryptologic Technician (Interpretive) Shannon M. Kent, 35, of upstate New York. Kent was assigned to Cryptologic Warfare Activity 66, based at Fort George G. Meade, Maryland.
DOD civilian Scott A. Wirtz of St. Louis, Missouri. Wirtz was assigned to the Defense Intelligence Agency as an operations support specialist.
Farmer, Kent and Wirtz died Jan. 16, 2019, in Manbij, Syria, as a result of wounds sustained from a suicide improvised explosive device.

The Department of Defense announced today the death of a soldier who was supporting Operation Freedom's Sentinel.
Sgt. Cameron A. Meddock, 26, of Spearman, Texas, died Jan. 17, 2019, in Landstuhl, Germany, as a result of injuries sustained from small arms fire during combat operations on Jan. 13, 2019, in Jawand District, Badghis Province, Afghanistan.
Meddock was assigned to 2nd Battalion, 75th Ranger Regiment, Joint Base Lewis-McChord, Washington.
War Casualties By Name
More
Care for Veterans:
PTSD: National Center for PTSDPTSD Care for Veterans, Military, and FamiliesSee Help for Veterans with PTSD to learn how to enroll for VA health care and get an assessment.
All VA Medical Centers provide PTSD care, as well as many VA clinics.Some VA's have programs specializing in PTSD treatment. Use the VA PTSD Program Locator to find a PTSD program.
If you are a war Veteran, find a Vet Center to help with the transition from military to civilian life.
Yemen War Child
A child looks out at buildings that were damaged in an airstrike in the city of Taiz. Photograph: Ahmad Al-Basha/AFP/Getty Images
Please do not forget the children.
The McGlynn