04 Feb
United States Wars, News and Casualties
Damn The War Criminals,

Bush,Cheney,Rice,Rumsfeld,Wolfowitz, Powell and Blair from England.
The war ended for those children, but it has never ended for survivors who carry memories of them. Likewise, the effects of the U.S. bombings continue, immeasurably and indefensibly.
Civilian casualties in the war in Afghanistan (2001–present)
During the war in Afghanistan (2001–present), over 31,000 civilian deaths due to war-related violence have been documented;[1][2] 29,900 civilians have been wounded.[2] Over 111,000 Afghans, including civilians, soldiers and militants, are estimated to have been killed in the conflict.[1] The Cost of War project estimated that the number who have died through indirect causes related to the war may be as high 360,000 additional people based on a ratio of indirect to direct deaths in contemporary conflicts.[3] These numbers do not include those who have died in Pakistan.
The war, launched by the United States as "Operation Enduring Freedom" in 2001, began with an initial air campaign that almost immediately prompted concerns over the number of Afghan civilians being killed[4] as well as international protests. With civilian deaths from airstrikes rising again in recent years,[5] the number of Afghan civilians being killed by foreign military operations has led to mounting tension between the foreign countries and the government of Afghanistan. In May 2007, President Hamid Karzai summoned foreign military commanders to warn them of the consequences of further Afghan civilian deaths.[6] The civilian losses are a continuation of the extremely high civilian losses experienced during the Soviet–Afghan War in the 1980s, and the three periods of civil war following it: 1989–1992, 1992–1996, and 1996–2001.
The McGlynn

War News
It is time to bring American soldiers back home.
On Sept. 14, 2001, Congress wrote what would prove to be one of the largest blank checks in the country's history. The Authorization for Use of Military Force Against Terrorists gave President George W. Bush authority to attack the Taliban, the Sunni fundamentalist force then dominating Afghanistan that refused to turn over the mastermind of the attacks perpetrated three days earlier, Osama bin Laden.
In the House of Representatives and the Senate combined, there was only one vote in opposition: Barbara Lee, a Democratic representative from California, who warned of another Vietnam. "We must be careful not to embark on an open-ended war with neither an exit strategy nor a focused target," she said. "We cannot repeat past mistakes."
Days later, Mr. Bush told a joint session of Congress just how broadly he planned to use his new war powers. "Our war on terror begins with Al Qaeda, but it does not end there," Mr. Bush declared. "It will not end until every terrorist group of global reach has been found, stopped and defeated."
More than 17 years later, the United States military is engaged in counterterrorism missions in 80 nations on six continents. The price tag, which includes the wars in Afghanistan and Iraq and increased spending on veterans' care, will reach $5.9 trillion by the end of fiscal year 2019, according to the Costs of War project at Brown University. Since nearly all of that money has been borrowed, the total cost with interest will be substantially higher.
The war on terror has been called the "forever war," the "long war," a "crusade gone wrong." It has claimed an estimated half a million lives around the globe.
It is long past time for a reappraisal.
More than 2.7 million Americans have fought in the war since 2001. Nearly 7,000 service members — and nearly 8,000 private contractors — have been killed. More than 53,700 people returned home bearing physical wounds, and numberless more carry psychological injuries. More than one million Americans who served in a theater of the war on terror receive some level of disability compensation from the Department of Veterans Affairs.
The blood was spilled and the money was spent based on the idea that war abroad could prevent bloodshed at home. As Mr. Bush explained in 2004: "We are fighting these terrorists with our military in Afghanistan and Iraq and beyond so we do not have to face them in the streets of our own cities."
But hatred is borderless. It is true that since 9/11, no foreign terrorist group has conducted a deadly attack inside the United States. But there have been more than 200 deadly terrorist attacks during that period, most often at the hands of Americans radicalized by ideologies that such groups spread. Half of those attacks were motivated by radical Islam, while 86 came at the hands of far-right extremists.
When Donald Trump ran for the White House, one of his central promises was to rein in overseas military adventurism and focus the country's limited resources on its core strategic priorities. While Mr. Trump's foreign policy has been unwise if not self-defeating in many areas, he is right, as was Barack Obama, to want to scale back a global conflict that appears to have no outer bound.
Graham Jones MP says reports of civilian deaths from airstrikes have been 'grossly exaggerated'
The neutrality of the chief gatekeeper to the UK's arms control regime has been brought into question after he repeatedly attacked the integrity of British NGOs' claims about civilian deaths in Yemen.
Graham Jones, a Labour MP and chair of the Commons committees on arms export controls (CAEC), also said that blame for the war in Yemen lay primarily with Iran, and not the west or Saudi Arabia.
Jones is the most senior parliamentarian overseeing Britain's arms control regime, including the lawfulness of UK arms sales to Saudi Arabia and Yemen.
Yemen's UN-backed government, supported by Saudi and UAE forces, has been trying to dislodge a Houthi militia in the country…………….Jones said there was "a constant stream of stories" generated by NGOs based on so-called evidence that turned out to be false.
NGOs working in the region are privately furious at what they regard as a belittling of their legitimate efforts to highlight the number of civilian casualties caused by Saudi air strikes. They insist they have also called out Houthi war crimes, but point out the UK is supplying weapons to the Saudis and not the Houthis.
Vessel moored near Hodeidah hosts meetings with Yemen government delegates and Houthi rebels
Yemen peace talks have been held onboard a UN-chartered boat anchored in the Red Sea in an attempt to find a neutral venue acceptable to both sides.
Patrick Cammaert, a retired Dutch general and head of the UN mission in Yemen, chaired the meeting on the ship moored off the port city of Hodeidah. Houthi rebel military officials had refused to meet in government-held areas in southern Hodeidah, citing security fears.
The dispute over the talks venue had prevented military leaders from the two sides meeting since 2 January. The first two meetings had been held in Houthi-controlled zones.
The meetings of the regional redeployment committee (RCC) are seen as critical to building on the UN-brokered agreement reached in Stockholm in Decemberthat under which Houthi fighters would be redeployed out of Hodeida's city and port. The agreement envisaged a new security force taking over the city, a move critical to preventing famine and to opening humanitarian corridors.
The UN mission, despite delays and setbacks, remains optimistic that progress can be made, partly because external forces, including the US and Saudi, recognise that a purely military solution in Yemen might come at an unacceptable price.
KABUL (Reuters) – Senior Afghan officials warned on Monday that talks this week between Taliban militants and opposition politicians, including former President Hamid Karzai, betrayed the principles of democracy and Afghanistan's best interests.
The talks, starting on Tuesday in Moscow, come 10 days after peace negotiations between the United States and the Taliban in Qatar ended with signs of progress toward the withdrawal of thousands of foreign troops from Afghanistan and an end to more than 17 years of war.
The push for peace comes as the Taliban, ousted by U.S.-led forces in 2001, have staged near daily attacks and are in control of or contesting districts across nearly half the country.
Moscow had decided to snub Afghan government officials, sources said, to ensure the participation of the Taliban who refuse to hold talks with representatives of Western-backed President Ashraf Ghani, branding them puppets of the United States.
Fazel Fazly, chief adviser to Ghani, expressed "regret" that politicians who previously led Afghanistan's democratic transition were to meet the Taliban.
"(They) are ready to bypass these principles and move toward (the principles') destruction due to differences and being away from power," Fazly said in a Tweet.
MOSUL, Iraq (Reuters) – The demolition of a wrecked building in the northern Iraqi city of Mosul where Islamic State used to execute men they said were gay is already in its third month.
A destroyed house is seen in the Old City of Mosul, Iraq January 29, 2019. Picture taken January 29, 2019. REUTERS/Ari Jalal
Homeless boys who hunt for scrap in the remains of the former National Insurance Company building work quicker some days than the lone digger perched on its crumbling carcass.
Two years after the battle in which Iraqi forces recaptured Mosul from IS, the authorities do not own enough equipment to clear the rubble littered across the city.
Hundreds of Mosul council's vehicles were destroyed in fighting or used by IS as suicide bombs. Few have been replaced.
Companies hired by the governor on lucrative contracts to make up the shortfall work deliberately slowly, or sometimes do not exist, lawmakers and locals say.
BAGHDAD (AP) — Police and medical officials say seven Iranian Shiite pilgrims traveling in central Iraq were wounded when their bus came under attack by unidentified gunmen.
The officials said late Sunday that the bus carrying 10 pilgrims was north of the capital of Baghdad when gunmen opened fire.
They say the wounded passengers were taken to a hospital, including a woman who was in serious condition. The officials spoke on condition of anonymity in line with briefing regulations.
There was no immediate claim of responsibility for the attack.

C

asualties, Exclusive of Civilians
Recent Casualties:
Color Denotes Today's Confirmation
The Department of Defense announced today the death of a soldier who was supporting Operation Freedom's Sentinel.
Staff Sgt. Joshua Z. Beale, 32, of Carrollton, Virginia, died Jan. 22, 2019, as a result of injuries sustained from enemy small arms fire during combat operations in Tarin Kowt, Uruzgan Province, Afghanistan.
Beale was assigned to 1st Battalion, 3rd Special Forces Group (Airborne), Fort Bragg, North Carolina.

The Department of Defense announced today the deaths of one soldier, one sailor and one DOD civilian who were supporting Operation Inherent Resolve.
The deceased are:
Army Chief Warrant Officer 2 Jonathan R. Farmer, 37, of Boynton Beach, Florida. Farmer was assigned to 3rd Battalion, 5th Special Forces Group (Airborne), Fort Campbell, Kentucky.
Navy Chief Cryptologic Technician (Interpretive) Shannon M. Kent, 35, of upstate New York. Kent was assigned to Cryptologic Warfare Activity 66, based at Fort George G. Meade, Maryland.
DOD civilian Scott A. Wirtz of St. Louis, Missouri. Wirtz was assigned to the Defense Intelligence Agency as an operations support specialist.
Farmer, Kent and Wirtz died Jan. 16, 2019, in Manbij, Syria, as a result of wounds sustained from a suicide improvised explosive device.

The Department of Defense announced today the death of a soldier who was supporting Operation Freedom's Sentinel.
Sgt. Cameron A. Meddock, 26, of Spearman, Texas, died Jan. 17, 2019, in Landstuhl, Germany, as a result of injuries sustained from small arms fire during combat operations on Jan. 13, 2019, in Jawand District, Badghis Province, Afghanistan.
Meddock was assigned to 2nd Battalion, 75th Ranger Regiment, Joint Base Lewis-McChord, Washington.
War Casualties By Name
More
Care for Veterans:
PTSD: National Center for PTSDPTSD Care for Veterans, Military, and FamiliesSee Help for Veterans with PTSD to learn how to enroll for VA health care and get an assessment.
All VA Medical Centers provide PTSD care, as well as many VA clinics.Some VA's have programs specializing in PTSD treatment. Use the VA PTSD Program Locator to find a PTSD program.
If you are a war Veteran, find a Vet Center to help with the transition from military to civilian life.
Yemen War Child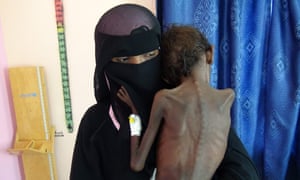 Yemeni mother Nadia Nahari holding her five-year-old son Abdelrahman Manhash, who is suffering from severe malnutrition and weighing 5 kilograms, at a treatment clinic in the Khokha district in the western province of Hodeidah. Photograph: AFP/Getty Images
Please do not forget the children.
The McGlynn