13 Feb
United States Wars, News and Casualties
War News
Small enclave of extremists holds out in Syria against intensive bombardment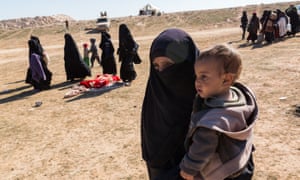 A civilian collection point for suspected Isis families fleeing heavy fighting for control of Baghuz. Photograph: Achilleas Zavallis/The Guardian
Clamouring up dirt berms, clutching babies and blankets, the newest refugees of the Islamic State could well be the last.
Inside the nearby enclave they fled are perhaps no more than 500 people – nearly all of them fighters who are refusing to leave a two square kilometre corner of eastern Syria that is all that remains of the group's so-called caliphate.
The women and children who escaped the eastern Syrian town of Baghuz on Tuesday were not supposed to be there. Weeks of bombing and an exodus that had largely accounted for the pre-war population of 9,000 had given the besieging Kurdish-led forces a clear run at the holdouts in the ruins – or so they thought.
After three days of intensive bombardment, more people emerged than the attackers had thought possible, slowly making their way to collection points adjoining the battlefield. They included women from France, Russia and Tajikistan, as well as families from Iraq and nearby Syrian towns and cities.
As the utopian promise of Isis had become a bloody, shrinking dystopia, Baghuz has become a collection point for fighters and their families from across the lands the group once controlled.
LONDON (Reuters) – British foreign minister Jeremy Hunt on Wednesday said the window of opportunity to turn a ceasefire in Yemen into a plan for peace was shortening.
"We now have a shortening window of opportunity to turn the ceasefire into a durable path to peace – and stop the world's worst humanitarian crisis," Hunt said in a statement ahead of a meeting with the U.S., UAE and Saudi foreign ministers.
"Real progress has been made to reach a political solution but there are also real issues of trust between the two sides which mean the agreement in Stockholm has not been fully implemented."

The McGlynn:

Netanyahu, The Dictator
JERUSALEM (Reuters) – Prime Minister Benjamin Netanyahu said on Tuesday that Israeli forces had carried out another strike in Iran-aligned Syria, a day after the Syrian army said an Israeli drone fired missiles near a demolished hospital and an army observation post.
"We are operating every day, including yesterday, against Iran. All the time. Against Iran and against its attempt to entrench itself in the area," Netanyahu told reporters before flying to Poland for a Mideast conference.
Israel is trying to counter the influence carved out in Syria by Iran, which has supported Syrian President Bashar al-Assad in the war that erupted in 2011.
Monday's air strike, which occurred in the southern Quneitra province, caused only material damage, the Syrian army said.
Israel has been increasingly open about carrying out air strikes in Syria with an election looming in April.
Netanyahu has said in recent weeks that Israel has carried out hundreds of attacks in Syria over the past several years and would ramp up its fight following the planned withdrawal of U.S. troops from the country.
SAN DIEGO (AP) — A military judge on Tuesday asked the Navy to address claims that allegations from a potential government witness were being leaked to the media in the case of a SEAL charged with murder in the 2017 death of an Iraqi war prisoner.
The judge, Capt. Aaron Rugh, said the leak is "disconcerting" because violating a protective order could taint the jury, affect testimony and impact whether Special Operations Chief Edward Gallagher, 39, receives a fair trial. He said the government has "all the power to investigate."
The Navy says it is investigating and has limited the number of people who have access to the information to stop the leaks.Defense attorney Phil Stackhouse said the Navy Times received a letter from an attorney representing one of the SEALs expected to testify for the prosecution that detailed his potential testimony. The report came around the same time Stackhouse was given the letter by the prosecution.The Navy Times reported over the weekend that an officer in Gallagher's chain of command has said Gallagher called in "false target coordinates to engage a mosque" during their 2017 deployment in Iraq, tried to start unnecessary firefights with insurgents and was so mentally unstable the officer feared the platoon was at risk.A second letter from another attorney representing a SEAL was also obtained by the Navy Times. The attorney said the SEAL described how Gallagher threatened former members of the SEAL team and their families. The letter said he was relieved to be questioned about Gallagher's misconduct because he had assumed Gallagher was being protected by his superiors.
BARTELLA, Iraq (AP) — In a story Feb. 11 about Christians in the northern Iraqi town of Bartella, The Associated Press reported erroneously that Ammar Shamoun Moussa is the head of the Nineveh Plain Protection Units, and that the force fled Bartella to Kurdish areas as Islamic State fighters captured the town. Moussa is the head of another Christian Assyrian Force known as the Nineveh Plain Guard Forces, which is the force that did flee Bartella. The story also quoted Bartella city council member Jalal Boutros as having pointed to worries that some Shiite militiamen known locally as the "Hashed" are just as extremist as Sunni militants in IS. Boutros did not make the specific comparison and was referring to extremist mentality in general.
A corrected version of the story is below:
Iraqi Christians fear returning home, wary of Shiite militia
Few Christian residents have returned to northern Iraqi town of Bartella, 2 years after its liberation from IS
BARTELLA, Iraq (AP) — In the main square in the northern Iraqi town of Bartella stands a large cross, one of the few overt signs the town was historically Christian.
Nearby, a massive billboard shows Shiite Muslim martyrs alongside a photo of Iran's Ayatollah Khomeini. Posters of Iranian-backed Shiite militiamen killed in fighting with the Islamic State group hang on streets all around the city, along with banners to revered historical Shiite saints.
Thirty years ago, Bartella's population was entirely Christian. Demographic changes over the decades left the town split between Christians and an ethnic group known as Shabak, who are largely Shiites. When the Islamic State group overran the town and the rest of northern Iraq in 2014, Bartella's entire population fled — since both communities were persecuted by the radicals.
But two years after Bartella was liberated from IS, fewer than a third of its 3,800 Christian families have come back. Most remain afraid, amid reports of intimidation and harassment by Shabak, who dominate the Shiite militias now controlling the town.
MOSCOW (AP) — A senior Russian diplomat says that because America "completely failed" in Afghanistan, this has opened the way for Moscow to expand its clout in the country.
Zamir Kabulov, President Vladimir Putin's envoy for Afghanistan, says many Afghans now view Russia as an impartial mediator that could help advance political process despite the Soviet war in Afghanistan.
Kabulov told The Associated Press in an interview on Wednesday that the U.S. has "completely failed" in Afghanistan. He argued that it's in the U.S. interests to withdraw its troops as quickly as possible and focus on financial assistance to the Afghan government to help the post-war recovery.
Last week, a meeting in Moscow brought together Afghan former officials, opposition igures and the Taliban but sidelined President Ashraf Ghani's government.
DERA ISMAIL KHAN, Pakistan — Taliban gunmen opened fire on a police vehicle and killed four officers in northwestern Pakistan on Tuesday, officials said, in a region once riven by militant violence but since cleared following military crackdowns.
The ambush, claimed by the Hizbul Ahrar, a splinter group of the Pakistani Taliban, was the first major attack in the Dera Ismail Khan district of Khyber Pakhtunkhwa since a suicide blast killed a candidate in the lead-up to the July general election.
"The officers were out patrolling the area when six to seven people who were waiting for them opened fire on their vehicle," senior police official Mohammad Iqbal told Reuters.
"The assailants were seated at a local tea stall and opened fire when the police vehicle approached."
Damn The War Criminals,

Bush,Cheney,Rice,Rumsfeld,Wolfowitz, Powell and Blair from England.
The war ended for those children, but it has never ended for survivors who carry memories of them. Likewise, the effects of the U.S. bombings continue, immeasurably and indefensibly.
Civilian casualties in the war in Afghanistan (2001–present)
During the war in Afghanistan (2001–present), over 31,000 civilian deaths due to war-related violence have been documented;[1][2] 29,900 civilians have been wounded.[2] Over 111,000 Afghans, including civilians, soldiers and militants, are estimated to have been killed in the conflict.[1] The Cost of War project estimated that the number who have died through indirect causes related to the war may be as high 360,000 additional people based on a ratio of indirect to direct deaths in contemporary conflicts.[3] These numbers do not include those who have died in Pakistan.
The war, launched by the United States as "Operation Enduring Freedom" in 2001, began with an initial air campaign that almost immediately prompted concerns over the number of Afghan civilians being killed[4] as well as international protests. With civilian deaths from airstrikes rising again in recent years,[5] the number of Afghan civilians being killed by foreign military operations has led to mounting tension between the foreign countries and the government of Afghanistan. In May 2007, President Hamid Karzai summoned foreign military commanders to warn them of the consequences of further Afghan civilian deaths.[6] The civilian losses are a continuation of the extremely high civilian losses experienced during the Soviet–Afghan War in the 1980s, and the three periods of civil war following it: 1989–1992, 1992–1996, and 1996–2001.
The McGlynn


C

asualties, Exclusive of Civilians
Recent Casualties:
Color Denotes Today's Confirmation
The Department of Defense announced today the death of a soldier who was supporting Operation Freedom's Sentinel.
Staff Sgt. Joshua Z. Beale, 32, of Carrollton, Virginia, died Jan. 22, 2019, as a result of injuries sustained from enemy small arms fire during combat operations in Tarin Kowt, Uruzgan Province, Afghanistan.
Beale was assigned to 1st Battalion, 3rd Special Forces Group (Airborne), Fort Bragg, North Carolina.

The Department of Defense announced today the deaths of one soldier, one sailor and one DOD civilian who were supporting Operation Inherent Resolve.
The deceased are:
Army Chief Warrant Officer 2 Jonathan R. Farmer, 37, of Boynton Beach, Florida. Farmer was assigned to 3rd Battalion, 5th Special Forces Group (Airborne), Fort Campbell, Kentucky.
Navy Chief Cryptologic Technician (Interpretive) Shannon M. Kent, 35, of upstate New York. Kent was assigned to Cryptologic Warfare Activity 66, based at Fort George G. Meade, Maryland.
DOD civilian Scott A. Wirtz of St. Louis, Missouri. Wirtz was assigned to the Defense Intelligence Agency as an operations support specialist.
Farmer, Kent and Wirtz died Jan. 16, 2019, in Manbij, Syria, as a result of wounds sustained from a suicide improvised explosive device.

The Department of Defense announced today the death of a soldier who was supporting Operation Freedom's Sentinel.
Sgt. Cameron A. Meddock, 26, of Spearman, Texas, died Jan. 17, 2019, in Landstuhl, Germany, as a result of injuries sustained from small arms fire during combat operations on Jan. 13, 2019, in Jawand District, Badghis Province, Afghanistan.
Meddock was assigned to 2nd Battalion, 75th Ranger Regiment, Joint Base Lewis-McChord, Washington.
War Casualties By Name
More
Care for Veterans:
PTSD: National Center for PTSDPTSD Care for Veterans, Military, and FamiliesSee Help for Veterans with PTSD to learn how to enroll for VA health care and get an assessment.
All VA Medical Centers provide PTSD care, as well as many VA clinics.Some VA's have programs specializing in PTSD treatment. Use the VA PTSD Program Locator to find a PTSD program.
If you are a war Veteran, find a Vet Center to help with the transition from military to civilian life.

Syria War Child
Please do not forget the children.
The McGlynn