15 Feb
United States Wars, News and Casualties
Damn The War Criminals,

Bush,Cheney,Rice,Rumsfeld,Wolfowitz, Powell and Blair from England.
Some History:
Bush's Five Big Lies That Led to the Iraq Quagmire
These are the five lies Bush told that Ralph Nader documented to impeach him.
Weapons of Mass Destruction. The weapons have still not been found. Nader emphasized, "Until the

1991

Gulf War, Saddam Hussein was our government's anti-communist ally in the Middle East. We also used him to keep Iran at bay. In so doing, in the

1980

s under Reagan and the first Bush, corporations were licensed by the Department of Commerce to export the materials for chemical and biological weapons that President George W. Bush and Vice President Dick Cheney later accused him of having." Those weapons were destroyed after the Gulf War. George W. Bush's favorite chief weapons inspector, David Kay, after returning from Iraq and leading a large team of inspectors and spending nearly half a billion dollars told the president

We were wrong.

See: David Kay testimony before Senate Armed Services Committee,

2004-01-28

.Tyler Drumheller, the former chief of the

CIA

(

C

entral

I

ntelligence

A

gency) 's Europe division, revealed that in the fall of

2002

, George W. Bush, Vice President Cheney, then-National Security Adviser Condoleezza Rice and others were told by

CIA

Director George Tenet that Iraq's foreign minister — who agreed to act as a spy for the United States — had reported that Iraq had no active weapons of mass destruction program.

Iraq Ties to Al Qaeda. The White House made this claim even though the

CIA

and

FBI

(

F

ederal

B

ureau of

I

nvestigation) repeatedly told the Administration that there was no tie between Saddam Hussein and Al Qaeda. They were mortal enemies — one secular, the other fundamentalist.

Saddam Hussein was a Threat to the United States. In fact, Saddam was a tottering dictator, with an antiquated, fractured army of low morale and with Kurdish enemies in Northern Iraq and Shiite adversaries in the South of Iraq. He did not even control the air space over most of Iraq.

Saddam Hussein was a Threat to his Neighbors. In fact, Iraq was surrounded by countries with far superior military forces. Turkey, Iran and Israel were all capable of obliterating any aggressive move by the Iraqi dictator.

The Liberation of the Iraqi People. There are brutal dictators throughout the world, many supported over the years by Washington, whose people need

liberation

from their leaders. This is not a persuasive argument since for Iraq, it's about oil. In fact, the occupation of Iraq by the United States is a magnet for increasing violence, anarchy and insurrection.
The McGlynn
War News
Wives of jihadist fighters wounded as they flee Baghuz, the final Isis enclave in Syria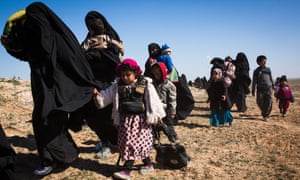 Women and children fleeing Baghuz, the last remaining Isis enclave in Syria. Photograph: Achilleas Zavallis/Guardian
Islamic State fighters shot and wounded fleeing family members trying to escape from its besieged enclave in Syria, according to a coalition commander, as Kurdish forces continued to tighten the noose on the remaining extremists.
The battle to recapture the group's last speck of territory is now only days from completion, Kurdish commanders said, with perhaps several hundred hardcore members dug into the centre of Baghuz village, a hamlet on the banks of the river Euphrates.
A coalition military official said Isis had fired on the wives of fighters as they attempted to flee on Wednesday. Those "arriving to be screened are the wives of Isis fighters, some of whom sustained gunshot wounds while fleeing from Isis", said British Maj Gen Christopher Ghika.
KABUL (Reuters) – While negotiations between Taliban insurgents and U.S. envoys fuel dreams of peace in Afghanistan, the squatter village of Pul-e Shina highlights the tough realities ahead if the country is to re-build after years of war.

FILE PHOTO: An internally displaced family warm themselves inside a shelter at a refugee camp in Kabul, Afghanistan January 30, 2018. REUTERS/Mohammad Ismail/File Photo
In the shadows of mountains east of the capital, Kabul, families recently displaced by fighting join others who have been there for years, scratching out a living with no access to reliable supplies of water and heating fuel, or schools for their children.
Melting snow leaves ankle-deep mud across the village of Pul-e Shina, where for many the new hopes for peace are tempered by the realization their struggles of daily life are unlikely to change for the better any time soon.
"Even if there is peace, we can't go back," said Sima Gul, a community leader who fled Taliban attacks in a neighboring province with her husband and nine children 18 months ago.
"There is nothing left for us there, even though it was once our home. We have to improve what we have here."
Pul-e Shina, a mix of mud-walled huts and tarpaulin shelters, is home to some 3,800 people and part of a network 50-odd "informal settlements", in which an estimated 100,000 displaced people have joined Kabul's urban sprawl.
As well as lacking basic amenities, residents of such villages invariably hold no land rights or title, leaving them at the mercy of developers or government planners.
LONDON (Thomson Reuters Foundation) – Starvation, disease and a lack of aid are killing 300 babies a day in warzones around the world, with the number of children caught up in conflicts nearing a 30-year high, Save the Children said on Friday.
Afghanistan, Yemen, South Sudan, Central African Republic and Syria were among the worst conflict zones for children in 2017, the charity concluded from an analysis of U.N. data for the five years to the end of that year.
In all, more than 500,000 babies died during the period from the knock-on effects of conflict – hunger, hospital attacks and reduced aid – according to the data, which excludes those killed in attacks.
"From Yemen to Syria and South Sudan, children are bearing the horror of armed conflict," said Kevin Watkins, head of Save the Children, in a statement.
Yemen's almost four-year war has killed tens of thousands of people, caused the economy to collapse and brought millions of people to the brink of famine, according to the United Nations.
Children there are at risk of malnutrition, diarrhea, cholera, and diphtheria – a disease that spreads as easily as the common cold, said Save the Children.
Five million children in Africa have died over the last 20 years because armed conflict deprived them of access to basic healthcare or clean water, the Lancet medical journal said in a report last year.
Save the Children said a fifth of all children worldwide – about 420 million – lived in a conflict zone in 2017, 30 million more than the year before and the highest number since 1990.
It said the U.N. data showed the number of "grave violations" against children – from sexual violence, armed recruitment and restricting aid – rose to a record 25,000 in 2017 from 10,000 in 2010.
Civilian casualties in the war in Afghanistan (2001–present)
During the war in Afghanistan (2001–present), over 31,000 civilian deaths due to war-related violence have been documented;[1][2] 29,900 civilians have been wounded.[2] Over 111,000 Afghans, including civilians, soldiers and militants, are estimated to have been killed in the conflict.[1] The Cost of War project estimated that the number who have died through indirect causes related to the war may be as high 360,000 additional people based on a ratio of indirect to direct deaths in contemporary conflicts.[3] These numbers do not include those who have died in Pakistan.
The war, launched by the United States as "Operation Enduring Freedom" in 2001, began with an initial air campaign that almost immediately prompted concerns over the number of Afghan civilians being killed[4] as well as international protests. With civilian deaths from airstrikes rising again in recent years,[5] the number of Afghan civilians being killed by foreign military operations has led to mounting tension between the foreign countries and the government of Afghanistan. In May 2007, President Hamid Karzai summoned foreign military commanders to warn them of the consequences of further Afghan civilian deaths.[6] The civilian losses are a continuation of the extremely high civilian losses experienced during the Soviet–Afghan War in the 1980s, and the three periods of civil war following it: 1989–1992, 1992–1996, and 1996–2001.
The McGlynn


C

asualties, Exclusive of Civilians
Recent Casualties:
Color Denotes Today's Confirmation
The Department of Defense announced today the death of a soldier who was supporting Operation Freedom's Sentinel.
Staff Sgt. Joshua Z. Beale, 32, of Carrollton, Virginia, died Jan. 22, 2019, as a result of injuries sustained from enemy small arms fire during combat operations in Tarin Kowt, Uruzgan Province, Afghanistan.
Beale was assigned to 1st Battalion, 3rd Special Forces Group (Airborne), Fort Bragg, North Carolina.

The Department of Defense announced today the deaths of one soldier, one sailor and one DOD civilian who were supporting Operation Inherent Resolve.
The deceased are:
Army Chief Warrant Officer 2 Jonathan R. Farmer, 37, of Boynton Beach, Florida. Farmer was assigned to 3rd Battalion, 5th Special Forces Group (Airborne), Fort Campbell, Kentucky.
Navy Chief Cryptologic Technician (Interpretive) Shannon M. Kent, 35, of upstate New York. Kent was assigned to Cryptologic Warfare Activity 66, based at Fort George G. Meade, Maryland.
DOD civilian Scott A. Wirtz of St. Louis, Missouri. Wirtz was assigned to the Defense Intelligence Agency as an operations support specialist.
Farmer, Kent and Wirtz died Jan. 16, 2019, in Manbij, Syria, as a result of wounds sustained from a suicide improvised explosive device.

The Department of Defense announced today the death of a soldier who was supporting Operation Freedom's Sentinel.
Sgt. Cameron A. Meddock, 26, of Spearman, Texas, died Jan. 17, 2019, in Landstuhl, Germany, as a result of injuries sustained from small arms fire during combat operations on Jan. 13, 2019, in Jawand District, Badghis Province, Afghanistan.
Meddock was assigned to 2nd Battalion, 75th Ranger Regiment, Joint Base Lewis-McChord, Washington.
War Casualties By Name
More
Care for Veterans:
PTSD: National Center for PTSDPTSD Care for Veterans, Military, and FamiliesSee Help for Veterans with PTSD to learn how to enroll for VA health care and get an assessment.
All VA Medical Centers provide PTSD care, as well as many VA clinics.Some VA's have programs specializing in PTSD treatment. Use the VA PTSD Program Locator to find a PTSD program.
If you are a war Veteran, find a Vet Center to help with the transition from military to civilian life.

Iraq War Dead Children
The war ended for these children, but it has never ended for survivors who carry memories of them. Likewise, the effects of the U.S. bombings continue, immeasurably and indefensibly.
Please do not forget the children.
The McGlynn