20 Feb
United States Wars, News and Casualties
Damn The War Criminals,

Bush,Cheney,Rice,Rumsfeld,Wolfowitz, Powell and Blair from England.
Some History:
Bush's Five Big Lies That Led to the Iraq Quagmire
These are the five lies Bush told that Ralph Nader documented to impeach him.
Weapons of Mass Destruction. The weapons have still not been found. Nader emphasized, "Until the

1991

Gulf War, Saddam Hussein was our government's anti-communist ally in the Middle East. We also used him to keep Iran at bay. In so doing, in the

1980

s under Reagan and the first Bush, corporations were licensed by the Department of Commerce to export the materials for chemical and biological weapons that President George W. Bush and Vice President Dick Cheney later accused him of having." Those weapons were destroyed after the Gulf War. George W. Bush's favorite chief weapons inspector, David Kay, after returning from Iraq and leading a large team of inspectors and spending nearly half a billion dollars told the president

We were wrong.

See: David Kay testimony before Senate Armed Services Committee,

2004-01-28

.Tyler Drumheller, the former chief of the

CIA

(

C

entral

I

ntelligence

A

gency) 's Europe division, revealed that in the fall of

2002

, George W. Bush, Vice President Cheney, then-National Security Adviser Condoleezza Rice and others were told by

CIA

Director George Tenet that Iraq's foreign minister — who agreed to act as a spy for the United States — had reported that Iraq had no active weapons of mass destruction program.

Iraq Ties to Al Qaeda. The White House made this claim even though the

CIA

and

FBI

(

F

ederal

B

ureau of

I

nvestigation) repeatedly told the Administration that there was no tie between Saddam Hussein and Al Qaeda. They were mortal enemies — one secular, the other fundamentalist.

Saddam Hussein was a Threat to the United States. In fact, Saddam was a tottering dictator, with an antiquated, fractured army of low morale and with Kurdish enemies in Northern Iraq and Shiite adversaries in the South of Iraq. He did not even control the air space over most of Iraq.

Saddam Hussein was a Threat to his Neighbors. In fact, Iraq was surrounded by countries with far superior military forces. Turkey, Iran and Israel were all capable of obliterating any aggressive move by the Iraqi dictator.

The Liberation of the Iraqi People. There are brutal dictators throughout the world, many supported over the years by Washington, whose people need

liberation

from their leaders. This is not a persuasive argument since for Iraq, it's about oil. In fact, the occupation of Iraq by the United States is a magnet for increasing violence, anarchy and insurrection.
The McGlynn
War News
I witnessed the constant hunger and thirst of those trapped in the remote Syrian desert, where aid rarely makes it through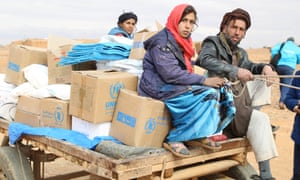 More than 40,000 Syrians are stranded in the desert after fleeing from the conflict in Homs and Palmyra. All photographs: World Food Progamme
Between the southern border of Syria, Jordan and Iraq lies a stretch of land akin to purgatory. More than 40,000 people are stranded in Rukban, almost 300km from Damascus.
Families here are cut off from the world, facing hunger and lacking healthcare, transport and education.
At the height of the Syrian crisis, many Syrians fled their towns and villages in rural eastern Homs and Palmyra, and moved south to Rukban. Some hoped to cross into Jordan while others camped out in the rocky desert, aiming to return home once the fighting stops.
Four years later, those displaced are still in Rukban, dependent on lifesaving humanitarian assistance and praying for a solution to their plight. Their fate hangs in the balance following an announcement to open up a humanitarian corridor.
Last week, I visited the isolated settlement for the first time when the World Food Programme took part in a UN convoy to Rukban joined by the Syrian Arab Red Crescent. Over the course of eight days, the convoy distributed urgently needed food to feed the population in the settlement for one month, as well as nutrition to prevent malnutrition in 6,000 children.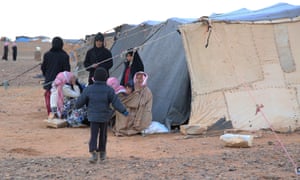 The Rukban settlement is in an isolated desert region. Nothing grows there, and the only food comes from the WFP's monthly delivery
Other UN agencies delivered shelter, medical and sanitary supplies to a population withering away in the harsh winter of the Syrian desert and where the ground, caked with mud from torrential rains, immobilises everything, and nothing grows.
Around the corner of one mud hut, I ran into 10-year-old Bilal on a mission to collect rubbish for his family to burn to keep warm.
"I am constantly hungry and thirsty," Bilal said, his face burned from the daily exposure to extremely cold temperatures and freezing windstorms. Trailing behind him was his friend Khaled, who was dragging the carcass of a small, dead dog tied to a rope. Khaled told me he has no other toys to play with as his parents cannot afford to buy him any.
Rukban is one of the most remote locations in Syria, extremely hard to reach. The majority of the families that have ended up there are of poor backgrounds, living in ragged tents, or structures made of mud that dissolve in heavy rain.
Defence contractors are in Abu Dhabi this week for the Middle East's biggest arms fair – supported to the hilt by UK ministers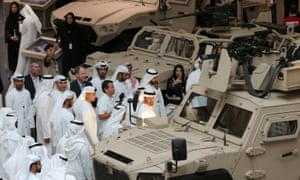 'More than 100,000 people will attend Idex 2019 week, including representatives from all of the world's biggest arms companies and military delegates from 57 nations.' Photograph: Christopher Pike/Reuters
A

Khaleeji bagpipe band, a colourful aircraft display, a performance by the Armenian Military Orchestra and a big show of support from the Emirate royal families. These were some of the touches at Sunday's opening ceremony for the International Defence Exhibition and Conference (Idex 2019) in Abu Dhabi, the Middle East's biggest arms fair.
It's a decadent and distasteful celebration of militarism and weaponry. Missiles, rifles, tanks, helicopters and warships are on display for anyone that can afford them. More than 100,000 people will attend this week, including representatives from all of the world's biggest arms companies and military delegates from 57 nations. Among those looking to do business is the UK government, which has sent a team of civil servants to support UK arms company reps in doing as much business as possible. Particularly with the uncertainty of Brexit on the horizon, they will pull out all stops to cement sales.
There is no way of knowing what kind of deals will be discussed, or the kind of weaponry that might be sold as a result. We don't know how these weapons will be used, or who they will be used against. But the results could be devastating. There is no shortage of UK arms in the Middle East. With rising military budgets, it is an important region for the arms trade. In 2017 it accounted for more than two-thirds of all UK arms sales.
It's been eight years since the Arab spring uprisings. UK-made weapons were implicated in the violence, particularly in Libya where UK contractors were upgrading Gaddafi's tanks on the eve of the uprising, and Egypt where UK-made teargas was turned on protesters. No lessons were learned, and there has been a significant increase in arms sales to many of the regimes. Since the uprisings began, and, despite the atrocities that have taken place, the UK has licensed a further £200m worth of arms to Egypt, and £100m worth to Bahrain. The sales include rifles, ammunition, armoured vehicles and a host of other deadly weaponry.
Top Trump officials pushed plan to share technology despite objections, according to House oversight committee report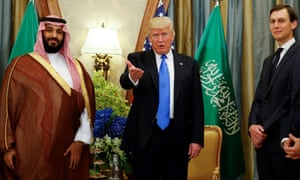 Mohammed bin Salman, Donald Trump and Jared Kushner in Riyadh, Saudi Arabia on 20 May 2017. The report also cites the role of Kushner. Photograph: Jonathan Ernst/Reuters
Top White House officials pushed a plan to share nuclear technology with Saudi Arabia, despite objections from career national security staff, according to a new congressional report.
The report from the House oversight committee said that whistleblowers within the Trump administration have come forward to warn about the proposed nuclear power deal, which could violate the law.
The Democratic-controlled committee has launched an investigation into the whistleblowers' claims, its chairman, Maryland representative Elijah Cummings, said Tuesday.
Donald Trump's former national security adviser Michael Flynn was a key backer of the plan for a consortium of US companies to build dozens of nuclear power plants in Saudi Arabia, according to the report's account.
During the presidential campaign and transition, Flynn was listed as an adviser to a subsidiary of IP3 International, the company behind the power plant proposal.
Flynn was fired in 2017 and has since pleaded guilty to lying to the FBI in the Russia investigation. But planning for the Saudi nuclear project may be ongoing to this day, according to the report.
"The whistleblowers who came forward have expressed significant concerns about the potential procedural and legal violations connected with rushing through a plan to transfer nuclear technology to Saudi Arabia. They have warned of conflicts of interest among top White House advisers that could implicate federal criminal statutes," the report said.
"They have also warned about a working environment inside the White House marked by chaos, dysfunction and backbiting."
Reuters:
The German government sees no basis for authorizing further weapons exports to Saudi Arabia, a spokeswoman for the Economy Ministry in Berlin said on Wednesday.
Trucks began evacuating civilians from Islamic State's last pocket of ground in east Syria on Wednesday, a spokesman for U.S.-backed fighters there said, a step seen as crucial towards the final capture of the area.
Top White House aides ignored repeated warnings they could be breaking the law as they worked with former U.S. officials and a close friend of President Donald Trump to advance a multi-billion-dollar plan to build nuclear reactors in the Middle East, Democratic lawmakers alleged in a report released Tuesday.
Associated Press:
Suspected terrorists are often tortured into offering confessions that justify death sentences at trial. According to Amnesty International, common forms of torture include "beatings on the head and body with metal rods and cables, suspension in stress positions by the arms or legs, electric shocks, and threats of rape of female relatives."
The government's crackdown on Sunnis – even those with no evidence of ties with Islamic militants – sends a troubling signal about Iraq's prospects for peace.
Civilian casualties in the war in Afghanistan (2001–present)
During the war in Afghanistan (2001–present), over 31,000 civilian deaths due to war-related violence have been documented;[1][2] 29,900 civilians have been wounded.[2] Over 111,000 Afghans, including civilians, soldiers and militants, are estimated to have been killed in the conflict.[1] The Cost of War project estimated that the number who have died through indirect causes related to the war may be as high 360,000 additional people based on a ratio of indirect to direct deaths in contemporary conflicts.[3] These numbers do not include those who have died in Pakistan.
The war, launched by the United States as "Operation Enduring Freedom" in 2001, began with an initial air campaign that almost immediately prompted concerns over the number of Afghan civilians being killed[4] as well as international protests. With civilian deaths from airstrikes rising again in recent years,[5] the number of Afghan civilians being killed by foreign military operations has led to mounting tension between the foreign countries and the government of Afghanistan. In May 2007, President Hamid Karzai summoned foreign military commanders to warn them of the consequences of further Afghan civilian deaths.[6] The civilian losses are a continuation of the extremely high civilian losses experienced during the Soviet–Afghan War in the 1980s, and the three periods of civil war following it: 1989–1992, 1992–1996, and 1996–2001.
The McGlynn


C

asualties, Exclusive of Civilians
Recent Casualties:
Color Denotes Today's Confirmation
The Department of Defense announced today the death of a soldier who was supporting Operation Freedom's Sentinel.
Staff Sgt. Joshua Z. Beale, 32, of Carrollton, Virginia, died Jan. 22, 2019, as a result of injuries sustained from enemy small arms fire during combat operations in Tarin Kowt, Uruzgan Province, Afghanistan.
Beale was assigned to 1st Battalion, 3rd Special Forces Group (Airborne), Fort Bragg, North Carolina.

The Department of Defense announced today the deaths of one soldier, one sailor and one DOD civilian who were supporting Operation Inherent Resolve.
The deceased are:
Army Chief Warrant Officer 2 Jonathan R. Farmer, 37, of Boynton Beach, Florida. Farmer was assigned to 3rd Battalion, 5th Special Forces Group (Airborne), Fort Campbell, Kentucky.
Navy Chief Cryptologic Technician (Interpretive) Shannon M. Kent, 35, of upstate New York. Kent was assigned to Cryptologic Warfare Activity 66, based at Fort George G. Meade, Maryland.
DOD civilian Scott A. Wirtz of St. Louis, Missouri. Wirtz was assigned to the Defense Intelligence Agency as an operations support specialist.
Farmer, Kent and Wirtz died Jan. 16, 2019, in Manbij, Syria, as a result of wounds sustained from a suicide improvised explosive device.

The Department of Defense announced today the death of a soldier who was supporting Operation Freedom's Sentinel.
Sgt. Cameron A. Meddock, 26, of Spearman, Texas, died Jan. 17, 2019, in Landstuhl, Germany, as a result of injuries sustained from small arms fire during combat operations on Jan. 13, 2019, in Jawand District, Badghis Province, Afghanistan.
Meddock was assigned to 2nd Battalion, 75th Ranger Regiment, Joint Base Lewis-McChord, Washington.
War Casualties By Name
More
Care for Veterans:
PTSD: National Center for PTSDPTSD Care for Veterans, Military, and FamiliesSee Help for Veterans with PTSD to learn how to enroll for VA health care and get an assessment.
All VA Medical Centers provide PTSD care, as well as many VA clinics.Some VA's have programs specializing in PTSD treatment. Use the VA PTSD Program Locator to find a PTSD program.
If you are a war Veteran, find a Vet Center to help with the transition from military to civilian life.

Syria War Child

The war ended for these children, but it has never ended for survivors who carry memories of them. Likewise, the effects of the U.S. bombings continue, immeasurably and indefensibly.
Please do not forget the children.
The McGlynn