24 Feb
United States Wars, News and Casualties
Some History:
Damn The War Criminals,

Bush,Cheney,Rice,Rumsfeld,Wolfowitz, Powell and Blair from England.
Bush's Five Big Lies That Led to the Iraq Quagmire
These are the five lies Bush told that Ralph Nader documented to impeach him.
Weapons of Mass Destruction. The weapons have still not been found. Nader emphasized, "Until the

1991

Gulf War, Saddam Hussein was our government's anti-communist ally in the Middle East. We also used him to keep Iran at bay. In so doing, in the

1980

s under Reagan and the first Bush, corporations were licensed by the Department of Commerce to export the materials for chemical and biological weapons that President George W. Bush and Vice President Dick Cheney later accused him of having." Those weapons were destroyed after the Gulf War. George W. Bush's favorite chief weapons inspector, David Kay, after returning from Iraq and leading a large team of inspectors and spending nearly half a billion dollars told the president

We were wrong.

See: David Kay testimony before Senate Armed Services Committee,

2004-01-28

.Tyler Drumheller, the former chief of the

CIA

(

C

entral

I

ntelligence

A

gency) 's Europe division, revealed that in the fall of

2002

, George W. Bush, Vice President Cheney, then-National Security Adviser Condoleezza Rice and others were told by

CIA

Director George Tenet that Iraq's foreign minister — who agreed to act as a spy for the United States — had reported that Iraq had no active weapons of mass destruction program.

Iraq Ties to Al Qaeda. The White House made this claim even though the

CIA

and

FBI

(

F

ederal

B

ureau of

I

nvestigation) repeatedly told the Administration that there was no tie between Saddam Hussein and Al Qaeda. They were mortal enemies — one secular, the other fundamentalist.

Saddam Hussein was a Threat to the United States. In fact, Saddam was a tottering dictator, with an antiquated, fractured army of low morale and with Kurdish enemies in Northern Iraq and Shiite adversaries in the South of Iraq. He did not even control the air space over most of Iraq.

Saddam Hussein was a Threat to his Neighbors. In fact, Iraq was surrounded by countries with far superior military forces. Turkey, Iran and Israel were all capable of obliterating any aggressive move by the Iraqi dictator.

The Liberation of the Iraqi People. There are brutal dictators throughout the world, many supported over the years by Washington, whose people need

liberation

from their leaders. This is not a persuasive argument since for Iraq, it's about oil. In fact, the occupation of Iraq by the United States is a magnet for increasing violence, anarchy and insurrection.
The McGlynn
War News
The congressional report on this multibillion-dollar scheme provides further evidence of attempts to monetise the Trump presidency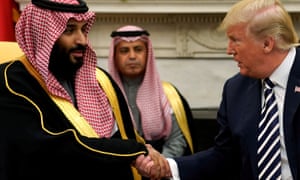 Mohammed bin Salman and Donald Trump meeting at the White House in March 2018. Photograph: Jonathan Ernst/Reuters
The idea that the US might sell state-of-the-art nuclear technology to Saudi Arabia, potentially enabling Crown Prince Mohammed bin Salman's reckless regime to build nuclear weapons, sounds so far-fetched as to be almost grotesque.
After all the near-hysterical American and Israeli warnings about the risk of Iran, the Saudis' arch-rival, acquiring the bomb, surely even Donald Trump would balk at such breathtaking – and dangerous – hypocrisy?
Apparently not. According to a congressional inquiry, senior White House officials, retired generals and Trump's close relatives and business cronies have been secretly pursuing a multibillion-dollar scheme to cut a nuclear deal with Riyadh.
The talks are said to be continuing, despite increased public scrutiny and legal advice that a technology transfer lacking strict conditions could contravene US law, breach international counter-proliferation safeguards, and fuel a nuclear arms race.
DUBAI (Reuters) – Iranian-aligned Houthi forces have agreed to draw back from two Yemeni ports on Monday while withdrawal from the main Hodeidah port will occur later alongside a retreat by coalition-backed forces massed outside the city, U.N. and Yemeni sources said.
Houthi forces will withdraw 5 km (3 miles) from the ports of Saleef, used for grain, and Ras Isa, an oil terminal, as a first step agreed with the internationally recognized government, three sources said.
The Houthi withdrawal from Hodeidah port and the pull-back by coalition forces 1 km away from the city's "Kilo 7" eastern suburb would take place as a second step, they said.
An orderly troop withdrawal from Hodeidah, now a focus of an almost four-year war, is key to U.N.-led efforts to avert a full-scale assault on the port and pave the way for political negotiations.
The conflict has killed tens of thousands of people and pushed Yemen to the brink of famine.
The United Nations has been trying to salvage a truce deal agreed at peace talks in December between the Houthis and the Saudi-backed government. That process has stalled over who would control of Hodeidah, a Red Sea port used to feed Yemen's 30 million people.
More civilians were killed last year in Afghanistan than at any time since records have been kept, according to a new report from the UN.
There were 3,804 civilian deaths in 2018, including 927 children, the highest recorded numbers in the country's long-running war.
The Afghan war began after US forces led a campaign to overthrow the Taliban in the wake of 2001's 9/11 attacks.
The report comes a day before the next round of talks to end the conflict.
US special envoy Zalmay Khalilzad is expected to meet Taliban negotiators on Monday in Qatar.
Under tight security on the Red Sea coast, the leaders are likely Sunday to commit to addressing conflicts in Syria and Yemen or stalled Middle East peace efforts, while papering over major differences about how to resolve them or who might be responsible.
Amid this public display of unity, just drafting a summit statement has proved difficult. EU and Arab League foreign ministers failed to agree earlier this month on a text after Hungary objected to the section on migration…..Ahead of this inaugural summit, experts and European officials played down any expectation of major results.
"The timing is very important because it comes after eight years of instability in the Mediterranean affecting Europe and the Middle East," Saeed Sadek, professor of political sociology at the Canadian University in Cairo told The Associated Press.
"Both sides want to know how can we stabilize the area further, produce stability, how can we deal with the consequences and prevent any further escalations," said Sadek. "But the imbalance of power between the two sides may not produce the concrete results that people imagine."
KABUL — The United States and Russia have agreed to explore options on securing travel waivers for Taliban negotiators to participate in talks to end the war in Afghanistan, the U.S. peace envoy said ahead of a fresh round of peace talks scheduled on Monday.
Lifting the travel ban imposed over Taliban leaders by the United Nations has been one of the key demands of the hardline Islamic group that started negotiations with U.S. officials in 2018 to end the 17-year-old war.
U.S. special peace envoy Zalmay Khalilzad, who is leading the peace talks with the Taliban, discussed the issue of lifting the travel ban for Taliban leaders with his Russian counterpart Zamir Kabulov in Ankara on Friday.
"Amb (Ambassador) Kabulov and I also discussed travel barriers to talks. We will explore options for securing UN travel waivers for Taliban negotiators to participate in peace talks," he wrote on Twitter.
U.S. officials familiar with discussions said lifting the travel ban on some Taliban leaders could help accelerate the pace of ongoing negotiations.
The Afghan Taliban said it would resume negotiations on Monday with the United States in Qatar, insisting the meeting "will prove positive" despite propaganda against the peace process.
At least 52 pro-government forces and 14 civilians were killed in Afghanistan during the past week. The casualties of pro-government forces and civilians decreased, likely because of the cold weather and heavy snowfall in some parts of the country. The deadliest attack took place in Kandahar Province, close to the Pakistani border, where the Taliban attacked a military base of border forces and wiped out the entire unit. The Taliban detonated a Humvee packed with explosives in front of the compound entrance, then a group of insurgents entered, killing all those who survived the initial explosion.
Feb. 19 Faryab Province: two pro-government militia members killed
The Taliban attacked a security outpost in the Ghojur Abad village of Andkhoy District, killing two pro-government militia members in one hour of fighting.
Feb. 19 Nangarhar Province: eight pro-government militia members killed
At least eight pro-government militia members were killed in clashes between the Taliban and the militias in the Lacha Por area of Batekot District. Local authorities claimed that the Taliban also suffered heavy casualties in the fighting.
Feb. 19 Laghman Province: six civilians killed
A civilian vehicle hit a roadside bomb in the Sorkhakan area of Qarghayo District, killing six civilians who were traveling in the vehicle.
Feb. 16 Ghazni Province: one civilian killed
One civilian was killed and three others were wounded in a roadside explosion in Ghazni City, the provincial capital. The bomb was placed by insurgents to target security forces.
Feb. 16 Faryab Province: two pro-government militia members killed
The Taliban attacked the center of Gorziwan District from four sides, but they were pushed back by security forces. Two pro-government militia members were killed and two others were wounded in three hours of fighting. Local authorities claimed that two Taliban members were killed and four others were wounded in the clashes.
Feb. 16 Balkh Province: seven police officers killed
The Taliban attacked a security outpost that was providing security for the gas pipeline in the Sar Asiab village of Chimtal District. Seven police officers, including their commander, were killed. Three police officers were also wounded in the fighting, which continued for two hours. The insurgents left the area after reinforcements arrived.
Civilian casualties in the war in Afghanistan (2001–present)
During the war in Afghanistan (2001–present), over 31,000 civilian deaths due to war-related violence have been documented;[1][2] 29,900 civilians have been wounded.[2] Over 111,000 Afghans, including civilians, soldiers and militants, are estimated to have been killed in the conflict.[1] The Cost of War project estimated that the number who have died through indirect causes related to the war may be as high 360,000 additional people based on a ratio of indirect to direct deaths in contemporary conflicts.[3] These numbers do not include those who have died in Pakistan.
The war, launched by the United States as "Operation Enduring Freedom" in 2001, began with an initial air campaign that almost immediately prompted concerns over the number of Afghan civilians being killed[4] as well as international protests. With civilian deaths from airstrikes rising again in recent years,[5] the number of Afghan civilians being killed by foreign military operations has led to mounting tension between the foreign countries and the government of Afghanistan. In May 2007, President Hamid Karzai summoned foreign military commanders to warn them of the consequences of further Afghan civilian deaths.[6] The civilian losses are a continuation of the extremely high civilian losses experienced during the Soviet–Afghan War in the 1980s, and the three periods of civil war following it: 1989–1992, 1992–1996, and 1996–2001.
The McGlynn


C

asualties, Exclusive of Civilians
Recent Casualties:
Color

 Denotes Today's Confirmation
The Department of Defense announced today the death of a soldier who was supporting Operation Freedom's Sentinel.
Staff Sgt. Joshua Z. Beale, 32, of Carrollton, Virginia, died Jan. 22, 2019, as a result of injuries sustained from enemy small arms fire during combat operations in Tarin Kowt, Uruzgan Province, Afghanistan.
Beale was assigned to 1st Battalion, 3rd Special Forces Group (Airborne), Fort Bragg, North Carolina.

The Department of Defense announced today the deaths of one soldier, one sailor and one DOD civilian who were supporting Operation Inherent Resolve.
The deceased are:
Army Chief Warrant Officer 2 Jonathan R. Farmer, 37, of Boynton Beach, Florida. Farmer was assigned to 3rd Battalion, 5th Special Forces Group (Airborne), Fort Campbell, Kentucky.
Navy Chief Cryptologic Technician (Interpretive) Shannon M. Kent, 35, of upstate New York. Kent was assigned to Cryptologic Warfare Activity 66, based at Fort George G. Meade, Maryland.
DOD civilian Scott A. Wirtz of St. Louis, Missouri. Wirtz was assigned to the Defense Intelligence Agency as an operations support specialist.
Farmer, Kent and Wirtz died Jan. 16, 2019, in Manbij, Syria, as a result of wounds sustained from a suicide improvised explosive device.

The Department of Defense announced today the death of a soldier who was supporting Operation Freedom's Sentinel.
Sgt. Cameron A. Meddock, 26, of Spearman, Texas, died Jan. 17, 2019, in Landstuhl, Germany, as a result of injuries sustained from small arms fire during combat operations on Jan. 13, 2019, in Jawand District, Badghis Province, Afghanistan.
Meddock was assigned to 2nd Battalion, 75th Ranger Regiment, Joint Base Lewis-McChord, Washington.
War Casualties By Name
More
Care for Veterans:
PTSD: National Center for PTSDPTSD Care for Veterans, Military, and FamiliesSee Help for Veterans with PTSD to learn how to enroll for VA health care and get an assessment.
All VA Medical Centers provide PTSD care, as well as many VA clinics.Some VA's have programs specializing in PTSD treatment. Use the VA PTSD Program Locator to find a PTSD program.
If you are a war Veteran, find a Vet Center to help with the transition from military to civilian life.

Save the Children is the world's leading independent organisation for children and has been working with families, communities and local authorities in Iraq since 1991, leading NGOs in general relief and development programs.
Save the Children is currently responding to the needs of internally displaced persons (IDP) and the Syrian refugees in Iraq, in camps and non-camp settings. Our goal is for children in Iraq to be supported in raising their voices and attaining their rights, especially the right to participate in decisions affecting their lives. They should have access to quality education, health and protection services. We are increasing access to community based services that protect, educate and improve quality of life for children. We are ensuring that there is an increased participation of boys and girls in age appropriate activities and services. We are ensuring that children benefit from government actions that create an environment of awareness and accountability to uphold child rights. We are also developing new resources and innovative practices that support our work for children and youth.
In Iraq, Save the Children's interventions include Child Protection, Education, Food Security and Livelihoods, Shelter and Water Sanitation and Hygiene (WASH), reaching vulnerble children and families in northern and central Iraq. Save the Children's programs are implemented through field offices in Erbil, Dohuk, Sulaymaniyah, Kirkuk and Kalar, with a country office located in Erbil.