04 Mar
United States Wars, News and Casualties
Damn The War Criminals,

Bush,Cheney,Rice,Rumsfeld,Wolfowitz, Powell and Blair from England
War News
A peace deal in Yemen's main port city "could be dead within weeks", British Foreign Secretary Jeremy Hunt has said during a visit to the country.
The Yemeni government and the rebel Houthi movement have yet to implement a UN-brokered plan to pull out and redeploy forces around Hudaydah.
The port is the principal lifeline for two-thirds of Yemen's population, which is on the brink of famine.
Mr Hunt said 80,000 children in the country had already starved to death.
More than 20 million people were on the brink of starvation, he added. The UN says at least 6,800 civilians have been killed and 10,700 injured in the fighting.
Saudi Arabia and the United Arab Emirates lead a coalition that has imposed a partial blockade in Yemen after President Abdrabbuh Mansour Hadi was forced to flee abroad by the Houthis – a group the Sunni states consider to be a proxy of regional Shia power Iran.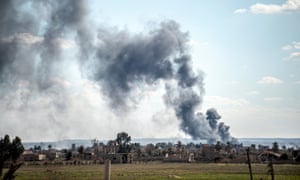 Smoke rises in the air after shelling hits Baghuz. Photograph: Bülent K?l?ç/AFP/Getty Images
T

here is a flash of light in the dark town as an airstrike hits an Islamic State weapons depot. A few seconds later, a ball of flame engulfs the entire neighbourhood. The sonic boom sends shockwaves through Baghuz, shaking the ground miles away, and for a second everything and everyone is stunned into silence. Then the artillery fire starts up again.
Five years after Isis swept across Syria and Iraq, all that remains of the "caliphate" that at its peak stretched across two countries and controlled 10 million people is a handful of streets in a bend of the Euphrates river running through this desert town, which will be retaken in the next few days.
Trapped from the east and the west by advancing Kurdish-led Syrian Democratic Forces (SDF) and by the Syrian regime and Russia on the other side of the river, the caliphate is a hellscape of smoke and fire. There is nowhere left for the fighters to go.
The US-led coalition is making up for lost time in the fight to drive Isis out of its last stronghold. After a 10-day truce to evacuate women and children from the town, the offensive restarted this weekend at a tempo not seen even in the major battles for the cities of Mosul and Raqqa.
OUTSIDE BAGHOUZ, Syria (AP) — U.S.-backed Syrian fighters battling Islamic State militants in their last foothold in Syria said they were forced to slow down their push on Monday because the extremists are using civilians as human shields.
But despite the slowing, Mustafa Bali, a spokesman for the Kurdish-led Syrian Democratic Forces, tweeted that the battle to retake Baghouz, the last territory in Syria held by the Islamic State group, was "going to be over soon."
The U.S.-backed forces resumed their offensive on Baghouz last Friday, after a two-week pause to allow for the evacuation of civilians.
Retaking the sliver of land would be a milestone in the devastating four-year campaign to end IS' self-proclaimed "caliphate" that once straddled a vast territory across both Syria and Iraq.
"We're slowing down the offensive" due to a small number of civilians held as human shields, Bali said. The previous night, an SDF statement said the Kurdish-led forces would continue their military campaign "to take control of the last ISIS-held pocket in Baghouz and to liberate the remaining civilians who are being used as human shields." ISIS is an alternative acronym for the extremist group.
"In order not to harm them, we are advancing slowly but we assert that the battle of Baghouz will end in a short period of time," it said.
WASHINGTON — The United States is trying to prevent simmering tensions between India and Pakistan from impacting a third country: Afghanistan, where a fragile peace push is underway to try to end more than 17 years of war with Taliban insurgents.
U.S. President Donald Trump's administration has been publicly focused on lowering tensions between the nuclear-armed rivals since a Feb. 14 suicide car bomb in an Indian-controlled area of Kashmir triggered the first Indian air strikes inside of Pakistan since a 1971 war.
Senior U.S. officials told Reuters that as the United States spoke with senior Pakistani officials, emphasizing the need to lower the risk of conflict with India, Islamabad privately offered warnings on Afghanistan.
Pakistani officials said their ability to support Afghan peace talks could be in jeopardy in the event of a full-blown crisis, U.S. officials said, speaking on condition of anonymity.
"They'll stop being a facilitator, they will stop the pressure they are applying" on the Taliban, one U.S. official said, recounting Pakistani warnings conveyed to Washington.
Pakistan has publicly denied any role in the suicide bombing. But the Pakistan-based Jaish-e-Mohammad (JeM) militant group claimed responsibility for it, and India has long accused Islamabad of supporting them.
The United States has likewise accused Pakistan of ties to Taliban militants who are fighting in neighboring Afghanistan against American and U.S.-backed Afghan government forces.
DAHUK, Iraq — Baseh Hammo was 38 when she was enslaved by militants of the Islamic State group. Raped and abused, she was sold 17 times among members of the so-called "caliphate," and moved from city to city across a vast stretch of territory IS once controlled in northern Iraq and Syria.
Her ordeal came to an end in January in the Syrian village of Baghouz, when an IS member took pity on her as the final battle loomed with U.S.-led Syrian Kurdish forces. He put her on a truck with his own family and allowed them to leave the village. She was picked up by Syrian Kurdish forces and reunited with her two daughters in Iraq a few days later.
Yet many Yazidis, followers of a minority faith, are still missing, five years after IS militants stormed Yazidi towns and villages in Iraq's Sinjar region and abducted women and children. Women were forced into sexual slavery, and boys were taken to be indoctrinated in jihadi ideology.
Hopes surged last month during a two-week pause in the U.S.-led coalition's assault on Baghouz that some of the estimated 3,000 Yazidis still unaccounted for would emerge.
Bush's Five Big Lies That Led to the Iraq Quagmire
These are the five lies Bush told that Ralph Nader documented to impeach him.
Weapons of Mass Destruction. The weapons have still not been found. Nader emphasized, "Until the

1991

Gulf War, Saddam Hussein was our government's anti-communist ally in the Middle East. We also used him to keep Iran at bay. In so doing, in the

1980

s under Reagan and the first Bush, corporations were licensed by the Department of Commerce to export the materials for chemical and biological weapons that President George W. Bush and Vice President Dick Cheney later accused him of having." Those weapons were destroyed after the Gulf War. George W. Bush's favorite chief weapons inspector, David Kay, after returning from Iraq and leading a large team of inspectors and spending nearly half a billion dollars told the president

We were wrong.

See: David Kay testimony before Senate Armed Services Committee,

2004-01-28

.Tyler Drumheller, the former chief of the

CIA

(

C

entral

I

ntelligence

A

gency) 's Europe division, revealed that in the fall of

2002

, George W. Bush, Vice President Cheney, then-National Security Adviser Condoleezza Rice and others were told by

CIA

Director George Tenet that Iraq's foreign minister — who agreed to act as a spy for the United States — had reported that Iraq had no active weapons of mass destruction program.

Iraq Ties to Al Qaeda. The White House made this claim even though the

CIA

and

FBI

(

F

ederal

B

ureau of

I

nvestigation) repeatedly told the Administration that there was no tie between Saddam Hussein and Al Qaeda. They were mortal enemies — one secular, the other fundamentalist.

Saddam Hussein was a Threat to the United States. In fact, Saddam was a tottering dictator, with an antiquated, fractured army of low morale and with Kurdish enemies in Northern Iraq and Shiite adversaries in the South of Iraq. He did not even control the air space over most of Iraq.

Saddam Hussein was a Threat to his Neighbors. In fact, Iraq was surrounded by countries with far superior military forces. Turkey, Iran and Israel were all capable of obliterating any aggressive move by the Iraqi dictator.

The Liberation of the Iraqi People. There are brutal dictators throughout the world, many supported over the years by Washington, whose people need

liberation

from their leaders. This is not a persuasive argument since for Iraq, it's about oil. In fact, the occupation of Iraq by the United States is a magnet for increasing violence, anarchy and insurrection.
Civilian casualties in the war in Afghanistan (2001–present)
During the war in Afghanistan (2001–present), over 31,000 civilian deaths due to war-related violence have been documented;[1][2] 29,900 civilians have been wounded.[2] Over 111,000 Afghans, including civilians, soldiers and militants, are estimated to have been killed in the conflict.[1] The Cost of War project estimated that the number who have died through indirect causes related to the war may be as high 360,000 additional people based on a ratio of indirect to direct deaths in contemporary conflicts.[3] These numbers do not include those who have died in Pakistan.
The war, launched by the United States as "Operation Enduring Freedom" in 2001, began with an initial air campaign that almost immediately prompted concerns over the number of Afghan civilians being killed[4] as well as international protests. With civilian deaths from airstrikes rising again in recent years,[5] the number of Afghan civilians being killed by foreign military operations has led to mounting tension between the foreign countries and the government of Afghanistan. In May 2007, President Hamid Karzai summoned foreign military commanders to warn them of the consequences of further Afghan civilian deaths.[6] The civilian losses are a continuation of the extremely high civilian losses experienced during the Soviet–Afghan War in the 1980s, and the three periods of civil war following it: 1989–1992, 1992–1996, and 1996–2001.


C

asualties, Exclusive of Civilians
Recent Casualties:
Color Denotes Today's Confirmation
None

War Casualties By Name
More
Care for Veterans:
PTSD: National Center for PTSDPTSD Care for Veterans, Military, and FamiliesSee Help for Veterans with PTSD to learn how to enroll for VA health care and get an assessment.All VA Medical Centers provide PTSD care, as well as many VA clinics.Some VA's have programs specializing in PTSD treatment. Use the VA PTSD Program Locator to find a PTSD program.If you are a war Veteran, find a Vet Center to help with the transition from military to civilian life.Call the 24/7 Veteran Combat Call Center1-877-WAR-VETS (1-877-927-8387) to talk to another combat Veteran.DoD's Defense Centers of Excellence (DCoE) 24/7 Outreach Center for Psychological Health & Traumatic Brain Injury provides information and helps locate resources.Call 1-866-966-1020 or email resources@dcoeoutreach.orgMilitary OneSourceCall 24/7 for counseling and many resources 1-800-342-9647.Need further assistance? Get Help with VA PTSD Care


Save the Children is the world's leading independent organisation for children and has been working with families, communities and local authorities in Iraq since 1991, leading NGOs in general relief and development programs.Save the Children is currently responding to the needs of internally displaced persons (IDP) and the Syrian refugees in Iraq, in camps and non-camp settings. Our goal is for children in Iraq to be supported in raising their voices and attaining their rights, especially the right to participate in decisions affecting their lives. They should have access to quality education, health and protection services. We are increasing access to community based services that protect, educate and improve quality of life for children. We are ensuring that there is an increased participation of boys and girls in age appropriate activities and services. We are ensuring that children benefit from government actions that create an environment of awareness and accountability to uphold child rights. We are also developing new resources and innovative practices that support our work for children and youth.In Iraq, Save the Children's interventions include Child Protection, Education, Food Security and Livelihoods, Shelter and Water Sanitation and Hygiene (WASH), reaching vulnerble children and families in northern and central Iraq. Save the Children's programs are implemented through field offices in Erbil, Dohuk, Sulaymaniyah, Kirkuk and Kalar, with a country office located in Erbil.

Syrian War Children
A boy holds a baby near the village of Baghouz, Deir Al Zor province, Syria March 1, 2019. REUTERS/Rodi Said