10 Mar
United States Wars, News and Casualties
Damn The War Criminals,

Bush,Cheney,Rice,Rumsfeld,Wolfowitz, Powell and Blair from England
War News
Up to 3,000 infants born to foreign nationals like Shamima Begum may be at risk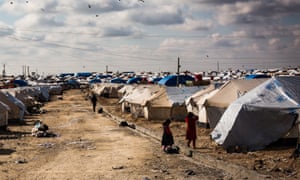 Children in the al-Hawl camp to which many suspected Isis families have fled from heavy fighting in Baghuz. Photograph: Achilleas Zavallis for The Guardian
In a place the British government says remains too difficult for diplomats to reach, scores of its officials have been present for at least the past two years.
MI6 officers, as well as SAS troopers and commanders have formed strong ties with local Kurdish officials in north-eastern Syria, where two refugee camps full of the remnants of Islamic State (Isis) are located.
Away from the shrinking frontline, the rest of the province remains the safest in the war-torn country, where hundreds of aid workers, and reporters, operate relatively freely. Rojava, as the area is known locally, is a place where work can get done, as long as there's a will.
Vast distances on bumpy roads and stifling bureaucracy are the biggest impediments to entering the twin refugee camps that double as detention centres for Isis-linked men and women and their children. As the "caliphate" has crumbled, escaping men have been placed in the al-Roj camp, near the northern Iraqi border, while women have been moved to al-Hawl, south of the city of Hasaka.
Both camps are overwhelmed with new arrivals as far greater numbers than anticipated streaming out of Baghuz, the last town held by the terrorist group in the far east of Syria. An estimated 25,000 people have been transferred to each camp in the last three weeks alone, among them many hundreds of children, a lot of them newborns. Hundreds more women are heavily pregnant.
The young, old and infirm are extremely vulnerable in the camps, which have been drenched with rain since early January. Infants in particular have had little shelter from the sharp, harsh winter, where night-time temperatures regularly dip below freezing, and heating is often left to lethal naked flame. Insulation is non-existent. Safe heating is nearly as rare.
Shamima Begum was moved from al-Hawl to al-Roj shortly after giving birth last month. It was there that her baby boy, Jarrah, died on Thursday. Buried alongside him were two other children who burned to death in a fire. According to the International Rescue Committee (IRC), at least 100 other children have died either en route to al-Hawl, or inside the camp itself. Most have perished through a combination of malnutrition and hypothermia. About 240 children have arrived unaccompanied, the IRC says.
Collectively, the children of both camps are among the most vulnerable on the planet, their plight amplified by the fact that their parents' governments are showing next to no interest in them. Begum, who disavowed British values, while at the same time requesting to be allowed to return home, has been told the home secretary ordered her citizenship to be revoked – a move that left the status of her son unclear, and discharged Whitehall of any immediate legal responsibility for his welfare. Moral obligation remains another matter.
With the exception of France, which has shown some interest in repatriating children born to at least one French parent, no government is, at present, willing to come for these children. Canada's position is that if its citizens make it to a consulate, they will be received. Such an outcome remains next to impossible for women in detention, who would first need to escape, then somehow cross into Turkey, Iraq, Jordan or Lebanon, with children in tow, evading arrest along the way.
The best estimate of senior aid officials in al-Hawl, and elsewhere in Rojava, is that up to 3,000 children born to foreign nationals may be at risk of death or disease in northern Syria. Most, if not all, of those children have prima facie rights to protections normally afforded to citizens. And none face the legal burdens of their parents, some of whom would face serious charges if they were to return home.
Begum's newborn perished slowly over the last week, his tiny lungs unable to cope with the cold and damp. On Thursday he turned blue, and was rushed to a clinic, then hospital. Eventually he stopped breathing. The 19-year-old's other two children, born to her and her Dutch husband, died in similar circumstances before the pair surrendered. Other mothers have said they fear the same fate as they struggle to shelter their infants from the extremes and catch the attention of their governments.
"What happens to me is irrelevant now," said a Canadian woman in al-Hawl. "But the children are innocent. Find them a way to live."
BEIRUT (Reuters) – The United Nations refugee agency should have a bigger presence inside Syria to observe and help refugees returning from abroad and from displacement within the war-torn country, UNHCR Commissioner Filippo Grandi said on Saturday.
After almost eight years of fighting, President Bashar al-Assad now controls most of Syria and the front lines appear stable for now between government territory and two big enclaves in the north and east still outside Damascus's control.
Many Syrians scattered within and outside the country — including the more than a million in neighboring Lebanon — are now considering whether to go home.
"It is important that in areas of return, organizations like UNHCR are present and can observe the return, can have access to the returnees and can help them address some of the problems they face," Grandi said in Beirut, as the Syrian conflict approaches its eighth anniversary next week.
"Without that presence there is an element of confidence that is missing in the return of the people," he added.
Syria's war has killed an estimated half a million people, driven some 5.6 million people out of the country and displaced around 6.6 million within its borders.
TEHRAN, Iran (AP) — Iran's president is making his first official visit to Iraq this week as he faces mounting pressure from hard-liners at home in the wake of the Trump administration's unraveling of the nuclear deal.
Hassan Rouhani's trip — billed as "historic and noble" by his foreign minister — is meant to solidify ties between Shiite power Iran and Iraq's Shiite led-government, a strong Tehran ally. It is also Iran's response to President Donald Trump's snap December trip to Iraq and the American president's comments that U.S. forces should stay in Iraq to keep an eye on neighboring Iran, with which Iraq shares a 1,400-kilometer-long (870 miles) border.
At the time, Trump slipped into Iraq at night, without stopping in Baghdad, to greet U.S. service members at a base far from the Iraqi capital where he extolled the American troops' fight against the Islamic State group.
Rouhani later mocked Trump's visit, asserting that flying into Iraq under the cover of darkness meant "defeat" for the U.S. in Iraq and asking the U.S. president why he didn't make an "open and official visit."
"You have to walk in the streets of Baghdad … to find out how people will welcome you," Rouhani said at the time.
Rouhani's visit to Iraq will provide an opportunity for reaching "serious understandings" between the two neighbors, Iran's top diplomat, Mohammad Javad Zarif told the official IRNA news agency from Baghdad, where he was preparing for Rouhani's three-day visit that starts on Monday.
KABUL, Afghanistan (AP) — An Afghan official says the death toll in a mortar attack in Afghanistan's capital Kabul has risen to 11, while the number of wounded has reached almost 100.
Interior Ministry spokesman Nasrat Rahimi said Friday that Afghan security forces were among the wounded in the attack a day earlier.
Insurgents targeted a ceremony attended by the country's chief executive and a former president, both of whom were unharmed.
The Islamic State group claimed responsibility for the attack on the ceremony honoring a slain leader of Afghanistan's ethnic Hazaras. Most Hazaras are Shiite Muslims, reviled by the radical Sunni IS group.
Rahimi says two attackers were killed and a third was arrested. He added that those killed in the attack were all civilians.
CAIRO (AP) — The United Nations refugee agency says nearly 100 civilians were killed or wounded in Yemen on average each week of 2018.
UNHCR says in a report that around 5,000 civilians were either killed or wounded last year, which averages out to 93 victims each week.
Nearly half of this number were wounded or killed in the country's west, including the in the war-torn governorate of Hodeida. A third of the causalities were children, according to the Thursday report.
Volker Türk of the UNHCR says: "Exposed to daily violence, many live under constant fear and suffer in deteriorating conditions, turning in desperation to harmful coping mechanisms in order to survive."
The war in Yemen started in 2014 and pits rebels who seized the capital against a Saudi-led coalition supporting the internationally recognized government.
A draft law could see people accused of 'damaging' the reputation of the country jailed for life.
On January 12, the Iraqi parliament announced that it had completed its first reading of the draft "Information Technology Crimes Law", otherwise known as the cybercrime law.
This is not the first time this legislative proposal surfaces. A draft law with similar provisions was first discussed in parliament 2011, but had to be tabled in 2013 following a campaign by international and local NGOs, which said it would severely threaten freedom of expression in the country. Under the proposed law, the violation of any "religious, moral, family or social principles or values" would be punishable by at least one year in prison, while "harming the reputation of the country" online could carry a life sentence.
Back in February 2013, the parliament speaker approved the request of the parliamentary committee for media and culture's to withdraw the law. However, the decision was never brought to a vote and thus was never endorsed. As a result, the flawed text was put aside for over five years.
In October 2018, just a few weeks after the newly elected parliament held its first session, the cybercrime law was resuscitated. Since civil society thought the text was old history, its reintroduction came as an unpleasant surprise. In a long press release, the parliament emphasised the existing legal "loophole" and the need to legislate on cyber-criminality, stating that the 2011 text was still "under consideration".
Bush's Five Big Lies That Led to the Iraq Quagmire
These are the five lies Bush told that Ralph Nader documented to impeach him.
Weapons of Mass Destruction. The weapons have still not been found. Nader emphasized, "Until the

1991

Gulf War, Saddam Hussein was our government's anti-communist ally in the Middle East. We also used him to keep Iran at bay. In so doing, in the

1980

s under Reagan and the first Bush, corporations were licensed by the Department of Commerce to export the materials for chemical and biological weapons that President George W. Bush and Vice President Dick Cheney later accused him of having." Those weapons were destroyed after the Gulf War. George W. Bush's favorite chief weapons inspector, David Kay, after returning from Iraq and leading a large team of inspectors and spending nearly half a billion dollars told the president

We were wrong.

See: David Kay testimony before Senate Armed Services Committee,

2004-01-28

.Tyler Drumheller, the former chief of the

CIA

(

C

entral

I

ntelligence

A

gency) 's Europe division, revealed that in the fall of

2002

, George W. Bush, Vice President Cheney, then-National Security Adviser Condoleezza Rice and others were told by

CIA

Director George Tenet that Iraq's foreign minister — who agreed to act as a spy for the United States — had reported that Iraq had no active weapons of mass destruction program.

Iraq Ties to Al Qaeda. The White House made this claim even though the

CIA

and

FBI

(

F

ederal

B

ureau of

I

nvestigation) repeatedly told the Administration that there was no tie between Saddam Hussein and Al Qaeda. They were mortal enemies — one secular, the other fundamentalist.

Saddam Hussein was a Threat to the United States. In fact, Saddam was a tottering dictator, with an antiquated, fractured army of low morale and with Kurdish enemies in Northern Iraq and Shiite adversaries in the South of Iraq. He did not even control the air space over most of Iraq.

Saddam Hussein was a Threat to his Neighbors. In fact, Iraq was surrounded by countries with far superior military forces. Turkey, Iran and Israel were all capable of obliterating any aggressive move by the Iraqi dictator.

The Liberation of the Iraqi People. There are brutal dictators throughout the world, many supported over the years by Washington, whose people need

liberation

from their leaders. This is not a persuasive argument since for Iraq, it's about oil. In fact, the occupation of Iraq by the United States is a magnet for increasing violence, anarchy and insurrection.
Civilian casualties in the war in Afghanistan (2001–present)
During the war in Afghanistan (2001–present), over 31,000 civilian deaths due to war-related violence have been documented;[1][2] 29,900 civilians have been wounded.[2] Over 111,000 Afghans, including civilians, soldiers and militants, are estimated to have been killed in the conflict.[1] The Cost of War project estimated that the number who have died through indirect causes related to the war may be as high 360,000 additional people based on a ratio of indirect to direct deaths in contemporary conflicts.[3] These numbers do not include those who have died in Pakistan.
The war, launched by the United States as "Operation Enduring Freedom" in 2001, began with an initial air campaign that almost immediately prompted concerns over the number of Afghan civilians being killed[4] as well as international protests. With civilian deaths from airstrikes rising again in recent years,[5] the number of Afghan civilians being killed by foreign military operations has led to mounting tension between the foreign countries and the government of Afghanistan. In May 2007, President Hamid Karzai summoned foreign military commanders to warn them of the consequences of further Afghan civilian deaths.[6] The civilian losses are a continuation of the extremely high civilian losses experienced during the Soviet–Afghan War in the 1980s, and the three periods of civil war following it: 1989–1992, 1992–1996, and 1996–2001.


C

asualties, Exclusive of Civilians
Recent Casualties:
Color 

Denotes Today's Confirmation
None

War Casualties By Name
More
Care for Veterans:
PTSD: National Center for PTSDPTSD Care for Veterans, Military, and FamiliesSee Help for Veterans with PTSD to learn how to enroll for VA health care and get an assessment.All VA Medical Centers provide PTSD care, as well as many VA clinics.Some VA's have programs specializing in PTSD treatment. Use the VA PTSD Program Locator to find a PTSD program.If you are a war Veteran, find a Vet Center to help with the transition from military to civilian life.Call the 24/7 Veteran Combat Call Center1-877-WAR-VETS (1-877-927-8387) to talk to another combat Veteran.DoD's Defense Centers of Excellence (DCoE) 24/7 Outreach Center for Psychological Health & Traumatic Brain Injury provides information and helps locate resources.Call 1-866-966-1020 or email resources@dcoeoutreach.orgMilitary OneSourceCall 24/7 for counseling and many resources 1-800-342-9647.Need further assistance? Get Help with VA PTSD Care


Save the Children is the world's leading independent organisation for children and has been working with families, communities and local authorities in Iraq since 1991, leading NGOs in general relief and development programs.Save the Children is currently responding to the needs of internally displaced persons (IDP) and the Syrian refugees in Iraq, in camps and non-camp settings. Our goal is for children in Iraq to be supported in raising their voices and attaining their rights, especially the right to participate in decisions affecting their lives. They should have access to quality education, health and protection services. We are increasing access to community based services that protect, educate and improve quality of life for children. We are ensuring that there is an increased participation of boys and girls in age appropriate activities and services. We are ensuring that children benefit from government actions that create an environment of awareness and accountability to uphold child rights. We are also developing new resources and innovative practices that support our work for children and youth.In Iraq, Save the Children's interventions include Child Protection, Education, Food Security and Livelihoods, Shelter and Water Sanitation and Hygiene (WASH), reaching vulnerble children and families in northern and central Iraq. Save the Children's programs are implemented through field offices in Erbil, Dohuk, Sulaymaniyah, Kirkuk and Kalar, with a country office located in Erbil.
Afghan War Children