14 Mar
United States Wars, News and Casualties
Damn The War Criminals,

Bush,Cheney,Rice,Rumsfeld,Wolfowitz, Powell and Blair from England
War News

FILE – In this Oct. 1, 2018, photo, a woman holds a malnourished boy at the Aslam Health Center, in Hajjah, Yemen. The U.N. Office for the Coordination of Humanitarian Affairs, or OCHAU.N. warned in a report Tuesday, March 12, 2019, that thousands of Yemeni civilians caught in fierce clashes between warring factions are trapped in the embattled northern district of Hajjah. The number of displaced in the district has doubled over the past six months, the humanitarian agency said. (AP Photos Hani Mohammed, File)
SANAA, Yemen (AP) — Yemen's warring sides were divided Thursday over the U.S. Senate vote to end America's support for the Saudi-led war in the impoverished country, with the Yemeni government condemning it while the Iran-backed rebels welcomed the development.
Information Minister Moammar al-Iryani denounced the vote, saying it would only "embolden Iran and empower its proxy," the rebels known as Houthis.
The rivals Houthis — who are at war with the internationally recognized government and its backers from the Saudi-led coalition — hailed the Senate step, saying that U.S. support has "prolonged the conflict."
The Senate vote on Wednesday brought the Congress one step closer to an unprecedented rebuke of President Donald Trump's foreign policy. It also put Congress on a collision course with Trump, who has already threatened to veto the resolution.
"In reality, America is the one … selling weapons, and providing support" to the coalition, top Houthi negotiator and spokesman Mohammed Abdel-Salam told The Associated Press.
In this way, the U.S. only "prolongs the conflict and the humanitarian crisis," he said.
Yemen's conflict erupted in 2014, when the Houthis seized the capital, Sanaa, forcing the internationally recognized government to flee abroad. A Saudi-led coalition of Arab states intervened the following year, waging a destructive air campaign in support of the government. Thousands have been killed and millions pushed to the brink of starvation.
The West, including the U.S., has provided the coalition with billions of dollars in arms, in addition to logistical support. In addition to arms, U.S. military experts have acted as advisers to the Saudi and Emirati command centers in Riyadh and elsewhere, and a U.S. pullout could also impact intelligence gathering.
As Saudi-led coalition airstrikes claimed thousands of lives over the years, mostly in northern Yemen where the Houthis are based, the U.S. insisted it plays no role in targeting Yemenis.
Attack comes as Brussels pushes for Assad to agree to a UN-sanctioned political settlement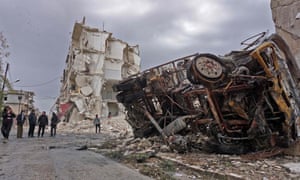 The aftermath of the airstrike in the jihadist-held city of Idlib, which is Syria's last major rebel bastion. Photograph: Muhammad Haj Kadour/AFP/Getty Images
Russia has sent in aircraft to attack the Syrian rebel-held province of Idlib in its first major assault for months, as foreign ministers gathered in Brussels to pledge as much $5bn (£3.8bn) to support countries like Jordan, Lebanon and Turkey, where many Syrians have sought refuge.
The bombardment of the country's last rebel-held enclaveby Russian and Syrian planes was the most extensive yet. A full-scale assault could lead to hundreds of thousands of refugees joining the four million who have already fled the country.
As many as three million people live in Idlib province, including many jihadist fighters who have been transferred to the region after the fall of other rebel enclaves, such as Homs and Aleppo………….Meanwhile, in eastern Syria, US-backed fighters besieging the final area of territory occupied by Islamic State said they had pushed further into the enclave following clashes and airstrikes.
The Syrian Democratic Forces said: "Our fighters advanced deep into areas controlled by the terrorist organisation and established a number of new points, following clashes in which terrorists sustained a number of deaths and injuries."
In Brussels Syrian civil society groups used the first two days of the conference to set out how the Assad regime was wreaking vengeance on those refugees that chose to return. They also warned the hard pressed Lebanese and Jordanian governments, intent on preventing the refugees settling permanently, were trying to force the refugees home before their safety was guaranteed. Jordan houses more than 600,000 refugees, Lebanon 1 million – a sixth of the population – and Turkey has as many as 3 million.
Unicef says numbers arriving from last enclave have overwhelmed Syrian camps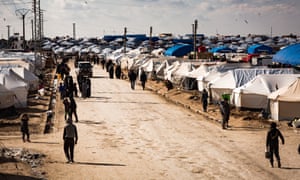 People at the al-Hawl camp in Syria, where as many as 30,000 people have arrived from Baghuz. Photograph: Achilleas Zavallis/The Guardian
As many as 3,000 children born into Islamic State families are being housed in camps in north-east Syria, Unicef estimates, with many younger than six years old and living in "extremely dire conditions".
The figure from the United Nations children's fund is sharply higher than earlier assessments, driven in part by the arrival in al-Hawl camp of as many as 30,000 people from the last Isis enclave of Baghuz. The number of newcomers has overwhelmed camp officials, who are struggling to keep accurate records and provide food and shelter.
At least 1,000 more children born to at least one parent aligned to Isis are believed to be being held in Iraq. Many are housed with mothers who have been handed death sentences by Iraqi courts after summary trials in which little, if any, evidence is heard.
The fate of children in both countries has become a vexing issue for many nations whose citizens travelled to join Isis and now wish to return. There is some appetite for allowing children to return, but next to none for their mothers or fathers, many of whom face criminal charges and are deemed to pose a security risk.
BAGHOUZ, Syria (Reuters) – Islamic State militants accompanied by relatives surrendered to the Syrian Democratic Forces (SDF) by the hundreds on Thursday as the jihadists lost ground to a U.S.-backed assault aimed seizing the last shred of IS territory, the SDF said.
Islamic state fighters and their families walk as they surrendered in the village of Baghouz, Deir Al Zor province, Syria March 12, 2019. REUTERS/Rodi Said
Many of the men were limping as they crossed out of the enclave at Baghouz along a dirt path over a rocky hill, accompanied by weeping children and fully veiled women, dragging suitcases and backpacks behind them, a Reuters journalist said.
SDF fighters said many of them were foreign fighters.
IS insurgents have been mounting a desperate last-stand defense of the enclave at Baghouz, the final patch of Islamic State territory that once spanned a third of Iraq and Syria and which has been besieged by the SDF for weeks.
The jihadists had sought to counter-attack three times in two days, the SDF said, deploying more than 20 suicide bombers.
In a statement, the SDF said its fighters had made progress into the remaining IS-held part of the enclave in eastern Syrian near the Iraqi border. It said 15 IS members had been killed on Thursday morning after they tried to attack SDF troops.
BEIRUT (Reuters) – Eight years since Syria began its descent into war, many of President Bashar al-Assad's enemies have been defeated and the bulk of the country is back under his control. But he isn't celebrating.

"We must not wrongly think, as happened in the last year, that the war is over. I say this not just to citizens but also to officials," Assad told supporters in a speech last month.
"We have this romantic view sometimes that we are victorious. No. The war is not over."
He said there was more fighting to be done before turning to his main point, the "siege" imposed by foreign states.
"The siege is a battle in itself," he told a packed conference room in the capital, Damascus. "It is intensifying compared to previous years."
The comments reflect an uncomfortable winter in Damascus, the eighth since the conflict began after protests on March 15, 2011. It is nearly a year since any mortar bomb hit the city but Syrians in government-held areas have been complaining of severe fuel shortages blamed by Damascus on Western sanctions.
Queues for state-subsidized bottles of cooking gas have pointed to wider economic difficulties the Syrian government faces despite military victories won with help from Iran and Russia.
While these allies have supplied critical firepower, they have offered little in the way of aid to rebuild cities devastated by a war that has killed hundreds of thousands of people and driven half of Syrians from their homes.
KABUL — The Taliban political chief, who headed the Islamist militants' delegation during the most recent round of peace talks with the United States, said on Thursday that he was optimistic and assured Afghans that they had no reason to fear a settlement.
The latest round of talks in Qatar lasted 16 days and finished on Tuesday, with officials from both sides saying that progress had been made, but there was no agreement on when foreign troops might be withdrawn.
"We are very hopeful for the peace talks, because the latest round had some good dialogues which paved the way to more progress regarding peace in the future," Mullah Abdul Ghani Baradar said in an eight-minute audio tape of an interview conducted by the Taliban and posted online.
Making his first public comments since his release last year from a Pakistan prison, Baradar sought to reassure Afghans who have worried that peace with the Taliban could herald the return of its hardline Islamist values.
WASHINGTON — The Senate on Wednesday again rebuked President Trump for his continued defense of Saudi Arabia after the killing of the dissident journalist Jamal Khashoggi, voting for a second time to end American military assistance for the kingdom's war in Yemen and to curtail presidential war powers.
The 54-to-46 vote, condemning a nearly four-year conflict in Yemen that has killed thousands of civilians and inflicted a devastating famine, sets the foundation for what could become Mr. Trump's first presidential veto, with the House expected to overwhelmingly pass the measure, possibly this month. The vote also might be the opening salvo in a week where Senate Republicans have the opportunity to hit back at the president's aggressive use of executive power. On Thursday, the chamber will vote on a resolution that would overturn Mr. Trump's declaration of a national emergency to secure funding for his border wall.
"The United States Congress is going to reassert its constitutional responsibility over issues of war that have been abdicated for presidents, Democrats and Republicans, for too many years," said Senator Bernie Sanders, independent of Vermont.
Senator Mitch McConnell, Republican of Kentucky and the majority leader, encouraged lawmakers on Wednesday to oppose the Yemen resolution, calling it "inappropriate and counterproductive" and warning them not to conflate their displeasure with the administration's response to Mr. Khashoggi's death with the broader issue of the conflict in Yemen. But in a show of defiance, seven Republican senators broke ranks to join the resolution: Mike Lee, of Utah; Susan Collins of Maine; Steve Daines of Montana; Jerry Moran of Kansas; Lisa Murkowski of Alaska; Rand Paul of Kentucky; and Todd Young of Indiana.
KABUL — At least five Afghan soldiers were killed and 10 injured in air strikes conducted by U.S. forces in the southern Afghan province of Uruzgan on Wednesday, Afghan officials said, in an apparent case of friendly fire.
The Defence Ministry said in a statement giving the casualty numbers the Afghan soldiers had been patrolling a checkpoint.
"This attack was caused due to lack of proper coordination," a ministry official told Reuters.
The NATO-led Resolute Support mission in Kabul said the United States conducted precision self-defense air strikes on people firing on Afghan and American forces who were conducting a ground movement near an Afghan army checkpoint.
It did not confirm or deny the air strikes caused casualties.
"The strikes were conducted after Afghan and U.S. forces came under effective small arms and rocket-propelled grenade fire and (they) requested air support in self-defense," said Debra Richardson, a mission spokeswoman.
Bush's Five Big Lies That Led to the Iraq Quagmire
These are the five lies Bush told that Ralph Nader documented to impeach him.
Weapons of Mass Destruction. The weapons have still not been found. Nader emphasized, "Until the

1991

Gulf War, Saddam Hussein was our government's anti-communist ally in the Middle East. We also used him to keep Iran at bay. In so doing, in the

1980

s under Reagan and the first Bush, corporations were licensed by the Department of Commerce to export the materials for chemical and biological weapons that President George W. Bush and Vice President Dick Cheney later accused him of having." Those weapons were destroyed after the Gulf War. George W. Bush's favorite chief weapons inspector, David Kay, after returning from Iraq and leading a large team of inspectors and spending nearly half a billion dollars told the president

We were wrong.

See: David Kay testimony before Senate Armed Services Committee,

2004-01-28

.Tyler Drumheller, the former chief of the

CIA

(

C

entral

I

ntelligence

A

gency) 's Europe division, revealed that in the fall of

2002

, George W. Bush, Vice President Cheney, then-National Security Adviser Condoleezza Rice and others were told by

CIA

Director George Tenet that Iraq's foreign minister — who agreed to act as a spy for the United States — had reported that Iraq had no active weapons of mass destruction program.

Iraq Ties to Al Qaeda. The White House made this claim even though the

CIA

and

FBI

(

F

ederal

B

ureau of

I

nvestigation) repeatedly told the Administration that there was no tie between Saddam Hussein and Al Qaeda. They were mortal enemies — one secular, the other fundamentalist.

Saddam Hussein was a Threat to the United States. In fact, Saddam was a tottering dictator, with an antiquated, fractured army of low morale and with Kurdish enemies in Northern Iraq and Shiite adversaries in the South of Iraq. He did not even control the air space over most of Iraq.

Saddam Hussein was a Threat to his Neighbors. In fact, Iraq was surrounded by countries with far superior military forces. Turkey, Iran and Israel were all capable of obliterating any aggressive move by the Iraqi dictator.

The Liberation of the Iraqi People. There are brutal dictators throughout the world, many supported over the years by Washington, whose people need

liberation

from their leaders. This is not a persuasive argument since for Iraq, it's about oil. In fact, the occupation of Iraq by the United States is a magnet for increasing violence, anarchy and insurrection.
Civilian casualties in the war in Afghanistan (2001–present)
During the war in Afghanistan (2001–present), over 31,000 civilian deaths due to war-related violence have been documented;[1][2] 29,900 civilians have been wounded.[2] Over 111,000 Afghans, including civilians, soldiers and militants, are estimated to have been killed in the conflict.[1] The Cost of War project estimated that the number who have died through indirect causes related to the war may be as high 360,000 additional people based on a ratio of indirect to direct deaths in contemporary conflicts.[3] These numbers do not include those who have died in Pakistan.
The war, launched by the United States as "Operation Enduring Freedom" in 2001, began with an initial air campaign that almost immediately prompted concerns over the number of Afghan civilians being killed[4] as well as international protests. With civilian deaths from airstrikes rising again in recent years,[5] the number of Afghan civilians being killed by foreign military operations has led to mounting tension between the foreign countries and the government of Afghanistan. In May 2007, President Hamid Karzai summoned foreign military commanders to warn them of the consequences of further Afghan civilian deaths.[6] The civilian losses are a continuation of the extremely high civilian losses experienced during the Soviet–Afghan War in the 1980s, and the three periods of civil war following it: 1989–1992, 1992–1996, and 1996–2001.


C

asualties, Exclusive of Civilians
Recent Casualties:
Color Denotes Today's Confirmation
None

War Casualties By Name
More
Care for Veterans:
PTSD: National Center for PTSDPTSD Care for Veterans, Military, and FamiliesSee Help for Veterans with PTSD to learn how to enroll for VA health care and get an assessment.All VA Medical Centers provide PTSD care, as well as many VA clinics.Some VA's have programs specializing in PTSD treatment. Use the VA PTSD Program Locator to find a PTSD program.If you are a war Veteran, find a Vet Center to help with the transition from military to civilian life.Call the 24/7 Veteran Combat Call Center1-877-WAR-VETS (1-877-927-8387) to talk to another combat Veteran.DoD's Defense Centers of Excellence (DCoE) 24/7 Outreach Center for Psychological Health & Traumatic Brain Injury provides information and helps locate resources.Call 1-866-966-1020 or email resources@dcoeoutreach.orgMilitary OneSourceCall 24/7 for counseling and many resources 1-800-342-9647.Need further assistance? Get Help with VA PTSD Care


Save the Children is the world's leading independent organisation for children and has been working with families, communities and local authorities in Iraq since 1991, leading NGOs in general relief and development programs.Save the Children is currently responding to the needs of internally displaced persons (IDP) and the Syrian refugees in Iraq, in camps and non-camp settings. Our goal is for children in Iraq to be supported in raising their voices and attaining their rights, especially the right to participate in decisions affecting their lives. They should have access to quality education, health and protection services. We are increasing access to community based services that protect, educate and improve quality of life for children. We are ensuring that there is an increased participation of boys and girls in age appropriate activities and services. We are ensuring that children benefit from government actions that create an environment of awareness and accountability to uphold child rights. We are also developing new resources and innovative practices that support our work for children and youth.In Iraq, Save the Children's interventions include Child Protection, Education, Food Security and Livelihoods, Shelter and Water Sanitation and Hygiene (WASH), reaching vulnerble children and families in northern and central Iraq. Save the Children's programs are implemented through field offices in Erbil, Dohuk, Sulaymaniyah, Kirkuk and Kalar, with a country office located in Erbil.
Syria War Children