16 Mar
United States Wars, News and Casualties
Damn The War Criminals,

Bush,Cheney,Rice,Rumsfeld,Wolfowitz, Powell and Blair from England
War News

In this Feb. 18, 2019 photo, Dia Hassakeh, 45, a fighter in the Kurdish-led U.S-backed Syrian Democratic Forces, looks out of a building in Baghouz, Syria. Eight years of war have left their mark on Dia. In the early days of the conflict, two of his brothers were wounded fighting in the government military against the armed opposition. In November, another brother was killed by the Islamic State group. Now Dia is battling the militants at IS' last holdout, a speck of territory along the Euphrates River near the Iraqi border called Baghouz. (AP Photo/Felipe Dana)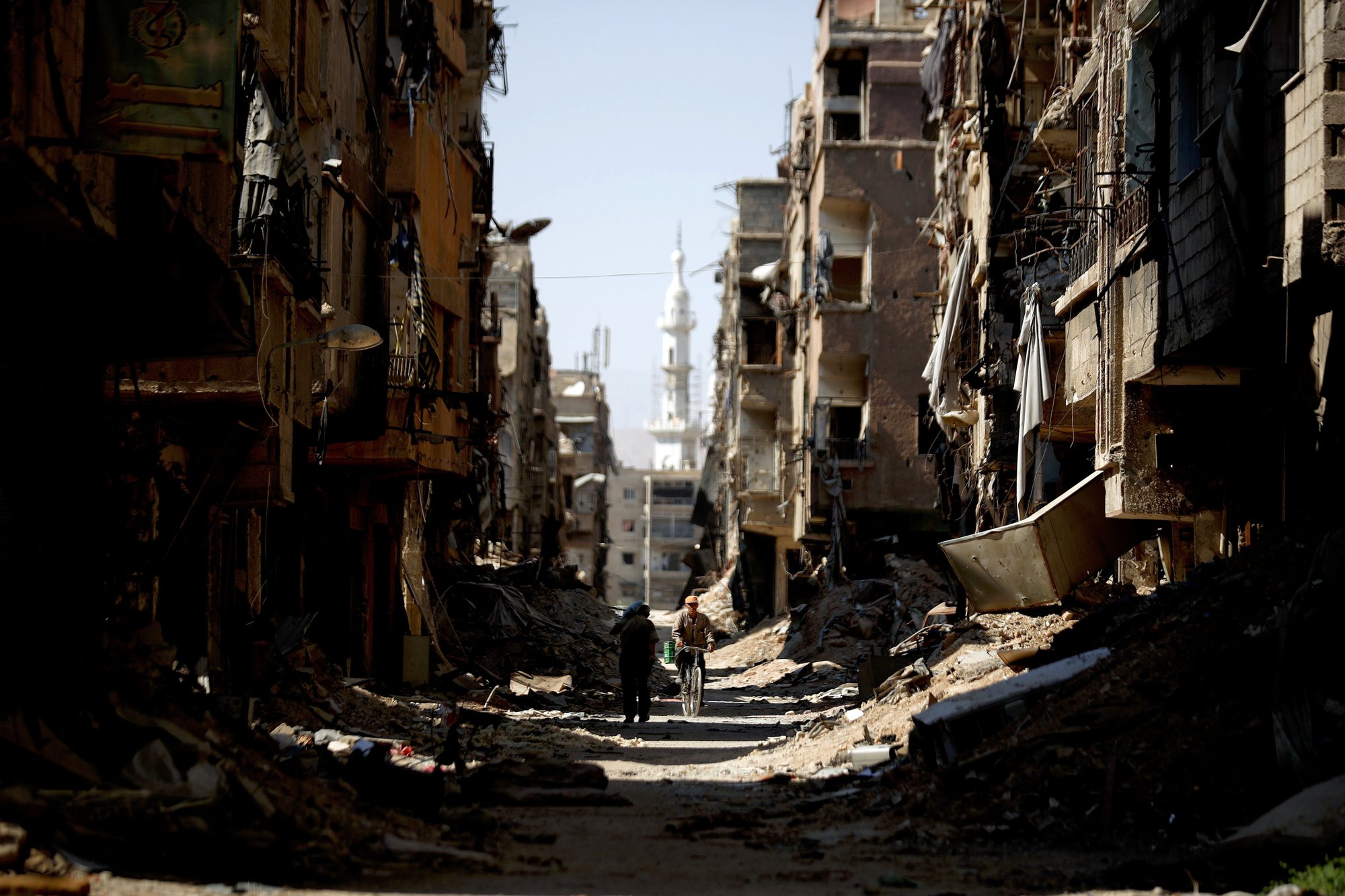 FILE – In this July 16, 2018 file photo, a man rides his bicycle through rubble in the Yarmouk Palestinian refugee camp, in Damascus, Syria. As Syria marks the eighth anniversary of its grinding war, the violence has left a trail of broken lives. What started as peaceful protests in 2011 asking for government change turned into one of the cruelest modern wars. Among the country's pre-war 23 million population, now half are displaced, nearly half a million dead. (AP Photo/Hassan Ammar, File)
BAGHOUZ, Syria (AP) — War is personal. And in Syria, after eight years of a grinding conflict, there are as many stories of loss, dispossession and desperate hope as there are people.
What started as peaceful protests in 2011 asking for government change turned into one of the cruelest modern wars and left a trail of broken lives among the country's pre-war population of 23 million. Now half are displaced, nearly half a million dead and many live with permanent scars or have joined militias.
The years of war have left their mark on Dia Hassakeh's 45-year old face. The Arab fighter in the Kurdish-led U.S-backed Syrian Democratic Forces has seen his family suffer on the conflict's many fronts.
In the early days of the conflict, two of his brothers were wounded fighting in the government military against the armed opposition. In November, another brother was killed by the Islamic State group. Now Dia is battling the militants at IS' last holdout, a speck of territory along the Euphrates River near the Iraqi border called Baghouz.
"As Syrians, every citizen has paid the price," he said, speaking just outside Baghouz. He took the name of his hometown Hassakeh as a nom de guerre when he joined the SDF.
While the Islamic State group's territorial defeat will close one bloody chapter, Syria is still wracked by conflict on the eighth anniversary of its long-running civil war.
Syrian President Bashar Assad's government appears to have won the war against the insurgency trying to topple him. But much of the country is out of Assad's hands. The northeast and east, wrested from IS, is largely held by the U.S.-backed Kurdish-led forces. But their fate as well is uncertain. Though President Donald Trump announced he would withdraw American troops, the U.S. is apparently keeping a small force, hoping to encourage the Europeans to strengthen their presence to protect its Kurdish allies from their nemesis Turkey, and counter Iran's expansion in the region.
DEIR AL-ZOR PROVINCE, Syria (Reuters) – Three suicide attackers in women's clothing killed six people leaving the last Islamic State enclave in eastern Syria on Friday in simultaneous blasts, the U.S.-backed forces besieging the area said.
The attack appears to be the first to target the many thousands of people who have poured out of the enclave at Baghouz over the five weeks since the Syrian Democratic Forces (SDF) began an offensive there.
People fleeing the area have included surrendering Islamic State fighters, their family members, other supporters of the group, civilians caught up in the conflict and captives of the jihadists.
The SDF and the U.S.-led coalition that supports it have described the remaining Islamic State fighters holed up in Baghouz as being the group's most hardened foreign militants.
During the battle for the enclave, they have hidden in tunnels, deployed suicide attackers to strike advancing SDF troops and detonated car bombs.
An SDF spokesman, Mustafa Bali, said the attacks had targeted surrendering family members of Islamic State militants at three crossing points from the enclave into SDF-controlled territory.
Three SDF fighters were slightly injured and it was not yet known if the attackers were women or men in women's clothing, Bali added.
BEIRUT (Reuters) – German and French diplomats on Friday blamed Syrian President Bashar al-Assad for "a climate of fear and injustice" which they said was the main barrier to millions of refugees going home.
The fate of more than 5 million Syrian refugees who fled to neighboring Lebanon, Turkey and Jordan is one of the most urgent questions following Assad's recovery of more than half of the country.
Writing in Lebanon's English-language Daily Star newspaper on Friday, the eighth anniversary of the war, the French and German envoys to Lebanon said refugees wanted to go back, but could not do so with abuses still taking place in Syria.
The pair cited surveys by the United Nations refugee agency UNHCR saying that while 83 percent of Syrian refugees in Lebanon wanted to go home eventually, only 5 percent of them planned to do so in the next year.
"Arrest, torture and killings continue to this very day. Detention by the Syrian security agencies is so arbitrary that no refugee can ultimately be sure of a safe return," wrote French envoy Bruno Foucher and German envoy Georg Birgelen.
Refugees "know that structural injustices await them: from seized property to utility fees for years spent abroad, from punitive penalties for expired personal documents to a biased justice system that will not defend their rights," they added.
Bush's Five Big Lies That Led to the Iraq Quagmire
These are the five lies Bush told that Ralph Nader documented to impeach him.
Weapons of Mass Destruction. The weapons have still not been found. Nader emphasized, "Until the

1991

Gulf War, Saddam Hussein was our government's anti-communist ally in the Middle East. We also used him to keep Iran at bay. In so doing, in the

1980

s under Reagan and the first Bush, corporations were licensed by the Department of Commerce to export the materials for chemical and biological weapons that President George W. Bush and Vice President Dick Cheney later accused him of having." Those weapons were destroyed after the Gulf War. George W. Bush's favorite chief weapons inspector, David Kay, after returning from Iraq and leading a large team of inspectors and spending nearly half a billion dollars told the president

We were wrong.

See: David Kay testimony before Senate Armed Services Committee,

2004-01-28

.Tyler Drumheller, the former chief of the

CIA

(

C

entral

I

ntelligence

A

gency) 's Europe division, revealed that in the fall of

2002

, George W. Bush, Vice President Cheney, then-National Security Adviser Condoleezza Rice and others were told by

CIA

Director George Tenet that Iraq's foreign minister — who agreed to act as a spy for the United States — had reported that Iraq had no active weapons of mass destruction program.

Iraq Ties to Al Qaeda. The White House made this claim even though the

CIA

and

FBI

(

F

ederal

B

ureau of

I

nvestigation) repeatedly told the Administration that there was no tie between Saddam Hussein and Al Qaeda. They were mortal enemies — one secular, the other fundamentalist.

Saddam Hussein was a Threat to the United States. In fact, Saddam was a tottering dictator, with an antiquated, fractured army of low morale and with Kurdish enemies in Northern Iraq and Shiite adversaries in the South of Iraq. He did not even control the air space over most of Iraq.

Saddam Hussein was a Threat to his Neighbors. In fact, Iraq was surrounded by countries with far superior military forces. Turkey, Iran and Israel were all capable of obliterating any aggressive move by the Iraqi dictator.

The Liberation of the Iraqi People. There are brutal dictators throughout the world, many supported over the years by Washington, whose people need

liberation

from their leaders. This is not a persuasive argument since for Iraq, it's about oil. In fact, the occupation of Iraq by the United States is a magnet for increasing violence, anarchy and insurrection.
Civilian casualties in the war in Afghanistan (2001–present)
During the war in Afghanistan (2001–present), over 31,000 civilian deaths due to war-related violence have been documented;[1][2] 29,900 civilians have been wounded.[2] Over 111,000 Afghans, including civilians, soldiers and militants, are estimated to have been killed in the conflict.[1] The Cost of War project estimated that the number who have died through indirect causes related to the war may be as high 360,000 additional people based on a ratio of indirect to direct deaths in contemporary conflicts.[3] These numbers do not include those who have died in Pakistan.
The war, launched by the United States as "Operation Enduring Freedom" in 2001, began with an initial air campaign that almost immediately prompted concerns over the number of Afghan civilians being killed[4] as well as international protests. With civilian deaths from airstrikes rising again in recent years,[5] the number of Afghan civilians being killed by foreign military operations has led to mounting tension between the foreign countries and the government of Afghanistan. In May 2007, President Hamid Karzai summoned foreign military commanders to warn them of the consequences of further Afghan civilian deaths.[6] The civilian losses are a continuation of the extremely high civilian losses experienced during the Soviet–Afghan War in the 1980s, and the three periods of civil war following it: 1989–1992, 1992–1996, and 1996–2001.


C

asualties, Exclusive of Civilians
Recent Casualties:
Color Denotes Today's Confirmation
None

War Casualties By Name
More
Care for Veterans:
PTSD: National Center for PTSDPTSD Care for Veterans, Military, and FamiliesSee Help for Veterans with PTSD to learn how to enroll for VA health care and get an assessment.All VA Medical Centers provide PTSD care, as well as many VA clinics.Some VA's have programs specializing in PTSD treatment. Use the VA PTSD Program Locator to find a PTSD program.If you are a war Veteran, find a Vet Center to help with the transition from military to civilian life.Call the 24/7 Veteran Combat Call Center1-877-WAR-VETS (1-877-927-8387) to talk to another combat Veteran.DoD's Defense Centers of Excellence (DCoE) 24/7 Outreach Center for Psychological Health & Traumatic Brain Injury provides information and helps locate resources.Call 1-866-966-1020 or email resources@dcoeoutreach.orgMilitary OneSourceCall 24/7 for counseling and many resources 1-800-342-9647.Need further assistance? Get Help with VA PTSD Care


Save the Children is the world's leading independent organisation for children and has been working with families, communities and local authorities in Iraq since 1991, leading NGOs in general relief and development programs.Save the Children is currently responding to the needs of internally displaced persons (IDP) and the Syrian refugees in Iraq, in camps and non-camp settings. Our goal is for children in Iraq to be supported in raising their voices and attaining their rights, especially the right to participate in decisions affecting their lives. They should have access to quality education, health and protection services. We are increasing access to community based services that protect, educate and improve quality of life for children. We are ensuring that there is an increased participation of boys and girls in age appropriate activities and services. We are ensuring that children benefit from government actions that create an environment of awareness and accountability to uphold child rights. We are also developing new resources and innovative practices that support our work for children and youth.In Iraq, Save the Children's interventions include Child Protection, Education, Food Security and Livelihoods, Shelter and Water Sanitation and Hygiene (WASH), reaching vulnerble children and families in northern and central Iraq. Save the Children's programs are implemented through field offices in Erbil, Dohuk, Sulaymaniyah, Kirkuk and Kalar, with a country office located in Erbil.
Syria War Children