19 Mar
United States Wars, News and Casualties
Damn The War Criminals,

Bush,Cheney,Rice,Rumsfeld,Wolfowitz, Powell and Blair from England
War News
Since the Stockholm deal in December, airstrikes on Hodeidah have decreased but casualties have doubled elsewhere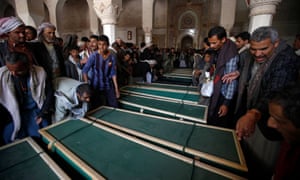 A funeral for people killed by an airstrike in the north-western province of Hajjah earlier this month. Photograph: Mohamed Al-Sayaghi/Reuters
Yemen is continuing to experience a steady stream of violence, claiming at least one life every eight hours – despite the agreements reached between the internationally recognised government and the Houthis at talks in Sweden just over three months ago.
According to figures compiled by two international aid agencies, in some areas of the country the number of casualties, far from falling, had doubled where the conflict was flaring up.
Figures show three people have died in Yemen every day since the agreements were signed in mid-December. More than 231 civilians have been killed across the country, by airstrikes, shelling, snipers or landmines. A third of those fatalities were in Hodeidah governorate, despite the ceasefire there – 56 of those were children.
According to figures collected by the Norwegian Refugee Council (NRC), civilian casualties in Hajjah and Taiz alone have more than doubled since the Hodeidah ceasefire and Stockholm agreement came into effect, with 164 and 184 people killed in each city respectively.
"The reduction in violence seen in Hodeidah through recent months has been counteracted by escalations in other parts of the country," said Mohamed Abdi, country director for NRC in Yemen.
"While airstrikes on Hodeidah city have reduced significantly and a semblance of life has resumed, the fighting is intensifying in other parts of the country, with a devastating impact on civilians."
According to the NRC, significant clashes have resumed in parts of Hodeidah city, threatening to reverse any fragile gains.
Commenting on its own figures on the death toll, Muhsin Siddiquey, Yemen country director for Oxfam, said: "Every day that passes without concrete progress towards peace, more Yemenis lose their lives and the suffering deepens for those struggling to find food and shelter amid the world's worst humanitarian disaster.
"The backers of the warring parties are complicit in this manmade crisis," he said. "We call on them to stop arming the belligerents. They and the rest of the international community need to do all they can to help bring about a lasting peace in Yemen."
Siddiquey also criticised the UK government for its decision to continue to license the export of military equipment to Saudi Arabia, part of a coalition giving military support to the internationally recognised government. The policy will be challenged in the Court of Appeal in April, after the High Court ruled the arms exports could continue.
Siddiquey said: "The international leadership [that] UK foreign secretary Jeremy Hunt has shown both by visiting Yemen recently to witness the disaster for himself, and by holding talks with the warring parties to urge compromise on all sides, is commendable. But this willingness to broker peace is being fatally undermined by the UK government's insistence on continued arms sales to some of the warring parties.
"UK arms sales to Saudi Arabia and other coalition members are prolonging and deepening a conflict that is causing immense human suffering, and they need to stop."
The bombing killed Army Chief Warrant Officer 2 Jonathan Farmer, Navy Chief Cryptologic Technician Shannon Kent and Scott Wirtz from the Defense Intelligence Agency. It also killed Ghadir Taher, a naturalized U.S. citizen working as a civilian interpreter for a U.S. contractor.
One of the officials told Reuters the number of people detained was in the "single digits." A second official said there were several "initial detentions" made in February, without offering a specific number. The detentions have not been previously reported.
"Those initial detentions have provided some leads and opportunities that we are continuing to exploit," the second official said, speaking on condition of anonymity and declining to offer additional details.
The attack was the worst single incident involving U.S. personnel in Syria since they deployed on the ground there in 2015 and took place at a cafe in the town of Manbij, which was controlled by a militia allied to U.S.-backed Kurdish forces.
The bombing occurred nearly a month after President Donald Trump confounded his own national security team and allies with a surprise decision on Dec. 19 to withdraw all 2,000 U.S. troops from Syria, declaring Islamic State had been defeated there.
QAMISHLI, Syria (Reuters) – The U.S.-backed Syrian Democratic Forces (SDF) detained hundreds of wounded Islamic State militants on Tuesday when they captured a camp where the jihadists had been holed up in their final enclave in eastern Syria, an SDF official told Reuters.
Mustafa Bali, head of the SDF media office, said the wounded IS militants were being transported from the enclave at Baghouz to Hasaka province in northeastern Syria. He said they had been treated humanely.

Mourners in a mosque in Najaf, Iraq, gathered around the coffins of six people who were abducted and killed as they collected truffles.

Credit

Credit

Haidar Hamdani/Agence France-Presse — Getty Images
BAGHDADI, Iraq — As he hunted for a seasonal delicacy, Mohaned Salah Yasseen scanned the ground intently, searching for places where the soil is cracked and slightly raised — the telltale sign a desert truffle lies below.
So he failed to notice the two pickup trucks, driven by men in military uniforms, until they were almost upon him.
"They ordered me to get into the truck," said Mr. Yasseen, a 31-year-old pharmacist. "I thought about saying no, but they were armed."
As he climbed in, he became the latest victim in a new campaign by the Islamic State.
Driven out of most of the territory it controlled in Iraq and Syria, the group has gone underground, its remaining fighters in Iraq carrying out sporadic attacks.
Since late January, they have been kidnapping and, in some cases, executing Iraqi truffle hunters, mostly in the deserts of western Anbar Province. The Iraqi security forces confirmed the kidnapping of 44 truffle hunters this year, and more have probably gone unreported.
The abductions are only a fraction of the Islamic State attacks now taking place in Iraq, where every day brings one or more reports of a checkpoint shooting, skirmish or kidnapping. But the attacks on truffle hunters reflect a renewed emphasis on inciting sectarian tensions.
While Sunni Muslim truffle hunters typically pay a ransom to win release, as Mr. Yasseen did, Shiite Muslim truffle hunters never get that chance. They are killed.
KABUL, Afghanistan — Kabul's green zone is a place where diplomats fly in cheesecake from New York and cases of wine from Europe, but many of those residing inside the heavily fortified enclave are not allowed to walk without an armed guard even for a distance of 100 meters.
The walled-off compound of embassies and newsrooms, which is set to expand dramatically, imposes extreme limitations on its sheltered residents and stokes resentment among Afghans living outside.
"The best possible argument to be in Afghanistan is to be a sort of introvert," said Czech Republic Ambassador Petr Stepanek. "You don't expect a blossoming social life."
Kabul's central green zone is set in the affluent Wazir Akbar Khan neighborhood. Trees pre-dating decades of war still stretch above the razor-wire topped walls that line once-tony streets patrolled by police and private security.
It grew from a cluster of fortified embassies after the Taliban's 2001 overthrow by U.S.-led forces. In 2017, a truck bomb near the German embassy, one of the green zone's entry points, killed or wounded hundreds, prompting further enlargement.
Its rapid expansion reflects the Taliban's increasing attacks on Kabul in recent years, in a strategy shift to counter its disadvantages against U.S.-backed air power outside the capital.
Kabul police commander Sayed Mohammad Roshandil said in an interview that the green zone has been a major success.
Since the Germany embassy attack, there have been no security breaches of the zone, which spans three police districts, he said. A maximum of 150 trucks are allowed inside per day, with drivers verified by biometric scanners.
Bush's Five Big Lies That Led to the Iraq Quagmire
These are the five lies Bush told that Ralph Nader documented to impeach him.
Weapons of Mass Destruction. The weapons have still not been found. Nader emphasized, "Until the

1991

Gulf War, Saddam Hussein was our government's anti-communist ally in the Middle East. We also used him to keep Iran at bay. In so doing, in the

1980

s under Reagan and the first Bush, corporations were licensed by the Department of Commerce to export the materials for chemical and biological weapons that President George W. Bush and Vice President Dick Cheney later accused him of having." Those weapons were destroyed after the Gulf War. George W. Bush's favorite chief weapons inspector, David Kay, after returning from Iraq and leading a large team of inspectors and spending nearly half a billion dollars told the president

We were wrong.

See: David Kay testimony before Senate Armed Services Committee,

2004-01-28

.Tyler Drumheller, the former chief of the

CIA

(

C

entral

I

ntelligence

A

gency) 's Europe division, revealed that in the fall of

2002

, George W. Bush, Vice President Cheney, then-National Security Adviser Condoleezza Rice and others were told by

CIA

Director George Tenet that Iraq's foreign minister — who agreed to act as a spy for the United States — had reported that Iraq had no active weapons of mass destruction program.

Iraq Ties to Al Qaeda. The White House made this claim even though the

CIA

and

FBI

(

F

ederal

B

ureau of

I

nvestigation) repeatedly told the Administration that there was no tie between Saddam Hussein and Al Qaeda. They were mortal enemies — one secular, the other fundamentalist.

Saddam Hussein was a Threat to the United States. In fact, Saddam was a tottering dictator, with an antiquated, fractured army of low morale and with Kurdish enemies in Northern Iraq and Shiite adversaries in the South of Iraq. He did not even control the air space over most of Iraq.

Saddam Hussein was a Threat to his Neighbors. In fact, Iraq was surrounded by countries with far superior military forces. Turkey, Iran and Israel were all capable of obliterating any aggressive move by the Iraqi dictator.

The Liberation of the Iraqi People. There are brutal dictators throughout the world, many supported over the years by Washington, whose people need

liberation

from their leaders. This is not a persuasive argument since for Iraq, it's about oil. In fact, the occupation of Iraq by the United States is a magnet for increasing violence, anarchy and insurrection.
Civilian casualties in the war in Afghanistan (2001–present)
During the war in Afghanistan (2001–present), over 31,000 civilian deaths due to war-related violence have been documented;[1][2] 29,900 civilians have been wounded.[2] Over 111,000 Afghans, including civilians, soldiers and militants, are estimated to have been killed in the conflict.[1] The Cost of War project estimated that the number who have died through indirect causes related to the war may be as high 360,000 additional people based on a ratio of indirect to direct deaths in contemporary conflicts.[3] These numbers do not include those who have died in Pakistan.
The war, launched by the United States as "Operation Enduring Freedom" in 2001, began with an initial air campaign that almost immediately prompted concerns over the number of Afghan civilians being killed[4] as well as international protests. With civilian deaths from airstrikes rising again in recent years,[5] the number of Afghan civilians being killed by foreign military operations has led to mounting tension between the foreign countries and the government of Afghanistan. In May 2007, President Hamid Karzai summoned foreign military commanders to warn them of the consequences of further Afghan civilian deaths.[6] The civilian losses are a continuation of the extremely high civilian losses experienced during the Soviet–Afghan War in the 1980s, and the three periods of civil war following it: 1989–1992, 1992–1996, and 1996–2001.


C

asualties, Exclusive of Civilians
Recent Casualties:
Color 

Denotes Today's Confirmation
None

War Casualties By Name
More
Care for Veterans:
PTSD: National Center for PTSDPTSD Care for Veterans, Military, and FamiliesSee Help for Veterans with PTSD to learn how to enroll for VA health care and get an assessment.All VA Medical Centers provide PTSD care, as well as many VA clinics.Some VA's have programs specializing in PTSD treatment. Use the VA PTSD Program Locator to find a PTSD program.If you are a war Veteran, find a Vet Center to help with the transition from military to civilian life.Call the 24/7 Veteran Combat Call Center1-877-WAR-VETS (1-877-927-8387) to talk to another combat Veteran.DoD's Defense Centers of Excellence (DCoE) 24/7 Outreach Center for Psychological Health & Traumatic Brain Injury provides information and helps locate resources.Call 1-866-966-1020 or email resources@dcoeoutreach.orgMilitary OneSourceCall 24/7 for counseling and many resources 1-800-342-9647.Need further assistance? Get Help with VA PTSD Care


Save the Children is the world's leading independent organisation for children and has been working with families, communities and local authorities in Iraq since 1991, leading NGOs in general relief and development programs.Save the Children is currently responding to the needs of internally displaced persons (IDP) and the Syrian refugees in Iraq, in camps and non-camp settings. Our goal is for children in Iraq to be supported in raising their voices and attaining their rights, especially the right to participate in decisions affecting their lives. They should have access to quality education, health and protection services. We are increasing access to community based services that protect, educate and improve quality of life for children. We are ensuring that there is an increased participation of boys and girls in age appropriate activities and services. We are ensuring that children benefit from government actions that create an environment of awareness and accountability to uphold child rights. We are also developing new resources and innovative practices that support our work for children and youth.In Iraq, Save the Children's interventions include Child Protection, Education, Food Security and Livelihoods, Shelter and Water Sanitation and Hygiene (WASH), reaching vulnerble children and families in northern and central Iraq. Save the Children's programs are implemented through field offices in Erbil, Dohuk, Sulaymaniyah, Kirkuk and Kalar, with a country office located in Erbil.
Syria War Children