21 Mar
United States Wars, News and Casualties
Damn The War Criminals,

Bush,Cheney,Rice,Rumsfeld,Wolfowitz, Powell and Blair from England
War News
Allegations, which US officials deny, come as pace of strikes in Somalia escalate under the Trump administration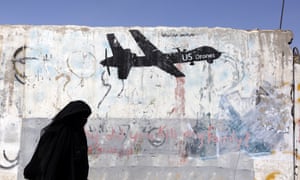 A woman walks past a graffiti depicting a US drone in Sana'a, Yemen. US drone strikes have been used in countries such as Yemen and Somalia, designated by the US as areas of 'active hostilities'. Photograph: Yahya Arhab/EPA
There is credible evidence that US military airstrikes in Somalia have killed or wounded nearly two dozen civilians, an international human rights group said Tuesday, charging that the Pentagon is not adequately investigating potential casualties.
US Africa Command officials immediately disputed the allegations laid out in a report by Amnesty International, and insisted that the military has investigated 18 cases of possible civilian casualties since 2017 and found that none were credible.
The seemingly contradictory information underscores the complexities of military operations against the al-Qaida-linked al-Shabaab group in Somalia, involving airstrikes by several allied nations in hostile, remote locations that are difficult to access safely.
The report came the same day that a Somali intelligence official and two local residents said a US drone strike on Monday killed civilians……………The pace of US airstrikes in Somalia has escalated during the Trump administration, from 47 in all of 2018 to 28 already this year. So far more than 230 militants have been killed in 2019, compared to 338 killed in all of 2018.
In March 2017, the Donald Trump approved greater authorities for military operations against al-Shabaab, allowing increased strikes in support of the African Union Mission in Somalia (Amisom) and Somali forces.
Amnesty International said it had analyzed satellite imagery and other data, and interviewed 65 witnesses and survivors of five specific airstrikes detailed in the report. The report concludes that there is "credible evidence" that the US was responsible for four of the airstrikes, and that it's plausible the US conducted the fifth strike. It said 14 civilians were killed and eight injured in the strikes.
ADEN (Reuters) – The U.S. ambassador to Yemen blamed the Iran-aligned Houthi movement on Thursday for the stalling of a U.N.-led peace deal in the main port of Hodeidah and said the group's weapons pose a threat to other countries in the region.
The Saudi-backed Yemeni government and the Houthis reached a ceasefire and troop withdrawal deal for Hodeidah, which is under Houthi control, at talks in Sweden in December. The pact was the first major breakthrough in efforts to end the four year war.
While the truce has largely held, the troop withdrawal by both parties has yet to materialize with each side blaming the other for lack of progress. The deal aimed to avert a full-scale assault on the port which is a lifeline for millions of Yemenis facing starvation.
"We are greatly frustrated by what we see as delays and stalling on the part of the Houthis in implementing what they agreed to in Sweden, but I have great confidence in the UN envoy and what he is doing," ambassador Matthew Tueller told a televised news conference in the southern port of Aden, where the internationally recognized government is based.
"We are willing to work with others in order to try to implement these (Sweden) agreements and see whether the Houthis can in fact demonstrate a political maturity and start to serve the interests of Yemen rather than acting on behalf of those who seek to weaken and destroy Yemen," he said.
BAGHDAD (Reuters) – The hallways of the Rusafa Central Criminal Court in Baghdad teemed with anxious toddlers on the days their mothers were on trial. Then they vanished again, into the women's prison, where they have lived for the past year and a half. They sleep on thin mattresses in crowded cells, bored, hungry and often sick. They are the foreign children of Islamic State.
Chechen woman Laila Magomedovna Gazieva, the widow of an Islamic State militant, holds her son Obaida at Hammam Al-Alil camp south of Mosul, Iraq, September 13, 2017. REUTERS/Azad Lashkari.
Among them is Obaida, the two-year-old son of a Chechen woman, Laila Gazieva. Gazieva was detained in late 2017 while fleeing the Islamic State stronghold of Tal Afar in northern Iraq, and convicted six months later for belonging to the militant Islamist group. On the day Gazieva was sentenced to life in prison, so too were at least a dozen other young women, court records show.
Obaida remains with his mother in a Baghdad women's jail, according to Russian government records. About 1,100 children of Islamic State are caught in the wheels of Iraqi justice, said sources with knowledge of the penitentiary system. The youngest, like Obaida, stay with their mothers in prison. At least seven of these children have died because of the poor conditions, according to detainees, embassy records reviewed by Reuters and sources familiar with the prison.
Several hundred older children are being prosecuted for offences ranging from illegally entering Iraq to fighting for Islamic State. Some 185 children aged nine to 18 have already been convicted and received sentences from a few months to up to 15 years in juvenile detention in Baghdad, said a spokesman for the judicial council that oversees the Rusafa Central Criminal Court, which is hearing most of the Islamic State cases involving foreigners. Seventy seven of those convicted children were girls.
The children are the forgotten victims of Islamic State: betrayed by the parents who took them to a war zone, groomed from the age of four in the militants' poisonous ideology and, in many instances, abandoned by the countries they came from for fear they are a future threat. In some 20 interviews, diplomats, the children's mothers and sources familiar with their cases and the penitentiary system described the youngsters' ordeal.
BEIRUT (Reuters) – Twelve people died overnight after arriving at a camp in northeastern Syria from Islamic State's final enclave at Baghouz, the International Rescue Committee said on Thursday.
"Last night, another 2,000 women and children arrived at al-Hol camp in northeast Syria from Baghouz. Up to 60 arrivals needed immediate hospitalization and there were another 12 deaths recorded," IRC said in a statement.
"These women and children are in the worst condition we have seen since the crisis first began. Many have been caught up in the fighting and dozens have been burnt or badly injured by shrapnel," Wendy Taeuber, IRC's Iraq and northeast Syria country director, said in the statement.
"There have now been at least 138 deaths on the way to al Hol or soon after arriving at the camp since early December. The deaths have overwhelmingly been of babies and infants," IRC said.
HAJJAH PROVINCE, Yemen (Reuters) – As Yeman's war grinds into its fifth year with peace efforts stalling, ten-year-old Afaf's father sees little hope he will be able to give his starving daughter the food or healthcare she needs.
A nurse weighs Afaf Hussein, 10, who is malnourished, at the malnutrition treatment ward of al-Sabeen hospital in Sanaa, Yemen, January 31, 2019. REUTERS/Khaled Abdullah
Across Yemen's remote mountain villages, the country's war-induced economic crisis has left parents like Hussein Abdu destitute, hungry and watching their children waste away from malnutrition and unclean water.
"Before the war we managed to get food because prices were acceptable and there was work," 40-year-old Abdu said from al-Jaraib, a small agricultural village in the hills of Hajjah province in northwest Yemen.
"Now they have increased significantly and we rely on yoghurt and bread for nutrition."
KABUL, Afghanistan — A string of explosions struck near a Shiite shrine and cemetery in Kabul as people gathered there on Thursday morning to mark the holiday of Nowruz, the Persian New Year, leaving at least five dead and as many as 20 wounded, Afghan officials said.
The police's initial investigation indicated that three explosive devises had been remotely detonated, setting off the successive blasts, according to the Interior Ministry's spokesman Nasrat Rahim.
No group immediately claimed responsibility for the bombing but the Islamic State affiliate that has taken root in Afghanistan has targeted the country's minority Shiite Muslims on numerous occasions in the past. The Sunni militant group considers Shiite Muslims heretics.
Kabul's Emergency Services director Mohammad Asim said two children were among the wounded in the blasts. The extent of their injuries was not immediately known.
Bush's Five Big Lies That Led to the Iraq Quagmire
These are the five lies Bush told that Ralph Nader documented to impeach him.
Weapons of Mass Destruction. The weapons have still not been found. Nader emphasized, "Until the

1991

Gulf War, Saddam Hussein was our government's anti-communist ally in the Middle East. We also used him to keep Iran at bay. In so doing, in the

1980

s under Reagan and the first Bush, corporations were licensed by the Department of Commerce to export the materials for chemical and biological weapons that President George W. Bush and Vice President Dick Cheney later accused him of having." Those weapons were destroyed after the Gulf War. George W. Bush's favorite chief weapons inspector, David Kay, after returning from Iraq and leading a large team of inspectors and spending nearly half a billion dollars told the president

We were wrong.

See: David Kay testimony before Senate Armed Services Committee,

2004-01-28

.Tyler Drumheller, the former chief of the

CIA

(

C

entral

I

ntelligence

A

gency) 's Europe division, revealed that in the fall of

2002

, George W. Bush, Vice President Cheney, then-National Security Adviser Condoleezza Rice and others were told by

CIA

Director George Tenet that Iraq's foreign minister — who agreed to act as a spy for the United States — had reported that Iraq had no active weapons of mass destruction program.

Iraq Ties to Al Qaeda. The White House made this claim even though the

CIA

and

FBI

(

F

ederal

B

ureau of

I

nvestigation) repeatedly told the Administration that there was no tie between Saddam Hussein and Al Qaeda. They were mortal enemies — one secular, the other fundamentalist.

Saddam Hussein was a Threat to the United States. In fact, Saddam was a tottering dictator, with an antiquated, fractured army of low morale and with Kurdish enemies in Northern Iraq and Shiite adversaries in the South of Iraq. He did not even control the air space over most of Iraq.

Saddam Hussein was a Threat to his Neighbors. In fact, Iraq was surrounded by countries with far superior military forces. Turkey, Iran and Israel were all capable of obliterating any aggressive move by the Iraqi dictator.

The Liberation of the Iraqi People. There are brutal dictators throughout the world, many supported over the years by Washington, whose people need

liberation

from their leaders. This is not a persuasive argument since for Iraq, it's about oil. In fact, the occupation of Iraq by the United States is a magnet for increasing violence, anarchy and insurrection.
Civilian casualties in the war in Afghanistan (2001–present)
During the war in Afghanistan (2001–present), over 31,000 civilian deaths due to war-related violence have been documented;[1][2] 29,900 civilians have been wounded.[2] Over 111,000 Afghans, including civilians, soldiers and militants, are estimated to have been killed in the conflict.[1] The Cost of War project estimated that the number who have died through indirect causes related to the war may be as high 360,000 additional people based on a ratio of indirect to direct deaths in contemporary conflicts.[3] These numbers do not include those who have died in Pakistan.
The war, launched by the United States as "Operation Enduring Freedom" in 2001, began with an initial air campaign that almost immediately prompted concerns over the number of Afghan civilians being killed[4] as well as international protests. With civilian deaths from airstrikes rising again in recent years,[5] the number of Afghan civilians being killed by foreign military operations has led to mounting tension between the foreign countries and the government of Afghanistan. In May 2007, President Hamid Karzai summoned foreign military commanders to warn them of the consequences of further Afghan civilian deaths.[6] The civilian losses are a continuation of the extremely high civilian losses experienced during the Soviet–Afghan War in the 1980s, and the three periods of civil war following it: 1989–1992, 1992–1996, and 1996–2001.


C

asualties, Exclusive of Civilians
Recent Casualties:
Color

 Denotes Today's Confirmation
None

War Casualties By Name
More
Care for Veterans:
PTSD: National Center for PTSDPTSD Care for Veterans, Military, and FamiliesSee Help for Veterans with PTSD to learn how to enroll for VA health care and get an assessment.All VA Medical Centers provide PTSD care, as well as many VA clinics.Some VA's have programs specializing in PTSD treatment. Use the VA PTSD Program Locator to find a PTSD program.If you are a war Veteran, find a Vet Center to help with the transition from military to civilian life.Call the 24/7 Veteran Combat Call Center1-877-WAR-VETS (1-877-927-8387) to talk to another combat Veteran.DoD's Defense Centers of Excellence (DCoE) 24/7 Outreach Center for Psychological Health & Traumatic Brain Injury provides information and helps locate resources.Call 1-866-966-1020 or email resources@dcoeoutreach.orgMilitary OneSourceCall 24/7 for counseling and many resources 1-800-342-9647.Need further assistance? Get Help with VA PTSD Care


Save the Children is the world's leading independent organisation for children and has been working with families, communities and local authorities in Iraq since 1991, leading NGOs in general relief and development programs.Save the Children is currently responding to the needs of internally displaced persons (IDP) and the Syrian refugees in Iraq, in camps and non-camp settings. Our goal is for children in Iraq to be supported in raising their voices and attaining their rights, especially the right to participate in decisions affecting their lives. They should have access to quality education, health and protection services. We are increasing access to community based services that protect, educate and improve quality of life for children. We are ensuring that there is an increased participation of boys and girls in age appropriate activities and services. We are ensuring that children benefit from government actions that create an environment of awareness and accountability to uphold child rights. We are also developing new resources and innovative practices that support our work for children and youth.In Iraq, Save the Children's interventions include Child Protection, Education, Food Security and Livelihoods, Shelter and Water Sanitation and Hygiene (WASH), reaching vulnerble children and families in northern and central Iraq. Save the Children's programs are implemented through field offices in Erbil, Dohuk, Sulaymaniyah, Kirkuk and Kalar, with a country office located in Erbil.
Iraq, The children of Islamic State