23 Mar
United States Wars, News and Casualties
Damn The War Criminals,

Bush,Cheney,Rice,Rumsfeld,Wolfowitz, Powell and Blair from England
War News
Kurdish-led group says last of militants cleared from stronghold of Baghuz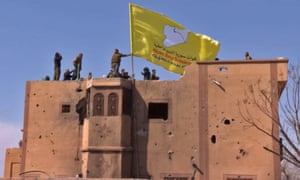 US-backed Syrian Democratic Forces (SDF) fighters raise their flag on a building in Baghuz. Photograph: Ronahî TV/AFP/Getty Images
After almost five years, the battle to dismantle Islamic State's brutal "caliphate" has ended with an announcement from US-backed forces that the militants have been driven out of their last stronghold of Baghuz, deep in the Syrian desert.
Isis had held out for months against the Syrian Democratic Forces (SDF) in the small oasis town on the Euphrates river, clinging on to an area of land less than 700 sq metres wide despite fierce coalition bombing. But on Saturday an SDF spokesman, Mustafa Bali, tweeted that the town had been liberated.
"On this unique day we commemorate thousands of martyrs whose efforts made the victory possible," he wrote.
The elimination of the caliphate is a significant symbolic victory against Isis, which at the height of its power held more than 8 million people hostage to its bloody interpretation of Islamic law in a swath of territory across Syria and Iraq that was roughly the size of the UK……………….At least 6,000 Kurdish and 2,000 Arab SDF fighters have died in the four-year military campaign against the group in Syria. Tens of thousands more troops died across the border in Iraq, and monitors say the civilian death toll in both countries is far higher than official estimates.
Car, motorbike and even bicycle suicide bombs slowed the SDF's advance in Baghuz to a crawl as women and children – mostly the families of fighters – poured out of the town in staggering numbers, defiantly shouting Isis slogans and threatening reporters.
Once a magnet for would-be jihadists worldwide, Islamic State's dominion collapsed amid infighting and paranoia
The last days
On a midwinter night in early January, the most wanted man in the world entered a home in a forsaken town near the Syrian border for a rare meeting with his surviving aides.
Abu Bakr al-Baghdadi was down to a few dozen loyalists, all tested in battle and by the chaos of his organisation's scrambling retreat to the far eastern edge of Syria. The caliphate he had proclaimed four and a half years earlier had been whittled down to less than 50 square kilometres and was shrinking by the day. Gunfire crackled in the middle distance and bombs thudded nearby, just as they had for months as the last towns and villages held by Islamic State fell steadily to the advancing Kurds.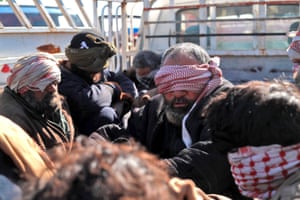 Alleged Isis fighters captured near the frontline Syrian village of Baghuz. Photograph: Delil Souleiman/AFP/Getty Images
Above the small town of Baghuz, where the terrorist group's leader and his entourage were holed up, two US drones circled, searching for targets below. Several villages away, Kurdish forces were taking positions among the fresh rubble of still raging battles, readying for a final assault on the last holdout, a place that until very recently few could find on a map. The most diehard Isis members were preparing for what increasingly looked like being their last stand, a long and ignominious way from where it all began when its fighters swept into towns and cities across Iraq and Syria, capturing all before them and rendering the border between the two countries little more than a line in the dirt.
KABUL, Afghanistan (AP) — A twin bombing at a public ceremony in southern Afghanistan on Saturday killed at least four people, including a provincial official, and wounded more than 30, officials said.
Omar Zwak, spokesman for the governor of Helmand province, said the bombings targeted a celebration of Farmer's Day in a sports stadium in the provincial capital, Lashkar Gah.
Mohammad Khan Nasrat, the economic director of Helmand, was among those killed in the attack, the government said in a statement.
Zwak said 31 other people were wounded in the blasts, including provincial council members and provincial security officials, but he said none were in critical condition.
The Taliban, who effectively control half the country, including large parts of Helmand province, claimed the attack. The insurgents have kept up their daily attacks on Afghan security forces and government targets even as they have held several rounds of talks with the United States in recent months aimed at ending the 17-year war.
Elsewhere in Afghanistan, gunmen shot and killed Obaidullah Barekzai, a former lawmaker, in the southern Kandahar province, according to the provincial police chief. Gen. Tadeen Khan said the gunmen opened fire on Barekzai's vehicle on Saturday in Kandahar city. No one immediately claimed the attack.
In the northern Kunduz province, dozens of people protested against a military operation while carrying the remains of their loved ones. Photos from the protest showed what appeared to be the bodies of 12 people, including five or six small children.
Police spokesman Inamuddin Rahmani said there were operations in three different areas in Kunduz over the last three days that killed scores of insurgents.
"We are investigating if any civilians were killed or wounded," he said.
On Friday, two American service members were killed during an operation in Kunduz province. The Taliban said Friday they were engaged in heavy fighting with Afghan and U.S. forces in Kunduz.
The Islamic State lost its last foothold in Syria on Saturday after years of fighting. But the terrorist group remains a serious, violent threat.
Many of its top leaders are still alive. And it continues to carry out attacks, including one in January that killed 15 people, including four Americans, outside a shawarma restaurant in the city of Manbij, Syria. After a period of relative calm early last year, the United States-led coalition has ramped up strikes against ISIS in Syria since August.
By nearly every metric, the Islamic State is at its lowest point in the almost five years since it declared its caliphate. The group controls almost no territory in Iraq and Syria, attacks are down and the number of foreign fighters it continues to recruit is a fraction of what it was at its height. But analysts who have studied ISIS since its rise in Iraq more than 15 years ago point out that the group is far more powerful today than it was when American forces pulled out of Iraq in 2011.
ISIS has adapted to its losses, returning to the guerilla tactics it used in the past, like targeted assassinations, bombings, ambushes and raids. The group still has tens of thousands of fighters in Iraq and Syria, according to United States Army General Joseph Votel. Territory that has been liberated remains insecure, as sleeper cells take root. Since last summer the group has carried out at least 250 attacks outside its controlled territories in Syria.
LASHKAR GAH, Afghanistan — An attack claimed by the Taliban killed four people and wounded 31 on Saturday during a celebration in the Afghan city of Lashkar Gah.
Afghanistan's multi-day celebrations to mark its traditional new year have been marred by several attacks, beginning with explosions claimed by Islamic State in the capital of Kabul on Thursday that killed six people and wounded 23.
Saturday's blasts in the southern provincial capital appeared to have been caused by explosives planted at the stadium where nearly 1,000 people were celebrating Farmers Day.
Helmand provincial governor Mohammad Yasin Khan was knocked over but suffered only superficial injuries, a spokesman said.
Taliban spokesman Zabihullah Mujahid claimed responsibility on Twitter for the explosions.
In Reuters video footage, bursts of gunfire can be heard before and after one of the blasts, causing people to flee. A Reuters witness said the gunfire came from security personnel.
"There was chaos and people were running. Security forces asked them to calm down and then the second explosion happened," said Najibullah, who was in the stadium for the celebrations.
He said the explosions seemed to originate from where tents were set up for farmers to display their produce.
The Persian new year is widely celebrated in Afghanistan but some hardline Islamists oppose the festivities, saying they are un-Islamic.
Helmand, source of much of Afghanistan's opium, is one of several Afghan provinces in which insurgents have the greatest control and influence.
Bush's Five Big Lies That Led to the Iraq Quagmire
These are the five lies Bush told that Ralph Nader documented to impeach him.
Weapons of Mass Destruction. The weapons have still not been found. Nader emphasized, "Until the

1991

Gulf War, Saddam Hussein was our government's anti-communist ally in the Middle East. We also used him to keep Iran at bay. In so doing, in the

1980

s under Reagan and the first Bush, corporations were licensed by the Department of Commerce to export the materials for chemical and biological weapons that President George W. Bush and Vice President Dick Cheney later accused him of having." Those weapons were destroyed after the Gulf War. George W. Bush's favorite chief weapons inspector, David Kay, after returning from Iraq and leading a large team of inspectors and spending nearly half a billion dollars told the president

We were wrong.

See: David Kay testimony before Senate Armed Services Committee,

2004-01-28

.Tyler Drumheller, the former chief of the

CIA

(

C

entral

I

ntelligence

A

gency) 's Europe division, revealed that in the fall of

2002

, George W. Bush, Vice President Cheney, then-National Security Adviser Condoleezza Rice and others were told by

CIA

Director George Tenet that Iraq's foreign minister — who agreed to act as a spy for the United States — had reported that Iraq had no active weapons of mass destruction program.

Iraq Ties to Al Qaeda. The White House made this claim even though the

CIA

and

FBI

(

F

ederal

B

ureau of

I

nvestigation) repeatedly told the Administration that there was no tie between Saddam Hussein and Al Qaeda. They were mortal enemies — one secular, the other fundamentalist.

Saddam Hussein was a Threat to the United States. In fact, Saddam was a tottering dictator, with an antiquated, fractured army of low morale and with Kurdish enemies in Northern Iraq and Shiite adversaries in the South of Iraq. He did not even control the air space over most of Iraq.

Saddam Hussein was a Threat to his Neighbors. In fact, Iraq was surrounded by countries with far superior military forces. Turkey, Iran and Israel were all capable of obliterating any aggressive move by the Iraqi dictator.

The Liberation of the Iraqi People. There are brutal dictators throughout the world, many supported over the years by Washington, whose people need

liberation

from their leaders. This is not a persuasive argument since for Iraq, it's about oil. In fact, the occupation of Iraq by the United States is a magnet for increasing violence, anarchy and insurrection.
Civilian casualties in the war in Afghanistan (2001–present)
During the war in Afghanistan (2001–present), over 31,000 civilian deaths due to war-related violence have been documented;[1][2] 29,900 civilians have been wounded.[2] Over 111,000 Afghans, including civilians, soldiers and militants, are estimated to have been killed in the conflict.[1] The Cost of War project estimated that the number who have died through indirect causes related to the war may be as high 360,000 additional people based on a ratio of indirect to direct deaths in contemporary conflicts.[3] These numbers do not include those who have died in Pakistan.
The war, launched by the United States as "Operation Enduring Freedom" in 2001, began with an initial air campaign that almost immediately prompted concerns over the number of Afghan civilians being killed[4] as well as international protests. With civilian deaths from airstrikes rising again in recent years,[5] the number of Afghan civilians being killed by foreign military operations has led to mounting tension between the foreign countries and the government of Afghanistan. In May 2007, President Hamid Karzai summoned foreign military commanders to warn them of the consequences of further Afghan civilian deaths.[6] The civilian losses are a continuation of the extremely high civilian losses experienced during the Soviet–Afghan War in the 1980s, and the three periods of civil war following it: 1989–1992, 1992–1996, and 1996–2001.


C

asualties, Exclusive of Civilians
Recent Casualties:
Color

 Denotes Today's Confirmation
On Friday, two American service members were killed during an operation in Kunduz province. The Taliban said Friday they were engaged in heavy fighting with Afghan and U.S. forces in Kunduz.
None

War Casualties By Name
More
Care for Veterans:
PTSD: National Center for PTSDPTSD Care for Veterans, Military, and FamiliesSee Help for Veterans with PTSD to learn how to enroll for VA health care and get an assessment.All VA Medical Centers provide PTSD care, as well as many VA clinics.Some VA's have programs specializing in PTSD treatment. Use the VA PTSD Program Locator to find a PTSD program.If you are a war Veteran, find a Vet Center to help with the transition from military to civilian life.Call the 24/7 Veteran Combat Call Center1-877-WAR-VETS (1-877-927-8387) to talk to another combat Veteran.DoD's Defense Centers of Excellence (DCoE) 24/7 Outreach Center for Psychological Health & Traumatic Brain Injury provides information and helps locate resources.Call 1-866-966-1020 or email resources@dcoeoutreach.orgMilitary OneSourceCall 24/7 for counseling and many resources 1-800-342-9647.Need further assistance? Get Help with VA PTSD Care


Save the Children is the world's leading independent organisation for children and has been working with families, communities and local authorities in Iraq since 1991, leading NGOs in general relief and development programs.Save the Children is currently responding to the needs of internally displaced persons (IDP) and the Syrian refugees in Iraq, in camps and non-camp settings. Our goal is for children in Iraq to be supported in raising their voices and attaining their rights, especially the right to participate in decisions affecting their lives. They should have access to quality education, health and protection services. We are increasing access to community based services that protect, educate and improve quality of life for children. We are ensuring that there is an increased participation of boys and girls in age appropriate activities and services. We are ensuring that children benefit from government actions that create an environment of awareness and accountability to uphold child rights. We are also developing new resources and innovative practices that support our work for children and youth.In Iraq, Save the Children's interventions include Child Protection, Education, Food Security and Livelihoods, Shelter and Water Sanitation and Hygiene (WASH), reaching vulnerble children and families in northern and central Iraq. Save the Children's programs are implemented through field offices in Erbil, Dohuk, Sulaymaniyah, Kirkuk and Kalar, with a country office located in Erbil.
Iraq, The children of Islamic State