27 Mar
United States Wars, News and Casualties
War News
No, it wasn't because of WMDs, democracy or Iraqi oil. The real reason is much more sinister than that.
Then President George W Bush is seen addressing the US Army soldiers at Fort Hood, Texas about the possibility of military action against Iraq in January 2003 [File: Jeff Mitchell/Reuters]
Sixteen years after the United States invaded Iraq and left a trail of destruction and chaos in the country and the region, one aspect of the war remains criminally underexamined: why was it fought in the first place? What did the Bush administration hope to get out of the war?
The official, and widely-accepted, story remains that Washington was motivated by Saddam Hussein's weapons of mass destruction (WMD) programme. His nuclear capabilities, especially, were deemed sufficiently alarming to incite the war. As then US Secretary of State Condoleezza Rice said, "We do not want the smoking gun to be a mushroom cloud."……………A quick and decisive victory in the heart of the Arab world would send a message to all countries, especially to recalcitrant regimes such as Syria, Libya, Iran, or North Korea, that American hegemony was here to stay. Put simply, the Iraq war was motivated by a desire to (re)establish American standing as the world's leading power.
Indeed, even before 9/11, then-Secretary of Defense Donald Rumsfeld saw Iraq through the prism of status and reputation, variously arguing in February and July 2001 that ousting Saddam would "enhance US credibility and influence throughout the region" and "demonstrate what US policy is all about".
Attack in rebel-controlled Saada province coincides with fourth anniversary of Saudi intervention in civil war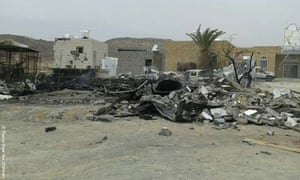 Many of the staff were arriving for work at the hospital in Saada in north-west Yemen when it was hit by an airstrike.

Photograph: Save the Children
At least seven people, including four children, have died after an airstrike hit the entrance to a hospital in a remote rebel-controlled area of Yemen, Save the Children has said.
Two more people are unaccounted for and eight were injured after a western-backed coalition missile blew up a petrol station next to Kitaf hospital in Saada province on Tuesday morning, the charity said.
The hospital had just opened for the day and many staff and patients were arriving at the building. One healthcare worker and their two children are among the dead, according to the organisation, which funds the facility.
Local media published pictures of the building, which appeared to have been levelled.
No comment was immediately forthcoming from the Saudi-led military coalition operating in Yemen to free the country from Houthi rebels and restore the exiled government.
The attack coincided with the fourth anniversary of the Saudi coalition intervention in Yemen's civil war, which has killed at least 60,000 people, left half the country's 22 million population food insecure and sparked the worst cholera outbreak in modern history…………….The coalition and the western governments who supply it with arms have been repeatedly criticised by rights groups and conflict monitors for bombing campaigns which have hit schools, health facilities, funeral gatherings and wedding parties, killing thousands of civilians.
In the last two weeks, 1,000 young people a day have been infected with the disease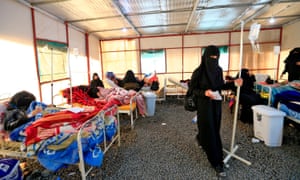 Yemenis at a cholera treatment centre in the capital, Sana'a. Photograph: Mohammed Huwais/AFP/Getty Images
Yemen is seeing a sharp spike in the number of suspected cholera cases this year, with 1,000 children a day infected in the last two weeks alone, agencies said.
More than 120,000 cases have been reported, with 234 deaths in the country, which has been at war for four years this month. Almost a third of the 124,493 cases documented between 1 January and 22 March were children under fifteen. Increasing rates of malnutrition among Yemen's children have left them more prone to contracting and dying from the disease.
The UN's Office for the Coordination of Humanitarian Affairs said the spike, which comes two years after Yemen suffered its worst ever cholera outbreak, was concentrated in six governorates, including in the Red Sea port of Hodeidah and the Sana'a province, which is home to the capital.
Early rains could be to blame for the recent increase in suspected cases of the disease, according to Unocha.
"The situation is exacerbated by poor maintenance of sewage disposal systems in many of the affected districts, the use of contaminated water for irrigations, and population movements," the office said.
In the last two weeks alone, there have been 40,000 new cases, an increase of 150% over the previous month.
Save the Children described the worsening situation for Yemen's children as "alarming".
U.S. diplomats walked out of a senior-level meeting with Afghan officials Tuesday to protest biting criticisms from the country's national security chief over the Trump administration's direct peace talks with the Taliban that have excluded Kabul.
The American officials had gathered at the presidential palace in Kabul as part of a trilateral meeting between U.S. representatives, several NATO ambassadors and top level members of Afghan President Ashraf Ghani's government, according to local reports.
A number of members in the American delegation abruptly left Tuesday's meeting once Afghan National Security Adviser Hamdullah Mohib arrived, Afghan news outlet Tolo News reported.
Mr. Mohib, who served as the Afghan ambassador to the U.S. before joining Mr. Ghani's cabinet, on a trip to Washington earlier this month openly condemned U.S. Special Representative for Afghanistan Reconciliation Zalmay Khalilzad's intensifying talks with senior Taliban leaders on a peace deal and U.S. troop withdrawal.
Afghan Chief Executive Abdullah Abdullah sought to downplay the rift between Washington and Kabul, insisting in a tweet that bilateral ties remain "rock-solid, based on long-term common interests and shared values."
But during a pair of appearances in Washington, Mr. Mohib aired growing concerns by the government of Afghan President Ashraf Ghani about Mr. Khalilzad's diplomacy.
KABUL, Afghanistan — Daoud Naji was a student in the northern Afghan city of Mazar-e-Sharif during a massacre of members of his ethnic Hazara minority in 1998. He remembers digging tunnels to hide terrified families during a Taliban killing spree that left as many as 2,000 civilians dead.

The bodies of commandos lined up outside the governor's office in Sang-e-Masha in Ghazni Province in November. Hundreds of Hazara families were driven from their homes during Taliban offensives last fall in the provinces of Ghazni and Uruzgan.

Credit

Jim Huylebroek for The New York Times
Mr. Naji, now 45 and a leader of a Hazara political movement, fears more mass killings if peace talks between the United States and the Taliban produce a deal that brings the insurgents back into government. He and many other Hazaras worry that the negotiations will deliver oppression rather than peace.
Persecuted for more than a century, Hazaras have carved out a thriving urban enclave in west Kabul, the capital of Afghanistan, since the Taliban government was overthrown by an American-led coalition in 2001. But they say peace talks have put those gains at risk, especially with Hazaras already bloodied by persistent attacks from Taliban insurgents and Islamic State suicide bombers.
Some Hazaras describe a sort of living death — mourning the loss of loved ones killed by the Taliban or the Islamic State while forever bracing for the next blow even as peace talks proceed.
"If the Taliban get back, the Hazaras will be massacred," said Maryam Tofan, 45, a Hazara mother of three whose husband was killed by the Taliban in eastern Ghazni Province.
WASHINGTON/KABUL — Washington's relationship with Afghan President Ashraf Ghani appears increasingly at risk of permanent damage, the consequence of a U.S. policy shift that has so far excluded his government from talks with the Taliban and of his own determination to retain power and manage peace efforts himself.
The feud threatens to undermine the already narrow chances for a peace accord that President Donald Trump hopes would end America's longest war.
Current and former U.S. officials tell Reuters they believe Ghani is positioning himself to perhaps be a spoiler in still-fragile negotiations, angry that the Afghan government has been kept out of talks and worried about the implications for his presidency.
But from Ghani's perspective, the negotiations themselves, led by U.S. special envoy Zalmay Khalilzad, feel like a personal betrayal and a capitulation by the United States that could return the Taliban to power, Afghan officials say.
"Khalilzad wants to show that he is the champion of peace and President Ghani does not want to be the villain. The president believes he is being betrayed," an Afghan government official said.
The growing rift between Kabul and Washington over the peace negotiations erupted in public view on March 14 when Ghani's national security adviser, Hamdullah Mohib, slammed Khalilzad and accused the Afghan-born veteran U.S. diplomat of perhaps trying to steal the Afghan presidency for himself.
"(Ghani's worried) there could be some agreement for an interim government and he'll be on the outside looking in," said one U.S. official, speaking on condition of anonymity.
The official added that Washington should expect Ghani will act like a politician in an election year, saying: "We shouldn't expect that Ghani is going to be Ghani the statesman, where he says: 'The best thing would be for me to step aside'."
Damn The War Criminals,

Bush,Cheney,Rice,Rumsfeld,Wolfowitz, Powell and Blair from England
Bush's Five Big Lies That Led to the Iraq Quagmire
These are the five lies Bush told that Ralph Nader documented to impeach him.
Weapons of Mass Destruction. The weapons have still not been found. Nader emphasized, "Until the

1991

Gulf War, Saddam Hussein was our government's anti-communist ally in the Middle East. We also used him to keep Iran at bay. In so doing, in the

1980

s under Reagan and the first Bush, corporations were licensed by the Department of Commerce to export the materials for chemical and biological weapons that President George W. Bush and Vice President Dick Cheney later accused him of having." Those weapons were destroyed after the Gulf War. George W. Bush's favorite chief weapons inspector, David Kay, after returning from Iraq and leading a large team of inspectors and spending nearly half a billion dollars told the president

We were wrong.

See: David Kay testimony before Senate Armed Services Committee,

2004-01-28

.Tyler Drumheller, the former chief of the

CIA

(

C

entral

I

ntelligence

A

gency) 's Europe division, revealed that in the fall of

2002

, George W. Bush, Vice President Cheney, then-National Security Adviser Condoleezza Rice and others were told by

CIA

Director George Tenet that Iraq's foreign minister — who agreed to act as a spy for the United States — had reported that Iraq had no active weapons of mass destruction program.

Iraq Ties to Al Qaeda. The White House made this claim even though the

CIA

and

FBI

(

F

ederal

B

ureau of

I

nvestigation) repeatedly told the Administration that there was no tie between Saddam Hussein and Al Qaeda. They were mortal enemies — one secular, the other fundamentalist.

Saddam Hussein was a Threat to the United States. In fact, Saddam was a tottering dictator, with an antiquated, fractured army of low morale and with Kurdish enemies in Northern Iraq and Shiite adversaries in the South of Iraq. He did not even control the air space over most of Iraq.

Saddam Hussein was a Threat to his Neighbors. In fact, Iraq was surrounded by countries with far superior military forces. Turkey, Iran and Israel were all capable of obliterating any aggressive move by the Iraqi dictator.

The Liberation of the Iraqi People. There are brutal dictators throughout the world, many supported over the years by Washington, whose people need

liberation

from their leaders. This is not a persuasive argument since for Iraq, it's about oil. In fact, the occupation of Iraq by the United States is a magnet for increasing violence, anarchy and insurrection.
Civilian casualties in the war in Afghanistan (2001–present)
During the war in Afghanistan (2001–present), over 31,000 civilian deaths due to war-related violence have been documented;[1][2] 29,900 civilians have been wounded.[2] Over 111,000 Afghans, including civilians, soldiers and militants, are estimated to have been killed in the conflict.[1] The Cost of War project estimated that the number who have died through indirect causes related to the war may be as high 360,000 additional people based on a ratio of indirect to direct deaths in contemporary conflicts.[3] These numbers do not include those who have died in Pakistan.
The war, launched by the United States as "Operation Enduring Freedom" in 2001, began with an initial air campaign that almost immediately prompted concerns over the number of Afghan civilians being killed[4] as well as international protests. With civilian deaths from airstrikes rising again in recent years,[5] the number of Afghan civilians being killed by foreign military operations has led to mounting tension between the foreign countries and the government of Afghanistan. In May 2007, President Hamid Karzai summoned foreign military commanders to warn them of the consequences of further Afghan civilian deaths.[6] The civilian losses are a continuation of the extremely high civilian losses experienced during the Soviet–Afghan War in the 1980s, and the three periods of civil war following it: 1989–1992, 1992–1996, and 1996–2001.


C

asualties, Exclusive of Civilians
Recent Casualties:
Color Denotes Today's Confirmation
The Pentagon has identified two U.S. soldiers killed in Afghanistan while involved in combat operations Friday in Kunduz Province.
The men were identified Saturday as Spc. Joseph P. Collette, 29, of Lancaster, Ohio, and Sgt. 1st Class Will D. Lindsay, 33, of Cortez, Colorado. Collette was assigned to the 242nd Ordnance Battalion, 71st Explosive Ordnance Disposal Group, and Lindsay was assigned to 2nd Battalion, 10th Special Forces Group (Airborne). Both were based at Fort Carson, Colorado.
"The 71st Ordnance Group … is deeply saddened by the loss of Spc. Joseph P. Collette. We extend our deepest sympathies and condolences to his family and friends," Col. David K. Green, commander of 71st Ordnance Group, said in a statement.
The fatalities bring to four the number of U.S. soldiers killed so far this year in Afghanistan. The deaths underscore the difficulties in bringing peace to the war-ravaged country.

War Casualties By Name
More
Care for Veterans:
PTSD: National Center for PTSDPTSD Care for Veterans, Military, and FamiliesSee Help for Veterans with PTSD to learn how to enroll for VA health care and get an assessment.All VA Medical Centers provide PTSD care, as well as many VA clinics.Some VA's have programs specializing in PTSD treatment. Use the VA PTSD Program Locator to find a PTSD program.If you are a war Veteran, find a Vet Center to help with the transition from military to civilian life.Call the 24/7 Veteran Combat Call Center1-877-WAR-VETS (1-877-927-8387) to talk to another combat Veteran.DoD's Defense Centers of Excellence (DCoE) 24/7 Outreach Center for Psychological Health & Traumatic Brain Injury provides information and helps locate resources.Call 1-866-966-1020 or email resources@dcoeoutreach.orgMilitary OneSourceCall 24/7 for counseling and many resources 1-800-342-9647.Need further assistance? Get Help with VA PTSD Care


Save the Children is the world's leading independent organisation for children and has been working with families, communities and local authorities in Iraq since 1991, leading NGOs in general relief and development programs.Save the Children is currently responding to the needs of internally displaced persons (IDP) and the Syrian refugees in Iraq, in camps and non-camp settings. Our goal is for children in Iraq to be supported in raising their voices and attaining their rights, especially the right to participate in decisions affecting their lives. They should have access to quality education, health and protection services. We are increasing access to community based services that protect, educate and improve quality of life for children. We are ensuring that there is an increased participation of boys and girls in age appropriate activities and services. We are ensuring that children benefit from government actions that create an environment of awareness and accountability to uphold child rights. We are also developing new resources and innovative practices that support our work for children and youth.In Iraq, Save the Children's interventions include Child Protection, Education, Food Security and Livelihoods, Shelter and Water Sanitation and Hygiene (WASH), reaching vulnerble children and families in northern and central Iraq. Save the Children's programs are implemented through field offices in Erbil, Dohuk, Sulaymaniyah, Kirkuk and Kalar, with a country office located in Erbil.
Yemen War Children