31 Mar
United States Wars, News and Casualties
War News
President Trump is making it harder to know how many civilians the government kills by remote control.
The Pentagon says American airstrikes in Somalia have killed no civilians since President Trump accelerated attacks against Shabab militants there two years ago.
Amnesty International investigated five of the more than 100 strikes carried out in Somalia since 2017 by drones and manned aircraft, and in just that small sampling found that at least 14 civilians were killed.
The Pentagon says airstrikes by the American-led coalition fighting the Islamic State killed at least 1,257 civilians in Iraq and Syria as of the end of January.
Airwars, a university-based monitoring group, estimates that those strikes killed at least 7,500 civilians in those countries.
Those disparities show how poorly the American public understands the human cost of an air war fought largely by remote-controlled drones. Drones have been the main weapon in the counterterrorism fight for more than a decade. They kill extremists without risking American lives, making combat seem antiseptic on the home front. But the number of civilians killed in these attacks is shrouded in secrecy.
President Trump has made it even harder to lift that shroud, by allowing the Central Intelligence Agency to keep secret how many civilians are killed in the agency's airstrikes outside of the Afghan, Iraqi and Syrian war zones — in places like Yemen, the lawless border region of Pakistan and North Africa.
President Barack Obama aggressively expanded drone use in these airstrikes. But he eventually came to understand the need for more transparency and accountability, and, under pressure, he put some sensible safeguards in place.
Among them was a July 2016 order requiring the government to issue annual public reports on the civilian death tolls in those areas.
Mr. Trump revoked that order this month. His National Security Council called it superfluous because Congress had subsequently passed a law mandating that the Pentagon publicly report any civilians killed in any of its operations. But that law covered only the Pentagon, not the separate C.I.A. drone campaign, which has broadened under Mr. Trump.
Experts say that, under President Trump, airstrikes have surged in Afghanistan, Iraq and Syria, as well as in Somalia. In Yemen, it is unclear to what extent the Americans, as opposed to the Saudi-Emirati coalition, are responsible. In Afghanistan, the number of American strikes that killed or injured civilians more than doubled in the first nine months of 2018 compared with the corresponding period in the previous year and killed more than 150 civilians, according to the United Nations Assistance Mission in Afghanistan.
Mr. Trump has also eroded constraints on civilian casualties.
Since taking office, he has rescinded rules that required the military and the C.I.A. operating outside of hot battlefields like Afghanistan and Iraq to limit their targets to high-level militants rather than foot soldiers. He also, by eliminating an elaborate interagency approval process, gave military commanders more authority to order drone strikes.
Yet, even under the previous rules, no matter how precise the weapons, how careful the planners and how skilled the fighters, mistakes, faulty intelligence, even calculated decisions often led to civilians being killed. The official data ranges from none to maddeningly vague, and the safeguards to mitigate civilian deaths are insufficient.
The military adopted an elaborate system under the Obama administration to minimize civilian casualties, including a requirement that forces have "near certainty" that no civilian will be harmed before launching an attack. But reporting by The Times and others in 2017 showed that the Pentagon had killed far more civilians in Iraq than it acknowledged.
Drones, for all their faults, are less indiscriminate than B-52s or almost any other weapon. But they are also a seductive tool, potentially temping presidents and military commanders to inflict grave damage without sufficient forethought.
A lack of transparency and accountability for civilian deaths helps enemies spin false narratives, makes it harder for allies to defend American actions and sets a bad example for other countries that are rapidly adding drones to their arsenals. It could also result in war crimes, as some critics have claimed.
Congress needs to insist on better data as the Pentagon inspector general investigates civilian casualty reporting.
There is no such thing as combat without risk. With drone combat, much of the risk falls on innocents. Americans need to understand the full cost and consequences of those risks.
HERAT, Afghanistan (AP) — Too poor to even buy pens and notebooks for school, Mehdi left his home in Afghanistan soon after his 17th birthday and headed to Iran, hoping to make his way to Europe and find work. He never made it there.
Instead, Mehdi ended up fighting in Syria's civil war, a conflict he had nothing to do with, 2,000 kilometers (1,200 miles) from his home. He was one of tens of thousands of Afghans recruited, paid and trained by Iran to fight in support of Tehran's ally, Syrian President Bashar Assad. There, he found himself thrown into one of the war's bloodiest front lines, surrounded by the bodies of his comrades, under fire from Islamic militants so close he could hear their shouts of "Allahu akbar" before each mortar blast.
Iran ran an extensive drive to bring Shiites from across the region and create a network of militias to help save Assad from the uprising against his rule — not only Afghans but also Pakistanis, Iraqis and Lebanese. Now with the 8-year war in Syria winding down, the question is what will Tehran do with those well-trained, well-armed forces.
Mehdi and other soldiers-for-hire from Afghanistan's impoverished Shiite Muslim communities are returning to their homeland, where they are met with suspicion. Afghan security officials believe Iran is still organizing them, this time as a secret army to spread Tehran's influence amid Afghanistan's unending conflicts.
"Here in Afghanistan we are afraid. They say we are all terrorists," said Mehdi, now 21 and back in his home city of Herat. He was terrified, speaking on condition he not be fully identified for fear of retaliation against him. He wouldn't meet The Associated Press at home or in public — only in a car parked in a remote, mostly Shiite neighborhood. Even there, Mehdi kept his face obscured with a scarf, glancing suspiciously at every passing car.
KABUL, Afghanistan (AP) — A Taliban assault on a police checkpoint led to the deaths of four students Saturday in eastern Ghazni province, a provincial official said.
Arif Noori, a spokesman for provincial governor, said that 17 others, including 15 students and two teachers, were wounded when an explosion, likely caused by rocket fire, hit the school in Andar district.
The spokesman added that the students killed are between 10 and 16 years old.
He said that provincial officials are investigating who fired the projectile hitting the school during the standoff between security forces and Taliban.
No one immediately claimed responsibility for the attack.
Taliban insurgents have stepped up their attacks against Afghan security targets in recent months.
In a separate incident in northeastern Badakhshan province, Taliban insurgents overran a district headquarters late Friday, said Nek Mohammad Nazari, a spokesman for the provincial governor.
"Afghan security forces retreated from the Arghanj Khowa district headquarters to avoid civilian causalities," said Nazari. Reinforcements have been dispatched to repel the Taliban, he added.
The Taliban assault began Thursday night, killing four police and wounding five others, according to officials.
Zabihullah Mujahid, a spokesman for the Taliban, claimed the attack. Mujahid said that their fighters were able to seize large amounts of ammunition and weapons, as well as two military vehicles.
Badakhshan province has 28 districts, and at least two other districts, Wardoj and Yamgan, are already under the Taliban's control.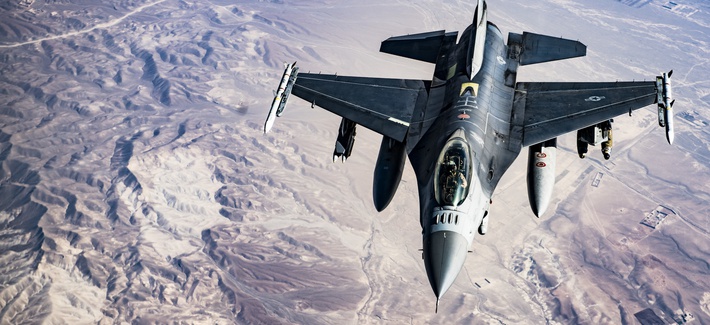 A U.S. Air Force F-16C Fighting Falcon pilot maneuvers to refuel from a KC-135 Stratotanker over Afghanistan on March 11, 2018.
The dramatic increase in U.S. airstrikes that began last year has brought the country no closer to peace. In fact, Afghan soldiers, police, and civilians are dying at record rates.
A
U.S.

airstrike in the Kunduz province of Afghanistan on Saturday killed 13 civilians, the United Nations reported Monday. Ten of them were children, all from the same extended family. One day earlier, on Friday, two American soldiers were killed, also in Kunduz, both felled by small-arms fire. The Pentagon released their identities Sunday: Sgt. 1st Class Will D. Lindsay, 33, from Colorado, and Spc. Joseph P. Collette, 29, from Ohio. And though we don't know exactly how many Afghan soldiers and police officers were killed on each of those days, as those figures are now kept secret, a New York Times report in September put their average fatalities at a shocking "30 to 40" every single day.
This is the state of Afghanistan in 2019. Civilian casualties are at a record high;
U.S.

troops remain in harm's way as our air war dramatically escalates; and the United States' longest war in history—waged at an enormous cost in blood and treasure both—has failed to achieve for Afghanistan anything resembling a stable peace.
To any outside observer, untainted by establishment Washington's apparently indelible bias toward military intervention, the conclusion here is obvious: This isn't working. And after nearly two decades of fighting and nation building, it should be equally obvious that it cannot work and never will. The problem here is concept, not merely execution.
Washington cannot bomb Afghanistan into America's image or use our military to solve Afghans' political problems. This is not so much an opinion as a summary conclusion of the last 18 years of conflict in Afghanistan under three presidents from two political parties and 18 different commanders. We've tried a panoply of tactics and five separate surges, with
U.S.

troop levels ranging from less than 10,000 to more than 100,000, with as many as 112,000

U.S.

contractors to boot. In the years since the original objective of retribution for the 9/11 terrorist attacks was accomplished, we've tried anything and everything—everything except recognizing reality and bringing American forces home.
Damn The War Criminals,

Bush,Cheney,Rice,Rumsfeld,Wolfowitz, Powell and Blair from England
Bush's Five Big Lies That Led to the Iraq Quagmire
These are the five lies Bush told that Ralph Nader documented to impeach him.
Weapons of Mass Destruction. The weapons have still not been found. Nader emphasized, "Until the

1991

Gulf War, Saddam Hussein was our government's anti-communist ally in the Middle East. We also used him to keep Iran at bay. In so doing, in the

1980

s under Reagan and the first Bush, corporations were licensed by the Department of Commerce to export the materials for chemical and biological weapons that President George W. Bush and Vice President Dick Cheney later accused him of having." Those weapons were destroyed after the Gulf War. George W. Bush's favorite chief weapons inspector, David Kay, after returning from Iraq and leading a large team of inspectors and spending nearly half a billion dollars told the president

We were wrong.

See: David Kay testimony before Senate Armed Services Committee,

2004-01-28

.Tyler Drumheller, the former chief of the

CIA

(

C

entral

I

ntelligence

A

gency) 's Europe division, revealed that in the fall of

2002

, George W. Bush, Vice President Cheney, then-National Security Adviser Condoleezza Rice and others were told by

CIA

Director George Tenet that Iraq's foreign minister — who agreed to act as a spy for the United States — had reported that Iraq had no active weapons of mass destruction program.

Iraq Ties to Al Qaeda. The White House made this claim even though the

CIA

and

FBI

(

F

ederal

B

ureau of

I

nvestigation) repeatedly told the Administration that there was no tie between Saddam Hussein and Al Qaeda. They were mortal enemies — one secular, the other fundamentalist.

Saddam Hussein was a Threat to the United States. In fact, Saddam was a tottering dictator, with an antiquated, fractured army of low morale and with Kurdish enemies in Northern Iraq and Shiite adversaries in the South of Iraq. He did not even control the air space over most of Iraq.

Saddam Hussein was a Threat to his Neighbors. In fact, Iraq was surrounded by countries with far superior military forces. Turkey, Iran and Israel were all capable of obliterating any aggressive move by the Iraqi dictator.

The Liberation of the Iraqi People. There are brutal dictators throughout the world, many supported over the years by Washington, whose people need

liberation

from their leaders. This is not a persuasive argument since for Iraq, it's about oil. In fact, the occupation of Iraq by the United States is a magnet for increasing violence, anarchy and insurrection.
Civilian casualties in the war in Afghanistan (2001–present)
During the war in Afghanistan (2001–present), over 31,000 civilian deaths due to war-related violence have been documented;[1][2] 29,900 civilians have been wounded.[2] Over 111,000 Afghans, including civilians, soldiers and militants, are estimated to have been killed in the conflict.[1] The Cost of War project estimated that the number who have died through indirect causes related to the war may be as high 360,000 additional people based on a ratio of indirect to direct deaths in contemporary conflicts.[3] These numbers do not include those who have died in Pakistan.
The war, launched by the United States as "Operation Enduring Freedom" in 2001, began with an initial air campaign that almost immediately prompted concerns over the number of Afghan civilians being killed[4] as well as international protests. With civilian deaths from airstrikes rising again in recent years,[5] the number of Afghan civilians being killed by foreign military operations has led to mounting tension between the foreign countries and the government of Afghanistan. In May 2007, President Hamid Karzai summoned foreign military commanders to warn them of the consequences of further Afghan civilian deaths.[6] The civilian losses are a continuation of the extremely high civilian losses experienced during the Soviet–Afghan War in the 1980s, and the three periods of civil war following it: 1989–1992, 1992–1996, and 1996–2001.


C

asualties, Exclusive of Civilians
Recent Casualties:
Color 

Denotes Today's Confirmation
The Pentagon has identified two U.S. soldiers killed in Afghanistan while involved in combat operations Friday in Kunduz Province.
The men were identified Saturday as Spc. Joseph P. Collette, 29, of Lancaster, Ohio, and Sgt. 1st Class Will D. Lindsay, 33, of Cortez, Colorado. Collette was assigned to the 242nd Ordnance Battalion, 71st Explosive Ordnance Disposal Group, and Lindsay was assigned to 2nd Battalion, 10th Special Forces Group (Airborne). Both were based at Fort Carson, Colorado.
"The 71st Ordnance Group … is deeply saddened by the loss of Spc. Joseph P. Collette. We extend our deepest sympathies and condolences to his family and friends," Col. David K. Green, commander of 71st Ordnance Group, said in a statement.
The fatalities bring to four the number of U.S. soldiers killed so far this year in Afghanistan. The deaths underscore the difficulties in bringing peace to the war-ravaged country.


War Casualties By Name
More
Care for Veterans:
PTSD: National Center for PTSDPTSD Care for Veterans, Military, and FamiliesSee Help for Veterans with PTSD to learn how to enroll for VA health care and get an assessment.All VA Medical Centers provide PTSD care, as well as many VA clinics.Some VA's have programs specializing in PTSD treatment. Use the VA PTSD Program Locator to find a PTSD program.If you are a war Veteran, find a Vet Center to help with the transition from military to civilian life.Call the 24/7 Veteran Combat Call Center1-877-WAR-VETS (1-877-927-8387) to talk to another combat Veteran.DoD's Defense Centers of Excellence (DCoE) 24/7 Outreach Center for Psychological Health & Traumatic Brain Injury provides information and helps locate resources.Call 1-866-966-1020 or email resources@dcoeoutreach.orgMilitary OneSourceCall 24/7 for counseling and many resources 1-800-342-9647.Need further assistance? Get Help with VA PTSD Care


Save the Children is the world's leading independent organisation for children and has been working with families, communities and local authorities in Iraq since 1991, leading NGOs in general relief and development programs.Save the Children is currently responding to the needs of internally displaced persons (IDP) and the Syrian refugees in Iraq, in camps and non-camp settings. Our goal is for children in Iraq to be supported in raising their voices and attaining their rights, especially the right to participate in decisions affecting their lives. They should have access to quality education, health and protection services. We are increasing access to community based services that protect, educate and improve quality of life for children. We are ensuring that there is an increased participation of boys and girls in age appropriate activities and services. We are ensuring that children benefit from government actions that create an environment of awareness and accountability to uphold child rights. We are also developing new resources and innovative practices that support our work for children and youth.In Iraq, Save the Children's interventions include Child Protection, Education, Food Security and Livelihoods, Shelter and Water Sanitation and Hygiene (WASH), reaching vulnerble children and families in northern and central Iraq. Save the Children's programs are implemented through field offices in Erbil, Dohuk, Sulaymaniyah, Kirkuk and Kalar, with a country office located in Erbil.
Afghanistan War Child