02 Apr
United States Wars, News and Casualties
War News
April Corley was with a tour group when military fired upon them with rockets. Now she's asking the US to halt the sale of more weaponry to Egypt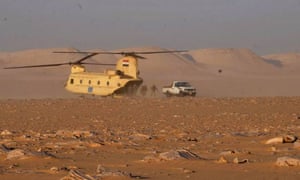 Soldiers leave a helicopter during an operation near the Bahriyah Oasis in the Western Desert of Egypt, an area where Egyptian forces mistakenly attacked a group of Mexican tourists, killing 12 people. Photograph: AP
A US woman who survived an attack by the Egyptian military on a group of tourists is now fighting to prevent the sale of the US-made weaponry that left her permanently scarred.
April Corley from San Diego and her Mexican boyfriend Rafael Bejarano were traveling with a tour group in Egypt's White Desert in September 2015 when they were attacked by Egyptian military, who later claimed they mistook the group for jihadist militants.
"I was doing cartwheels in the sand, Rafael was taking pictures of me. Then all of a sudden it felt like I was thrown to the ground, and Rafael wasn't near me any more. There was just…black, black all over the sand," she said.
Corley described how the tourists scrambled for shelter as an Apache attack helicopter circled overhead, firing at them with rockets and 30mm machine guns for several hours – even while their guides desperately waved a white flag.
"I played dead," she said, describing how the helicopters returned to fire on the group for several hours, even though a member of the Egyptian tourist police was traveling with the tour vehicles which were marked with logos from the their travel company.
"I thought if I get hit one more time, I'll need to be taken out as I won't survive these injuries," said Corley. "They just kept coming back around, again and again, and shooting. They wanted to wipe everything out."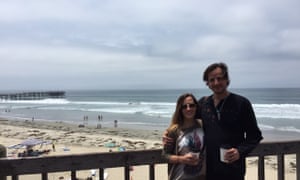 April Corley and her boyfriend Rafael Bejarano. Bejarano was killed in the attack in Egypt's White Desert. Photograph: Courtesy April Corley
When the attack finally ended, Bejarano, his mother and six other Mexican tourists were lying dead, along with four of their Egyptian guides.
Corley is now seeking to draw attention to the deadly consequences of American weaponry used on foreign soil.
The United States supplies Egypt with an average of $1.3bn in annual military aid, and Corley and her lawyers are pressuring Donald Trump to raise her case when the country's president, Abdel Fatah al Sisi, visits Washington next week.
Corley has called on the US to deny Egypt the $1bn sale of a further ten Apache AH-64E helicopters, arguing that the attack is a stark example of misuse of weapons made by US manufacturer Boeing. "It's not what their designs were intended for," she said.
The 40-year-old former pilates instructor and professional rollerblader sustained injuries that doctors say she will never fully recover from. Ammunition broke her shoulder, collarbone, arm and ribs, tore off parts of her skin and ripped muscle from her bones; she still suffers from debilitating post-traumatic stress disorder. "I was not trained for war," she said.
The Egyptian government has offered her $150,000 in compensation, far short of the over $14m that Corley and her lawyers say would cover her ongoing medical bills and lifelong loss of earnings.
On a visit to Cairo in January, the secretary of state, Mike Pompeo, asserted in a speech that the United States is a "force for good", in the Middle East.
The United States released $195m in military aid to Egypt last July, which had previously been withheld due to human rights concerns. But in a leaked memo, Pompeo demanded the aid be released despite adding that "the overall human rights climate in Egypt continues to deteriorate", and that officials accused of abuse are not held accountable.
Lawmakers have increasingly taken up Corley's case as an example of why the US should reassess military aid to Egypt. After 46 members of Congress wrote a letter to Pompeo expressing concern over Egypt's use of American weapons, the 2019 fiscal appropriations bill demands that the United States reduce annual military aid to Egypt to $1bn, and withhold a further $300m until Egypt has improved its human rights record.
Pompeo has until mid-April to report back on Corley's bid for compensation.
"April's plight is proof that Egypt is unwilling or unable to meet its obligations to protect and prioritize human rights," said Jared Genser, Corley's legal counsel, in a white paper detailing her case. "Sisi has failed to hold members of his security forces responsible…to our knowledge, Egypt has failed even to credibly investigate the attack."
SANAA (Reuters) – Yemeni doctor Mohammed Abdul-Mughni described the surge in cholera cases he was treating as "disastrous" in a country battered by years of war and short of medical staff.
Two weeks later cholera killed him too.
Yemen is suffering its third major outbreak of the water-borne bacterial infection since the conflict broke out in 2015, causing the world's most urgent humanitarian crisis that has put 10 million people on the brink of famine.
The disease is spreading like "wild-fire", according to the United Nations which recorded 110,000 suspected cholera cases and 200 deaths in three months.
Abdul-Mughni had been working in a temporary diarrhea treatment center in the grounds of a hospital in Sanaa where around 120-150 severe cases arrive every day.
"We are taking in patients around the clock, constantly … Cholera is spreading widely now," said Ismail Mansoury, a doctor who worked alongside him. "In the past two weeks we have admitted around 1,100 confirmed cholera cases."
Cholera causes profuse diarrhea and fluid loss which can kill within hours. Children, the elderly and those weakened by years of poor nutrition are most at risk.
The center outside the capital's Sabaeen hospital has tents, outdoor toilets and overworked staff. Listless women on drips take up every spot of available shade. Elderly ladies and children lie on gravel. A man helps a boy up a large step to use a latrine.
KABUL, Afghanistan (AP) — An Afghan official says the Taliban have targeted a checkpoint in northern Balkh province, killing at least eight members of the security forces.
Adil Shah Adil, spokesman for the provincial police chief, says that five other members of the security forces were wounded in Monday night's attack in the district of Sholgara.
No one immediately claimed responsibility for the attack, but Adil blamed the Taliban who are active in Balkh, especially in Sholgara, and have repeatedly struck checkpoints there.
Adil says there were also casualties among the Taliban as a three-hour shootout ensued at the checkpoint but he couldn't provide an exact number.
The Taliban have stepped up attacks against government officials as well as Afghan security forces across the country even though they are negotiating with a U.S. envoy.
KABUL, Afghanistan (AP) — An Afghan official says the Taliban stormed two checkpoints in northern Sari Pul province, killing at least five members of the security forces and setting of an hours-long gunbattle.
Zabihullah Amani, spokesman for the provincial governor, say the attack in the province's Sozma Qala district started late on Sunday night. The fighting lasted until Monday morning and also left two troops wounded.
Amani says the insurgents captured six soldiers before fleeing the scene. Their fate remains unknown. The checkpoints were retaken and the area was brought under control once reinforcements arrived.
No one immediately claimed responsibility for the attack, but Amani blamed the Taliban who are active in the province and have stepped up their attacks against Afghan security forces.
KUNDUZ, Afghanistan — In a time of war and corruption, when one hand grips a gun and the other opens to be greased, even the happiest of occasions can turn deadly.
On Sunday, after a wedding convoy in the northern Afghan province of Kunduz left the bride's house for the groom's, it was stopped at a checkpoint near a busy picnic spot. Afghan forces, the wedding participants said, asked for money — not an unusual request of newlyweds here.
In this case, the wedding party tried to bargain. The soldiers made clear it was a demand, witnesses said. Then came violence: One of the soldiers opened fire, killing two people — Mohammed Yonus, 14, and Rahimullah, 27.
Hamidullah Langar, a cousin of the groom, said the soldiers had asked for 1,000 afghanis, roughly $15. Mr. Langar handed them 200, about $3 — roughly half a day's wages. They would not accept.
Then, one of the motorcycles that was behind the newlyweds' vehicle drove past the soldiers. The two young men riding on it were shot dead.
"They fired because convoy members tried to pass before the wedding people had cleared the payment issue," Mr. Langar said.
Details of the episode were confirmed by several family members, as well as local elders. Afghan officials, however, denied that there had been a disagreement over a payment.
They said that the soldiers at the checkpoint were on high alert — Afghan forces have been dying in record numbers — and that they had fired at the passing motorcycle out of nervousness.
"There was nothing about money here," said Halim Shah, the commander of the armed forces unit in Dasht-e-Abdan, where the shooting happened. The motorcycle driver refused orders to stop, he said.
Damn The War Criminals,

Bush,Cheney,Rice,Rumsfeld,Wolfowitz, Powell and Blair from England
Bush's Five Big Lies That Led to the Iraq Quagmire
These are the five lies Bush told that Ralph Nader documented to impeach him.
Weapons of Mass Destruction. The weapons have still not been found. Nader emphasized, "Until the

1991

Gulf War, Saddam Hussein was our government's anti-communist ally in the Middle East. We also used him to keep Iran at bay. In so doing, in the

1980

s under Reagan and the first Bush, corporations were licensed by the Department of Commerce to export the materials for chemical and biological weapons that President George W. Bush and Vice President Dick Cheney later accused him of having." Those weapons were destroyed after the Gulf War. George W. Bush's favorite chief weapons inspector, David Kay, after returning from Iraq and leading a large team of inspectors and spending nearly half a billion dollars told the president

We were wrong.

See: David Kay testimony before Senate Armed Services Committee,

2004-01-28

.Tyler Drumheller, the former chief of the

CIA

(

C

entral

I

ntelligence

A

gency) 's Europe division, revealed that in the fall of

2002

, George W. Bush, Vice President Cheney, then-National Security Adviser Condoleezza Rice and others were told by

CIA

Director George Tenet that Iraq's foreign minister — who agreed to act as a spy for the United States — had reported that Iraq had no active weapons of mass destruction program.

Iraq Ties to Al Qaeda. The White House made this claim even though the

CIA

and

FBI

(

F

ederal

B

ureau of

I

nvestigation) repeatedly told the Administration that there was no tie between Saddam Hussein and Al Qaeda. They were mortal enemies — one secular, the other fundamentalist.

Saddam Hussein was a Threat to the United States. In fact, Saddam was a tottering dictator, with an antiquated, fractured army of low morale and with Kurdish enemies in Northern Iraq and Shiite adversaries in the South of Iraq. He did not even control the air space over most of Iraq.

Saddam Hussein was a Threat to his Neighbors. In fact, Iraq was surrounded by countries with far superior military forces. Turkey, Iran and Israel were all capable of obliterating any aggressive move by the Iraqi dictator.

The Liberation of the Iraqi People. There are brutal dictators throughout the world, many supported over the years by Washington, whose people need

liberation

from their leaders. This is not a persuasive argument since for Iraq, it's about oil. In fact, the occupation of Iraq by the United States is a magnet for increasing violence, anarchy and insurrection.
Civilian casualties in the war in Afghanistan (2001–present)
During the war in Afghanistan (2001–present), over 31,000 civilian deaths due to war-related violence have been documented;[1][2] 29,900 civilians have been wounded.[2] Over 111,000 Afghans, including civilians, soldiers and militants, are estimated to have been killed in the conflict.[1] The Cost of War project estimated that the number who have died through indirect causes related to the war may be as high 360,000 additional people based on a ratio of indirect to direct deaths in contemporary conflicts.[3] These numbers do not include those who have died in Pakistan.
The war, launched by the United States as "Operation Enduring Freedom" in 2001, began with an initial air campaign that almost immediately prompted concerns over the number of Afghan civilians being killed[4] as well as international protests. With civilian deaths from airstrikes rising again in recent years,[5] the number of Afghan civilians being killed by foreign military operations has led to mounting tension between the foreign countries and the government of Afghanistan. In May 2007, President Hamid Karzai summoned foreign military commanders to warn them of the consequences of further Afghan civilian deaths.[6] The civilian losses are a continuation of the extremely high civilian losses experienced during the Soviet–Afghan War in the 1980s, and the three periods of civil war following it: 1989–1992, 1992–1996, and 1996–2001.


C

asualties, Exclusive of Civilians
Recent Casualties:
Color 

Denotes Today's Confirmation
The Pentagon has identified two U.S. soldiers killed in Afghanistan while involved in combat operations Friday in Kunduz Province.
The men were identified Saturday as Spc. Joseph P. Collette, 29, of Lancaster, Ohio, and Sgt. 1st Class Will D. Lindsay, 33, of Cortez, Colorado. Collette was assigned to the 242nd Ordnance Battalion, 71st Explosive Ordnance Disposal Group, and Lindsay was assigned to 2nd Battalion, 10th Special Forces Group (Airborne). Both were based at Fort Carson, Colorado.
"The 71st Ordnance Group … is deeply saddened by the loss of Spc. Joseph P. Collette. We extend our deepest sympathies and condolences to his family and friends," Col. David K. Green, commander of 71st Ordnance Group, said in a statement.
The fatalities bring to four the number of U.S. soldiers killed so far this year in Afghanistan. The deaths underscore the difficulties in bringing peace to the war-ravaged country.


War Casualties By Name
More
Care for Veterans:
PTSD: National Center for PTSDPTSD Care for Veterans, Military, and FamiliesSee Help for Veterans with PTSD to learn how to enroll for VA health care and get an assessment.All VA Medical Centers provide PTSD care, as well as many VA clinics.Some VA's have programs specializing in PTSD treatment. Use the VA PTSD Program Locator to find a PTSD program.If you are a war Veteran, find a Vet Center to help with the transition from military to civilian life.Call the 24/7 Veteran Combat Call Center1-877-WAR-VETS (1-877-927-8387) to talk to another combat Veteran.DoD's Defense Centers of Excellence (DCoE) 24/7 Outreach Center for Psychological Health & Traumatic Brain Injury provides information and helps locate resources.Call 1-866-966-1020 or email resources@dcoeoutreach.orgMilitary OneSourceCall 24/7 for counseling and many resources 1-800-342-9647.Need further assistance? Get Help with VA PTSD Care


Save the Children is the world's leading independent organisation for children and has been working with families, communities and local authorities in Iraq since 1991, leading NGOs in general relief and development programs.Save the Children is currently responding to the needs of internally displaced persons (IDP) and the Syrian refugees in Iraq, in camps and non-camp settings. Our goal is for children in Iraq to be supported in raising their voices and attaining their rights, especially the right to participate in decisions affecting their lives. They should have access to quality education, health and protection services. We are increasing access to community based services that protect, educate and improve quality of life for children. We are ensuring that there is an increased participation of boys and girls in age appropriate activities and services. We are ensuring that children benefit from government actions that create an environment of awareness and accountability to uphold child rights. We are also developing new resources and innovative practices that support our work for children and youth.In Iraq, Save the Children's interventions include Child Protection, Education, Food Security and Livelihoods, Shelter and Water Sanitation and Hygiene (WASH), reaching vulnerble children and families in northern and central Iraq. Save the Children's programs are implemented through field offices in Erbil, Dohuk, Sulaymaniyah, Kirkuk and Kalar, with a country office located in Erbil.
Afghanistan War Child