04 Apr
United States Wars, News and Casualties
War News
Support from the UK has enabled the world's worst humanitarian disaster – this war is our war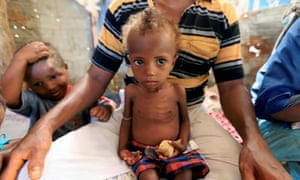 A malnourished girl sits on her father's lap in a shanty town in Hodeidah, Yemen. Photograph: Abduljabbar Zeyad/Reuters
M

onday night's Channel 4 documentary, Britain's Hidden War, exposed the depths of the UK's complicity in Saudi Arabia's bombing of Yemen. The testimony of various interviewees confirmed what I and other expert observers have been saying for some time: that Washington and London could have pulled the plug on the Saudi campaign at any point over the past four years.
Under an arms deal signed by the New Labour government, Britain has provided the Saudis with a fleet of Typhoon military jets as well as the constant supply of ammunition, components, training and technical support required to keep those jets operational. This creates a high degree of Saudi dependence on continued British support.
A British former technician, stationed in Saudi Arabia until recently, told Channel 4 that if this support was withdrawn then "in seven to 14 days there wouldn't be a jet in the sky" over Yemen. A former Saudi Air Force officer stated flatly that his compatriots "can't keep the Typhoon in the air without the British", and that, although US-supplied jets also play an indispensable role, the British Typhoon is so crucial that "without the Typhoon they will stop the war".
Let us recall the extent of the carnage that Britain has helped to make possible: 60,000 Yemenis are conservatively estimated to have been killed since 2016, the majority from Saudi-UAE coalition bombing. In addition, the man-made humanitarian crisis caused primarily by the blockade imposed by the coalition has led to an estimated 85,000 infant children dying from starvation or preventable disease. The UN warns that 14 million lives are at risk in what could become the world's worst famine in 100 years.
BEIRUT (Reuters) – Syrian government shelling killed at least a dozen people in the rebel-held northwest on Thursday, rescue workers said, as Damascus said its patience was running out over the implementation of a Russian-Turkish agreement in the area.
The shelling killed at least 12 people and wounded dozens in Kafr Nubl, where one missile hit a market, said Obada Dhikra, the director of civil defense service in the area. The number of dead could rise due to the severity of the injuries.
The Syrian Observatory for Human Rights separately reported that government shelling had killed 17 civilians in the past 24 hours in different locations of the northwest, with half of the dead under the age of 18.
The northwest represents the last big piece of territory held by rebels opposed to President Bashar al-Assad.
Last year, the Syrian government, backed in the war by Russia and Iran, was poised to mount a major offensive into part of the northwest – Idlib and adjoining parts of Hama and Aleppo provinces – raising concerns of a humanitarian catastrophe.
But the attack was postponed after Moscow struck a deal with Ankara that included the creation of a "demilitarized zone". Moscow is the government's strongest ally and Turkey backs some rebel groups and has troops on the ground in the northwest.
Syrian Foreign Minister Walid al-Moualem said the government was still determined to take back the territory and repeated the government's view that Turkey had failed to implement the agreement with Russia.
"Until now, we hear from our Russian friends that the situation is difficult, but that Turkey is determined to implement the agreement," Moualem said.
"Patience has limits. We must liberate this land and therefore our Russian friends began to feel our patience running out, and they are dealing with the matter with the Turkish leadership," he said at a Damascus news conference.
DAMASCUS, Syria (AP) — Syria's foreign minister says U.S. President Donald Trump's administration "lies" all the time about withdrawing its troops from the country.
Walid al-Moallem also says Trump's decision to recognize Israeli sovereignty over the occupied Golan Heights only serves to increase America's isolation in the world "even among its closest allies."
Al-Moallem spoke Thursday at a joint press conference in Damascus with Venezuela's Foreign Minister Jorge Arreaza, who lauded what he described as Syria's victory over "terrorism" in the country's eight-year war.
Venezuela's government has warm relations with Syrian President Bashar Assad's government. Arreaza said both countries were victims of a U.S. conspiracy.
Al-Moallem vowed to liberate all Syrian territory including the northwestern province of Idlib, the last major rebel-held stronghold in the country. He says "our patience has its limits."
KABUL — Afghan security forces have arrested six alleged members of the Islamic State militant group and accused them of using hundreds of fake accounts on Facebook Inc and other social media to find recruits, authorities said on Thursday.
The men, arrested in the capital, Kabul, also used Twitter Inc, Instagram and Telegram for fake accounts recruiting fighters and promoting Islamic State, Afghanistan's National Directorate of Security (NDS) said.
The agency said the men had confessed, but have not yet been charged. They were among 16 arrests it said were connected to Islamic State.
The arrests come as Facebook and Twitter have been separately sucked into an information war between India and Pakistan.
The Afghan affiliate of Islamic State, sometimes known as Islamic State Khorasan (ISIS-K) after an old name for the region that includes Afghanistan, has recruited many fighters from around the world, including Western countries.
The group, also known as Daesh, has been active in Afghanistan since 2015, fighting the Taliban as well as Afghan and U.S. forces.
In a separate operation in the eastern province of Nangarhar, the NDS arrested 10 suspects over involvement in assassinations and transporting weapons, ammunition and explosives, it said in the statement.
GENEVA — Iraq must ensure that Islamic State leadership faces justice for alleged war crimes and genocide against civilians, not just charges of belonging to a terrorist group, a United Nations human rights investigator said on Thursday.
Four men, two Iraqi and two Syrians, were sentenced to death by a Baghdad court on Oct 30 on charges of membership of Islamic State, a banned terrorist organization, Agnes Callamard, U.N. special rapporteur on extrajudicial, summary or arbitrary executions, said.
Their identity has not been revealed but she described them in a statement as "four senior affiliates of the ISIL leadership", using a widespread acronym for the militant group.
"The trial should have shed light on the inner workings of ISIL and created a crucial judicial record of ISIL crimes against people."
The jihadist group, which took large swathes of Iraq and Syria from 2014, declared a "caliphate" and imposed a reign of terror with public beheadings and sexual enslavement of women and girls including from the Iraqi Yazidi sect. It lost its last territorial stronghold in Syria last month.
"The Government of Iraq should take appropriate steps to prosecute the crimes perpetrated against the Iraqi people, including alleged genocide, crimes against humanity and war crimes," Callamard said.
"At the very least, the Iraqi prosecutors should have brought additional charges from the Iraqi penal code, such as charges of murder, torture or disappearance, against the defendants, for the purpose of accountability," she said.
International standards guaranteeing a fair trial appear not to have been met at the "hasty" criminal proceedings, during which the men were denied access to legal counsel, Callamard said.
Despite widespread violations, no victims or their families participated in the trial at Karkh criminal court or presented testimony, she said.
A retired rear admiral says United States military power should no longer be the option of first resort.
Dan Caldwell, left, the executive director of Concerned Veterans for America, and Jon Soltz, the chairman of VoteVets. The two groups are advocating Congress to reassert power over war.

Credit

Credit

Justin T. Gellerson for The New York Times
It is heartening that in an age of intense partisanship in Washington, two veterans groups from opposite ends of the political spectrum are working together on the noble objective of ending America's endless war in Afghanistan.
The American people have long become disillusioned with the ineffective strategies that drove our participation in the Afghan conflict and guided all of our efforts in that country. There is an emerging consensus that American foreign policy must undergo a strategic rethinking, so that the United States military is used more judiciously and the full weight of America's national power is leveraged to resolve critical national security issues.
That the war in Afghanistan has gone on for more than 17 years is a sad indictment of the current approach. Our national security leaders must understand that the United States military is not the option of first resort, nor should it be expected to come to the rescue whenever a problem in the world occurs.
The United States must re-emphasize the power of nonmilitary tools in its arsenal and decouple military force from foreign policy. The sooner this rebalance takes place, the sooner our country can avoid more forever wars in the future.
Damn The War Criminals,

Bush,Cheney,Rice,Rumsfeld,Wolfowitz, Powell and Blair from England
Bush's Five Big Lies That Led to the Iraq Quagmire
These are the five lies Bush told that Ralph Nader documented to impeach him.
Weapons of Mass Destruction. The weapons have still not been found. Nader emphasized, "Until the

1991

Gulf War, Saddam Hussein was our government's anti-communist ally in the Middle East. We also used him to keep Iran at bay. In so doing, in the

1980

s under Reagan and the first Bush, corporations were licensed by the Department of Commerce to export the materials for chemical and biological weapons that President George W. Bush and Vice President Dick Cheney later accused him of having." Those weapons were destroyed after the Gulf War. George W. Bush's favorite chief weapons inspector, David Kay, after returning from Iraq and leading a large team of inspectors and spending nearly half a billion dollars told the president

We were wrong.

See: David Kay testimony before Senate Armed Services Committee,

2004-01-28

.Tyler Drumheller, the former chief of the

CIA

(

C

entral

I

ntelligence

A

gency) 's Europe division, revealed that in the fall of

2002

, George W. Bush, Vice President Cheney, then-National Security Adviser Condoleezza Rice and others were told by

CIA

Director George Tenet that Iraq's foreign minister — who agreed to act as a spy for the United States — had reported that Iraq had no active weapons of mass destruction program.

Iraq Ties to Al Qaeda. The White House made this claim even though the

CIA

and

FBI

(

F

ederal

B

ureau of

I

nvestigation) repeatedly told the Administration that there was no tie between Saddam Hussein and Al Qaeda. They were mortal enemies — one secular, the other fundamentalist.

Saddam Hussein was a Threat to the United States. In fact, Saddam was a tottering dictator, with an antiquated, fractured army of low morale and with Kurdish enemies in Northern Iraq and Shiite adversaries in the South of Iraq. He did not even control the air space over most of Iraq.

Saddam Hussein was a Threat to his Neighbors. In fact, Iraq was surrounded by countries with far superior military forces. Turkey, Iran and Israel were all capable of obliterating any aggressive move by the Iraqi dictator.

The Liberation of the Iraqi People. There are brutal dictators throughout the world, many supported over the years by Washington, whose people need

liberation

from their leaders. This is not a persuasive argument since for Iraq, it's about oil. In fact, the occupation of Iraq by the United States is a magnet for increasing violence, anarchy and insurrection.
Civilian casualties in the war in Afghanistan (2001–present)
During the war in Afghanistan (2001–present), over 31,000 civilian deaths due to war-related violence have been documented;[1][2] 29,900 civilians have been wounded.[2] Over 111,000 Afghans, including civilians, soldiers and militants, are estimated to have been killed in the conflict.[1] The Cost of War project estimated that the number who have died through indirect causes related to the war may be as high 360,000 additional people based on a ratio of indirect to direct deaths in contemporary conflicts.[3] These numbers do not include those who have died in Pakistan.
The war, launched by the United States as "Operation Enduring Freedom" in 2001, began with an initial air campaign that almost immediately prompted concerns over the number of Afghan civilians being killed[4] as well as international protests. With civilian deaths from airstrikes rising again in recent years,[5] the number of Afghan civilians being killed by foreign military operations has led to mounting tension between the foreign countries and the government of Afghanistan. In May 2007, President Hamid Karzai summoned foreign military commanders to warn them of the consequences of further Afghan civilian deaths.[6] The civilian losses are a continuation of the extremely high civilian losses experienced during the Soviet–Afghan War in the 1980s, and the three periods of civil war following it: 1989–1992, 1992–1996, and 1996–2001.


C

asualties, Exclusive of Civilians
Recent Casualties:
Color

 Denotes Today's Confirmation
The Pentagon has identified two U.S. soldiers killed in Afghanistan while involved in combat operations Friday in Kunduz Province.
The men were identified Saturday as Spc. Joseph P. Collette, 29, of Lancaster, Ohio, and Sgt. 1st Class Will D. Lindsay, 33, of Cortez, Colorado. Collette was assigned to the 242nd Ordnance Battalion, 71st Explosive Ordnance Disposal Group, and Lindsay was assigned to 2nd Battalion, 10th Special Forces Group (Airborne). Both were based at Fort Carson, Colorado.
"The 71st Ordnance Group … is deeply saddened by the loss of Spc. Joseph P. Collette. We extend our deepest sympathies and condolences to his family and friends," Col. David K. Green, commander of 71st Ordnance Group, said in a statement.
The fatalities bring to four the number of U.S. soldiers killed so far this year in Afghanistan. The deaths underscore the difficulties in bringing peace to the war-ravaged country.


War Casualties By Name
More
Care for Veterans:
PTSD: National Center for PTSDPTSD Care for Veterans, Military, and FamiliesSee Help for Veterans with PTSD to learn how to enroll for VA health care and get an assessment.All VA Medical Centers provide PTSD care, as well as many VA clinics.Some VA's have programs specializing in PTSD treatment. Use the VA PTSD Program Locator to find a PTSD program.If you are a war Veteran, find a Vet Center to help with the transition from military to civilian life.Call the 24/7 Veteran Combat Call Center1-877-WAR-VETS (1-877-927-8387) to talk to another combat Veteran.DoD's Defense Centers of Excellence (DCoE) 24/7 Outreach Center for Psychological Health & Traumatic Brain Injury provides information and helps locate resources.Call 1-866-966-1020 or email resources@dcoeoutreach.orgMilitary OneSourceCall 24/7 for counseling and many resources 1-800-342-9647.Need further assistance? Get Help with VA PTSD Care


Save the Children is the world's leading independent organisation for children and has been working with families, communities and local authorities in Iraq since 1991, leading NGOs in general relief and development programs.Save the Children is currently responding to the needs of internally displaced persons (IDP) and the Syrian refugees in Iraq, in camps and non-camp settings. Our goal is for children in Iraq to be supported in raising their voices and attaining their rights, especially the right to participate in decisions affecting their lives. They should have access to quality education, health and protection services. We are increasing access to community based services that protect, educate and improve quality of life for children. We are ensuring that there is an increased participation of boys and girls in age appropriate activities and services. We are ensuring that children benefit from government actions that create an environment of awareness and accountability to uphold child rights. We are also developing new resources and innovative practices that support our work for children and youth.In Iraq, Save the Children's interventions include Child Protection, Education, Food Security and Livelihoods, Shelter and Water Sanitation and Hygiene (WASH), reaching vulnerble children and families in northern and central Iraq. Save the Children's programs are implemented through field offices in Erbil, Dohuk, Sulaymaniyah, Kirkuk and Kalar, with a country office located in Erbil.
Yemen War Child