12 Apr
United States Wars, News and Casualties
Damn The War Criminals,

Bush,Cheney,Rice,Rumsfeld,Wolfowitz, Powell and Blair from England
War News
DOVER, Del. — The remains of three Marines killed by a roadside bomb in Afghanistan have been returned to the U.S., arriving Thursday at Dover Air Force Base in Delaware.
Staff Sgt. Christopher K.A. Slutman, 43, of Newark, Delaware; Sgt. Benjamin S. Hines, 31, of York, Pennsylvania, and Cpl. Robert A. Hendriks, 25, of Locust Valley, New York, were killed on Monday when a bomb struck their vehicle near Bagram Air Base north of Kabul, the Pentagon said.
The Taliban claimed responsibility for the attack.
The three were assigned to 25th Marine Regiment, a Massachusetts-based Marine Reserve unit.
Slutman was a 15-year veteran of the New York Fire Department. He grew up in Maryland and lived in Delaware and New York.
An aunt of Hendriks, Lorraine Caliendo, told Newsday that his brother Joseph, also a Marine, will be escorting Hendricks' remains back home.
The fatalities brought to seven the number of U.S. troops killed this year in Afghanistan, underscoring the difficulties in bringing peace to the war-wrecked country even as Washington has stepped up efforts to find a way to end the 17-year conflict.
Relatives of the deceased Marines were invited to witness what the military calls a dignified transfer in which the cases containing the remains are transferred to a vehicle from the aircraft that ferried them to the United States. Media access to the transfer event is allowed if agreed by the family of the fallen service member, under a policy initiated in March 2009.
BRUSSELS (AP) — Judges at the International Criminal Court have rejected a request by the court's prosecutor to open an investigation into war crimes and crimes against humanity in Afghanistan and alleged crimes by U.S. forces linked to the conflict.
In a decision Friday, judges said an investigation "would not serve the interests of justice" because an investigation and prosecution are unlikely to be successful because those involved, including the United States and local Afghan warlords, are not expected to cooperate.
The decision says the Nov. 2017 request from Fatou Bensouda to open a probe "establishes a reasonable basis to consider that crimes within the ICC jurisdiction have been committed in Afghanistan and that potential cases would be admissible before the Court."
DUBAI (Reuters) – Thousands of Iranians carrying signs reading "I'm a Guard too" and "Down with USA" marched on Friday to protest against the U.S. designation of the elite Revolutionary Guards as a foreign terrorist organization.
State television showed crowds shouting "What's America thinking? Iran is full of Guards" after leaving Friday prayers at Tehran University on their way to a rally in a nearby square. Similar state-sponsored protests were held across Iran, it said.
Iranian officials have condemned U.S. President Donald Trump's decision on Monday to blacklist the Islamic Revolutionary Guards Corps (IRGC), a step is likely to raise tensions in the Middle East.
Tehran retaliated by naming the regional United States Central Command (CENTCOM) as a terrorist organization.
"Americans should know that this is a self-inflicted blow, meaning that they are jeopardizing the security of their own troops in CENTCOM and across the world," General Kioumars Heydari, head of the regular army's ground forces, was quoted as saying on Friday by the semi-official ISNA news agency.
The estimated 125,000-strong Revolutionary Guards also command the volunteer paramilitary Basij and control Iran's ballistic missile program. The Guards' overseas Quds forces have fought Iran's proxy wars in the region.
The United States has already blacklisted dozens of entities and people for affiliations with the IRGC, but had not previously targeted the organization as a whole.
"Today, it has been proven to the people of the world and of this region in particular that America is the mother of all terrorism," said Tehran Friday prayers leader Ayatollah Mohammadali Movahedi Kermani, clad in a Revolutionary Guards uniform, state media reported.
The long-tense relations between Tehran and Washington took a turn for the worse last May when Trump pulled out of a 2015 nuclear deal between Iran and six world powers, reached before he took office, and reimposed sanctions.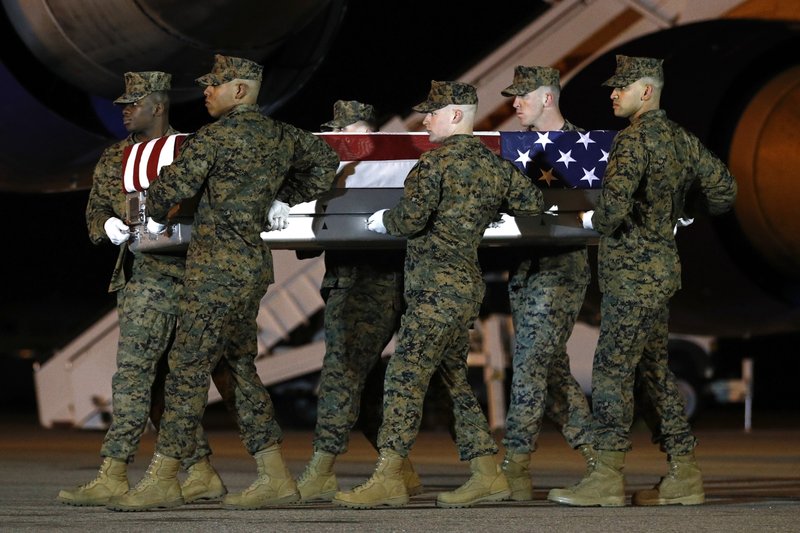 KABUL, Afghanistan (AP) — The Taliban announced Friday the start of their spring offensive despite talking peace with the United States and ahead of a significant gathering of Afghans meant to discuss resolutions to the protracted war and an eventual withdrawal of American troops from the country.
The insurgents released a lengthy missive in five languages, including English, saying the fighting would continue while foreign forces remain in Afghanistan.
The announcement is something the militant group does every year, even though Taliban attacks never really ceased during the harsh winter months. The insurgents carry out daily attacks targeting Afghan security forces and NATO troops, and inflicting staggering casualties, including among civilians. Most recently, a Taliban attack near the main U.S. air base in Afghanistan killed three Marines on Monday.
The Taliban now hold sway over half the country after a relentless 17-year war, America's longest.
Friday's announcement instructs the Taliban mujahedeen, or holy warriors, to "launch jihadi operations with sincerity and pure intentions," strictly abiding by the Taliban command structure. It also urges fighters to avoid civilian casualties.
The U.N.'s annual report earlier this year said civilian deaths hit a record high last year, blaming the insurgents and other militants, such as the Islamic State group, though it also noted an uptick in civilian casualties from U.S. bombing raids, most often in aid of Afghan troops on the ground.
Still, preparations are underway for Afghan-to-Afghan talks starting next week in Qatar, where the Taliban have a political office.
In Kabul, the Afghan High Peace Council, a government body created years ago to talk peace with anti-government forces, condemned the Taliban announcement, saying it brought into question the insurgents sincerity in seeking a peaceful end to the war.
Atta-u-Rahman Saleim, a council deputy, told The Associated Press over the phone that it undermines the credibility of the Taliban.
"They are insisting on war," he said. "We can see this every day."
Bush's Five Big Lies That Led to the Iraq Quagmire
These are the five lies Bush told that Ralph Nader documented to impeach him.
Weapons of Mass Destruction. The weapons have still not been found. Nader emphasized, "Until the

1991

Gulf War, Saddam Hussein was our government's anti-communist ally in the Middle East. We also used him to keep Iran at bay. In so doing, in the

1980

s under Reagan and the first Bush, corporations were licensed by the Department of Commerce to export the materials for chemical and biological weapons that President George W. Bush and Vice President Dick Cheney later accused him of having." Those weapons were destroyed after the Gulf War. George W. Bush's favorite chief weapons inspector, David Kay, after returning from Iraq and leading a large team of inspectors and spending nearly half a billion dollars told the president

We were wrong.

See: David Kay testimony before Senate Armed Services Committee,

2004-01-28

.Tyler Drumheller, the former chief of the

CIA

(

C

entral

I

ntelligence

A

gency) 's Europe division, revealed that in the fall of

2002

, George W. Bush, Vice President Cheney, then-National Security Adviser Condoleezza Rice and others were told by

CIA

Director George Tenet that Iraq's foreign minister — who agreed to act as a spy for the United States — had reported that Iraq had no active weapons of mass destruction program.

Iraq Ties to Al Qaeda. The White House made this claim even though the

CIA

and

FBI

(

F

ederal

B

ureau of

I

nvestigation) repeatedly told the Administration that there was no tie between Saddam Hussein and Al Qaeda. They were mortal enemies — one secular, the other fundamentalist.

Saddam Hussein was a Threat to the United States. In fact, Saddam was a tottering dictator, with an antiquated, fractured army of low morale and with Kurdish enemies in Northern Iraq and Shiite adversaries in the South of Iraq. He did not even control the air space over most of Iraq.

Saddam Hussein was a Threat to his Neighbors. In fact, Iraq was surrounded by countries with far superior military forces. Turkey, Iran and Israel were all capable of obliterating any aggressive move by the Iraqi dictator.

The Liberation of the Iraqi People. There are brutal dictators throughout the world, many supported over the years by Washington, whose people need

liberation

from their leaders. This is not a persuasive argument since for Iraq, it's about oil. In fact, the occupation of Iraq by the United States is a magnet for increasing violence, anarchy and insurrection.
Civilian casualties in the war in Afghanistan (2001–present)
During the war in Afghanistan (2001–present), over 31,000 civilian deaths due to war-related violence have been documented;[1][2] 29,900 civilians have been wounded.[2] Over 111,000 Afghans, including civilians, soldiers and militants, are estimated to have been killed in the conflict.[1] The Cost of War project estimated that the number who have died through indirect causes related to the war may be as high 360,000 additional people based on a ratio of indirect to direct deaths in contemporary conflicts.[3] These numbers do not include those who have died in Pakistan.
The war, launched by the United States as "Operation Enduring Freedom" in 2001, began with an initial air campaign that almost immediately prompted concerns over the number of Afghan civilians being killed[4] as well as international protests. With civilian deaths from airstrikes rising again in recent years,[5] the number of Afghan civilians being killed by foreign military operations has led to mounting tension between the foreign countries and the government of Afghanistan. In May 2007, President Hamid Karzai summoned foreign military commanders to warn them of the consequences of further Afghan civilian deaths.[6] The civilian losses are a continuation of the extremely high civilian losses experienced during the Soviet–Afghan War in the 1980s, and the three periods of civil war following it: 1989–1992, 1992–1996, and 1996–2001.

C

asualties, Exclusive of Civilians
Recent Casualties:
Color 

Denotes Today's Confirmation
The Department of Defense announced today the death of three Marines who were supporting Operation Resolute Support.
The following Marines died April 8 while conducting combat operations in Parwan province, Afghanistan.
Cpl. Robert A. Hendriks, 25, of Locust Valley, New York.
Sgt. Benjamin S. Hines, 31, of York, Pennsylvania.
Staff Sgt. Christopher K.A. Slutman, 43, of Newark, Delaware.
These Marines were assigned to 25th Marine Regiment, 4th Marine Division, Marine Forces Reserve.

The Pentagon has identified two U.S. soldiers killed in Afghanistan while involved in combat operations Friday in Kunduz Province.
The men were identified Saturday as Spc. Joseph P. Collette, 29, of Lancaster, Ohio, and Sgt. 1st Class Will D. Lindsay, 33, of Cortez, Colorado. Collette was assigned to the 242nd Ordnance Battalion, 71st Explosive Ordnance Disposal Group, and Lindsay was assigned to 2nd Battalion, 10th Special Forces Group (Airborne). Both were based at Fort Carson, Colorado.
"The 71st Ordnance Group … is deeply saddened by the loss of Spc. Joseph P. Collette. We extend our deepest sympathies and condolences to his family and friends," Col. David K. Green, commander of 71st Ordnance Group, said in a statement.
The fatalities bring to four the number of U.S. soldiers killed so far this year in Afghanistan. The deaths underscore the difficulties in bringing peace to the war-ravaged country.
War Casualties By Name

More
Care for Veterans:
PTSD: National Center for PTSDPTSD Care for Veterans, Military, and FamiliesSee Help for Veterans with PTSD to learn how to enroll for VA health care and get an assessment.All VA Medical Centers provide PTSD care, as well as many VA clinics.Some VA's have programs specializing in PTSD treatment. Use the VA PTSD Program Locator to find a PTSD program.If you are a war Veteran, find a Vet Center to help with the transition from military to civilian life.Call the 24/7 Veteran Combat Call Center1-877-WAR-VETS (1-877-927-8387) to talk to another combat Veteran.DoD's Defense Centers of Excellence (DCoE) 24/7 Outreach Center for Psychological Health & Traumatic Brain Injury provides information and helps locate resources.Call 1-866-966-1020 or email resources@dcoeoutreach.orgMilitary OneSourceCall 24/7 for counseling and many resources 1-800-342-9647.Need further assistance? Get Help with VA PTSD Care


Save the Children is the world's leading independent organisation for children and has been working with families, communities and local authorities in Iraq since 1991, leading NGOs in general relief and development programs.Save the Children is currently responding to the needs of internally displaced persons (IDP) and the Syrian refugees in Iraq, in camps and non-camp settings. Our goal is for children in Iraq to be supported in raising their voices and attaining their rights, especially the right to participate in decisions affecting their lives. They should have access to quality education, health and protection services. We are increasing access to community based services that protect, educate and improve quality of life for children. We are ensuring that there is an increased participation of boys and girls in age appropriate activities and services. We are ensuring that children benefit from government actions that create an environment of awareness and accountability to uphold child rights. We are also developing new resources and innovative practices that support our work for children and youth.In Iraq, Save the Children's interventions include Child Protection, Education, Food Security and Livelihoods, Shelter and Water Sanitation and Hygiene (WASH), reaching vulnerble children and families in northern and central Iraq. Save the Children's programs are implemented through field offices in Erbil, Dohuk, Sulaymaniyah, Kirkuk and Kalar, with a country office located in Erbil.
Afghanistan War Children