14 Apr
United States Wars, News and Casualties
Damn The War Criminals,

Bush,Cheney,Rice,Rumsfeld,Wolfowitz, Powell and Blair from England
War News
US officials will never end up before ICC judges, but speaking truth to power could still boost the court's credibility.
Judges at the International Criminal Court have
denied
a request to open an investigation into atrocities committed in Afghanistan. Their decision comes one and a half years after the prosecutor
requested
 authorisation from the judges to open an official investigation into war crimes and crimes against humanity in 
Afghanistan.
The judges ruled today that an investigation would not be in the "interests of justice". This marks the first time that judges have invoked this argument, yet the ruling was meagre on its application, devoting just three and a half pages to the subject and, remarkably, not referencing any other cases or jurisprudence on the subject. Prosecutors will now appeal that decision and the court still has a chance to reverse course.
For some, however, the decision is a "good" one for the court. They believe that an investigation could only hurt the court because no American would ever end up before judges at the ICC. In denying the investigation, judges stated that changes in the "political landscape" in non-member states (ie the US) "make it extremely difficult to gauge the prospects of securing meaningful cooperation from relevant authorities for the future". In short, they believed that an investigation would be too difficult to be worth trying, and therefore, not in the interests of justice or the court.
But they are wrong. A lack of cooperation from Washington or other states should not have prevented the ICC from investigating alleged atrocities in Afghanistan. Even without cooperation, such an investigation would likely bolster – not undermine – the court's credibility.
The waiting game
That it took the ICC judges one and a half years to come to today's decision will only increase speculation that they were acting politically, fearful of the political implications of an investigation and, possibly, Washington's wrath.
At the same time, the ICC prosecutor's office has been 
plagued
by numerous high-profile setbacks. Within the last 12 months alone, judges acquitted both former Vice President of the Democratic Republic of the Congo 
Jean-Pierre Bemba 
and former President of Ivory Coast 
Laurent Gbagbo
. It has also come to light that the ICC's own president, Chile Eboe-Osuji, is 
suing
the court for higher pay at a time when the institution is struggling to resource its current workload. 
Against this backdrop, it is tempting to conclude that the ICC should be risk-averse, focusing only on suspects who are likely to be surrendered to the court. In line with such thinking, it would have been ill-advised for the ICC to investigate atrocities in Afghanistan as cooperation wouldn't be forthcoming. Such is the advice of many observers of the ICC. 
The cooperation game
Followers of the ICC have repeatedly pointed out that US cooperation with the court would cease if the ICC opened an investigation into Afghanistan. They 
insist
 that there "will be no cooperation from the Afghan government, the Taliban, or the US". Moreover, without any prospects of a successful trial of US officials along with the cessation of cooperation, "[t]here would be
significant cost
to the ICC, for little gain".
These fears were confirmed when US National Security Adviser John Bolton threatened the ICC and its staff with sanctions while declaring that the US would "use any means necessary to protect our citizens and those of our allies from unjust prosecution by this illegitimate court." They were further corroborated when Washington

revoked

ICC Chief Prosecutor Fatou Bensouda's entry visa to the US.
There is no reason to believe that the ICC could "win" any confrontation with the US. Washington has promised to pull out all the stops in an attempt to isolate the court. Any investigation into Afghanistan would preclude cooperation and there is a virtually no chance that US officials would end up facing judges at the ICC. As a result, many worry that an investigation would further sap the ICC's already sagging credibility. They needn't.
The credibility game 
An organisation's credibility is partly a measure of the gap between the expectations that people have of the institution and its actual performance. If the performance of an institution falls short of our expectations, its credibility will suffer. If expectations are met, or are even surpassed, an institution will experience a credibility boost.
So, what does this mean for the ICC?
In its other cases – say, Joseph Kony in northern Uganda or Omar al-Bashir in Sudan – the expectation has been that any warrant would be enforced so that they face justice in The Hague. The court's credibility suffers precisely because neither has appeared before the ICC more than a decade after warrants were issued for their arrest. But that wouldn't have happened with Afghanistan because those aren't the expectations at play when it comes to alleged US crimes.
As observers rightly point out, no one reasonably expects the US to cooperate with an ICC probe into alleged crimes committed by its officials. No one. Therefore, if the court were to ever issue arrest warrants for a Dick Cheney or a George W Bush, no one would expect them to be surrendered to the ICC. The expectation will be that Washington vociferously defends its former political leaders while belligerently attacking the court at every opportunity. 
US vitriol won't fit the global narrative of an ineffectual ICC so much as the narrative of American exceptionalism and refusal to take responsibility for a government-planned and implemented era of torture. In the 
words
 of a former international judge, it will be "consistent with the new American line: 'We are No 1 and we stand above the law'."
The ICC versus the US would be a tale of David versus Goliath. But even if David misses with all of his stones, no one would blame him.
The end game 
The ICC has failed to meet many expectations. It hasn't contributed to a spate of peace or reconciliation and it hasn't held the worst mass murderers to account. And to be clear: unenforced arrest warrants can hurt the ICC's credibility. But in this case, they wouldn't.
The global community doesn't judge the court merely on the basis of its legitimacy as a court, where surrenders and trials are of the essence. They 
judge
 it as an international organisation going where none has gone before: putting major powers on notice for their abuses. The inevitable tantrums that would follow any arrest warrants for US officials would only boost the perceived legitimacy of the court, especially among those who never expected that an international tribunal would ever confront American power.
No one believes that American officials will end up at the ICC. The assumption is that the ICC will wilt before American power. Many will see today's decision as the judges proving them right. But if there is any chance, on appeal, for the court to reverse course, it should do so and surprise us – and exceed expectations.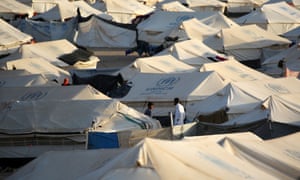 It is estimated that up to 70 children born to Australian foreign fighters are among the tens of thousands now in the displacement camps since the fall of Isis. Photograph: Delil Souleiman/AFP/Getty Images
Save the Children has called on Scott Morrison and Bill Shorten to publicly commit – if they win the election – to bringing home the children of Australian foreign fighters in Syria.
In a letter published on Saturday, the aid organisation demanded that the major parties pledge to "stop the war on children" and repatriate those who were brought to the Syrian conflict or were born there to Australians who chose to fight with Islamic State.
"All children who have lived under Isis control have experienced horrific events – violence, acute deprivation and bombardment," the letter said.
"Many have lost loved ones. And now they languish in dangerous camps in north-east Syria, where children are sick and malnourished, and there isn't enough food to go around.
"No one is defending the actions of their parents, who must face justice. But we must defend the rights of every child. Australia has the power to repatriate these children and support their recovery; their reintegration into our society."
Save the Children's chief executive, Paul Ronalds, said Australians needed to know where Morrison and Shorten stood, and "if they will act on their word if elected on 18 May".
"The shift in rhetoric from the leaders of both major political parties is encouraging, but words alone will not bring these children home," said Ronalds.
It is estimated that up to 70 children born to Australian foreign fighters are among the tens of thousands now in the displacement camps since the fall of Isis.
Several families have been publicly identified, including the children and grandchildren of Khaled Sharrouf, who is believed to have died alongside his eight and nine-year-old sons in a US air strike in 2017.
Morrison has said he is "not going to put any Australian life at risk to extract people from these conflict zones" but that the government would "cooperate" with efforts to get the children out if the families could make their way to Australian embassies – a suggestion rubbished by human rights groups.
"Where they might be in a position to return to Australia, we will cooperate with that process," he said this month.
SAMAWA, Iraq (Reuters) – Iraq must never forget Saddam Hussein's crimes or allow his party to return, President Barham Salih said on Sunday after attending the unearthing of a mass grave of Kurds killed by the former leader's forces three decades ago.
The grave, found in the desert about 170 km (106 miles) west of the city of Samawa, contained the remains of dozens of Kurds made to "disappear" by Saddam's forces, Salih's office said.
They were among up to 180,000 people who may have been killed during Saddam's "Anfal" campaign that targeted Iraqi Kurds in the late 1980s when chemical gas was used, villages were razed and thousands of Kurds were forced into camps.
"He killed them because they did not accept the continuation of this regime, because they wanted to live a free and dignified life," Salih, a Kurd, told a news conference at the grave site.
"He brought them to Samawa to bury them but our people in Samawa embraced them," Salih added. Iraq's southern provinces are predominantly inhabited by Shi'ite Arabs, who also suffered oppression and mass killings under Saddam, a Sunni Arab.
"The new Iraq must never forget these crimes that were committed against Iraqi people from all groups," he said.
NAJAF, Iraq — A group of Iraq's Shi'ite militia groups said on Saturday that they strongly rejected the designation of Iran's Islamic Revolutionary Guards Corp (IRGC) as a terrorist organization by the United States.
The groups, backed and trained by Tehran, delivered a statement from the home of Iran's consul-general in the Shi'ite holy city of Najaf.
They announced their solidarity with the Muslim people and the Revolutionary Guards who they said helped to prevent four or five states from falling to Islamic State militants.
President Donald Trump said last week he would name Iran's elite Islamic Revolutionary Guard Corps a terrorist organization.
The action by Trump, who has taken a hard line toward Iran by withdrawing from the 2015 Iran nuclear deal and re-imposing broad economic sanctions, marks the first time the United States has formally labeled another country's military a terrorist group.
"This is laughable coming from the number one sponsor of terrorism, America," said a spokesman for the Badr Organisation, without providing evidence.
Badr is led by Iraqi militia commander and politician Hadi al-Ameri who's Fateh coalition of militia groups has the second-largest number of seats in Iraq's parliament.
"We reject this action from America and say we have honor to be in the Islamic resistance that fought and beat terrorism," a spokesman for the wider Fateh coalition said.
Some of the militia groups themselves are designated as terrorist organizations by Washington.
Iraqi Prime Minister Adel Abdul Mahdi said on Tuesday that Washington's decision to designate the IRGC a terrorist group could harm his country and the wider region.
Iraqi security forces declared victory over Islamic State in 2017 with help from a U.S.-led coalition and Iran-backed Shi'ite militias, some of which fought U.S. troops earlier following the 2003 U.S.-led invasion that toppled Saddam Hussein.

Bush's Five Big Lies That Led to the Iraq Quagmire
These are the five lies Bush told that Ralph Nader documented to impeach him.
Weapons of Mass Destruction. The weapons have still not been found. Nader emphasized, "Until the

1991

Gulf War, Saddam Hussein was our government's anti-communist ally in the Middle East. We also used him to keep Iran at bay. In so doing, in the

1980

s under Reagan and the first Bush, corporations were licensed by the Department of Commerce to export the materials for chemical and biological weapons that President George W. Bush and Vice President Dick Cheney later accused him of having." Those weapons were destroyed after the Gulf War. George W. Bush's favorite chief weapons inspector, David Kay, after returning from Iraq and leading a large team of inspectors and spending nearly half a billion dollars told the president

We were wrong.

See: David Kay testimony before Senate Armed Services Committee,

2004-01-28

.Tyler Drumheller, the former chief of the

CIA

(

C

entral

I

ntelligence

A

gency) 's Europe division, revealed that in the fall of

2002

, George W. Bush, Vice President Cheney, then-National Security Adviser Condoleezza Rice and others were told by

CIA

Director George Tenet that Iraq's foreign minister — who agreed to act as a spy for the United States — had reported that Iraq had no active weapons of mass destruction program.

Iraq Ties to Al Qaeda. The White House made this claim even though the

CIA

and

FBI

(

F

ederal

B

ureau of

I

nvestigation) repeatedly told the Administration that there was no tie between Saddam Hussein and Al Qaeda. They were mortal enemies — one secular, the other fundamentalist.

Saddam Hussein was a Threat to the United States. In fact, Saddam was a tottering dictator, with an antiquated, fractured army of low morale and with Kurdish enemies in Northern Iraq and Shiite adversaries in the South of Iraq. He did not even control the air space over most of Iraq.

Saddam Hussein was a Threat to his Neighbors. In fact, Iraq was surrounded by countries with far superior military forces. Turkey, Iran and Israel were all capable of obliterating any aggressive move by the Iraqi dictator.

The Liberation of the Iraqi People. There are brutal dictators throughout the world, many supported over the years by Washington, whose people need

liberation

from their leaders. This is not a persuasive argument since for Iraq, it's about oil. In fact, the occupation of Iraq by the United States is a magnet for increasing violence, anarchy and insurrection.
Civilian casualties in the war in Afghanistan (2001–present)
During the war in Afghanistan (2001–present), over 31,000 civilian deaths due to war-related violence have been documented;[1][2] 29,900 civilians have been wounded.[2] Over 111,000 Afghans, including civilians, soldiers and militants, are estimated to have been killed in the conflict.[1] The Cost of War project estimated that the number who have died through indirect causes related to the war may be as high 360,000 additional people based on a ratio of indirect to direct deaths in contemporary conflicts.[3] These numbers do not include those who have died in Pakistan.
The war, launched by the United States as "Operation Enduring Freedom" in 2001, began with an initial air campaign that almost immediately prompted concerns over the number of Afghan civilians being killed[4] as well as international protests. With civilian deaths from airstrikes rising again in recent years,[5] the number of Afghan civilians being killed by foreign military operations has led to mounting tension between the foreign countries and the government of Afghanistan. In May 2007, President Hamid Karzai summoned foreign military commanders to warn them of the consequences of further Afghan civilian deaths.[6] The civilian losses are a continuation of the extremely high civilian losses experienced during the Soviet–Afghan War in the 1980s, and the three periods of civil war following it: 1989–1992, 1992–1996, and 1996–2001.

C

asualties, Exclusive of Civilians
Recent Casualties:
Color Denotes Today's Confirmation
The Department of Defense announced today the death of three Marines who were supporting Operation Resolute Support.
The following Marines died April 8 while conducting combat operations in Parwan province, Afghanistan.
Cpl. Robert A. Hendriks, 25, of Locust Valley, New York.
Sgt. Benjamin S. Hines, 31, of York, Pennsylvania.
Staff Sgt. Christopher K.A. Slutman, 43, of Newark, Delaware.
These Marines were assigned to 25th Marine Regiment, 4th Marine Division, Marine Forces Reserve.

The Pentagon has identified two U.S. soldiers killed in Afghanistan while involved in combat operations Friday in Kunduz Province.
The men were identified Saturday as Spc. Joseph P. Collette, 29, of Lancaster, Ohio, and Sgt. 1st Class Will D. Lindsay, 33, of Cortez, Colorado. Collette was assigned to the 242nd Ordnance Battalion, 71st Explosive Ordnance Disposal Group, and Lindsay was assigned to 2nd Battalion, 10th Special Forces Group (Airborne). Both were based at Fort Carson, Colorado.
"The 71st Ordnance Group … is deeply saddened by the loss of Spc. Joseph P. Collette. We extend our deepest sympathies and condolences to his family and friends," Col. David K. Green, commander of 71st Ordnance Group, said in a statement.
The fatalities bring to four the number of U.S. soldiers killed so far this year in Afghanistan. The deaths underscore the difficulties in bringing peace to the war-ravaged country.
War Casualties By Name

More
Care for Veterans:
PTSD: National Center for PTSDPTSD Care for Veterans, Military, and FamiliesSee Help for Veterans with PTSD to learn how to enroll for VA health care and get an assessment.All VA Medical Centers provide PTSD care, as well as many VA clinics.Some VA's have programs specializing in PTSD treatment. Use the VA PTSD Program Locator to find a PTSD program.If you are a war Veteran, find a Vet Center to help with the transition from military to civilian life.Call the 24/7 Veteran Combat Call Center1-877-WAR-VETS (1-877-927-8387) to talk to another combat Veteran.DoD's Defense Centers of Excellence (DCoE) 24/7 Outreach Center for Psychological Health & Traumatic Brain Injury provides information and helps locate resources.Call 1-866-966-1020 or email resources@dcoeoutreach.orgMilitary OneSourceCall 24/7 for counseling and many resources 1-800-342-9647.Need further assistance? Get Help with VA PTSD Care


Save the Children is the world's leading independent organisation for children and has been working with families, communities and local authorities in Iraq since 1991, leading NGOs in general relief and development programs.Save the Children is currently responding to the needs of internally displaced persons (IDP) and the Syrian refugees in Iraq, in camps and non-camp settings. Our goal is for children in Iraq to be supported in raising their voices and attaining their rights, especially the right to participate in decisions affecting their lives. They should have access to quality education, health and protection services. We are increasing access to community based services that protect, educate and improve quality of life for children. We are ensuring that there is an increased participation of boys and girls in age appropriate activities and services. We are ensuring that children benefit from government actions that create an environment of awareness and accountability to uphold child rights. We are also developing new resources and innovative practices that support our work for children and youth.In Iraq, Save the Children's interventions include Child Protection, Education, Food Security and Livelihoods, Shelter and Water Sanitation and Hygiene (WASH), reaching vulnerble children and families in northern and central Iraq. Save the Children's programs are implemented through field offices in Erbil, Dohuk, Sulaymaniyah, Kirkuk and Kalar, with a country office located in Erbil.
Afghanistan War Children