29 Apr
United States Wars, News and Casualties
Damn The War Criminals,

Bush,Cheney,Rice,Rumsfeld,Wolfowitz, Powell and Blair from England
War News
BEIRUT (AP) — The U.S.-led coalition fighting the Islamic State group says a U.S. service member has died in a non-combat incident in northern Syria.
The coalition's statement gave no other details pending notification of next of kin but said the death occurred on Monday. It said further information will be released as appropriate.
The U.S. military currently has around 2,000 troops stationed in northern Syria, where they have been for several years, assisting and advising its local partners in the fight against IS.
President Donald Trump said in December he intended to withdraw all American forces from Syria, although the White House said later the U.S. will keep 200 troops in the country for now.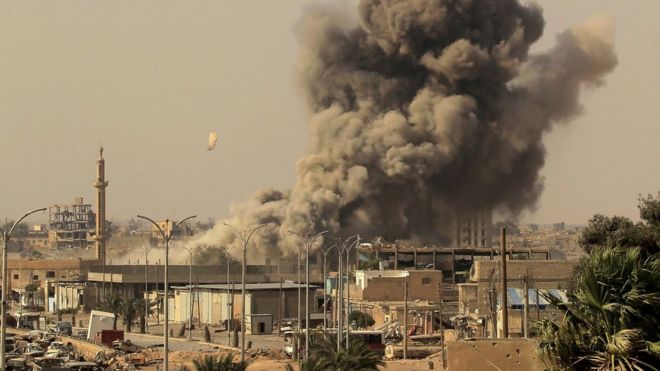 Reuters
More than 1,600 civilians were killed in US-led coalition air and artillery strikes during the offensive to oust the Islamic State group from the Syrian city of Raqqa in 2017, activists say.
Amnesty International and monitoring group Airwars said they had carried out investigations at 200 strike locations and identified 1,000 of the victims.
They urged the coalition to "end almost two years of denial" about such deaths.
The coalition says there were 180 civilian casualties in its campaign.
Commanders say all feasible precautions to avoid civilian casualties were taken in those cases and that the decisions to strike complied with the law of armed conflict.
Coalition states – including the US, UK and France – have conducted 34,000 strikes in Syria and neighbouring Iraq since 2014, when IS militants overran large swathes of the two countries and imposed their brutal rule on almost eight million people.
Last month, the coalition-backed Syrian Democratic Forces alliance captured the last pocket of land held by the jihadists, bringing a formal end to their self-proclaimed "caliphate", whose de facto capital was Raqqa.
Amnesty and Airwars said that following an unprecedented investigation they had been able to build a database of the civilians reportedly killed as a direct result of US, UK and French air strikes and US artillery strikes carried out in Raqqa from June to October 2017 in support of a ground offensive by the SDF.
Donatella Rovera, Amnesty's senior crisis response adviser, said that IS "snipers and mines had turned the city into a death trap" but that "many of the [coalition] air bombardments were inaccurate and tens of thousands of artillery strikes were indiscriminate, so it is no surprise they killed and injured many hundreds of civilians".
She added: "Coalition forces razed Raqqa, but they cannot erase the truth."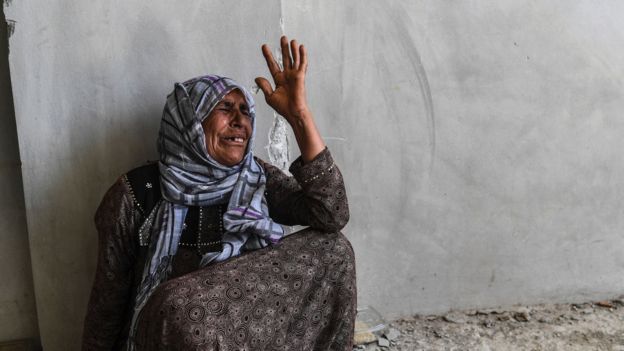 Image .

AFP
Amnesty and Airwars analysed open source information, including thousands of social media posts, to build its database of the more than 1,600 civilian fatalities.
Researchers then spent about two months on the ground in the city, carrying out investigations at strike locations and interviewing more than 400 witnesses and survivors.
They were able to directly verify the names of 641 victims, and there were very strong multiple source reports for the rest, Amnesty said.
The "Strike Trackers" project also identified when each of the more than 11,000 destroyed buildings in Raqqa, with 3,000 digital activists from 124 countries analysing more than two million satellite image frames.
Amnesty and Airwars said the coalition had admitted responsibility for 159 civilian deaths during the five-month offensive, but that it had dismissed many of their casualty reports as "non-credible".
The coalition had failed to adequately investigate the reports because it did not carry out site visits or interview witnesses and survivors, the organisations added.
A coalition spokesperson told the BBC: "Any unintentional loss of life during the defeat of [IS] is tragic. However it must be balanced against the risk of enabling [IS] to continue terrorist activities, causing pain and suffering to anyone they choose."
The coalition "methodically employs significant measures to minimise civilian casualties" and "always balances the risk of conducting a strike against the cost of not striking".
The spokesperson insisted the coalition took all allegations of civilian casualties seriously and conducted thorough assessments, but if there was not enough information or there was not a coalition strike that matched the time and location then the allegation was closed.
"Amnesty International provided us with 86 new allegations regarding Raqqa, 43 of which had already been assessed as credible and previously reported or were deemed not credible because the allegation did not corroborate with our strike records," the spokesperson said.
"We requested that Amnesty International provide us with additional information on the remaining 43 allegations if they have it available so that we would be able to determine whether we could conduct an investigation."
KABUL, Afghanistan (AP) — Afghanistan's president opened a grand council on Monday of more than 3,200 Afghans seeking to agree on a common approach to peace talks with the Taliban, but the gathering may further aggravate divisions within the U.S.-backed government.
President Ashraf Ghani hopes to showcase unity at the four-day meeting — known as Loya Jirga — that brings together politicians, tribal elders, many prominent figures and others.
But Chief Executive Abdullah Abdullah, his partner in a unity government brokered by the United States after a bitterly disputed election in 2014, heads a list of no-shows.
Former President Hamid Karzai, who also is not attending, told The Associated Press on Monday that holding the council at this time risks "delaying and causing an impediment to the peace process." He also voiced concern that by sidelining his chief executive, Ghani could trigger suspicion that personal ambitions may have partly driven him to hold the Loya Jirga now.
"We are all here to talk about the framework of peace talks with the Taliban … reaching a sustainable peace is very important to us," said Ghani in his welcome address to delegates.
Waving a copy of Afghanistan's constitution, Ghani lauded it as the most Islamic of constitutions — an apparent message to the Taliban who have suggested they want to negotiate articles within the charter, without specifying.
In several rounds of talks with the Taliban, U.S. envoy Zalmay Khalilzad has narrowed the gaps on a deal under which U.S. forces would withdraw in return for guarantees that Afghanistan not revert to a haven for international terrorists. But Khalilzad has struggled to get Afghans to agree on a roadmap for the country's future.
The Taliban have refused to directly talk to Kabul representatives, viewing the government as a U.S. puppet.
Ahead of the council, Michael Kugelman, deputy director of the Asia Program at the Washington-based Wilson Center, said that "if Abdullah and his supporters don't attend, there's going to be a glaring absence of key stakeholders that will diminish the event's credibility in a big way."
"Given all the divides in Afghanistan, there is as much of a need for reconciliation within Afghanistan as there is for reconciliation with the Taliban," he added.
The latest attempt at Afghan-to-Afghan talks — scheduled in Qatar earlier this month and intended to include the Taliban, Kabul government representatives, the opposition and other prominent figures — collapsed as the two sides were unable to agree on the participants.
Karzai urged the U.S. to do more to press all sides to the table. "We are in a great hurry for peace."
Bush's Five Big Lies That Led to the Iraq Quagmire
These are the five lies Bush told that Ralph Nader documented to impeach him.
Weapons of Mass Destruction. The weapons have still not been found. Nader emphasized, "Until the

1991

Gulf War, Saddam Hussein was our government's anti-communist ally in the Middle East. We also used him to keep Iran at bay. In so doing, in the

1980

s under Reagan and the first Bush, corporations were licensed by the Department of Commerce to export the materials for chemical and biological weapons that President George W. Bush and Vice President Dick Cheney later accused him of having." Those weapons were destroyed after the Gulf War. George W. Bush's favorite chief weapons inspector, David Kay, after returning from Iraq and leading a large team of inspectors and spending nearly half a billion dollars told the president

We were wrong.

See: David Kay testimony before Senate Armed Services Committee,

2004-01-28

.Tyler Drumheller, the former chief of the

CIA

(

C

entral

I

ntelligence

A

gency) 's Europe division, revealed that in the fall of

2002

, George W. Bush, Vice President Cheney, then-National Security Adviser Condoleezza Rice and others were told by

CIA

Director George Tenet that Iraq's foreign minister — who agreed to act as a spy for the United States — had reported that Iraq had no active weapons of mass destruction program.

Iraq Ties to Al Qaeda. The White House made this claim even though the

CIA

and

FBI

(

F

ederal

B

ureau of

I

nvestigation) repeatedly told the Administration that there was no tie between Saddam Hussein and Al Qaeda. They were mortal enemies — one secular, the other fundamentalist.

Saddam Hussein was a Threat to the United States. In fact, Saddam was a tottering dictator, with an antiquated, fractured army of low morale and with Kurdish enemies in Northern Iraq and Shiite adversaries in the South of Iraq. He did not even control the air space over most of Iraq.

Saddam Hussein was a Threat to his Neighbors. In fact, Iraq was surrounded by countries with far superior military forces. Turkey, Iran and Israel were all capable of obliterating any aggressive move by the Iraqi dictator.

The Liberation of the Iraqi People. There are brutal dictators throughout the world, many supported over the years by Washington, whose people need

liberation

from their leaders. This is not a persuasive argument since for Iraq, it's about oil. In fact, the occupation of Iraq by the United States is a magnet for increasing violence, anarchy and insurrection.

Recent Casualties:
Color 

Denotes Today's Confirmation
The Department of Defense announced today the death of a soldier who was supporting Operation Inherent Resolve.
Spc. Michael T. Osorio, 20, from Horseshoe Bend, Idaho, died April 23, 2019, in Taji, Iraq, in a non combat related incident. The incident is under investigation.
Osorio was assigned to 4th Squadron, 10th Cavalry Regiment, 3rd Armored Brigade Combat Team, 4th Infantry Division, Fort Carson, Colorado.
The Department of Defense announced today the death of three Marines who were supporting Operation Resolute Support.
The following Marines died April 8 while conducting combat operations in Parwan province, Afghanistan.
Cpl. Robert A. Hendriks, 25, of Locust Valley, New York.
Sgt. Benjamin S. Hines, 31, of York, Pennsylvania.
Staff Sgt. Christopher K.A. Slutman, 43, of Newark, Delaware.
These Marines were assigned to 25th Marine Regiment, 4th Marine Division, Marine Forces Reserve.

The Pentagon has identified two U.S. soldiers killed in Afghanistan while involved in combat operations Friday in Kunduz Province.
The men were identified Saturday as Spc. Joseph P. Collette, 29, of Lancaster, Ohio, and Sgt. 1st Class Will D. Lindsay, 33, of Cortez, Colorado. Collette was assigned to the 242nd Ordnance Battalion, 71st Explosive Ordnance Disposal Group, and Lindsay was assigned to 2nd Battalion, 10th Special Forces Group (Airborne). Both were based at Fort Carson, Colorado.
"The 71st Ordnance Group … is deeply saddened by the loss of Spc. Joseph P. Collette. We extend our deepest sympathies and condolences to his family and friends," Col. David K. Green, commander of 71st Ordnance Group, said in a statement.
The fatalities bring to four the number of U.S. soldiers killed so far this year in Afghanistan. The deaths underscore the difficulties in bringing peace to the war-ravaged country.
War Casualties By Name
The People Behind The Sacrifice

Complete Military and Civilian Casualty Lists
Care for War on Terror Veterans


Save the Children is the world's leading independent organisation for children and has been working with families, communities and local authorities in Iraq since 1991, leading NGOs in general relief and development programs.Save the Children is currently responding to the needs of internally displaced persons (IDP) and the Syrian refugees in Iraq, in camps and non-camp settings. Our goal is for children in Iraq to be supported in raising their voices and attaining their rights, especially the right to participate in decisions affecting their lives. They should have access to quality education, health and protection services. We are increasing access to community based services that protect, educate and improve quality of life for children. We are ensuring that there is an increased participation of boys and girls in age appropriate activities and services. We are ensuring that children benefit from government actions that create an environment of awareness and accountability to uphold child rights. We are also developing new resources and innovative practices that support our work for children and youth.In Iraq, Save the Children's interventions include Child Protection, Education, Food Security and Livelihoods, Shelter and Water Sanitation and Hygiene (WASH), reaching vulnerble children and families in northern and central Iraq. Save the Children's programs are implemented through field offices in Erbil, Dohuk, Sulaymaniyah, Kirkuk and Kalar, with a country office located in Erbil.
Syria War Child