01 May
United States Wars, News and Casualties
Damn The War Criminals,

Bush,Cheney,Rice,Rumsfeld,Wolfowitz, Powell and Blair from England
War News

FILE – In this April 18, 2017, file, photo, a woman holds her newborn while she clutches her son's hand as they flee heavy fighting to wrest the al-Tanek neighborhood of Mosul, Iraq from Islamic State militants. TAn international charity said Tuesday, April 30, 2019, that an estimated 45,000 children in Iraq who were born under the rule of the Islamic State group are being excluded from society because the government denies them documentation and ID papers. (AP Photo/Maya Alleruzzo, File)
COPENHAGEN, Denmark (AP) — An estimated 45,000 children in Iraq who were born under the rule of the Islamic State group are being excluded from society because the government denies them documentation and ID papers, an international charity said Tuesday.
Jan Egeland, the Norwegian Refugee Council's secretary general, is warning that these children — most of whom are in camps for the displaced today — are a "possible human time-bomb."
"Undocumented children risk remaining left on the margins of society if this issue is not addressed immediately. This seriously undermines future prospects of reconciliation efforts," said Egeland.
"We urge the government to ensure that undocumented children have the right to exist like any other Iraqi citizen," he added, citing the organization's 38-page report "Barriers from Birth."
The children were born during IS's 2013-2017 rule, when the militant group controlled nearly a third of Iraq. The Iraqi government today considers their birth certificates invalid because they were issued by IS.
After U.S.-backed forces defeated the IS and the militants lost their self-styled "caliphate," many IS families and those of civilians who lived under the group's rule were put in camps for the displaced.
The Norway-based group said its legal teams receive on average 170 requests for help each month in cases of unregistered children, children whose fathers are undocumented, are on one of the government's security databases or are perceived to be affiliated with IS.
Egeland said the chance of obtaining ID documents for children from families accused of IS affiliation is nearly impossible, resulting in collective punishment of thousands of innocent children.
"Children are not responsible for crimes committed by their relatives, yet many are denied their basic rights as Iraqi citizens," he said.
Without ID papers, these children have no access to education or health care, they are not allowed to enroll in schools and their mothers cannot get badly needed aid — they are denied "simply the right to exist," Egeland said.
Providing these children with such basic rights to education and health care is "key to ensuring a sustainable future for them and for the country," he said.
"A society cannot be at peace if it allows a generation of stateless children in its midst."

Tens of thousands of supporters demonstrated in support of President Mohamed Morsi, a member of the Muslim Brotherhood who was ousted by the military in 2013.

Credit

Credit

Yusuf Sayman for The New York Times
President Trump wants to designate the Muslim Brotherhood, an international Islamist movement, as a terrorist organization. The designation would impose sanctions on the group and those who do business with it.
Officials in the Pentagon and State Department have raised objections to the plan, saying that the Muslim Brotherhood does not meet the legal definition of a terrorist group and that its designation could have unintended consequences in allied countries where the Brotherhood fields prominent political parties.
The Muslim Brotherhood has frequently denounced terrorism and violence.
Here's a brief guide.
What is the Muslim Brotherhood?
The Muslim Brotherhood is a missionary movement founded in Egypt in 1928 by Hassan al-Banna, a schoolteacher working in the town of Ismailia, near the Suez Canal. He argued that an Islamic religious revival would enable the Muslim world to catch up to the West and shake off colonial rule.
But he was sweeping and contradictory about the mission of the group, and largely avoided spelling out what an Islamic government might look like.
His teachings spread far beyond Egypt, and today widely varying Islamist political movements — including missionary, charitable and advocacy organizations as well as political parties in many countries — trace their roots to the Egyptian Muslim Brotherhood. Some of these groups use the name Muslim Brotherhood and others do not.
Political parties explicitly linked to or descended from the Muslim Brotherhood are recognized in many countries allied with the United States, including Jordan, Iraq, Kuwait, Bahrain, Morocco, Turkey and Tunisia.
Is the Egyptian Muslim Brotherhood terrorist?
No. Even experts critical of the Brotherhood agree that the organization does not meet the criteria for a terrorist group.
Under the British-backed monarchy in the 1940s, the Egyptian Brotherhood was one of several factions to create paramilitary wings. In 1948, a 23-year-old veterinary student who belonged to the group assassinated the prime minister. Two weeks later, another member of the outfit was arrested for attempting to bomb a courthouse.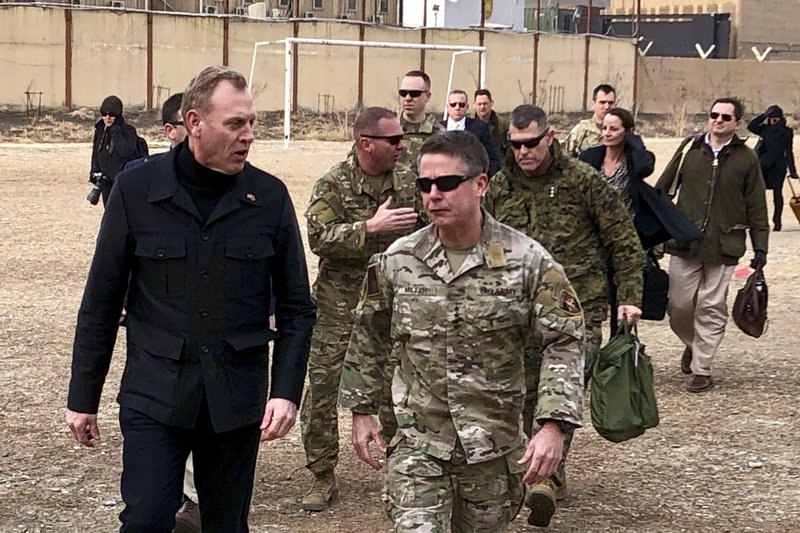 WASHINGTON (AP) — Amid a battlefield stalemate in Afghanistan , the U.S. military has stopped releasing information often cited to measure progress in America's longest war, calling it of little value in fighting the Taliban insurgency.
The move fits a trend of less information being released about the war in recent years, often at the insistence of the Afghan government, which had previously stopped the U.S. military from disclosing the number of Afghans killed in battle as well as overall attrition within the Afghan army.
The latest clampdown also aligns with President Donald Trump's complaint that the U.S. gives away too much war information, although there is no evidence that this had any influence on the latest decision.
A government watchdog agency that monitors the U.S. war effort, now in its 18th year, said in a report to Congress on Wednesday that the U.S. military command in Kabul is no longer producing "district control data," which shows the number of Afghan districts — and the percentage of their population — controlled by the government compared to the Taliban.
The last time the command released this information, in January, it showed that Afghan government control was stagnant or slipping. It said the share of the population under Afghan government control or influence — a figure that was largely unchanged from May 2017 to July 2018 at about 65 percent — had dropped in October 2018 to 63.5 percent. The government's control or influence of districts fell nearly 2 percentage points, to 53.8 percent.
Less than two years ago, a top American commander in Afghanistan called population control "most telling." Gen. John Nicholson told reporters in November 2017 that he wanted to see the figure, then about two-thirds, increase to at least 80 percent, with the Taliban holding only about 10 percent and the rest contested.
"And this, we believe, is the critical mass necessary to drive the enemy to irrelevance," Nicholson said then.
Nicholson's successor, Gen. Scott Miller, believes there already are enough such assessments available to the public, including one produced by intelligence agencies.
"We are focused on setting the conditions for a political settlement to safeguard our national interests," Col. David M. Butler, a spokesman for Miller, said in an email exchange Tuesday. "The district stability assessment that was previously provided by DOD was redundant and did little to serve our mission of protecting our citizens and allies."
The war is at a sensitive juncture, with the Trump administration making a hard push to get peace talks started between the Taliban and the Afghan government. The Taliban recently launched a spring military offensive and have refused to directly talk to Kabul representatives, viewing the government as a U.S. puppet.
In its report, the Special Inspector General for Afghanistan Reconstruction, or SIGAR, said Miller's command offered a further explanation for no longer producing the "district control" data, asserting there was "uncertainty" in the way the data were produced and saying "the assessments that underlie them are to a degree subjective."
"The command said they no longer saw decision-making value in these data," the SIGAR report said. In remarks to reporters last week, John Sopko, the special inspector general, criticized what he called a trend toward less openness by the military authorities who are advising, training and assisting Afghan security forces.
"I don't think it makes sense," Sopko said. "The Afghan people know which districts are controlled by the Taliban. The Taliban obviously know which districts they control. Our military knows it. Everybody in Afghanistan knows it. The only people who don't know what's going on are the people who are paying for all of this, and that's the American taxpayer."
In January, Trump sharply criticized his own administration for disclosing information that he said aids enemy forces.
"Some IG goes over there, who are mostly appointed by President Obama — but we'll have ours, too — and he goes over there, and they do a report on every single thing that's happening, and they release it to the public," Trump told reporters. "What kind of stuff is this? We're fighting wars, and they're doing reports and releasing it to the public? Now, the public means the enemy. The enemy reads those reports; they study every line of it."
Trump then turned to the acting defense secretary, Patrick Shanahan, and said, "I don't want it to happen anymore, Mr. Secretary."
The war in Afghanistan is largely forgotten in much of America, as is the enormous, continuing financial cost. This year the Pentagon budget includes $4.9 billion to provide the Afghan army and police with everything from equipment and supplies to salaries and food. That is one piece of a wider array of "reconstruction" assistance the U.S. government has provided since the war began in 2001, totaling $132 billion.
Overall, the U.S. has spent $737 billion on the war and lost more than 2,400 military lives, according to the Pentagon.
Intelligence officials believe Baghdadi is facing growing dissent after series of defeats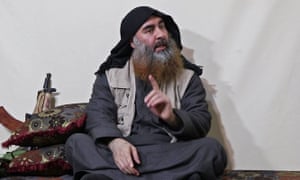 Abu Bakr al-Baghdadi, the Islamic State leader, makes his first video appearance in five years. Photograph: AFP/Getty Images
The propaganda video of the Islamic State leader, Abu Bakr al-Baghdadi, was released in an attempt to convince Isis followers that the elusive leader remained in control of the global terror group and unfazed by increasing dissent within its ranks, intelligence officials believe.
Baghdadi's return to public view in his first video appearance in five years has sparked a fresh examination of his standing within Isis. Some observers claim his grip on power has dramatically weakened as the group has lost the land it once held, as well as its leaders and loot.
Western and regional officials say Baghdadi was trying to relaunch himself on a global stage with the 18-minute video and audio released by Isis's media arm on Monday. While Baghdadi spoke at length about the group's defeat in March in eastern Syria, he devoted much of his appearance to discussing other conflicts and political events: the Easter attacks in Sri Lanka, the electoral return of Benjamin Netanyahu and the fall of longtime autocrats in Sudan and Algeria.
Baghdadi's efforts to establish himself as in control of a global organisation include his references to battles in Libya and Saudi Arabia, and pledges of allegiance allegedly given to his group in Burkina Faso, Mali and Afghanistan. He also claims to have received pledges of loyalty in Somalia, Yemen, the Caucasus, west and central Africa, and Turkey.
The structures of Isis in Syria and Iraq have been decimated by a five-year war that culminated in Baghuz, on the edge of the Euphrates. As the "caliphate" he had proclaimed in the Grand Mosque in Mosul in 2014 collapsed, so too did the authority Baghdadi held over tens of thousands of fighters and followers, often enforced through unrelenting brutality.
Officials in Iraq and Europe believe there have been several attempts to oust Baghdadi in the past six months and that one former senior Isis figure, Abu Mohammed Husseini al-Hashimi, remains a potent threat to his leadership.
Hashimi has come to prominence in the last month with the release of a 200-page online book that urges any remaining members of the organisation to revolt against its leader.
The core of the argument is that Baghdadi has distorted the pre-2010 Isis project with his oppressive and tyrannical behaviour and so obedience to him is no longer appropriate.
Not a lot is known about Hashimi, whose has rapidly emerged as a figure being closely watched by analysts and intelligence agencies in the fast-shifting politics of Isis, beyond what is revealed by his writings.
His latest book praises Isis for reviving traditional hudud punishments under Islamic law, such as stoning for those convicted of adultery, as well as reviving the largely forgotten idea of the caliphate, whose ruler is considered a successor to the prophet Muhammad. The Isis project, in his view, was never allowed to develop fully because of the enemies ranged against it.
In his writing Hashimi described the brutality of the Iraqi Isis members, their grip over the executive branch of the organisation and their efforts to kill anyone who disagreed with them, which he claims are the main reason behind his call to withdraw allegiance from Baghdadi.
It is believed that Hashimi is a former aide to Baghdadi and held leading positions, including as an Islamic judge in Mosul. Somewhere in 2017 and 2018 he appears to have fled what was left of the caliphate, according to a charge sheet against another dissident, Abu Ya'qub al-Maqdisi, who was executed after being accused of treason in late 2018. One of Abu Ya'qub's sins, according to the statement, was to be a friend of the "criminal" Hashimi, and to have known his hiding place before he fled.
Translations by Mohammed Rasool
KABUL (Reuters) – American and Taliban officials resumed talks in Qatar to end a 17-year war in Afghanistan on Wednesday while the Afghan government hosted a rare assembly in Kabul to ensure its interests are upheld in any peace deal.
FILE PHOTO – Taliban ride on a motorbike as they celebrate ceasefire in Rodat district of Nangarhar province, Afghanistan June 16, 2018.REUTERS/Parwiz
Afghan representatives were not allowed to attend the sixth round of U.S.-Taliban talks in the Qatari capital, Doha, said Zabihullah Mujahid, a spokesman for the insurgent group.
"There will be no other side except the U.S. and Taliban representatives in the meeting, but some Qatari officials will remain present as hosts," he told Reuters.
The talks are part of President Donald Trump's efforts to end America's longest war, which began when U.S.-backed forces ousted the Taliban weeks after the Sept. 11, 2001, attacks on the United States.
Since October, U.S. and Taliban officials have held several rounds of talks aimed at ensuring a safe exit for U.S. forces in return for a Taliban guarantee that Afghanistan will not be used by militants to threaten the rest of the world.
In this round, U.S. special envoy for peace in Afghanistan Zalmay Khalilzad and his delegation are expected to focus on a declaration of a ceasefire as a first step to end the fighting, said a western diplomat in Kabul.
An official working closely with Khalilzad said he is expected to encourage the insurgent group to engage in Afghan-to-Afghan talks to find a political settlement to end the war.
This week, Afghan President Ashraf Ghani convened a rare grand assembly known as the Loya Jirga to set out Kabul's conditions for peace talks with the Taliban.
The Jirga has a purely consultative function, but it carries significance in Afghan politics and society.
The Taliban has so far refused to talk to Kabul and have labeled the Afghan government as a "U.S. puppet."
Ghani believes that backing from members of the Loya Jirga will strengthen his bid to be recognized as Afghanistan's legitimate representative in the peace talks.
The assembly includes 3,200 tribal elders, politicians and community and religious leaders from all 34 provinces.
But opposition politicians and government critics, including former president Hamid Karzai, are boycotting the meeting. They accuse Ghani of using it as a platform to boost his status as a leader in an election year.
Omar Daudzai, Ghani's special envoy for peace, said at the assembly he welcomed the U.S.-Taliban talks in Qatar but Afghan voices should be heard at the negotiating table.
"The Loya Jirga is the rational and logical start of the peace talks," he told reporters, adding that the assembly would also examine the role of foreign powers in Afghanistan.
The United States has about 14,000 troops in Afghanistan as part of a NATO-led mission, known as Resolute Support, that is training and assisting the Afghan government's security forces in their battle against Taliban fighters and extremist groups such as Islamic State and Al-Qaeda.
 
FILE – In this In this May 27, 2016, file, photo, members of a breakaway faction of the Taliban fighters prepare to guard a gathering , in Shindand district of Herat province, Afghanistan. Afghanistan may not be ready for peace unless it formulates a strategy for re-integration of Taliban fighters into society, combating corruption and reining in the country's runaway narcotics problem, a U.S. watchdog said Wednesday, May 1, 2019. (AP Photo/Allauddin Khan, File)
KABUL, Afghanistan (AP) — Afghanistan may not be ready for peace unless it finds a way to reintegrate Taliban fighters into society, combat corruption and rein in the country's runaway narcotics problem, a U.S. watchdog said Wednesday.
The warning by Washington's Special Inspector General for Afghan Reconstruction, or SIGAR, which monitors billions of dollars in U.S. aid to the country, came in the group's new quarterly report that also discusses Afghan needs for the "day after" — once there is a peace deal with the Taliban.
Over the past months, the U.S. has stepped up efforts to find a peaceful resolution to Afghanistan's 17-year war and has been holding talks with a resurgent Taliban. The insurgents, however, refuse to negotiate with the Kabul government, which they consider a U.S. puppet. The Taliban also continue to stage near-daily attacks, inflicting staggering casualties, and now control about half the country.
"No matter how welcome peace would be, it can carry with it the seeds of unintended and unforeseen consequences," John F. Sopko, head of SIGAR, said in the report.
The war has already cost America $737 billion, according to the Pentagon. On reconstruction alone, the U.S. has spent $132 billion since 2002, much of that to train and equip Afghan security forces, as well as strengthen government institutions, provide education and better health care, said Sopko.
But the gains are fragile, Sopko said, and solutions are needed to the country's increasing insecurity, "endemic corruption, weak Afghan institutions, the insidious impact of the narcotics trade, and inadequate coordination and oversight by donors."
Sopko said that failure to reintegrate the estimated 60,000 Taliban fighters and their families into Afghan society would undermine peace.
"These 'day after' risks could threaten U.S. taxpayers' investment in Afghanistan, set back humanitarian and development programs, undermine Afghan government support, or even lay the grounds for new or resumed discord," Sopko said.
For some former Taliban fighters, the transition has been difficult. They blame corruption, and for those not integrated into Afghan security forces, finding a job is difficult in a country where unemployment is more than 40% percent and 54% of Afghans live below the poverty line.
Aman, a former Taliban who left the insurgents with nine fellow fighters to join the government in late 2016 in northern Kunduz province, told The Associated Press this week that he has been jailed and intimidated by corrupt soldiers who stole $6,000 from him.
Bush's Five Big Lies That Led to the Iraq Quagmire
These are the five lies Bush told that Ralph Nader documented to impeach him.
Weapons of Mass Destruction. The weapons have still not been found. Nader emphasized, "Until the

1991

Gulf War, Saddam Hussein was our government's anti-communist ally in the Middle East. We also used him to keep Iran at bay. In so doing, in the

1980

s under Reagan and the first Bush, corporations were licensed by the Department of Commerce to export the materials for chemical and biological weapons that President George W. Bush and Vice President Dick Cheney later accused him of having." Those weapons were destroyed after the Gulf War. George W. Bush's favorite chief weapons inspector, David Kay, after returning from Iraq and leading a large team of inspectors and spending nearly half a billion dollars told the president

We were wrong.

See: David Kay testimony before Senate Armed Services Committee,

2004-01-28

.Tyler Drumheller, the former chief of the

CIA

(

C

entral

I

ntelligence

A

gency) 's Europe division, revealed that in the fall of

2002

, George W. Bush, Vice President Cheney, then-National Security Adviser Condoleezza Rice and others were told by

CIA

Director George Tenet that Iraq's foreign minister — who agreed to act as a spy for the United States — had reported that Iraq had no active weapons of mass destruction program.

Iraq Ties to Al Qaeda. The White House made this claim even though the

CIA

and

FBI

(

F

ederal

B

ureau of

I

nvestigation) repeatedly told the Administration that there was no tie between Saddam Hussein and Al Qaeda. They were mortal enemies — one secular, the other fundamentalist.

Saddam Hussein was a Threat to the United States. In fact, Saddam was a tottering dictator, with an antiquated, fractured army of low morale and with Kurdish enemies in Northern Iraq and Shiite adversaries in the South of Iraq. He did not even control the air space over most of Iraq.

Saddam Hussein was a Threat to his Neighbors. In fact, Iraq was surrounded by countries with far superior military forces. Turkey, Iran and Israel were all capable of obliterating any aggressive move by the Iraqi dictator.

The Liberation of the Iraqi People. There are brutal dictators throughout the world, many supported over the years by Washington, whose people need

liberation

from their leaders. This is not a persuasive argument since for Iraq, it's about oil. In fact, the occupation of Iraq by the United States is a magnet for increasing violence, anarchy and insurrection.

Recent Casualties:
Color

 Denotes Today's Confirmation
The Department of Defense announced today the death of a soldier who was supporting Operation Inherent Resolve.
Spc. Michael T. Osorio, 20, from Horseshoe Bend, Idaho, died April 23, 2019, in Taji, Iraq, in a non combat related incident. The incident is under investigation.
Osorio was assigned to 4th Squadron, 10th Cavalry Regiment, 3rd Armored Brigade Combat Team, 4th Infantry Division, Fort Carson, Colorado.
The Department of Defense announced today the death of three Marines who were supporting Operation Resolute Support.
The following Marines died April 8 while conducting combat operations in Parwan province, Afghanistan.
Cpl. Robert A. Hendriks, 25, of Locust Valley, New York.
Sgt. Benjamin S. Hines, 31, of York, Pennsylvania.
Staff Sgt. Christopher K.A. Slutman, 43, of Newark, Delaware.
These Marines were assigned to 25th Marine Regiment, 4th Marine Division, Marine Forces Reserve.

War Casualties By Name
The People Behind The Sacrifice

Complete Military and Civilian Casualty Lists
Care for War on Terror Veterans


Save the Children is the world's leading independent organisation for children and has been working with families, communities and local authorities in Iraq since 1991, leading NGOs in general relief and development programs.Save the Children is currently responding to the needs of internally displaced persons (IDP) and the Syrian refugees in Iraq, in camps and non-camp settings. Our goal is for children in Iraq to be supported in raising their voices and attaining their rights, especially the right to participate in decisions affecting their lives. They should have access to quality education, health and protection services. We are increasing access to community based services that protect, educate and improve quality of life for children. We are ensuring that there is an increased participation of boys and girls in age appropriate activities and services. We are ensuring that children benefit from government actions that create an environment of awareness and accountability to uphold child rights. We are also developing new resources and innovative practices that support our work for children and youth.In Iraq, Save the Children's interventions include Child Protection, Education, Food Security and Livelihoods, Shelter and Water Sanitation and Hygiene (WASH), reaching vulnerble children and families in northern and central Iraq. Save the Children's programs are implemented through field offices in Erbil, Dohuk, Sulaymaniyah, Kirkuk and Kalar, with a country office located in Erbil.
Afghanistan War Child