08 May
United States Wars, News and Casualties
Damn The War Criminals,

Bush,Cheney,Rice,Rumsfeld,Wolfowitz, Powell and Blair from England
War News
The Department of Defense announced today the death of a soldier who was supporting Operation Freedom's Sentinel.
Spc. Miguel L. Holmes, 22, from Hinesville, Georgia, died May 6, 2019, in Nangarhar Province, Afghanistan, of wounds sustained from a non-combat incident. The incident is under investigation.
Holmes was assigned to 1st Battalion, 118th Field Artillery Regiment, 48th Infantry Brigade Combat Team, Savannah, Georgia.
GENEVA (Reuters) – The International Organization for Migration (IOM) called on Tuesday for the release of more than 3,000 migrants, mainly Ethiopians, who it said remain held in inhumane conditions in two detention centers in southern Yemen.
FILE PHOTO: Ethiopian migrants, stranded in war-torn Yemen, sit on the ground of a detention site pending repatriation to their home country, in Aden, Yemen April 24, 2019. REUTERS/Fawaz Salman/File Photo
The detentions began two weeks ago in the city of Aden and the neighboring province of Lahj, which are under the control of the internationally-recognized government backed by Saudi Arabia and the United Arab Emirates.
The coalition is fighting Iran-aligned Houthi rebels who control Sanaa, the capital, and other major urban centers after more than four years of war.
"Some 3,000 migrants continue to be held in two temporary detention sites in Yemen's Aden and Abyan governorates," IOM spokesman Joel Millman told a news briefing in Geneva.
They include about 2,500 held in a football stadium in Aden, where aid workers are fighting disease outbreaks, he said.
IOM said last week that on April 30, guards fired on migrants detained at Aden sports stadium, two of whom suffered gunshot wounds, leaving a teenage boy likely paralyzed for life. It had no further information on the incident on Tuesday.
"IOM remains extremely concerned for the people being held in inhumane conditions in Aden and Abyan," Millman said.
The IOM was talking to the authorities to try to get them released, he added.
The U.N. migration agency had received reports that in recent days more than 1,400 people detained at a military camp in Lahj were released, he said. At least 14 migrants have died of an outbreak of acute watery diarrhea in Lahj, where IOM is treating some 70 former inmates, he said.
IOM is planning to evacuate 237 Ethiopians to Addis Ababa under its voluntary repatriation program, he said.
Michael Behenna killed al-Qaida suspect in Iraq in 2009

Sarah Sanders says Behenna 'entirely deserving' of pardon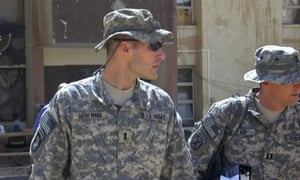 Michael Behenna, left, in 2008. Oklahoma's two Republican senators, James Lankford and Jim Inhofe, hailed the pardon, thanking Trump for giving Behenna 'a clean slate'. Photograph: Vanessa Gera/AP
Donald Trump has pardoned a former US soldier convicted in 2009 of killing an Iraqi prisoner, the White House has announced.
Trump signed an executive grant of clemency, a full pardon, for Michael Behenna, press secretary Sarah Sanders said.
Behenna was convicted of unpremeditated murder in a combat zone after killing a suspected al-Qaida terrorist in Iraq. He was paroled in 2014 and had been scheduled to remain on parole until 2024.
Behenna acknowledged during his trial that instead of taking the prisoner home as he was ordered, he took the man to a railroad culvert, stripped him, and then questioned him at gunpoint about a roadside bombing that had killed two members of Behenna's platoon.
A military court had sentenced Behenna to 25 years in prison. However, the army's highest appellate court noted concern about how the trial court had handled Behenna's claim of self-defense, Sanders said. The army clemency and parole board also reduced his sentence to 15 years and paroled him as soon as he was eligible.
Behenna's case attracted broad support from the military, Oklahoma elected officials and the public, Sanders said. She added that Behenna was a model prisoner while serving his sentence, and "in light of these facts, Mr Behenna is entirely deserving" of the pardon.
Oklahoma's two Republican senators, James Lankford and Jim Inhofe, hailed the pardon, thanking Trump for giving Behenna "a clean slate".
Behenna, a native of the Oklahoma City suburb of Edmond, said the man moved toward him and he shot him because Behenna thought he would try to take his gun.
Oklahoma's attorney general first requested a pardon for Behenna in February 2018 and renewed his request last month.
Frustration in Washington at its failing foreign policies could be a factor in growing pressure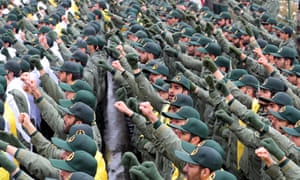 Members of Iran's Revolutionary Guard. The IRGC The IRGC supports Shia militia forces loyal to the Assad regime in Syria. Photograph: Abedin Taherkenareh/EPA
John Bolton's sudden, unexplained threat to use "unrelenting force" against Tehran has raised US-Iran tensions to a new high. But its impact is not confined to these two countries. Like a lethal poison, their mutual enmity is seeping through the veins of an already unstable region that has experienced dangerously high levels of volatility in recent days.
No clear reason was given by Donald Trump's national security adviser for his decision to advertise the pre-arranged deployment of military reinforcements to the Middle East. But Bolton singled out Iran, and specifically Iran's non-state allies and proxy forces, as causes for concern. These groups are deeply involved in several conflict zones including Syria, Iraq, Yemen and Gaza, where fighting with Israeli forces re-erupted last week.
"The US is not seeking war with the Iranian regime, but we are fully prepared to respond to any attack whether by proxy, the Islamic Revolutionary Guard Corps [IRGC] or regular Iranian forces," Bolton said.
Mike Pompeo, the secretary of state and fellow Iran hawk, repeated the warning, vaguely accusing Iran of "escalatory actions". "If these actions take place, if they do by some third-party proxy, a militia group, Hezbollah, we will hold the Iranian leadership directly accountable," he said, implying the US may have received intelligence about supposed plots.
This explicit broadening of the range of potential Iran-related US targets is significant. Palestinian Islamic Jihad, a western-designated terrorist group financed by Iran and Lebanon's Hezbollah, reportedly joined Hamas in firing missiles at Israel from Gaza at the weekend. In a tweet expressing "100% support for Israel", Trump referred to Islamic Jihad by name.
Maybe Bolton and Pompeo were concerned that Iran was using Gaza or planning some other operation to foment violence against Israel and the US at arm's length, via its proxies, in retaliation for the recent tightening of sanctions and other hostile American measures.
Syria could provide another clue. Washington chooses to blame Iran more than Russia for the continuing conflict there. The IRGC has built bases and supports Shia militia forces loyal to Bashar al-Assad's Moscow-backed regime. According to aid workers, recent days have brought numerous regime airstrikes and barrel bombings of hospitals, causing rising civilian casualties and displacements in north-eastern Hama and Idlib.
Whether this is the start of Assad's long-awaited attempt to reconquer Idlib, the last major rebel-held area, is unclear. But Vladimir Putin, Russia's president, last week refused to rule it out. Any new offensive would probably involve Iranian-led ground forces. Ever reluctant to criticise Putin, Trump views Syrian violence as another reason to go after Iran.
Frustration in Washington that its Middle East policies are everywhere failing could be another factor. The Saudi bombing campaign in Yemen against Houthi rebels, who are backed by Tehran, has succeeded only in harming civilians and attracting international opprobrium. Congressional Democrats have accused Trump of aiding and abetting Saudi war crimes and want to stop arms sales.
In Iraq, the remaining US troop presence is increasingly controversial. Ruling Shia politicians with close links to Tehran, representing majority opinion, have made clear they do not want the country used as an American base against Iran. And despite Washington's attempts to isolate and sanction it, Lebanon's heavily armed Hezbollah – Iran's loyal ally – remains formidable.
Nor can Trump and his advisers rely on traditional allies in efforts to force regime change in Iran. European countries, including Britain, continue to uphold the UN-approved 2015 nuclear pact with Tehran, which the US reneged on last year, while the UN's nuclear watchdog insists Iran is in compliance.
Trump's "maximum pressure" has poisoned wells elsewhere, too. China, Turkey and India are expected to ignore US demands to cease buying Iranian oil, despite a 1 May deadline set by Washington. China told the US last month not to interfere in its legitimate and lawful "cooperation" with Iran. In other words, butt out.
DUBAI (Reuters) – Iran's top security body dismissed as "psychological warfare" a U.S. announcement that a carrier strike group and bombers are being sent to the Middle East as a message to Tehran, the semi-official Tasnim news agency reported on Tuesday.
U.S. National Security Adviser John Bolton said on Sunday the United States was deploying the Abraham Lincoln carrier strike group and a bomber task force to the Middle East.
"Bolton's statement is a clumsy use of a burnt-out happening for psychological warfare," Tasnim quoted Keyvan Khosravi, spokesman for the Supreme National Security Council, as saying. Khosravi said the carrier had arrived in the Mediterranean weeks ago.
U.S. acting Defense Secretary Patrick Shanahan said on Monday he had approved dispatching the carrier strike group and bombers due to indications of a "credible threat by Iranian regime forces". He provided no details of the underlying intelligence.
Iran's state-run Press TV earlier said: "The deployment seems to be a 'regularly scheduled' one by the U.S. Navy, and Bolton has just tried to talk it up."
Separately, a military adviser to Supreme Leader Ayatollah Ali Khamenei said the United States was "neither willing nor capable" with respect to an attack on Iran, the semi-official news agency ISNA reported.
Brigadier General Hossein Dehgan said Washington would have a hard time convincing world opinion and regional countries to accept an all-out war against Iran, and to mobilize resources for such a conflict.
Iranian newspapers and commentators have widely dismissed Washington's announcement as a "bluff" and "empty rhetoric".
HERAT, Afghanistan (Reuters) – Air strikes in western Afghanistan this week destroyed a number of Taliban drug labs and also killed dozens of civilians, according to reports from local officials that were rejected by the Afghan government.
The Afghan defense ministry said coalition air strikes in three locations in the western province of Farah late on Sunday destroyed 68 Taliban drug labs and killed 150 insurgents, as part of an air campaign aimed at cutting off one of the movement's key sources of revenues.
However Abdul Ghafoor Mujahid, the governor of Bakwa district, where the attacks took place, said many of those killed were civilians working in the labs. He said at least 45 civilians were killed in the strike, along with around 18 Taliban fighters. Several civilians in neighboring houses were wounded, he said.
"The civilians were hired by the Taliban to work in their heroin processing labs and were unfortunately killed during the air strikes," Mujahid told Reuters.
Defense Ministry spokesman Qais Mangal denied any civilians were killed in the strikes in Farah, a remote and sparsely populated area where hundreds of police and soldiers have been killed in months of heavy fighting.
The attack followed a report from the United Nations last month which indicated that more civilians were killed by Afghan and U.S. air strikes in the first three months of the year than by any other means.
But it also underlined the ambiguity around how civilians working for the Taliban are classified.
U.S. forces were not immediately available to comment.
The Afghan government estimates that drug processing and taxation generate about $200 million annually for the Taliban and the campaign of air strikes over the past year has been aimed at cutting off a key source of revenue.
KABUL, Afghanistan (AP) — The Taliban stormed an army checkpoint in Afghanistan's western Farah province, killing 20 soldiers and abducting two, the latest in relentless attacks that the insurgents carry out even as they negotiate with the U.S. about ending the war, Afghan officials said Monday.
The attack also dashed hopes of some sort of truce during the holy month of Ramadan, which started Monday and when observant Muslims fast from dawn to dusk.
The overnight attack on the checkpoint in the Farah province's Gulistan district triggered an hour-long gunbattle as Afghan troops tried to repel the attackers. The fate of the abducted soldiers was not immediately known, said provincial councilman Dadullah Qaneh.
Col. Qais Mangal, spokesman for the Afghan Ministry of Defense, later confirmed the attack but could not give precise casualties figures.
"I can confirm that an army checkpoint has been attacked and there are casualties among soldiers," he said, adding that reinforcements have been dispatched to the area.
Taliban spokesman Qari Yusouf Ahmadi claimed responsibility for the attack.
The Taliban still carry out near-daily attacks on Afghan forces, even as peace efforts have accelerated to find an end to Afghanistan's nearly 17-year war.
Earlier on Sunday, the Taliban set off a suicide car bombing and stormed a police headquarters in northern Baghlan province, killing 13 policemen and setting off a six-hour gunbattle. The Interior Ministry said 55 people, including 20 civilians, were wounded before the attackers were all killed.
Last week, an Afghan grand council convened by President Ashraf Ghani called for peace with the Taliban as the president promised to free 175 Taliban prisoners ahead of Ramadan.
But the Taliban on Friday rejected a cease-fire during Ramadan, saying their attacks will continue though the fighters will be "very careful of civilians during any operation."
The insurgents have in the past rejected cease-fire proposals, saying U.S. and NATO troops must withdraw from the country first. The Taliban also refuse to negotiate directly with the government in Kabul, seeing it as a U.S. puppet.
KABUL, Afghanistan — The Taliban targeted the police on Tuesday in Afghanistan's eastern Laghman province, killing four police officers, including a district police chief, provincial officials said.
The attack came just hours after the insurgents struck security checkpoints in northeastern Takhar province's Khwaja Bahaudin district late on Monday night, killing eight members of the security forces — three soldiers and five policemen.
In the Laghman attack, Arif Sadat, district police chief in Alingar district, was killed along with three others when his vehicle exploded near the district police headquarters, said Asadullah Dawlatzai, the provincial governor's spokesman.
Four other officers were wounded in the attack, said Dawlatzai. No one immediately claimed responsibility for the bombing but Dawlatzai blamed the Taliban who are active in the province and especially in Alingar district.
The Taliban claimed responsibility for the Takhar attack, which took place in Khwaja Bahaudin district, according to Wafiullah Rahmani, head of the provincial council.
The insurgents stage near-daily attacks on Afghan forces, even as peace efforts have accelerated to find an end to the country's 17-year war.
In another report, from western Farah province, coalition forces on Sunday carried out airstrikes against Taliban-run heroin labs, killed 15 laborers, said Dadullah Qaneh, councilman in Farah.
But Mohibullah Mohib, the provincial police chief's spokesman, said those killed in Bakwa district were all members of the Taliban.
The Taliban run most of Afghanistan's drug trade and control vast opium poppy fields.

Bush's Five Big Lies That Led to the Iraq Quagmire
These are the five lies Bush told that Ralph Nader documented to impeach him.
Weapons of Mass Destruction. The weapons have still not been found. Nader emphasized, "Until the

1991

Gulf War, Saddam Hussein was our government's anti-communist ally in the Middle East. We also used him to keep Iran at bay. In so doing, in the

1980

s under Reagan and the first Bush, corporations were licensed by the Department of Commerce to export the materials for chemical and biological weapons that President George W. Bush and Vice President Dick Cheney later accused him of having." Those weapons were destroyed after the Gulf War. George W. Bush's favorite chief weapons inspector, David Kay, after returning from Iraq and leading a large team of inspectors and spending nearly half a billion dollars told the president

We were wrong.

See: David Kay testimony before Senate Armed Services Committee,

2004-01-28

.Tyler Drumheller, the former chief of the

CIA

(

C

entral

I

ntelligence

A

gency) 's Europe division, revealed that in the fall of

2002

, George W. Bush, Vice President Cheney, then-National Security Adviser Condoleezza Rice and others were told by

CIA

Director George Tenet that Iraq's foreign minister — who agreed to act as a spy for the United States — had reported that Iraq had no active weapons of mass destruction program.

Iraq Ties to Al Qaeda. The White House made this claim even though the

CIA

and

FBI

(

F

ederal

B

ureau of

I

nvestigation) repeatedly told the Administration that there was no tie between Saddam Hussein and Al Qaeda. They were mortal enemies — one secular, the other fundamentalist.

Saddam Hussein was a Threat to the United States. In fact, Saddam was a tottering dictator, with an antiquated, fractured army of low morale and with Kurdish enemies in Northern Iraq and Shiite adversaries in the South of Iraq. He did not even control the air space over most of Iraq.

Saddam Hussein was a Threat to his Neighbors. In fact, Iraq was surrounded by countries with far superior military forces. Turkey, Iran and Israel were all capable of obliterating any aggressive move by the Iraqi dictator.

The Liberation of the Iraqi People. There are brutal dictators throughout the world, many supported over the years by Washington, whose people need

liberation

from their leaders. This is not a persuasive argument since for Iraq, it's about oil. In fact, the occupation of Iraq by the United States is a magnet for increasing violence, anarchy and insurrection
Recent Casualties:
Color 

Denotes Today's Confirmation
The Department of Defense announced today the death of a soldier who was supporting Operation Freedom's Sentinel.
Spc. Miguel L. Holmes, 22, from Hinesville, Georgia, died May 6, 2019, in Nangarhar Province, Afghanistan, of wounds sustained from a non-combat incident. The incident is under investigation.
Holmes was assigned to 1st Battalion, 118th Field Artillery Regiment, 48th Infantry Brigade Combat Team, Savannah, Georgia.
The Department of Defense announced today the death of a soldier who was supporting Operation Inherent Resolve.
Pfc. Michael A. Thomason, 28, from Lincoln Park, Michigan, died April 29, 2019, in Kobani, Syria, of wounds sustained from a non-combat incident.
Thomason was assigned to 2nd Battalion, 327th Infantry Regiment, 1st Brigade Combat Team, 101st Airborne Division (Air Assault), Fort Campbell, Kentucky.
The Department of Defense announced today the death of a soldier who was supporting Operation Inherent Resolve.
Spc. Michael T. Osorio, 20, from Horseshoe Bend, Idaho, died April 23, 2019, in Taji, Iraq, in a non combat related incident. The incident is under investigation.
Osorio was assigned to 4th Squadron, 10th Cavalry Regiment, 3rd Armored Brigade Combat Team, 4th Infantry Division, Fort Carson, Colorado.
The Department of Defense announced today the death of three Marines who were supporting Operation Resolute Support.
The following Marines died April 8 while conducting combat operations in Parwan province, Afghanistan.
Cpl. Robert A. Hendriks, 25, of Locust Valley, New York.
Sgt. Benjamin S. Hines, 31, of York, Pennsylvania.
Staff Sgt. Christopher K.A. Slutman, 43, of Newark, Delaware.
These Marines were assigned to 25th Marine Regiment, 4th Marine Division, Marine Forces Reserve.

War Casualties By Name
The People Behind The Sacrifice

Complete Military and Civilian Casualty Lists
Care for War on Terror Veterans


Save the Children is the world's leading independent organisation for children and has been working with families, communities and local authorities in Iraq since 1991, leading NGOs in general relief and development programs.Save the Children is currently responding to the needs of internally displaced persons (IDP) and the Syrian refugees in Iraq, in camps and non-camp settings. Our goal is for children in Iraq to be supported in raising their voices and attaining their rights, especially the right to participate in decisions affecting their lives. They should have access to quality education, health and protection services. We are increasing access to community based services that protect, educate and improve quality of life for children. We are ensuring that there is an increased participation of boys and girls in age appropriate activities and services. We are ensuring that children benefit from government actions that create an environment of awareness and accountability to uphold child rights. We are also developing new resources and innovative practices that support our work for children and youth.In Iraq, Save the Children's interventions include Child Protection, Education, Food Security and Livelihoods, Shelter and Water Sanitation and Hygiene (WASH), reaching vulnerble children and families in northern and central Iraq. Save the Children's programs are implemented through field offices in Erbil, Dohuk, Sulaymaniyah, Kirkuk and Kalar, with a country office located in Erbil.
Afghanistan War Children