13 May
United States Wars, News and Casualties
Damn The War

Criminals,



Bush,Cheney,Rice,Rumsfeld,Wolfowitz, Powell and Blair from England
War News
Revolutionary Guards chief says presence of US aircraft carrier in Gulf poses no threat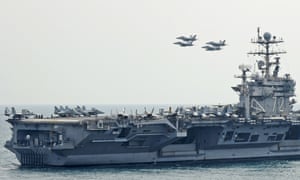 The USS Abraham Lincoln, pictured in 2012, has been deployed to the Gulf carrying up to 40 strike aircraft. Photograph: EPA
The deployment of a US aircraft carrier to Iran's regional waters is nothing but psychological warfare and part of a plan to intimidate Tehran, the head of the Revolutionary Guards Corps, Gen Hossein Salami, has told parliamentarians in a closed-door session.
The IRGC commander said a US war against Iran was impossible, claiming Washington lacked the necessary military strength.
Another senior commander claimed Iran had the firepower to "hit the US in the head" during the session in Tehran on Sunday.
The combined remarks represent another ratcheting up of the bellicose rhetoric between Washington and Tehran, since Iran began a partial withdrawal last week from 2015 the nuclear deal.
The withdrawal is designed to put pressure on Europe to help ease US economic sanctions, as well as reassure Iranians that the government will resist Donald Trump.
Salami was appointed head of the IRGC last month and is seen as critical to how prepared Iran might be to test US military resolve.
The aircraft carrier USS Abraham Lincoln, carrying up to 40 strike aircraft, has been deployed to the Gulf.
The head of the IRGC aerospace division, Amirali Hajizadeh, said: "An aircraft carrier that has at least 40 to 50 planes on it and 6,000 forces gathered within it was a serious threat for us in the past, but now … the threats have switched to opportunities.
"If [the Americans] make a move, we will hit them in the head."
Iran's foreign minister, Mohammad Javad Zarif, said in a tweet on Sunday that the US national security adviser, John Bolton, had laid plans for the US to withdraw from the nuclear deal and take a more aggressive posture toward the Islamic Republic even before he took up his current post.
Zarif tweeted a link to a 2017 National Review article written by Bolton entitled How to Get Out of the Iran Nuclear Deal.
"A detailed blueprint for #FakeIntelligence, #ForeverWar and even empty offers for talks – only phone numbers were not included," Zarif wrote on Twitter.
CNN reported on Friday that the White House had passed a telephone number to Switzerland for contacting Trump in case Iranian officials want to hold talks.
Iran has given the EU 60 days to come up with fresh measures to dilute the impact of US sanctions, or else it will take fresh steps to leave the agreement, including increasing levels of uranium enrichment.
Although EU leaders blame the US for forcing Tehran to retaliate, it is urging Iran not to take the steps now threatened since they might be seen as legally breaching the deal's terms.
The US withdrew from the deal a year ago, but the EU, Russia and China have remained committed, saying there is no evidence Tehran has breached its terms.
Ellie Geranmayeh, an Iran expert at the European Council on Foreign Relations, said Iran still hoped Europe and China might "pull something out of the hat" to save the deal by easing sanctions. She added that Tehran had wild expectations of what the EU might be able to do to protect Iran from the effects of US sanctions.
ADEN (Reuters) – Yemen's warring parties started fresh U.N.-sponsored talks in Jordan on Monday, Yemeni officials said, two days after Houthi forces began withdrawing from the ports of Hodeidah, breaking a six month stalemate.
The talks will focus on sharing out revenues from Hodeidah's three Red Sea ports to help relieve an urgent humanitarian crisis, they said.
The Iran-aligned Houthi group began on Saturday a unilateral pullout from the ports of Saleef, Ras Isa and Hodeidah, handing them over to U.N.-supervised local forces as agreed under a pact with the Saudi-backed government last December that had stalled for months.
"The U.N. and its special envoy are sponsoring talks in Amman … to discuss the issue of salaries and to make the economic situation neutral," Mohammed Ali al-Houthi, head of the Houthis' Supreme Revolutionary Committee, said in a tweet.
A Yemeni government official confirmed the talks to Reuters. A U.N. official said the office of U.N. envoy Martin Griffiths was facilitating the meeting.
Hodeidah, the main entry point for Yemen's commercial and aid imports, became the focus of the four-year conflict last year when the Saudi-led coalition tried twice to seize the port to cut off the Houthis' main supply line.
Under the Stockholm agreement for a truce and troop withdrawal by both sides from Hodeidah, the ports' revenues would be gathered in the Hodeidah branch of the central bank to help pay public wages.
HUMANITARIAN CRISIS
BRUSSELS (Reuters) – Britain's Foreign Minister Jeremy Hunt warned on Monday of the risks of an unintended conflict between the United States and Iran over the unraveling nuclear deal.
"We are very worried about the risk of a conflict happening by accident with an escalation that is unintended," Hunt told reporters in Brussels, adding that it was crucial not to put Iran back on the path of re-nuclearization.
BADOUSH, Iraq (AP) — It was a chilly January evening, and Khadija Abd and her family had just finished supper at their farm when the two men with guns burst into the room.
One wore civilian clothes, the other an army uniform. They said they were from the Iraqi army's 20th Division, which controls the northern Iraqi town of Badoush. In fact, they were Islamic State group militants who had come down from the surrounding mountains into Badoush with one thing on their mind: Revenge.
Around 13 more gunmen were waiting outside. The fighters pulled Khadija's husband and his two brothers into the yard and shot them dead, leaving them in a pool of blood — punishment for providing information to the Iraqi military.

Yusra Dhanoun, the mother of the three men killed at their farm by IS, with her grandchildren playing around her. (AP Photo/Felipe Dana)
"How can we live after this?" Khadija said. The three brothers were the providers for the entire family. "They left their children, their livestock, their wives, and their elderly father who doesn't know what to do now."
A year and a half after the Islamic State group was declared defeated in Iraq, the militants still evoke fear in the lands of their former so-called caliphate across northern Iraq. The fighters, hiding in caves and mountains, emerge at night to carry out kidnappings, killings and roadside ambushes, aimed at intimidating locals, silencing informants and restoring the extortion rackets that financed IS's rise to power six years ago.
It is part of a hidden but relentless fight between the group's remnants waging an insurgency and security forces trying to stamp them out, relying on intelligence operations, raids and searches for sleeper cells among the population.
The militants' ranks number between 5,000 and 7,000 fighters around Iraq, according to one Iraqi intelligence official.
"Although the territory once held by the so-called caliphate is fully liberated, Daesh fighters still exhibit their intention to exert influence and stage a comeback," said Maj. Gen. Chad Franks, deputy commander-operations and intelligence for the U.S.-led coalition, using the Arabic acronym for the group.
In towns around the north, Iraqi soldiers knock on doors in the middle of the night, looking for suspects, based on intelligence tips or suspicious movements. They search houses and pull people away for questioning.
Anyone is seen as a potential IS collaborator or sympathizer. In February, Human Rights Watch accused authorities of torturing suspects to extract confessions of belonging to IS, an accusation the Interior Ministry has denied. Detainees are pushed by the thousands into what critics call sham trials, with swift verdicts — almost always guilty — based on almost no evidence beyond confessions or unaccountable informants ? testimony. The legacy of guilt weighs heavily especially on women and children, who face crushing discrimination because of male relatives seen as supporting IS.
AP journalists embedded with a battalion of the 20th Division last month and witnessed several of its raids at Badoush.
Badoush, on the Tigris River just outside the city of Mosul, is a key battleground because it was once one of the most diehard IS strongholds.
In the summer of 2014, it was a launching pad for the militants' blitz that overran Mosul and much of northern Iraq. IS built a strong financial base by extorting money from the owners of Badoush's many industrial facilities. Security officials estimate two-thirds of its population — which numbered around 25,000 before the war — were at one point members or supporters of the group.
KABUL, Afghanistan (AP) — Afghan officials say the Taliban have targeted security checkpoints in northern Sari Pul province, killing at least seven members of the country's security forces.
Mohammad Noor Rahmani, head of the provincial council, says the insurgents also abducted two members of the force and left five wounded in the Sunday night attacks near the provincial capital.
The troops were in charge of providing security for fuel wells in the area.
Zabi Amani, the provincial governor's spokesman, says four Taliban fighters were killed in what he said was a gunbattle that lasted several hours.
No one immediately claimed responsibility for the attack, but provincial officials blamed Taliban insurgents who are active in the province and have repeatedly targeted Afghan security forces.

An attack by Taliban militants on aid groups last week seemed to signal a worrisome new chapter in Afghanistan.

Credit

Credit

Wakil Kohsar/Agence France-Presse — Getty Images
KABUL, Afghanistan — A Taliban attack on two aid organizations last week, the deadliest episode in a recent surge of violence against humanitarian workers in Afghanistan, is a signal to many that as peace talks falter, the insurgents are lashing out against so-called soft targets.
Wednesday's attack killed three workers for CARE, the American aid group, and at least six others, most of them civilians. Aid workers said the true death toll was 13. In either case, it was the single biggest loss of life among the country's 2,000 nongovernmental organizations in more than a year.
The bombing, which struck CARE and Counterpart International offices, came as the sixth round of peace negotiations between the Taliban and Americans limped to an end in Qatar. The Afghan government was excluded from the talks, which ended after seven fitful days with a sense of fading optimism.
The Taliban, meanwhile, vowed that the assault on the aid groups would not be their last.
Even before the attack, casualties among aid workers had started to rise after several years of decline. Through April, five aid workers had been killed, 12 injured and 18 abducted this year in Afghanistan, according to the United Nations' humanitarian coordinator, Toby Lanzer.
Also worrisome for humanitarian groups is the Taliban's continued refusal to give the International Committee of the Red Cross, by far the biggest aid organization in the country, safe passage through areas they control.
In April, the insurgents issued a statement saying that the Red Cross, which has worked on both sides of the conflict's front lines, and the World Health Organization would be barred from Taliban areas because of what they called "suspicious" activities.
The Red Cross operates ambulance services, orthopedic clinics, hospitals, prison visitations and other activities benefiting all sides in Afghanistan. The World Health Organization carries out polio vaccinations; some Taliban-dominated areas are among the few places in the world where the disease has not been wiped out.
Last Monday, the Red Cross sent its vice president, Gilles Carbonnier, to meet with the Taliban in Doha, Qatar, on the sidelines of peace talks with the Americans, but there was no apparent breakthrough. A Taliban statement expressed the obvious: "Both sides stressed that Afghanistan needs a great deal of humanitarian aid and attention."
Roya Musawi, a spokeswoman for the Red Cross in Afghanistan, said, "We are in dialogue about resumption of our activities for the people affected."

Bush's Five Big Lies That Led to the Iraq Quagmire
These are the five lies Bush told that Ralph Nader documented to impeach him.
Weapons of Mass Destruction. The weapons have still not been found. Nader emphasized, "Until the

1991

Gulf War, Saddam Hussein was our government's anti-communist ally in the Middle East. We also used him to keep Iran at bay. In so doing, in the

1980

s under Reagan and the first Bush, corporations were licensed by the Department of Commerce to export the materials for chemical and biological weapons that President George W. Bush and Vice President Dick Cheney later accused him of having." Those weapons were destroyed after the Gulf War. George W. Bush's favorite chief weapons inspector, David Kay, after returning from Iraq and leading a large team of inspectors and spending nearly half a billion dollars told the president

We were wrong.

See: David Kay testimony before Senate Armed Services Committee,

2004-01-28

.Tyler Drumheller, the former chief of the

CIA

(

C

entral

I

ntelligence

A

gency) 's Europe division, revealed that in the fall of

2002

, George W. Bush, Vice President Cheney, then-National Security Adviser Condoleezza Rice and others were told by

CIA

Director George Tenet that Iraq's foreign minister — who agreed to act as a spy for the United States — had reported that Iraq had no active weapons of mass destruction program.

Iraq Ties to Al Qaeda. The White House made this claim even though the

CIA

and

FBI

(

F

ederal

B

ureau of

I

nvestigation) repeatedly told the Administration that there was no tie between Saddam Hussein and Al Qaeda. They were mortal enemies — one secular, the other fundamentalist.

Saddam Hussein was a Threat to the United States. In fact, Saddam was a tottering dictator, with an antiquated, fractured army of low morale and with Kurdish enemies in Northern Iraq and Shiite adversaries in the South of Iraq. He did not even control the air space over most of Iraq.

Saddam Hussein was a Threat to his Neighbors. In fact, Iraq was surrounded by countries with far superior military forces. Turkey, Iran and Israel were all capable of obliterating any aggressive move by the Iraqi dictator.

The Liberation of the Iraqi People. There are brutal dictators throughout the world, many supported over the years by Washington, whose people need

liberation

from their leaders. This is not a persuasive argument since for Iraq, it's about oil. In fact, the occupation of Iraq by the United States is a magnet for increasing violence, anarchy and insurrection
Recent Casualties:
Color

 Denotes Today's Confirmation
The Department of Defense announced today the death of a soldier who was supporting Operation Freedom's Sentinel.
Spc. Miguel L. Holmes, 22, from Hinesville, Georgia, died May 6, 2019, in Nangarhar Province, Afghanistan, of wounds sustained from a non-combat incident. The incident is under investigation.
Holmes was assigned to 1st Battalion, 118th Field Artillery Regiment, 48th Infantry Brigade Combat Team, Savannah, Georgia.
The Department of Defense announced today the death of a soldier who was supporting Operation Inherent Resolve.
Pfc. Michael A. Thomason, 28, from Lincoln Park, Michigan, died April 29, 2019, in Kobani, Syria, of wounds sustained from a non-combat incident.
Thomason was assigned to 2nd Battalion, 327th Infantry Regiment, 1st Brigade Combat Team, 101st Airborne Division (Air Assault), Fort Campbell, Kentucky.
The Department of Defense announced today the death of a soldier who was supporting Operation Inherent Resolve.
Spc. Michael T. Osorio, 20, from Horseshoe Bend, Idaho, died April 23, 2019, in Taji, Iraq, in a non combat related incident. The incident is under investigation.
Osorio was assigned to 4th Squadron, 10th Cavalry Regiment, 3rd Armored Brigade Combat Team, 4th Infantry Division, Fort Carson, Colorado.
The Department of Defense announced today the death of three Marines who were supporting Operation Resolute Support.
The following Marines died April 8 while conducting combat operations in Parwan province, Afghanistan.
Cpl. Robert A. Hendriks, 25, of Locust Valley, New York.
Sgt. Benjamin S. Hines, 31, of York, Pennsylvania.
Staff Sgt. Christopher K.A. Slutman, 43, of Newark, Delaware.
These Marines were assigned to 25th Marine Regiment, 4th Marine Division, Marine Forces Reserve.

War Casualties By Name
The People Behind The Sacrifice

Complete Military and Civilian Casualty Lists
Care for War on Terror Veterans


Save the Children is the world's leading independent organisation for children and has been working with families, communities and local authorities in Iraq since 1991, leading NGOs in general relief and development programs.Save the Children is currently responding to the needs of internally displaced persons (IDP) and the Syrian refugees in Iraq, in camps and non-camp settings. Our goal is for children in Iraq to be supported in raising their voices and attaining their rights, especially the right to participate in decisions affecting their lives. They should have access to quality education, health and protection services. We are increasing access to community based services that protect, educate and improve quality of life for children. We are ensuring that there is an increased participation of boys and girls in age appropriate activities and services. We are ensuring that children benefit from government actions that create an environment of awareness and accountability to uphold child rights. We are also developing new resources and innovative practices that support our work for children and youth.In Iraq, Save the Children's interventions include Child Protection, Education, Food Security and Livelihoods, Shelter and Water Sanitation and Hygiene (WASH), reaching vulnerble children and families in northern and central Iraq. Save the Children's programs are implemented through field offices in Erbil, Dohuk, Sulaymaniyah, Kirkuk and Kalar, with a country office located in Erbil.
Iraq War Child