21 May
United States Wars, News and Casualties
Damn The War Criminals,

Bush,Cheney,Rice,Rumsfeld,Wolfowitz, Powell and Blair from England
War News
As MPs thank Jeremy Hunt for his efforts in securing peace in the war-torn country, the UK's attempts to justify its weapons sales are ever more absurd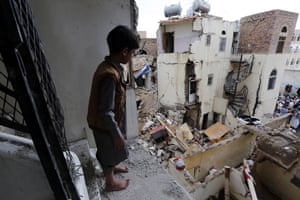 A boy looks over destroyed houses the day after a Saudi-led airstrike in Sana'a that killed at least seven Yemenis, including four children, and left more than 50 wounded. Photograph: Yahya Arhab/EPA
A

fter more than 1,500 days of war in Yemen, in the midst of the world's worst humanitarian disaster, reports of the Houthi withdrawal from Hodeidah port are a welcome but extremely fragile development, surrounded by suspicion and fear.
A Houthi pullout from Hodeidah, Saleef and Ras Issa ports would be one step in the implementation of the Stockholm agreement, but a very small step. There are much wider conflict dynamics to be addressed before we can talk confidently of moves towards peace.
At this point in the conflict, the chair of the all-party parliamentary group on Yemen, Keith Vaz MP, has chosen to write to the foreign secretary, Jeremy Hunt, to thank him for his efforts to secure peace in Yemen. The letter, co-sponsored by MPs Andrew Mitchell and Alison Thewliss, asks the government to "use every available tool to put pressure on our allies in the UAE and Saudi Arabia to bring about an end to the conflict".
Curiously, at no point does the letter mention the uncomfortable fact of UK arms exports to the Saudi-led coalition, which have played a central role in creating the humanitarian disaster to which the government claims to be responding.
The UK government emphasises its largesse in budgeting £120m in humanitarian assistance to Yemen in 2018/19, and lauds its role in the peace process, including the Hodeidah developments.
These claims have become increasingly visible as domestic criticism has grown of UK arms sales to the Saudi-led coalition – including a legal challenge by Campaign Against Arms Trade – and other European states have adopted more restrictive policies. The UK is now out of step with most other EU member states bar France and its efforts to justify its position are becoming ever more absurd, to the point where Jeremy Hunt claimed at the end of March that it would be "morally bankrupt" not to sell weapons to the Saudis.
The key problem with the government's position is that targeting the civilian population, which is illegal under international law, appears to be a core component of the Saudi-led coalition's strategy in Yemen. Excessive civilian harm in the war is not an accidental side-effect of an otherwise effective military strategy.
So the effort to tally the balance sheet between arms on the one side and diplomacy combined with humanitarian aid on the other simply cannot work. No amount of funding can compensate for a military strategy that relies on harming the civilian population physically, economically and psychologically.
The government has been told this. UN experts note that Saudi-led coalition airstrikes have caused most civilian casualties in Yemen, and conclude that members of the Saudi-led coalition "have committed acts that may, subject to determination by an independent and competent court, amount to international crimes".
The Yemen Safe Passage Group (a group that includes former ambassadors and former defence attaches) has told Jeremy Hunt that economic blockades and the military targeting of civilians are illegal under international law – and yet central to Saudi strategy. They too support calls for a suspension of UK arms sales until a sustainable peace has been achieved.
When former defence attaches and an anti-arms trade campaign group are making the same call, you'd think the government might stop and listen. Nonetheless, the government continues to mobilise ambiguity and doubt about what is happening in Yemen in order to argue that the risks associated with weapons sales are not "clear" – and hence that there is no reason to suspend them.
If the parliamentary group on Yemen wants to encourage Jeremy Hunt to use "every available tool" to bring the conflict to an end, that should include a suspension of arms sales to the Saudi-led coalition.
Indeed, in a report published almost exactly one year ago, the APPG itself concluded that "the UK should, based on current available evidence, immediately suspend arms sales to all parties that have been accused of breaching international law".
A recent Dispatches programme suggested that Saudi bombing missions would have to stop within seven to 14 days if engineering support were halted. The UK government is in a position to force the warring parties to the negotiating table by withdrawing material, diplomatic and symbolic support for the coalition.
By omitting this from their call for action, signatories to the APPG letter are diluting the force of their good intentions and throwing away possibly the best chance to force a change in the dynamics of the war.
And in a context where the parliamentary committees responsible for scrutinising government arms export policy won't even put arms sales to Saudi on the agenda for their latest inquiry, and where Tories are content to let the Labour chair of the committees take the heat for the committees' failure, it is a bad sign for accountability in British politics as well as for Yemen that the APPG is in congratulatory mode.
•

Anna Stavrianakis is a senior lecturer at the University of Sussex
Group of MPs and experts established after select committee's failure to investigate trade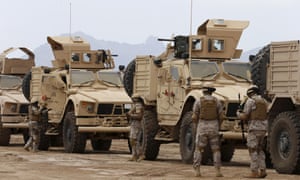 Saudi Arabian troops in Yemen's southern port city of Aden. Photograph: Faisal Al Nasser/Reuters
The failure of Britain's "broken select committee system" to mount a new inquiry into UK arms sales to Saudi Arabia has prompted a group of MPs, arms sales analysts and former army officers to form its own citizens committee to argue against the multibillion-pound weapons contracts.
Nearly half of UK arms sales go to Saudi Arabia, which is involved in an intractable five-year civil war in Yemen where international law has been violated by both sides.
The new citizens committee on arms sales (CCAS), meeting in Westminster on Wednesday, is due to take evidence from Yemeni human rights campaigners speaking from the capital Sana'a as well as a former UK brigadier to the Saudi capital, Riyadh, who has previously claimed the UK is breaking its own rules by selling arms for use in Yemen.
The meeting came as MPs from the all-party parliamentary group on Yemen wrote to the foreign secretary, Jeremy Hunt, imploring him "to use every available tool to put pressure on our allies in the UAE and Saudi Arabia to bring about an end to the conflict. The UK has a strong relationship with Saudi Arabia and this must be used".
One of the academics giving evidence to the CCAS is Anna Stavrianakis, a senior lecturer in international relations at the University of Sussex. She said: "Our parliamentary system of scrutiny is deeply flawed if options for ending the exports of these specific arms is not the subject of a current inquiry."
She pointed out that former brigadier John Deverell, who is due to address the meeting, had said it was complete nonsense to suggest if the UK ended arms sales, Saudi could simply purchase the arms elsewhere, one of the claims most frequently made in defence of continued sales.
She added the official parliamentary committee on arms export controls (CAEC), drawn from four other select committees – defence, foreign, trade and international development – had refused to hold a specific inquiry into Saudi arms sales, favouring instead generic technical inquiries into UK arms export controls legislation. Government evidence to the generic inquiry is five paragraphs long.
Lloyd Russell-Moyle, a Labour MP and member of the CAEC, said: "It's an open secret within CAEC that it is broken and has been prevented from holding the government to account.
"CAEC is meant to ensure that the government follows arms export control law, which is clearly being violated by Saudi Arabia on several grounds such as targeting civilians in Yemen and diverting arms to its proxies in the region. It's not just Saudi though; the government is licensing powerful dual-use mass-surveillance kit to autocrats around the world."
He called for a new arms control committee to be established with an elected chairman.
The CCAS is not entirely an academic exercise, because the Foreign Office is known to recognise that a sharp shift in UK policy to Saudi Arabia is inevitable if Jeremy Corbyn forms a government after the next election. One civil servant said: "UK Middle East policy will be turned upside down. It would be remiss if we, as civil servants, were not planning for it now."
Labour's front bench peace and disarmament spokesman, Fabian Hamilton, has recently urged the UK to boycott the G20 summit of world leaders if it is held next year as planned in Riyadh.
There is also frustration that the CAEC's chairman, the Labour MP Graham Jones, represents a constituency, Hyndburn, in which arms production forms a backbone of many of his constituents' livelihoods. Unlike most select committee chairs, Jones was appointed by fellow members rather than elected to his post in a ballot of all MPs. He argues his committee is looking for gaps in the ways the arms export control regime operates and for greater transparency.
The backdrop to the assembly on Wednesday includes a long-awaited court of appeal verdict into whether UK government is abiding by its own commitment not to supply weapons where there is a clear risk that they might be used in serious violations of international humanitarian law. The judges' ruling is expected by the summer.
DUBAI/LONDON (Reuters) – Iranian President Hassan Rouhani rejected talks with the United States on Tuesday, after President Donald Trump said Iran would call and ask for negotiations "if and when they are ever ready".
Tehran and Washington have escalated rhetoric against each other in recent weeks as the United States has tightened sanctions with what it says is the goal of pushing Iran to make concessions beyond the terms of its 2015 nuclear deal.
Trump withdrew the United States a year ago from the deal between Iran and global powers, under which Tehran curbed its uranium enrichment capacity, a potential pathway to a nuclear bomb, and won sanctions relief in return.
Trump restored U.S. sanctions on Iran last year and extended them this month, ordering all countries to halt imports of Iranian oil or face sanctions of their own. Iran has repeatedly rejected any further negotiations as long as the United States remains outside the nuclear pact.
"Today's situation is not suitable for talks and our choice is resistance only," state news agency IRNA quoted Rouhani as saying.
Trump said on Monday that Iran would be met with "great force" if it attempted anything against U.S. interests in the Middle East. He said reports Washington was trying to set up talks were false, but "Iran will call us if and when they are ever ready".
Critics have accused Trump of sending mixed signals. Last week three U.S. officials told Reuters that Trump had told his top advisers he does not want war with Iran.
Iran has portrayed the hot and cold rhetoric as evidence Trump is being goaded into war against his better judgment by hardline aides such as National Security Adviser John Bolton.
"Right after threatening Iran, they were forced to say they do not seek a war," Rouhani said in televised remarks on Tuesday. "Iranians will never bow to a bully."
ATMEH, Syria (Reuters) – Ali al-Ahmed and his family fled on foot through the fields when the bombs began raining down on their house in northwestern Syria, escaping a major offensive by the Syrian army and its Russian allies.

Ali, 25, a displaced Syrian farmer from the al-Ahmed family, holds his daughter as he sits with other family members in an olive grove in the town of Atmeh, Idlib province, Syria May 16, 2019. REUTERS/Khalil Ashawi
"In the early hours of the morning, the artillery stopped. Then the warplanes and helicopters came out," Ahmed, a 25-year-old farmer, said, recalling his last hours in the village of Habeet which he fled with his family of five dozen.
Scattered during their frantic escape from the village, the family are now reunited in a makeshift shelter in an olive grove near the border with Turkey. They are among some of the 180,000 people uprooted by the military escalation.
It marks the biggest upsurge in violence since last summer between President Bashar al-Assad and his insurgent enemies in Idlib province and a belt of territory around it.
At least dozens of people have been killed; the U.N. Office for the Coordination of Humanitarian Affairs says unconfirmed reports indicate more than 170 civilians have lost their lives.
The night before Ali's family left the village, they hid indoors or in basements. They feared moving around the village even to check whether other inhabitants were still alive.
Shelling hit his small truck, which they had planned to escape in. "The warplane was flying overhead," he said. "So we stood there watching the truck burn."
Then they set off through the fields: some of the relatives ran on foot. Others hopped into cars with their neighbors. A few stayed behind.
"For three days, we didn't know anything about each other," Ali said.
One of his neighbors managed to run away only to be hit when he reached the main highway, where his wife and children were killed.
WASHINGTON (Reuters) – Hundreds of members of the U.S. Congress signed a letter to President Donald Trump on Monday arguing that the United States should remain engaged with the conflict in Syria, saying they were "deeply concerned" about extremist groups in the country.
"As some of our closest allies in the region are being threatened, American leadership and support are as crucial as ever," said the letter, signed by nearly 400 of the 535 members of the House of Representatives and Senate.
Many U.S. lawmakers, Trump's fellow Republicans as well as Democrats, have been deeply concerned about Syria policy since December, when Trump confounded his own national security team and allies with a surprise decision to withdraw all 2,000 U.S. troops from Syria.
Trump backtracked in February, agreeing to leave a small U.S. presence to help keep pressure on Islamic State during what the U.S. military believes will be a critical stabilization phase in Syria.
The lead signers of the letter were the Democratic chairman and ranking Republican of the House of Representatives Foreign Affairs Committee, Representatives Eliot Engel and Mike McCaul, and the Republican chairman and ranking Democrat on the Senate Foreign Relations Committee, Senators Jim Risch and Bob Menendez.
Among other things, the letter urges Trump to increase pressure on Iran and Russia with respect to their activities in Syria and increase pressure on the heavily armed Shi'ite Hezbollah movement, Iran's Lebanese ally.
Protesters and workers on strike prevent a Saudi ship Bahri Yanbu, that was prevented by French rights group ACAT from loading a weapons cargo at the French port of Le Havre due to concerns they might be used against civilians in Yemen, from loading cargo at the Port of Genoa, Italy May 20, 2019. REUTERS/Massimo Pinca
GENOA, Italy (Reuters) – Italian unions refused on Monday to load electricity generators onto a Saudi Arabian ship with weapons on board in a protest against the war in Yemen.
The Bahri-Yanbu vessel loaded arms in the Belgian city of Antwerp earlier this month, but was prevented from picking up another consignment of weapons in the French port of Le Havre following protests by humanitarian groups.
Rights campaigners say the weapons contravene a U.N. treaty because they might be used against civilians in Yemen, where a Saudi-led military coalition is battling the Iran-backed Houthis in a war that has killed thousands.
Unions in Genoa had tried to have the boat banned from Italy, but the ship docked just after dawn, met by a handful of protesters who gathered on the quay.
"No to war" read one of their banners.
Union workers refused to load two generators aboard the boat, saying that although they were registered for civilian use, they could be instead directed to the Yemen war effort.
MOSCOW (AP) — Russia's top security chief on Tuesday raised alarm about Islamic extremists massing on Afghanistan's northern border.
Alexander Bortnikov, chief of the main Russian intelligence agency FSB, said on a visit to Tajikistan that some 5,000 fighters of an Islamic State group affiliate have gathered in areas bordering on former Soviet states in Central Asia, saying that most of them fought alongside IS in Syria.
Bortnikov, in comments carried by Russian news agencies, called for tighter border control to prevent a spillover.
Russia has a significant presence in Central Asia including several military bases.
The IS affiliate in Afghanistan emerged in 2014 and refers to itself as the Khorasan Province, an ancient term for an area that includes parts of Afghanistan, Iran and Central Asia. It has pledged allegiance to the IS group in Iraq and Syria but consists mainly of disgruntled former Taliban and other insurgents from South and Central Asia.
Russia has been expressing concern about the IS insurgency spilling over into Central Asia for several years. But some experts say the Kremlin is exaggerating the number of extremists to justify its outreach to the Taliban. In recent years, Russia has emerged as an influential power broker in Afghanistan where it fought a disastrous war in the 1980s. Russian officials have been mediating between feuding factions, and even spoke for lifting international sanctions against the Taliban.
The Taliban has waged bitter battles against the followers of the Khorasan Province, most often in eastern Nangarhar province but also in the north of Afghanistan.

Bush's Five Big Lies That Led to the Iraq Quagmire
These are the five lies Bush told that Ralph Nader documented to impeach him.
Weapons of Mass Destruction. The weapons have still not been found. Nader emphasized, "Until the

1991

Gulf War, Saddam Hussein was our government's anti-communist ally in the Middle East. We also used him to keep Iran at bay. In so doing, in the

1980

s under Reagan and the first Bush, corporations were licensed by the Department of Commerce to export the materials for chemical and biological weapons that President George W. Bush and Vice President Dick Cheney later accused him of having." Those weapons were destroyed after the Gulf War. George W. Bush's favorite chief weapons inspector, David Kay, after returning from Iraq and leading a large team of inspectors and spending nearly half a billion dollars told the president

We were wrong.

See: David Kay testimony before Senate Armed Services Committee,

2004-01-28

.Tyler Drumheller, the former chief of the

CIA

(

C

entral

I

ntelligence

A

gency) 's Europe division, revealed that in the fall of

2002

, George W. Bush, Vice President Cheney, then-National Security Adviser Condoleezza Rice and others were told by

CIA

Director George Tenet that Iraq's foreign minister — who agreed to act as a spy for the United States — had reported that Iraq had no active weapons of mass destruction program.

Iraq Ties to Al Qaeda. The White House made this claim even though the

CIA

and

FBI

(

F

ederal

B

ureau of

I

nvestigation) repeatedly told the Administration that there was no tie between Saddam Hussein and Al Qaeda. They were mortal enemies — one secular, the other fundamentalist.

Saddam Hussein was a Threat to the United States. In fact, Saddam was a tottering dictator, with an antiquated, fractured army of low morale and with Kurdish enemies in Northern Iraq and Shiite adversaries in the South of Iraq. He did not even control the air space over most of Iraq.

Saddam Hussein was a Threat to his Neighbors. In fact, Iraq was surrounded by countries with far superior military forces. Turkey, Iran and Israel were all capable of obliterating any aggressive move by the Iraqi dictator.

The Liberation of the Iraqi People. There are brutal dictators throughout the world, many supported over the years by Washington, whose people need

liberation

from their leaders. This is not a persuasive argument since for Iraq, it's about oil. In fact, the occupation of Iraq by the United States is a magnet for increasing violence, anarchy and insurrection
Recent Casualties:
Color 

Denotes Today's Confirmation
The Department of Defense announced today the death of a soldier who was supporting Operation Freedom's Sentinel.
Spc. Miguel L. Holmes, 22, from Hinesville, Georgia, died May 6, 2019, in Nangarhar Province, Afghanistan, of wounds sustained from a non-combat incident. The incident is under investigation.
Holmes was assigned to 1st Battalion, 118th Field Artillery Regiment, 48th Infantry Brigade Combat Team, Savannah, Georgia.
The Department of Defense announced today the death of a soldier who was supporting Operation Inherent Resolve.
Pfc. Michael A. Thomason, 28, from Lincoln Park, Michigan, died April 29, 2019, in Kobani, Syria, of wounds sustained from a non-combat incident.
Thomason was assigned to 2nd Battalion, 327th Infantry Regiment, 1st Brigade Combat Team, 101st Airborne Division (Air Assault), Fort Campbell, Kentucky.
The Department of Defense announced today the death of a soldier who was supporting Operation Inherent Resolve.
Spc. Michael T. Osorio, 20, from Horseshoe Bend, Idaho, died April 23, 2019, in Taji, Iraq, in a non combat related incident. The incident is under investigation.
Osorio was assigned to 4th Squadron, 10th Cavalry Regiment, 3rd Armored Brigade Combat Team, 4th Infantry Division, Fort Carson, Colorado.
War Casualties By Name
The People Behind The Sacrifice

Complete Military and Civilian Casualty Lists
Care for War on Terror Veterans


Save the Children is the world's leading independent organisation for children and has been working with families, communities and local authorities in Iraq since 1991, leading NGOs in general relief and development programs.Save the Children is currently responding to the needs of internally displaced persons (IDP) and the Syrian refugees in Iraq, in camps and non-camp settings. Our goal is for children in Iraq to be supported in raising their voices and attaining their rights, especially the right to participate in decisions affecting their lives. They should have access to quality education, health and protection services. We are increasing access to community based services that protect, educate and improve quality of life for children. We are ensuring that there is an increased participation of boys and girls in age appropriate activities and services. We are ensuring that children benefit from government actions that create an environment of awareness and accountability to uphold child rights. We are also developing new resources and innovative practices that support our work for children and youth.In Iraq, Save the Children's interventions include Child Protection, Education, Food Security and Livelihoods, Shelter and Water Sanitation and Hygiene (WASH), reaching vulnerble children and families in northern and central Iraq. Save the Children's programs are implemented through field offices in Erbil, Dohuk, Sulaymaniyah, Kirkuk and Kalar, with a country office located in Erbil.
Iraq War Child
Please Never Forget.