23 May
United States Wars, News and Casualties
Damn The War Criminals,

Bush,Cheney,Rice,Rumsfeld,Wolfowitz, Powell and Blair from England
War News
Plans aim to beef up defenses against potential Iranian threats as tensions between the countries continue to simmer
The Pentagon is considering a US military request to send 10,000 extra troops to the Gulf to beef up defences against potential Iranian threats, US officials have said.
Officials told AP that the troops would be defensive forces, and the discussions include additional Patriot missile batteries, more ships and increased efforts to monitor Iran. The move was not in response to any new threat from Iran but was aimed at reinforcing security in the region, they added.
No final decision has been made, and it is not clear if the White House would approve sending all or just some of the requested forces, amid rising regional tensions spurred by Donald Trump's decision a year ago to pull the US out of the 2015 nuclear deal.
On Thursday a senior German diplomat flew to Tehran to establish precisely what the Iranians want from Europe to stop them pulling out of the deal too.
Jens Ploetner, a political director in the foreign ministry, was due to meet Iranian deputy foreign minister Abbas Araghchi. The UK political director Richard Moore was in Tehran last week, but Ploetner knows Araghchi personally from the original negotiations on the 2015 Iran nuclear deal, known as the joint comprehensive plan of action (JCPOA).
Germany is also seen by Tehran as the European power that is doing most to activate a financial system that would encourage trade between Europe and Iran without it being subject to punitive US sanctions.
Tensions have been soaring ever since Washington sent more military forces to the Gulf, including an aircraft carrier, B-52 bombers, and Patriot missiles, in a show of force against what US officials say are new Iranian threats to its troops and interests in the region. Iran claims its navy has the US navy under its control in the northern Strait of Hormuz, the waterway used to transport oil from the Gulf.
Trump campaigned on pulling the US from the 2015 accord, under which Iran agreed to limit its enrichment of uranium in exchange for the lifting of economic sanctions. Since the withdrawal, the US has reimposed previous sanctions and come up with new ones, and it has warned nations around the world they will be subject to sanctions too if they import Iranian oil.
Iran is sceptical that Europe is willing to confront the US over its sanctions threats and, as a result, believes Europe is not fulfilling the original bargain enshrined in the deal.
Tehran claims the US administration is deploying a policy of maximum diplomatic and economic coercion either to force the Iranian regime to renegotiate the deal, or to provoke an economic collapse that leads to mass protests that sweep away the regime.
A German diplomatic source said: "There is a window of opportunity for diplomacy to persuade Iran to continue to fully comply with the JCPOA … The situation in the Persian Gulf and the region, and the situation around the Vienna nuclear accord is extremely serious. There is a real risk of escalation … In this situation, dialogue is very important."
Most large European firms have pulled out of Iran to avoid the threat of US sanctions.
Iran has said it will lift limits on uranium enrichment levels in 60 days' time – a step that is seen by the UK as being in clear breach of the JCPOA.
The US administration, in a closed-door briefing to Congress this week, claimed its intelligence showed that Iranian-influenced forces were behind threats to US forces in Iraq as well as the attack a fortnight ago on oil vessels close to the United Arab Emirates. The quality of the intelligence is disputed by the Democrats.
In a sign of the tensions within Iran over the country's strategy towards the west, Ayatollah Ali Khamenei the country's supreme leader criticised the Iranian foreign minister Javad Zarif and the prime minister Hassan Rouhani for ever taking the country towards the nuclear deal.
Thousands of Syrians are dead and their city devastated. How dare the US, UK and French militaries speak of 'surgical strikes'?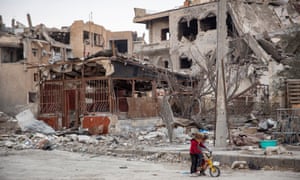 'US forces themselves boasted more artillery was fired into downtown Raqqa than has been fired in any conflict in the world since Vietnam.' Photograph: Amnesty International/PA
F

rom Kosovo to Iraq and Syria, the US and its military allies have for years told a tale of "precision bombing" and "surgical strikes". It was a lie then and it's a lie now. When huge numbers of bombs and missiles are unleashed on densely populated cities like Mosul or Raqqa, civilians are killed in their hundreds – possibly thousands. But still, the myth of precision and "meticulous processes" persists. Not least because militaries like our own refuse to even go back to the cities they've bombed, and refuse to acknowledge deaths unless presented with irrefutable evidence from the likes of Amnesty.
Last week I did what UK, US and French military officials refuse to do: I went to Raqqa to see for myself what has happened to this city as a result of mass bombardments by the US-led coalition between June and October 2017.
The coalition has refused to send investigators into Raqqa to establish the truth of its boast about 'precision'
Never before have I seen a city so completely devastated. Not just in one district area, but almost entirely. Think Dresden and you'd be close. Street after street of windowless, hollowed-out buildings. Miles of rubble. Piles of twisted metal. Utter ruin. There has been no assistance for residents desperate to rebuild, and entire families are reduced to living in bombed-out husks of buildings. Meanwhile, many children spend all day scavenging in the rubble for bits of steel and plastic they can sell so as to buy food. They risk injury and death from unsafe buildings and uncleared landmines.
Among those I met in this ruined city was Mohamed, a 28-year-old carpenter who cares for his younger brother, Rabi'a, who is now paralysed after a coalition airstrike destroyed the building where his family was sheltering in October 2017. Most of his family were killed. Mohamed lost his wife, two children (the youngest of whom was 11 days old), his parents, his sister, her husband and their four children. With his family as devastated as the city he still inhabits, Mohamed has devoted himself to looking after his brother. It's heartbreaking, tragic and deeply moving.
The battle to oust Islamic State from Raqqa followed the modern US military playbook. A massive aerial assault conducted with willing military powers (here, the UK and France); zero use of ground troops; and a reliance on proxy fighters at street level (here, the Kurdish-led Syrian Democratic Forces militia). The bombardment was immense. For four months the coalition pounded the city into the ground – with thousands of airstrikes (215 from the UK, says the MoD) and 30,000 US artillery rounds. Never mind that artillery is notoriously imprecise and should not be used in heavily populated areas (such use is "indiscriminate" in international legal parlance), the coalition fired artillery round after artillery round into residential areas for four solid months. In fact, as US forces themselves boasted, more artillery was fired into the streets, squares and homes of downtown Raqqa than has been fired in any conflict in the world since Vietnam.

'More than 11,000 buildings are uninhabitable and Raqqa is widely considered the most-destroyed city of modern times.' Photograph: Amnesty International
As I saw for myself, the results are predictably apocalyptic; 80% of the city has been reduced to ruins. More than 11,000 buildings are uninhabitable and Raqqa is widely considered the most-destroyed city of modern times.
On top of this lethally irresponsible behaviour, the coalition has refused to send investigators into the ruined city to establish the truth of its boast about "precision". It has refused to set up a compensation fund for those maimed or bereaved by its handiwork. And – perhaps most worryingly of all – it has refused to even try to learn lessons from this latest exercise in mass bombing without responsibility.
Recently, Amnesty and Airwars presented the UK, US and French authorities with detailed evidence from our own painstaking on-the-ground investigation showing that at least 1,600 civilians in Raqqa were killed by the coalition's aerial attacks, 10 times more than previously acknowledged. Collating huge data streams from investigations spanning almost two years and including multiple visits to Raqqa, we built a database of the victims, with names for more than 1,000 of the dead.
For the last two years, the coalition's responses have been a mix of denial, attacks on the messenger and grudging acknowledgement of a small number of deaths when presented with irrefutable evidence.
Last year, after Amnesty published a 70-page report based on 42 site visits in Raqqa and interviews with 112 beleaguered Raqqa residents, then defence secretary Gavin Williamson responded not with alarm at the report's findings but with a broadside against Amnesty from the House of Commons despatch box. Our report was "deeply disappointing" and "disgraceful". We needed to recognise the "amazing professionalism of our Royal Air Force". Flag-waving rather than dealing with the unpalatable facts – this was yet another aggressive denial from a government increasingly unwilling to hold its own military forces to account.
Last week, Willamson's successor Penny Mordaunt signalled that the UK would in future go even further in its refusal to deal with alleged war crimes committed by UK forces overseas.
The fact that Isis fighters terrorised and effectively held hostage vast populations in Syria and Iraq doesn't justify the coalition in indiscriminate bombing campaigns. Our armed forces are supposed to be better than that. If they are not, it is largely because our politicians and top brass continue to wave their flags and hide behind the lie of precision.
•

Kate Allen is the director of Amnesty International UK. An exhibition, War in Raqqa: Rhetoric versus Reality, based on Amnesty's Raqqa research, is at the Architectural Association until 30 May
WASHINGTON (Reuters) – U.S. President Donald Trump's administration plans to use a loophole and rising tensions with Iran to sell bombs to Saudi Arabia, even though Congress blocked such sales for months over concerns about civilian deaths in the war in Yemen, Senator Chris Murphy said on Wednesday.
FILE PHOTO – Senator Chris Murphy (D-CT) speaks after the senate voted on a resolution ending U.S. military support for the war in Yemen on Capitol Hill in Washington, U.S., December 13, 2018. REUTERS/Joshua Roberts
"I am hearing that Trump may use an obscure loophole in the Arms Control Act and notice a major new sale of bombs to Saudi Arabia (the ones they drop in Yemen) in a way that would prevent Congress from objecting. Could happen this week," the Democratic senator warned on Twitter.
Congressional aides said there are provisions of the Arms Control Act, which sets rules for international arms transactions, that would allow a president to approve a sale without congressional review in case of a national emergency.
In this case, they said the Republican president would cite rising tensions with Iran as a reason to provide more military equipment to Saudi Arabia, which he sees as an important U.S. partner in the region. Trump has touted arms sales to the Saudis as a way to generate U.S. jobs.
Trump previously declared an influx of immigrants a national emergency to bypass Congress and get $6 billion to build his wall along the Mexican border. Both Democrats and his fellow Republicans voted to block the move, forcing Trump to issue the first veto of his presidency.
It was not immediately clear what equipment would be sold to Saudi Arabia or when any sale might go ahead.
However, any such plan would run into resistance in Congress, from Trump's fellow Republicans as well as Democrats like Murphy, even in the Senate, where Republicans have a slim majority.
A handful of Republicans recently voted with Democrats in a failed effort to override Trump's veto of a resolution that would have ended U.S. support for the Saudi-led military coalition in Yemen's devastating civil war.
Many lawmakers from both parties have also expressed anger over the murder of journalist Jamal Khashoggi at a Saudi consulate in Turkey.
Senator Lindsey Graham, one of Trump's closest congressional allies, told CNN he would oppose the administration if it decided to go around Congress, citing Khashoggi's killing.
"We are not going to have business as usual until that issue is dealt with," Graham said.
The State Department declined comment. The White House did not respond to a request for comment.
WASHINGTON (Reuters) – Rising tensions between the United States and Iran prompted some Democratic and Republican lawmakers on Wednesday to call for the repeal of a law that presidents have used for two decades to justify U.S. military action around the world.
Representative Barbara Lee, a Democrat, and Thomas Massie, a Republican, held a news conference with other members of the House of Representatives to call for the repeal of the 2001 Authorization for the Use of Military Force (AUMF), passed days after the Sept. 11 attacks on New York on Washington.
A House subcommittee on Tuesday approved an amendment to a defense spending bill that would repeal the AUMF.
The lawmakers said that, after nearly 18 years, it was time for Congress to repeal and replace the law, stressing that it was too broad from the start and saying it definitely should not be used to justify war with Iran.
Washington and Tehran have this month escalated rhetoric against each other, following President Donald Trump's decision to try to cut Iran's oil exports to zero and beef up of the U.S. military presence in the Gulf in response to what he said were Iranian threats.
Lee, the only member of Congress to vote against the 2001 authorization, said it has been used "as a blank check for endless war by three administrations."
When she voted against the 2001 AUMF, Lee said it gave too much leeway for presidents to pursue military action. "It was so broad, it covered almost every military operation in perpetuity," she said.
WASHINGTON — An envoy to Afghanistan was met with skepticism Wednesday on Capitol Hill as he briefed lawmakers on peace talks with the Taliban aimed at ending the 17-year war.
Lawmakers were tight-lipped as they left the classified meeting with special envoy Zalmay Khalilzad, but the chairman of the Senate Foreign Relations Committee, Republican Jim Risch of Idaho, says he believes Khalilzad is making progress. However, he added, "the issue always is how much progress, and can you get to the finish line?"
Since Khalilzad was appointed to lead peace talks with the Taliban by the Trump administration in September, his efforts have been largely shrouded in secrecy. It was Khalilzad's first appearance before Congress since his appointment after months of requests from lawmakers for a briefing.
Initial rounds of talks have yielded mixed results, and violence has been on the rise in Afghanistan, with the Taliban expanding their hold in the country.
"Would you want it quicker? Yes. Would you want to get there sooner? Yes. But I'm not here to criticize," Risch said. "It's a difficult situation, no question about it."
Khalilzad has said that he hopes to broker a "roadmap" for Afghanistan and that all talks would take place in accordance with the principle that "nothing is agreed until everything is agreed." Maintaining a hectic travel schedule, he has crisscrossed the globe meeting the Taliban on several occasions, as well as powerbrokers in Kabul, including Afghan President Ashraf Ghani.
Initial rounds of talks have focused on the withdrawal of American troops in exchange for guarantees that Afghanistan will not be used again as a staging area for attacks on the United States. However, the Afghan government is not yet a party to the peace talks, a source of tension between Kabul and Washington that could potentially undercut the very administration the U.S. has spent billions supporting.
"I — I think like everyone else — want to bring our troops home as soon as we can, but how we ultimately achieve that is critically important," said Democratic Sen. Bob Menendez of New Jersey, a senior committee member. Wednesday's briefing was the second high-level Afghanistan briefing this week, after intelligence officials on Monday gave lawmakers their assessment, also behind closed doors.

Bush's Five Big Lies That Led to the Iraq Quagmire
These are the five lies Bush told that Ralph Nader documented to impeach him.
Weapons of Mass Destruction. The weapons have still not been found. Nader emphasized, "Until the

1991

Gulf War, Saddam Hussein was our government's anti-communist ally in the Middle East. We also used him to keep Iran at bay. In so doing, in the

1980

s under Reagan and the first Bush, corporations were licensed by the Department of Commerce to export the materials for chemical and biological weapons that President George W. Bush and Vice President Dick Cheney later accused him of having." Those weapons were destroyed after the Gulf War. George W. Bush's favorite chief weapons inspector, David Kay, after returning from Iraq and leading a large team of inspectors and spending nearly half a billion dollars told the president

We were wrong.

See: David Kay testimony before Senate Armed Services Committee,

2004-01-28

.Tyler Drumheller, the former chief of the

CIA

(

C

entral

I

ntelligence

A

gency) 's Europe division, revealed that in the fall of

2002

, George W. Bush, Vice President Cheney, then-National Security Adviser Condoleezza Rice and others were told by

CIA

Director George Tenet that Iraq's foreign minister — who agreed to act as a spy for the United States — had reported that Iraq had no active weapons of mass destruction program.

Iraq Ties to Al Qaeda. The White House made this claim even though the

CIA

and

FBI

(

F

ederal

B

ureau of

I

nvestigation) repeatedly told the Administration that there was no tie between Saddam Hussein and Al Qaeda. They were mortal enemies — one secular, the other fundamentalist.

Saddam Hussein was a Threat to the United States. In fact, Saddam was a tottering dictator, with an antiquated, fractured army of low morale and with Kurdish enemies in Northern Iraq and Shiite adversaries in the South of Iraq. He did not even control the air space over most of Iraq.

Saddam Hussein was a Threat to his Neighbors. In fact, Iraq was surrounded by countries with far superior military forces. Turkey, Iran and Israel were all capable of obliterating any aggressive move by the Iraqi dictator.

The Liberation of the Iraqi People. There are brutal dictators throughout the world, many supported over the years by Washington, whose people need

liberation

from their leaders. This is not a persuasive argument since for Iraq, it's about oil. In fact, the occupation of Iraq by the United States is a magnet for increasing violence, anarchy and insurrection
Recent Casualties:
Color

 Denotes Today's Confirmation
The Department of Defense announced today the death of a soldier who was supporting Operation Freedom's Sentinel.
Spc. Miguel L. Holmes, 22, from Hinesville, Georgia, died May 6, 2019, in Nangarhar Province, Afghanistan, of wounds sustained from a non-combat incident. The incident is under investigation.
Holmes was assigned to 1st Battalion, 118th Field Artillery Regiment, 48th Infantry Brigade Combat Team, Savannah, Georgia.
The Department of Defense announced today the death of a soldier who was supporting Operation Inherent Resolve.
Pfc. Michael A. Thomason, 28, from Lincoln Park, Michigan, died April 29, 2019, in Kobani, Syria, of wounds sustained from a non-combat incident.
Thomason was assigned to 2nd Battalion, 327th Infantry Regiment, 1st Brigade Combat Team, 101st Airborne Division (Air Assault), Fort Campbell, Kentucky.
The Department of Defense announced today the death of a soldier who was supporting Operation Inherent Resolve.
Spc. Michael T. Osorio, 20, from Horseshoe Bend, Idaho, died April 23, 2019, in Taji, Iraq, in a non combat related incident. The incident is under investigation.
Osorio was assigned to 4th Squadron, 10th Cavalry Regiment, 3rd Armored Brigade Combat Team, 4th Infantry Division, Fort Carson, Colorado.
War Casualties By Name
The People Behind The Sacrifice

Complete Military and Civilian Casualty Lists
Care for War on Terror Veterans


Save the Children is the world's leading independent organisation for children and has been working with families, communities and local authorities in Iraq since 1991, leading NGOs in general relief and development programs.Save the Children is currently responding to the needs of internally displaced persons (IDP) and the Syrian refugees in Iraq, in camps and non-camp settings. Our goal is for children in Iraq to be supported in raising their voices and attaining their rights, especially the right to participate in decisions affecting their lives. They should have access to quality education, health and protection services. We are increasing access to community based services that protect, educate and improve quality of life for children. We are ensuring that there is an increased participation of boys and girls in age appropriate activities and services. We are ensuring that children benefit from government actions that create an environment of awareness and accountability to uphold child rights. We are also developing new resources and innovative practices that support our work for children and youth.In Iraq, Save the Children's interventions include Child Protection, Education, Food Security and Livelihoods, Shelter and Water Sanitation and Hygiene (WASH), reaching vulnerble children and families in northern and central Iraq. Save the Children's programs are implemented through field offices in Erbil, Dohuk, Sulaymaniyah, Kirkuk and Kalar, with a country office located in Erbil.
Syria  War Child
Please Never Forget.