29 May
United States Wars, News and Casualties
Damn The War Criminals,

Bush,Cheney,Rice,Rumsfeld,Wolfowitz, Powell and Blair from England
War News
Increased airstrikes and shelling by Syrian regime claim lives of an estimated 40 civilians in 48 hours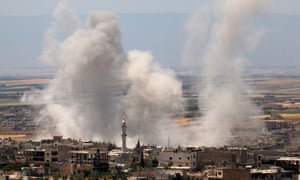 Plumes of smoke rise following a reported attack by Syrian government forces in the southern countryside of the jihadist-held Idlib province. Photograph: Anas Al-Dyab/AFP/Getty Images
The recent escalation in the Syrian regime bombardment of Idlib has killed at least 10 more civilians.
The deaths were reported on Wednesday, 24 hours after a senior UN official had warned the security council that aid efforts in the enclave were in danger of being "overwhelmed".
The latest violence followed Tuesday's death toll of an estimated 30 civilians, reported by the Syrian Observatory for Human Rights, the highest figure since the Damascus regime increased attacks on Idlib in late April.
Airstrikes and shelling by both government and Russian warplanes have claimed a mounting number of civilian lives over the past few weeks, threatening a fragile truce deal brokered by Moscow and Ankara in September.
In villages struck by regime raids, excavators dug new graves and civilians buried the dead stealthily at dusk to avoid being targeted by more air raids.
Idlib is a jihadist enclave controlled by Syria's former Al-Qaida affiliate, Hayat Tahrir al-Sham. The city is home to almost 3 million people, a significant number of whom were allowed to reach the area under previous ceasefire deals that allowed fighters to evacuate to the area.
A full-scale military onslaught on Idlib could result in the worst humanitarian tragedy of the 21st century

Mark Lowcock, UN humanitarian affairs coordinator
The enclave is supposed to be protected from a large-scale offensive by a buffer zone deal signed in September by regime ally Russia and rebel backer Turkey, which shares a border with Idlib.
But deadly bombardment by the Bashar al-Assad regime and its Russian ally has spiked in recent weeks, and pro-government fighters have seized several towns on the city's southern flank.
The latest deaths came as Ursula Mueller, the UN's assistant secretary general for humanitarian affairs, briefed the security council on the humanitarian situation in Syria, warning that so far this month "heavy shelling and aerial bombardment had resulted in the confirmed deaths of more than 160 civilians and the displacement of some 270,000 people".
Muller added: "Since 28 April, that is in the last four weeks, a total of 25 attacks on healthcare have been reported by the World Health Organization, including on 22 health facilities, with some having been hit more than once."
Echoing fears of a renewed humanitarian catastrophe, Mueller continued: "Further military operations will overwhelm all ability to respond. Many of our humanitarian partners are part of the affected population and have themselves been displaced. As a result, in many areas of active hostilities, humanitarian operations have been suspended."
The latest deaths were disclosed by the Syrian Observatory for Human Rights, a UK-based monitoring organisation, which said that seven of Wednesday's victims were killed in an air raid on the village of Sarja.
Analysts predict that the Assad government and its allies will continue to chip away at the area while stopping short of a major assault that would create chaos on Turkey's doorstep.
"I strongly doubt this offensive will aim to retake the entire Idlib region," said Aron Lund of the Century Foundation, a US-based thinktank.
"Retaking the whole area would be a massive undertaking that Turkey would be sure to resist, not least because it would send hundreds of thousands of refugees streaming toward the Turkish border."
Among healthcare facilities damaged on Tuesday were two hospitals, including one of the major trauma centres in Idlib.
"The bombing of hospitals is disgraceful and the closure of one of Idlib's largest trauma centres will have a devastating impact on innocent men, women and children who have become collateral damage in this brutal crisis," said Ahmed Mahmoud, Syria country director for Islamic Relief, which has supported health facilities in the city, including one relocated to a cave to protect it from attack.
"People are simply terrified and do not know what is going to happen next. In the past few weeks some 300,000 people have had to leave their homes out of fear, and hundreds of thousands of others think that they will be next.
"Ramadan is supposed to be a holy month, where families and friends can gather in peace, but in north-west Syria there is simply no respite. There is an ever-shrinking amount of food and supplies of basic medicine are fast running out.
"Hospitals have had to shut their doors or reduce their services. Schools are not operating in many areas and now mosques are having to close because time and again in this crisis, places where civilians gather have been seen as fair game and have left people feeling like absolutely nowhere is safe."
The escalating violence has prompted repeated warnings about the potential humanitarian impact of a full-scale battle for Idlib.
Earlier this month, Mark Lowcock, the UN's humanitarian affairs coordinator, delivered an uncompromising message to the security council: "When I briefed you here on September 18, I said a full-scale military onslaught could result in the worst humanitarian tragedy of the 21st century," he said.
"Despite our warnings, our worst fears are now coming true."
SAN DIEGO (Reuters) – The judge in the court-martial of a Navy SEAL platoon leader accused of war crimes in Iraq was expected to hear arguments on Thursday on defense motions to dismiss the charges or otherwise remove the lead prosecutor and the judge himself from the case.
The hearing comes 12 days before Special Operations Chief Edward Gallagher is set to go on trial charged with killing a helpless, wounded Islamic State fighter in his custody and of shooting two unarmed civilians, a schoolgirl and an elderly man.
The case, being conducted at U.S. Naval Base San Diego, has attracted the attention of President Donald Trump.
Pre-trial proceedings for the past month have focused on accusations by Gallagher's attorneys that prosecutors and their investigators illegally snooped on the defense and reporters covering the case to try and pinpoint leaks of sealed information.
Gallagher, 39, a decorated career combat veteran, has pleaded not guilty to all charges, including premeditated murder, two counts of attempted murder and obstructing justice.
He asserts that he is wrongly accused and that fellow SEAL team members testifying against him, several under grants of immunity, are disgruntled subordinates who fabricated allegations to force him from command.
His defense team has argued that the case should be dismissed altogether on grounds of alleged misconduct by the Navy prosecutor, agents of the Naval Criminal Investigative Service (NCIS) and the presiding judge.
BAGHDAD/BRUSSELS (Reuters) – U.S. forces have quietly sent at least 30 suspected foreign Islamic State fighters captured in Syria last year and in late 2017 to stand trial in Iraq, interviews with the men, Iraqi sources and court documents show.

FILE PHOTO: Islamic state fighters and their families walk as they surrender in the village of Baghouz, Deir Al Zor province, Syria March 12, 2019. REUTERS/Rodi Said/File Photo
Three of the men have been convicted of IS membership and sentenced to death by Iraqi courts, while five have been given life sentences. Four of them told Reuters they were tortured in prison, a claim Reuters was unable to verify.
Iraq's Counter Terrorism Service (CTS) denied that detainees were transferred to their custody from Syria in 2017 and 2018, and denied the detainees' claims of torture.
While the fate of thousands of IS fighters captured in Syria remains unresolved, the roughly 30 suspected foreign jihadists were transferred to Iraq in 2017 and 2018 after they were captured by the U.S.-backed Syrian Democratic Forces (SDF), according to Iraqi court files, U.S. detention records, intelligence and judicial sources as well as people familiar with the matter.
The U.S. military's Central Command, which oversees U.S. forces in the Middle East, declined to comment on Reuters' findings, but acknowledged the challenges posed by detainees captured by Kurdish militias, whose authority is not internationally recognized
   "The issue of foreign terrorist fighters in SDF custody in Syria is an extremely complex problem," spokesman Captain Bill Urban said.
The United States wants countries to take responsibility for their foreign fighters through "prosecution, rehabilitation programs, or other measures that sufficiently prevent detainees from re-engaging in terrorism", he said.
KABUL, Afghanistan (AP) — Afghan officials say two Taliban attacks targeted Afghan security checkpoints in the country's west and east, killing at least 23 members of the security forces.
In western Ghor province, Abdul Hai Khateby, the governor's spokesman, says 18 policemen and pro-government militiamen were killed and seven were wounded in hours-long gunbattle with insurgents near Feroz Koh, the provincial capital.
No group immediately took responsibility for the attack late Monday.
In eastern Logar province, Mohammad Naser Ghairat, a provincial councilman, says insurgents overran an army checkpoint in the district of Baraki Barak on Monday, killing five soldiers there.
Ghairat says four soldiers were also wounded while the Taliban captured four others. He says the insurgents stole a Humvee and ammunition from the checkpoint.
The Taliban claimed responsibility for the Logar attack.

Bush's Five Big Lies That Led to the Iraq Quagmire
These are the five lies Bush told that Ralph Nader documented to impeach him.
Weapons of Mass Destruction. The weapons have still not been found. Nader emphasized, "Until the

1991

Gulf War, Saddam Hussein was our government's anti-communist ally in the Middle East. We also used him to keep Iran at bay. In so doing, in the

1980

s under Reagan and the first Bush, corporations were licensed by the Department of Commerce to export the materials for chemical and biological weapons that President George W. Bush and Vice President Dick Cheney later accused him of having." Those weapons were destroyed after the Gulf War. George W. Bush's favorite chief weapons inspector, David Kay, after returning from Iraq and leading a large team of inspectors and spending nearly half a billion dollars told the president

We were wrong.

See: David Kay testimony before Senate Armed Services Committee,

2004-01-28

.Tyler Drumheller, the former chief of the

CIA

(

C

entral

I

ntelligence

A

gency) 's Europe division, revealed that in the fall of

2002

, George W. Bush, Vice President Cheney, then-National Security Adviser Condoleezza Rice and others were told by

CIA

Director George Tenet that Iraq's foreign minister — who agreed to act as a spy for the United States — had reported that Iraq had no active weapons of mass destruction program.

Iraq Ties to Al Qaeda. The White House made this claim even though the

CIA

and

FBI

(

F

ederal

B

ureau of

I

nvestigation) repeatedly told the Administration that there was no tie between Saddam Hussein and Al Qaeda. They were mortal enemies — one secular, the other fundamentalist.

Saddam Hussein was a Threat to the United States. In fact, Saddam was a tottering dictator, with an antiquated, fractured army of low morale and with Kurdish enemies in Northern Iraq and Shiite adversaries in the South of Iraq. He did not even control the air space over most of Iraq.

Saddam Hussein was a Threat to his Neighbors. In fact, Iraq was surrounded by countries with far superior military forces. Turkey, Iran and Israel were all capable of obliterating any aggressive move by the Iraqi dictator.

The Liberation of the Iraqi People. There are brutal dictators throughout the world, many supported over the years by Washington, whose people need

liberation

from their leaders. This is not a persuasive argument since for Iraq, it's about oil. In fact, the occupation of Iraq by the United States is a magnet for increasing violence, anarchy and insurrection
Recent Casualties:
Color 

Denotes Today's Confirmation
The Department of Defense announced today the death of a soldier who was supporting Operation Freedom's Sentinel.
Spc. Miguel L. Holmes, 22, from Hinesville, Georgia, died May 6, 2019, in Nangarhar Province, Afghanistan, of wounds sustained from a non-combat incident. The incident is under investigation.
Holmes was assigned to 1st Battalion, 118th Field Artillery Regiment, 48th Infantry Brigade Combat Team, Savannah, Georgia.
The Department of Defense announced today the death of a soldier who was supporting Operation Inherent Resolve.
Pfc. Michael A. Thomason, 28, from Lincoln Park, Michigan, died April 29, 2019, in Kobani, Syria, of wounds sustained from a non-combat incident.
Thomason was assigned to 2nd Battalion, 327th Infantry Regiment, 1st Brigade Combat Team, 101st Airborne Division (Air Assault), Fort Campbell, Kentucky.
The Department of Defense announced today the death of a soldier who was supporting Operation Inherent Resolve.
Spc. Michael T. Osorio, 20, from Horseshoe Bend, Idaho, died April 23, 2019, in Taji, Iraq, in a non combat related incident. The incident is under investigation.
Osorio was assigned to 4th Squadron, 10th Cavalry Regiment, 3rd Armored Brigade Combat Team, 4th Infantry Division, Fort Carson, Colorado.
War Casualties By Name
The People Behind The Sacrifice

Complete Military and Civilian Casualty Lists
Care for War on Terror Veterans


Save the Children is the world's leading independent organisation for children and has been working with families, communities and local authorities in Iraq since 1991, leading NGOs in general relief and development programs.Save the Children is currently responding to the needs of internally displaced persons (IDP) and the Syrian refugees in Iraq, in camps and non-camp settings. Our goal is for children in Iraq to be supported in raising their voices and attaining their rights, especially the right to participate in decisions affecting their lives. They should have access to quality education, health and protection services. We are increasing access to community based services that protect, educate and improve quality of life for children. We are ensuring that there is an increased participation of boys and girls in age appropriate activities and services. We are ensuring that children benefit from government actions that create an environment of awareness and accountability to uphold child rights. We are also developing new resources and innovative practices that support our work for children and youth.In Iraq, Save the Children's interventions include Child Protection, Education, Food Security and Livelihoods, Shelter and Water Sanitation and Hygiene (WASH), reaching vulnerble children and families in northern and central Iraq. Save the Children's programs are implemented through field offices in Erbil, Dohuk, Sulaymaniyah, Kirkuk and Kalar, with a country office located in Erbil.
Syria  War Child
Please Never Forget.