31 May
United States Wars, News and Casualties
Damn The War Criminals,

Bush,Cheney,Rice,Rumsfeld,Wolfowitz, Powell and Blair from England
War News
IVAW Statement on Syria Strikes
Iraq Veterans Against the War (IVAW) condemns in no uncertain terms the bombing of Sharyat airbase in Syria six days ago by Donald Trump's administration. As veterans of the unending and expanding wars conducted over the last 16 years, we know intimately that U.S. military intervention exacerbates and further militarizes conflicts overseas and that the people who pay the greatest price are the everyday people of occupied nations. We also know that this is not the first time our military has been used in the Syrian conflict. U.S. bombs have been dropped on Syria under both the Trump and Obama administrations, resulting in more than a thousand civilian deaths.
As we oppose the long history of U.S. intervention and destabilization in Syria and in the region, we also acknowledge and oppose the many actors causing death and devastation to the people of Syria. Bashar Al-Assad has responded brutally to a popular, non-violent uprising for democracy and freedom which emerged in 2011 and in the years since has descended into civil war. The government has used barrel bombing campaigns, tactics designed to create famine, "disappeared" lead dissidents and voices of opposition, and tortured. In addition to the U.S., foreign nations including Russia, Israel, Saudi Arabia, Iran, Qatar, and Turkey have utilized Syria as a battleground for their proxy wars, further entrenching the violence. We know that without self determination, including an end to all foreign intervention, the Syrian people can't truly be free.
We also know that the Trump administration, following the pattern of administrations before it, is deeply intertwined with the military-industrial complex and seeks to increase mutual profit through expanding U.S. wars. This is reflected in the erratic and dangerous foreign policy that the Trump administration is engaged in, as well as the astronomical proposed increase of the U.S. military budget by $54 billion. We see global arms dealers, weapons manufacturers, and defense contractors as beneficiaries of the violence in Syria who stand to turn a profit with each new strike and each successive deployment.
We call for a stop to all U.S. military actions in Syria, including the removal of all U.S. troops and bases in the country. These cruise missile strikes were launched without consultation with Congress nor with the United Nations Security Council. They continue a series of dangerous precedents that justify military force "as humanitarian" in nature and expand executive power at the expense of democratic oversight. Time and time again, this drive towards war-making has served to create the conditions for further destabilization, displacement, and civilian casualties that have devastating consequences locally, regionally, and in this case globally as we have seen in recent days with the building tensions between North Korea and the United States.
As the Trump administration claims that its strikes on Syria are for humanitarian reasons, its policies at home and abroad instead demonstrate their strategy in mobilizing war, Islamophobia, and anti-immigrant sentiment as a means of leveraging fear and consolidating power. Just as we have challenged the so-called "War on Terror" and this most recent military strike, we continue to challenge Islamophobia and the "Muslim ban" at home. If the Trump administration wants to be humanitarian, it can begin to address the crises it has inherited by ending its policy of denying immigration from majority Muslim countries and accepting Syrian refugees in significant numbers to the United States.
We call for an independent investigation by U.N. arms inspectors into the recent release of chemical weapons on a civilian population, and for an internationally led effort to broker a cessation of violence in Syria. From the hundreds of civilians killed in Mosul last week to the ongoing attacks on Yemen, U.S. military operations continue to worsen political instability and erode people's chances for survival. We call for accountability for the war crimes that the U.S. has committed in Iraq, Yemen, Afghanistan, Pakistan, Somalia, and countless other countries since the beginning of the so-called "War on Terror."
As we recognize that U.S. foreign policy primarily relies on war and war profiteering, we also recognize the danger in failing to acknowledge that the people and countries it targets are distinct from each other. When it comes to local needs, demands, and accountability moving forward, we aspire to follow the lead of the people directly impacted by these wars.
Alistair Burt sums up Donald Trump's policy in the region as 'hit them in the nuts first'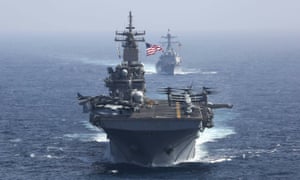 The USS Kearsarge and USS Bainbridge sail as part of the USS Abraham Lincoln aircraft carrier strike group, which was sent to the Gulf. Photograph: Mass Communication Specialist 1st Class Brian M Wilbur/AP
America's "hit them in the nuts first" diplomacy is helping put the Middle East on a dangerous trajectory towards a regional war, Alistair Burt, the UK's minister for the region until last month, has warned.
On the eve of Donald Trump's state visit to the UK, Burt told the Guardian what it has been like to be on the frontline of "America First" diplomacy, where "in every argument America has to win and someone has to lose".
After two spells as Middle East minister covering five years, Burt is the first front-rank former minister to discuss the transatlantic relationship in the Trump era in such honest terms.
"America at present does not believe in compromise – it is a case of hitting them in the nuts first, and sooner or later they follow," he told the Guardian. "It is a not unfamiliar technique, and not always unsuccessful. And [Trump's] proud of it. But subtlety has its place in modern diplomacy too."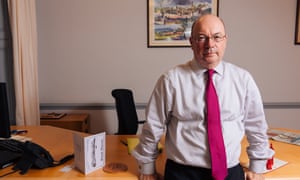 Former minister of state for the Middle East, Alistair Burt, says a US war with Iran would be 'insane'. Photograph: James Drew Turner/The Guardian
He said Trump's attitude to Iran, which has seen him take the US out of the landmark 2015 nuclear deal negotiated between the Obama administration, the European Union and Iran, and reimpose sanctions, risked more instability in the region.
"Behind Trump is this nexus of people that have a very different attitude to Iran than the previous administration," he said. "There is just a fear that someone somewhere will look for provocation.
"Everyone must realise that war in relation to Iran is genuinely insane and simply cannot work. This idea that masses of troops can be assembled on the border, or there is a surgical strike, is so incredible. To have negotiated the Iran nuclear deal and then to talk about surgical strikes is a dreadful failure of diplomacy."
He described John Bolton, Trump's national security advisor, as someone who "has long had a barely concealed aggressive stance towards Tehran, and has now succeeded in a seriously influential role". Bolton has frequently taken an ultra-hawkish line against Iran, pushing regime change and announcing on Thursday the US will present evidence to the UN security council that Iran was behind the attack this month on oil tankers in the Gulf.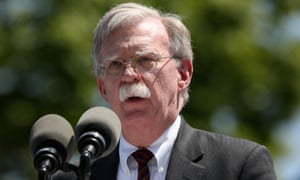 John Bolton has frequently taken an ultra-hawkish line against Iran. Photograph: Michelle McLoughlin/Reuters
"There might be a genuinely deterrent effect, of course, from his heated rhetoric – 'Would he do it? Yes, he might' – which could work to the advantage of peace," Burt said of Bolton. "But who knows?"
The former minister said it was clear the "bludgeoning stick is being beaten over Iran" but doubted a policy of maximum pressure would succeed.
"The Iran crisis cries out for negotiation, but instead of bringing parties in and saying 'This is what we need to do', the posture is 'It is blindingly obvious that these people are villains and if you are not for us, you are against us, and you will have to pay the consequences.'
"We share their concerns, but that approach does not bring people around the table or, seemingly, end the threats."
He, however, called on Iran to show restraint in Yemen, where it backs the Houthi rebels against a Saudi-led coalition. "I cannot understand why they are taking such a risk for something that means so little to them," he said, adding that Iran could not exercise influence in Yemen as it does in Lebanon through its Hezbollah proxies. "Iran has no serious reason to be present in Yemen and it is quite clear that this conflict cannot end with Sana'a as the new Beirut. That is no recipe for peace for the Yemeni people."
Burt stressed that Iran, and others in the region, must compromise, but challenged the belief that sanctions were the most effective route to achieve this.
"In the past year, there has been no evidence that US actions have changed the way Tehran has worked, in fact, it allows Tehran to double down. The Iranian Revolutionary Guards Corps is more powerful and the hardliners are able to isolate the reformers."
He added that the US threat to impose sanctions on Europe for trading with Iran was "pretty worrying" and marked a new moment in foreign policy.
Burt admitted the UK Foreign Office had tried hard to persuade the US not to quit the nuclear deal last year, and probably misled itself into thinking it might be winning the argument.
"In hindsight, I suspect we were not close at all because it was becoming clear that the standout feature of Trump, and this is to some degree a credit, is that the president was determined to deliver on his election pledges and leaving [the Iran deal] was one of those signature issues.
"It does not matter how out of line the decision, he had said he would do it and he does. It's, however, a doubtful virtue – it's the quality of the decision which must ultimately count".
Burt called for a grand bargain in the Middle East to allow the region to focus on issues such as the climate crisis while lowering the risk of conflict. "If nothing changes, this is going to get worse and somebody somewhere is going to do something stupid and you will have the modern equivalent of the Archduke being shot in some nameless street in Sarajevo.
"Everyone is on a really dangerous trajectory. Each actor is motivated by fear of one another."
DUBAI/BAGHDAD (Reuters) – Tens of thousands of Iranians marking the annual "Quds (Jerusalem) Day" in the Islamic Republic on Friday condemned a planned Middle East peace plan that U.S. President Donald Trump has touted as the "deal of the century".
Iranians take part in a protest marking the annual al-Quds Day (Jerusalem Day) on the last Friday of the holy month of Ramadan in Tehran, Iran May 31, 2019. Meghdad Madali/Tasnim News Agency/via REUTERS
State television said state-sponsored marches were being held in 950 communities across Iran and showed demonstrators carrying banners with slogans such as "Jerusalem is the eternal capital of Palestine" and "Death to America" and "Death to Israel".
Marchers also set fire to a Trump mask and Israeli and U.S. flags, according to pictures on Iranian news websites.
Trump's plan is to encourage investment in the West Bank and Gaza Strip by Arab donor countries before grappling with thorny political issues at the heart of the conflict.
Palestinian officials, angered by Trump's decision in 2017 to recognize Jerusalem as the capital of Israel, have already spurned it, believing it will be heavily biased in favor of Israel. Iran said it would fail.
"No to the deal of the century" read a banner splashed across the news screen on state TV, which also showed a Quds Day march in neighboring Iraq's capital Baghdad, where thousands of fighters from powerful Shi'ite militias took to the streets.
"Al-Quds day in Baghdad, in other Iraqi provinces, and across the world, expresses rejection of the 'deal of the century', which is being planned by Trump in order to dissolve the Palestinian cause in (his) own way," said Mo'een al-Kathem, a member of Baghdad's provincial council.
The Iraqi militiamen marched in combat fatigues but were unarmed and did not showcase military vehicles and heavy weaponry, a contrast to previous years when they used the parade as an opportunity to showcase combat prowess.
Numbers in Iraq were consistent with annual turnout but there was a noted absence of influential militia leaders who usually mark the day by delivering fiery speeches critical of Israel and expressing gratitude to Iran for its backing.
Quds Day was launched by Ayatollah Ruhollah Khomeini, the leader of Iran's 1979 Islamic revolution, and is held on the last Friday of the Muslim fasting month of Ramadan.
Opposition to Israel is a cornerstone of Shi'ite-led Iran. It backs Palestinian and Lebanese Islamist militant groups opposed to peace with Israel, which Tehran refuses to recognize.
In northwestern Kurdistan province, where rebel groups have been active for decades, police said they arrested three armed militants and foiled a planned attack on marchers in the provincial capital Sanandaj, state broadcaster IRIB reported.
AP: Afghan Killings

Bush's Five Big Lies That Led to the Iraq Quagmire
These are the five lies Bush told that Ralph Nader documented to impeach him.
Weapons of Mass Destruction. The weapons have still not been found. Nader emphasized, "Until the

1991

Gulf War, Saddam Hussein was our government's anti-communist ally in the Middle East. We also used him to keep Iran at bay. In so doing, in the

1980

s under Reagan and the first Bush, corporations were licensed by the Department of Commerce to export the materials for chemical and biological weapons that President George W. Bush and Vice President Dick Cheney later accused him of having." Those weapons were destroyed after the Gulf War. George W. Bush's favorite chief weapons inspector, David Kay, after returning from Iraq and leading a large team of inspectors and spending nearly half a billion dollars told the president

We were wrong.

See: David Kay testimony before Senate Armed Services Committee,

2004-01-28

.Tyler Drumheller, the former chief of the

CIA

(

C

entral

I

ntelligence

A

gency) 's Europe division, revealed that in the fall of

2002

, George W. Bush, Vice President Cheney, then-National Security Adviser Condoleezza Rice and others were told by

CIA

Director George Tenet that Iraq's foreign minister — who agreed to act as a spy for the United States — had reported that Iraq had no active weapons of mass destruction program.

Iraq Ties to Al Qaeda. The White House made this claim even though the

CIA

and

FBI

(

F

ederal

B

ureau of

I

nvestigation) repeatedly told the Administration that there was no tie between Saddam Hussein and Al Qaeda. They were mortal enemies — one secular, the other fundamentalist.

Saddam Hussein was a Threat to the United States. In fact, Saddam was a tottering dictator, with an antiquated, fractured army of low morale and with Kurdish enemies in Northern Iraq and Shiite adversaries in the South of Iraq. He did not even control the air space over most of Iraq.

Saddam Hussein was a Threat to his Neighbors. In fact, Iraq was surrounded by countries with far superior military forces. Turkey, Iran and Israel were all capable of obliterating any aggressive move by the Iraqi dictator.

The Liberation of the Iraqi People. There are brutal dictators throughout the world, many supported over the years by Washington, whose people need

liberation

from their leaders. This is not a persuasive argument since for Iraq, it's about oil. In fact, the occupation of Iraq by the United States is a magnet for increasing violence, anarchy and insurrection
Recent Casualties:
Color

 Denotes Today's Confirmation
The Department of Defense announced today the death of a soldier who was supporting Operation Freedom's Sentinel.
Spc. Miguel L. Holmes, 22, from Hinesville, Georgia, died May 6, 2019, in Nangarhar Province, Afghanistan, of wounds sustained from a non-combat incident. The incident is under investigation.
Holmes was assigned to 1st Battalion, 118th Field Artillery Regiment, 48th Infantry Brigade Combat Team, Savannah, Georgia.
The Department of Defense announced today the death of a soldier who was supporting Operation Inherent Resolve.
Pfc. Michael A. Thomason, 28, from Lincoln Park, Michigan, died April 29, 2019, in Kobani, Syria, of wounds sustained from a non-combat incident.
Thomason was assigned to 2nd Battalion, 327th Infantry Regiment, 1st Brigade Combat Team, 101st Airborne Division (Air Assault), Fort Campbell, Kentucky.
War Casualties By Name
The People Behind The Sacrifice

Complete Military and Civilian Casualty Lists
Care for War on Terror Veterans


Save the Children is the world's leading independent organisation for children and has been working with families, communities and local authorities in Iraq since 1991, leading NGOs in general relief and development programs.Save the Children is currently responding to the needs of internally displaced persons (IDP) and the Syrian refugees in Iraq, in camps and non-camp settings. Our goal is for children in Iraq to be supported in raising their voices and attaining their rights, especially the right to participate in decisions affecting their lives. They should have access to quality education, health and protection services. We are increasing access to community based services that protect, educate and improve quality of life for children. We are ensuring that there is an increased participation of boys and girls in age appropriate activities and services. We are ensuring that children benefit from government actions that create an environment of awareness and accountability to uphold child rights. We are also developing new resources and innovative practices that support our work for children and youth.In Iraq, Save the Children's interventions include Child Protection, Education, Food Security and Livelihoods, Shelter and Water Sanitation and Hygiene (WASH), reaching vulnerble children and families in northern and central Iraq. Save the Children's programs are implemented through field offices in Erbil, Dohuk, Sulaymaniyah, Kirkuk and Kalar, with a country office located in Erbil.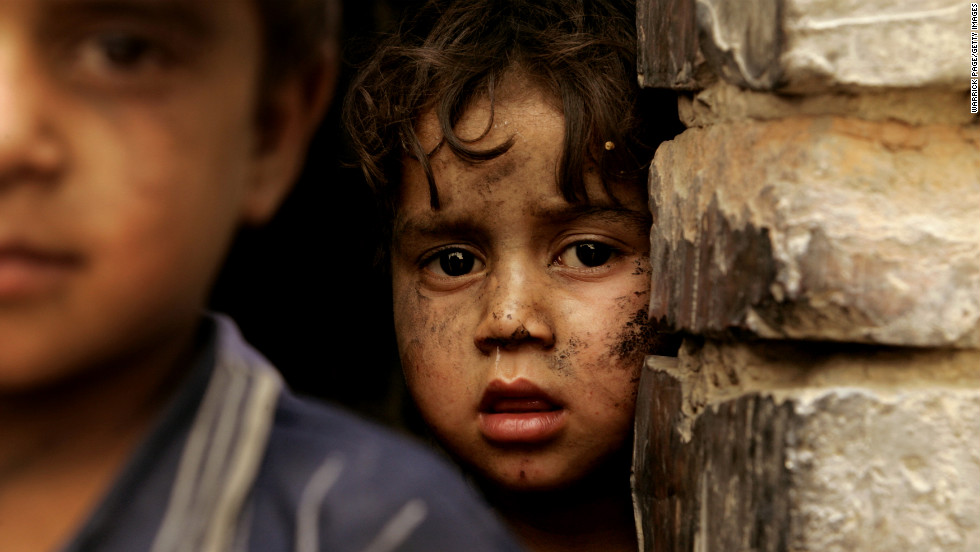 A boy looks out from his family shelter at a Narwan brick factory
Let us  remember not only the cost that wars impose on soldiers, but also the costs often inflicted on children .
Iraq War Children
Please Never Forget.