05 Jun
United States Wars, News and Casualties
Damn The War Criminals,

Bush,Cheney,Rice,Rumsfeld,Wolfowitz, Powell and Blair from England
War News
The McGlynn:
BULLSHIT!
Far understated. Damn liars!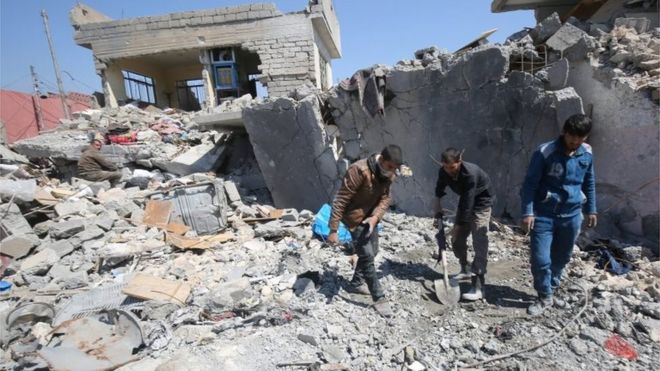 Image caption
The US-led coalition against the Islamic State (IS) group says it has unintentionally killed more than 1,300 civilians in Iraq and Syria since 2014.
A UK-based monitoring group says the true toll is much higher, estimating up to nearly 13,000 civilian fatalities.
The US-led action began after IS took over huge areas of territory.
It imposed brutal rule over millions of people who fell under its control and has carried out or inspired deadly attacks around the world.
The latest figure provided by the coalition is slightly higher than its previous admission eight months ago of 1,100 civilian deaths. It says it is still assessing 111 more possible cases of civilian fatalities.
The latest acknowledgement stands in stark contrast to the claims of human rights and monitoring groups, which say the actual death toll is many times higher.
Amnesty International's senior crisis response advisor Donatella Rovera accused the US-led coalition of remaining "deeply in denial" about the true scale.
"Today's acknowledgement of further civilian deaths underscores the urgent need for thorough, independent investigations that can uncover the true scale of civilian casualties caused by coalition strikes, examine whether each attack complied with international humanitarian law and provide full reparation to victims," she said.
Raqqa had been the de facto capital of the jihadists' self-proclaimed "caliphate".

At that time, a coalition spokesperson told the BBC that "any unintentional loss of life during the defeat of [IS] is tragic. However it must be balanced against the risk of enabling [IS] to continue terrorist activities, causing pain and suffering to anyone they choose".
The coalition "methodically employs significant measures to minimise civilian casualties", the spokesperson said, and "always balances the risk of conducting a strike against the cost of not striking".
Thousands of walls have been removed from area, which is now open 'without exceptions'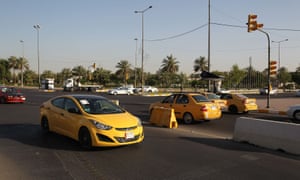 Cars in Baghdad's high-security Green Zone after all main roads crossing the enclave were opened. Photograph: Ahmad al-Rubaye/AFP/Getty Images
Baghdad's heavily fortified Green Zone has reopened to the public after 16 years.
Maj Gen Jassim Yahya Abd Ali said the area, which houses the US embassy and Iraqi government offices, was now open "24 hours a day without any exceptions or conditions". He said authorities had removed 12,000 concrete walls from the area.
Atheir Assem, 25, who drove inside the Green Zone for the first time on Tuesday, said: "I feel that Baghdad is bigger than before."
He said his generation knew nothing about the Green Zone and had felt that the people there lived in another country. "Now there is no difference and this is beautiful," he said.
The zone, measuring 4 sq miles, has been off limits to the public since the 2003 US invasion of Iraq.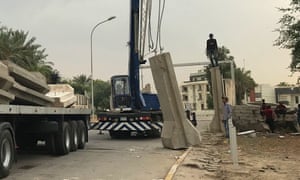 Workers removing concrete blast walls in the Green Zone last week. Photograph: Ali Abdul Hassan/AP
Before the war it was home to Saddam Hussein's palaces. It became known as Little America after it was seized by US military forces, and in later years it became a hated symbol of the country's inequality, fuelling perceptions among Iraqis that their government was out of touch.
Only Iraqis with special security badges could enter the area. Various attempts and promises by the Iraqi government to open the zone to traffic failed to bear fruit because of persistent security concerns.
The government began easing restrictions in the area this year. The prime minister, Adel Abdul-Mahdi, said the Green Zone would be fully open to the public on Eid al-Fitr, the holiday that marks the end of Ramadan.
Abdullah Mouhamed, a taxi driver, said: "Thank god the opening of the Green Zone happened during the Eid. It is a very good initiative and will ease transportation in Baghdad."
WASHINGTON (Reuters) – Members of the U.S. Congress, including some of President Donald Trump's fellow Republicans as well as Democrats, are preparing legislation seeking to block his plan for $8 billion in weapons sales to Saudi Arabia, the United Arab Emirates and Jordan, congressional aides and lawmakers said on Tuesday.
The first measures could be introduced within days, congressional aides said.
Declaring a national emergency because of tensions with Iran, the Trump administration informed congressional committees on May 24 that it was going ahead with the 22 military deals, circumventing a long-standing precedent for lawmakers to review major weapons sales.
The decision angered members of both parties, who worried that Trump's decision to blow through the "holds" process would eliminate Congress' ability to prevent not just Trump but future presidents from selling weapons where they liked.
The array of military products cleared for sale by Secretary of State Mike Pompeo included offensive equipment like precision-guided munitions, mortars and fighter jet engines, some of which would take many months to be produced and shipped, which lawmakers said belied the administration's contention that it was addressing an emergency.
Some of the licenses would allow U.S. defense contractors like Raytheon Co and Boeing Co to run production lines in Saudi Arabia.
In the House of Representatives, which is controlled by Democrats, lawmakers were considering a bill that would require the 22 licenses approved by the administration to be pulled back and resubmitted through the regular notification procedure, including a 30-day congressional review, Democratic congressional aides said.
House members also may seek to rewrite the Arms Export Control Act of 1976 to impose tighter restrictions on the use of the "emergency authority" provision, tightening the loophole the Trump administration used to justify the sale so it could only be used for "true emergencies," aides said.
BIPARTISAN SUPPORT
House members said they expected any measure would have support from members of both parties.
"There's a bipartisan resolve that we need to re-evaluate our relationship with Saudi Arabia, most especially the weapons that we sell them," Representative Joaquin Castro, a Democratic member of the House Foreign Affairs Committee, told Reuters.
Members of Congress had been blocking sales of offensive military equipment to Saudi Arabia and the United Arab Emirates for months, angry about the huge civilian toll from their air campaign in Yemen, as well as human rights abuses such as the murder of Saudi journalist Jamal Khashoggi at a Saudi consulate in Turkey.
When Pompeo announced the sales in May, Representative Mike McCaul, the top Republican on the Foreign Affairs panel, called the action "unfortunate" and likely to damage future White House interactions with Congress.
In the Senate, congressional aides said, lawmakers planned to file "resolutions of disapproval," setting up votes on each of the weapons deals approved by the Trump administration.
Senator Bob Menendez, the top Democrat on the Senate Foreign Relations Committee, and Republican Senator Lindsey Graham, a close ally of Trump's, told the Washington Post that they would work together to introduce 22 resolutions.
The Arms Export Control Act gives Congress the right to vote on whether to stop major weapons sales by passing a resolution of disapproval.
Opponents of the weapons sale plan said strong bipartisan support for such resolutions would send a strong message to the administration – as well as defense contractors and the three countries – that Congress was unhappy about the process.
Backers of the plan also said it was possible, given the level of congressional anger over Trump's use of the emergency declaration, that some of the resolutions would garner the two-thirds majorities in the Senate and House needed to override a Trump veto.
Lawmakers could also include legislation related to the weapons sale in a must-pass bill such as the annual National Defense Authorization Act, a massive defense policy measure currently making its way through Congress.
The U.S. military has cited what it sees as a threat of potential attack by Iran to deploy hundreds of troops to the Middle East, in addition to Patriot missiles, bombers and the accelerated movement of a carrier strike group.
However, administration officials have also sought to reassure members of Congress, and the public, that they are not rushing to war with the Islamic republic.

Health workers evacuate a body as security personnel collect evidence after an attack that targeted a bus carrying government employees in Kabul, Afghanistan, Monday, June 3, 2019. Afghan officials said a sticky bomb attached to the bus detonated in the capital. Wahidullah Mayar, spokesman for the public health ministry, said five people were killed and 10 wounded in initial casualty reports and could rise. (AP Photo/Rahmat Gul)
KABUL, Afghanistan (AP) — A bomb attached into a bus carrying Afghan government workers has killed at least five people and wounded 10 others in the capital, Kabul, Afghan officials said Monday.
Wahidullah Mayar, spokesman for the public health ministry, said the numbers could still rise. Nasrat Rahimi, spokesman for the interior ministry, said the employees belong to the Independent Administrative Reform and Civil Service Commission.
Ahmad Shah, an eyewitness at the scene of the attack, said: "Five to seven bodies were on the street, a few of them were martyred and others were wounded." He said some of the victims were "burning inside the bus — no one was able to enter."
No group immediately claimed responsibility for the attack, but both Taliban and Islamic State militants are active in Kabul and have staged attacks there.
Afghan president Ashraf Ghani strongly condemned the attack in a statement sent by the presidential palace.
A wave of attacks has rocked the Afghan capital over the last week. Four bombings on Sunday killed at least two people and wounded 27, and were preceded by deadly suicide bombings on Thursday and Friday.
Monday's attack took place as the Afghan interior ministry has announced that Kabul is under tight security ahead of this week's Eid-al Fitr holiday, which marks the end of the Muslim fasting month of Ramadan.
Last June, the Taliban accepted a three-day cease-fire over the Eid al-Fitr holiday, a first for the group, but this year the Taliban have rejected any truce with the Afghan forces.
In another development, the Taliban have abducted four members of the Helmand Peace Convoy, a group of dozens of Afghans trekking across the country on foot calling for an end to the war.
Members of the convoy said Taliban militants came to speak with them on Sunday night while the group was in southern Helmand province, an area largely under Taliban control. The convoy members said the Taliban took four of them as representatives for further discussions, and they have not been heard from since.
A Taliban spokesman had no information about the event.
The peace convoy march its began in the capital of Helmand province, Lashkar Gah, and has been walking for over a year through different provinces. The protest march began with a group of nine men and picked up supporters during the long journey.
SYDNEY — Australia's Federal Police raided the offices of the national public broadcaster on Wednesday in connection to a 2017 story based on leaked military documents that indicated the country's military forces were being investigated for possible war crimes in Afghanistan.
The Australian Broadcasting Corporation said the raid, the second in as many days by police investigating government leaks, raised questions about media freedom in the country.
"It is highly unusual for the national broadcaster to be raided in this way," ABC managing director David Anderson said in a statement. "This is a serious development and raises legitimate concerns over freedom of the press and proper public scrutiny of national security and defense matters."
The raid in a suburb of Sydney came a day after federal police searched the Canberra home of Annika Smethurst, the political editor of The Sunday Telegraph of Sydney, over a 2018 story detailing an alleged government proposal to spy on Australians.
News Corp. Australia, the parent company of The Sunday Telegraph, said the raid "demonstrates a dangerous act of intimidation towards those committed to telling uncomfortable truths".
There were no arrests in either raid.
Australian law forbids officials from disclosing secret information, and the police warrants in both raids were based on a law enacted in 1914.
The police said in a statement that the two raids were not linked.
Anderson said ABC stood by its journalists, would protect its sources and continue to report "without fear or favor" on national security and intelligence issues.
"We will be doing everything we can to limit the scope of this and we will do everything we can to stand by our reporters and as a general observation, we always do whatever we can to stand by our sources of course," ABC Editorial Director Craig McMurtrie said.

Bush's Five Big Lies That Led to the Iraq Quagmire
These are the five lies Bush told that Ralph Nader documented to impeach him.
Weapons of Mass Destruction. The weapons have still not been found. Nader emphasized, "Until the

1991

Gulf War, Saddam Hussein was our government's anti-communist ally in the Middle East. We also used him to keep Iran at bay. In so doing, in the

1980

s under Reagan and the first Bush, corporations were licensed by the Department of Commerce to export the materials for chemical and biological weapons that President George W. Bush and Vice President Dick Cheney later accused him of having." Those weapons were destroyed after the Gulf War. George W. Bush's favorite chief weapons inspector, David Kay, after returning from Iraq and leading a large team of inspectors and spending nearly half a billion dollars told the president

We were wrong.

See: David Kay testimony before Senate Armed Services Committee,

2004-01-28

.Tyler Drumheller, the former chief of the

CIA

(

C

entral

I

ntelligence

A

gency) 's Europe division, revealed that in the fall of

2002

, George W. Bush, Vice President Cheney, then-National Security Adviser Condoleezza Rice and others were told by

CIA

Director George Tenet that Iraq's foreign minister — who agreed to act as a spy for the United States — had reported that Iraq had no active weapons of mass destruction program.

Iraq Ties to Al Qaeda. The White House made this claim even though the

CIA

and

FBI

(

F

ederal

B

ureau of

I

nvestigation) repeatedly told the Administration that there was no tie between Saddam Hussein and Al Qaeda. They were mortal enemies — one secular, the other fundamentalist.

Saddam Hussein was a Threat to the United States. In fact, Saddam was a tottering dictator, with an antiquated, fractured army of low morale and with Kurdish enemies in Northern Iraq and Shiite adversaries in the South of Iraq. He did not even control the air space over most of Iraq.

Saddam Hussein was a Threat to his Neighbors. In fact, Iraq was surrounded by countries with far superior military forces. Turkey, Iran and Israel were all capable of obliterating any aggressive move by the Iraqi dictator.

The Liberation of the Iraqi People. There are brutal dictators throughout the world, many supported over the years by Washington, whose people need

liberation

from their leaders. This is not a persuasive argument since for Iraq, it's about oil. In fact, the occupation of Iraq by the United States is a magnet for increasing violence, anarchy and insurrection
Recent Casualties:
Color

 Denotes Today's Confirmation
The Department of Defense announced today the death of a soldier who was supporting Operation Freedom's Sentinel.
Spc. Miguel L. Holmes, 22, from Hinesville, Georgia, died May 6, 2019, in Nangarhar Province, Afghanistan, of wounds sustained from a non-combat incident. The incident is under investigation.
Holmes was assigned to 1st Battalion, 118th Field Artillery Regiment, 48th Infantry Brigade Combat Team, Savannah, Georgia.
The Department of Defense announced today the death of a soldier who was supporting Operation Inherent Resolve.
Pfc. Michael A. Thomason, 28, from Lincoln Park, Michigan, died April 29, 2019, in Kobani, Syria, of wounds sustained from a non-combat incident.
Thomason was assigned to 2nd Battalion, 327th Infantry Regiment, 1st Brigade Combat Team, 101st Airborne Division (Air Assault), Fort Campbell, Kentucky.
War Casualties By Name
The People Behind The Sacrifice

Complete Military and Civilian Casualty Lists
Care for War on Terror Veterans


Save the Children is the world's leading independent organisation for children and has been working with families, communities and local authorities in Iraq since 1991, leading NGOs in general relief and development programs.Save the Children is currently responding to the needs of internally displaced persons (IDP) and the Syrian refugees in Iraq, in camps and non-camp settings. Our goal is for children in Iraq to be supported in raising their voices and attaining their rights, especially the right to participate in decisions affecting their lives. They should have access to quality education, health and protection services. We are increasing access to community based services that protect, educate and improve quality of life for children. We are ensuring that there is an increased participation of boys and girls in age appropriate activities and services. We are ensuring that children benefit from government actions that create an environment of awareness and accountability to uphold child rights. We are also developing new resources and innovative practices that support our work for children and youth.In Iraq, Save the Children's interventions include Child Protection, Education, Food Security and Livelihoods, Shelter and Water Sanitation and Hygiene (WASH), reaching vulnerble children and families in northern and central Iraq. Save the Children's programs are implemented through field offices in Erbil, Dohuk, Sulaymaniyah, Kirkuk and Kalar, with a country office located in Erbil.
A boy looks out from his family shelter at a Narwan brick factory
Let us  remember not only the cost that wars impose on soldiers, but also the costs often inflicted on children .
Iraq War Children
Please Never Forget.