08 Jun
United States Wars, News and Casualties
Damn The War Criminals,

Bush,Cheney,Rice,Rumsfeld,Wolfowitz, Powell and Blair from England
War News

FILE – In this file photo dated Tuesday Aug. 28, 2018, Prosecutor Fatou Bensouda at the International Criminal Court (ICC) in The Hague, Netherlands. The International Criminal Court's prosecutor Bensouda, on Friday June 7, 2019, sought to appeal the court's rejection of an investigation into crimes linked to the conflict in Afghanistan by rebels, government security services and American forces. (Bas Czerwinski/Pool file via AP)
THE HAGUE, Netherlands (AP) — The International Criminal Court's prosecutor on Friday sought to appeal the court's rejection of an investigation into crimes linked to the conflict in Afghanistan by rebels, government security services and American forces.
In a 17-page document seeking clearance to file an appeal, Prosecutor Fatou Bensouda said an appeal could clarify crucial issues raised by judges who rejected her request to open an investigation, and would "benefit the court in its work as a whole."
A panel of pre-trial judges in April rejected the proposed investigation, saying it would not be in the interests of justice because an investigation and prosecution were unlikely to be successful as those targeted — including the United States, Afghan authorities and the Taliban — are not expected to cooperate.
Bensouda said that such an argument is contrary to the reason the court was established — to prosecute grave crimes when national authorities are unwilling or unable to do so.
"While the Prosecution is very mindful of the challenges in pursuing investigations or prosecutions in circumstances when cooperation is limited … it remains the case that these challenges are part of its statutory responsibility," the prosecutor wrote.
Rights groups in April slammed the decision to reject an investigation as a blow to Afghan victims seeking justice.
Patrick Baudouin, president of the International Federation for Human Rights, called the rejection a "dark day for justice" and a "shocking decision, which is based on a deeply flawed reasoning."
Among issues Bensouda wants to appeal is whether the pre-trial judges even have the power to reject her request based on their determination of the interests of justice.
Bensouda wrote that her request for an appeal is not simply disagreeing with the rejection, "but rather represents a legal issue of constitutional importance for the continued practice of the Court as a whole."
Bensouda's November 2017 request to open an investigation said there is information that members of the U.S. military and intelligence agencies "committed acts of torture, cruel treatment, outrages upon personal dignity, rape and sexual violence against conflict-related detainees in Afghanistan and other locations, principally in the 2003-2004 period."
She also said that the Taliban and other insurgent groups have killed more than 17,000 civilians since 2009, including some 7,000 targeted killings.
She further alleged that Afghan security forces have tortured prisoners at government detention centers.
If the court allows Bensouda to appeal, the process will likely take months.
The administration wants to sell $8bn of weapons to Saudi Arabia and UAE – and prop up a morally indefensible war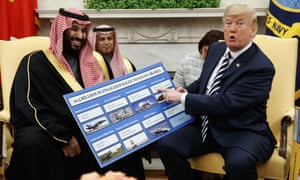 President Trump meets the Saudi crown prince Mohammed bin Salman in the Oval Office. Photograph: Evan Vucci/AP
O

n the Friday before Memorial Day, when few Americans were paying attention, the Trump administration announced that it would circumvent Congress and sell $8bn in new weapons to Saudi Arabia and the United Arab Emirates. It was Donald Trump's latest attempt to give a blank check to two US allies leading a disastrous war in Yemen.
If Trump succeeds in getting around Congress, these weapons sales will prolong suffering in Yemen and eliminate one of the last levers that allowed the US to exert influence over Saudi and Emirati actions: the threat of Congress blocking arms deals.
On 5 June, a bipartisan group of senators said they would try to block the administration from going ahead with the sales by introducing 22 "resolutions of disapproval" – one for each of the deals cleared by Secretary of State Mike Pompeo. The effort is led by two unlikely allies: Bob Menendez, a Democrat from New Jersey and frequent Trump critic, and Lindsey Graham, a Republican from South Carolina who is one of Trump's biggest supporters.
The two senators agree on one thing: that Saudi Arabia should face more scrutiny of its actions in Yemen after Saudi agents murdered the journalist Jamal Khashoggi at the Saudi consulate in Istanbul in October. Since then, members of Congress have tried to force the Trump administration to reexamine its alliance with the kingdom – especially its relationship with Mohammed bin Salman, the brash and ruthless crown prince often considered an architect of the Yemen war. But Trump and his senior aides have made clear that they still support the prince and won't try to isolate him, despite a CIA assessment that concluded, with "high confidence", that Prince Mohammed ordered the killing of Khashoggi.
The Saudis have been dropping the bombs on civilians, so if there is an emergency, it's a humanitarian emergency

Senator Chris Murphy
The senators' effort, which includes seven co-sponsors, is yet another example of Congress trying to claw back its constitutional responsibilities. On 24 May, when Pompeo notified Congress that the administration would move ahead with the $8bn deals without congressional approval, he cited a rarely used provision of the Arms Export Control Act which allows the president to bypass Congress if he determines there is an emergency that impacts national security. Pompeo invoked the Trump administration's favored bogeyman: an increased threat of "Iranian aggression".
But over the past month the administration has inflated the threat posed by Iran to US troops and allies in the Middle East and several hawkish Trump aides, especially national security adviser John Bolton, have pushed for a new confrontation with Tehran. At Bolton's request, the Pentagon updated plans to send as many as 120,000 troops to the Middle East. The administration is using similar scare tactics to justify its end-run around Congress to sell more weapons to Saudi Arabia and the UAE.
As Senator Chris Murphy, a Democrat from Connecticut and one of the earliest critics of US support for the Saudi-led war in Yemen, wrote on Twitter: "To state the obvious, there is no new emergency reason to sell bombs to Saudi Arabia to drop in Yemen. The Saudis [have] been dropping the bombs on civilians, so if there is an emergency, it's a humanitarian emergency caused by the bombs we sell the Saudis."
Trump's supposed desire to end US involvement in foreign wars – in Syria and Afghanistan – clearly hasn't superseded his wish to keep Saudi Arabia and the UAE happy and continuing to purchase American weapons. This willingness to prolong the suffering of millions of Yemenis also underlines the administration's single-minded obsession with countering Iran. Trump and his advisers repeatedly try to justify a prolonged war in Yemen by blaming Iran and its support for the rebel Houthi militia. This narrative ignores the fact that the Houthis did not receive significant help from Iran before Saudi Arabia intervened in March 2015.
With the administration firmly behind its Saudi and Emirati allies, Congress offers the best hope to end the American role in a war that has triggered one of the world's worst humanitarian crises. In early April, the House voted to cease military support for the Saudi-led coalition in Yemen, finally approving a bill to restrain presidential war powers that has taken years to pass both chambers of Congress. On 16 April, Trump vetoed the bill. Two weeks later, the bill's supporters in the Senate tried to override the veto but fell short, 53-45. (It takes two-thirds of the Senate, or 67 votes, to override a presidential veto.) But the measure was still a turning point because it focused attention on the extent and unpopularity of military support for Saudi Arabia and its allies.
As the political jockeying unfolded in Washington, the United Nations Development Programme issued a report underscoring the extent of the humanitarian disaster being fueled by US weapons and logistical support. The report warned that the death toll in Yemen could rise to 233,000 by the end of 2019 – far higher than previous estimates. (The projection includes an estimate of 102,000 deaths from combat and 131,000 indirect deaths due to the lack of food, health crises like a cholera epidemic and damage to Yemen's infrastructure.)
"The current conflict in Yemen is one of the greatest preventable disasters facing humanity," the report said, adding that the conflict has turned into a "war on children", with a Yemeni child dying every 12 minutes. The report estimated that 140,000 of those killed by the end of 2019 would be children under the age of five.
Despite a majority of Congress voting to end support, American assistance to the Saudi-led war persists, thanks to Trump's veto. In their latest effort to stop the weapons sales, congressional critics of the war will likely need to secure a veto-proof majority. It is a matter of moral and political urgency.
Mohamad Bazzi, a journalism professor at New York University, is a former Middle East bureau chief at Newsday. He is writing a book on the proxy wars between Saudi Arabia and Iran
KABUL, Afghanistan (AP) — An Afghan official says the Taliban have killed at least 14 members of a pro-government militia in an attack on checkpoints in the western Ghor province.
Abdul Hai Khateby, the spokesman for the provincial governor, says seven other militiamen were wounded in the attack late Friday, with two of them in critical condition.
Khateby says reinforcements pushed the Taliban back and inflicted casualties, without giving exact figures.
The Taliban, who effectively control about half of the country, carry out daily attacks on Afghan security forces and government targets. The U.S. has held several rounds of talks with the insurgents in recent months aimed at ending the nearly 18-year war.

Bush's Five Big Lies That Led to the Iraq Quagmire
These are the five lies Bush told that Ralph Nader documented to impeach him.
Weapons of Mass Destruction. The weapons have still not been found. Nader emphasized, "Until the

1991

Gulf War, Saddam Hussein was our government's anti-communist ally in the Middle East. We also used him to keep Iran at bay. In so doing, in the

1980

s under Reagan and the first Bush, corporations were licensed by the Department of Commerce to export the materials for chemical and biological weapons that President George W. Bush and Vice President Dick Cheney later accused him of having." Those weapons were destroyed after the Gulf War. George W. Bush's favorite chief weapons inspector, David Kay, after returning from Iraq and leading a large team of inspectors and spending nearly half a billion dollars told the president

We were wrong.

See: David Kay testimony before Senate Armed Services Committee,

2004-01-28

.Tyler Drumheller, the former chief of the

CIA

(

C

entral

I

ntelligence

A

gency) 's Europe division, revealed that in the fall of

2002

, George W. Bush, Vice President Cheney, then-National Security Adviser Condoleezza Rice and others were told by

CIA

Director George Tenet that Iraq's foreign minister — who agreed to act as a spy for the United States — had reported that Iraq had no active weapons of mass destruction program.

Iraq Ties to Al Qaeda. The White House made this claim even though the

CIA

and

FBI

(

F

ederal

B

ureau of

I

nvestigation) repeatedly told the Administration that there was no tie between Saddam Hussein and Al Qaeda. They were mortal enemies — one secular, the other fundamentalist.

Saddam Hussein was a Threat to the United States. In fact, Saddam was a tottering dictator, with an antiquated, fractured army of low morale and with Kurdish enemies in Northern Iraq and Shiite adversaries in the South of Iraq. He did not even control the air space over most of Iraq.

Saddam Hussein was a Threat to his Neighbors. In fact, Iraq was surrounded by countries with far superior military forces. Turkey, Iran and Israel were all capable of obliterating any aggressive move by the Iraqi dictator.

The Liberation of the Iraqi People. There are brutal dictators throughout the world, many supported over the years by Washington, whose people need

liberation

from their leaders. This is not a persuasive argument since for Iraq, it's about oil. In fact, the occupation of Iraq by the United States is a magnet for increasing violence, anarchy and insurrection
Recent Casualties:
Color

 Denotes Today's Confirmation
The Department of Defense announced today the death of a soldier who was supporting Operation Freedom's Sentinel.
Spc. Miguel L. Holmes, 22, from Hinesville, Georgia, died May 6, 2019, in Nangarhar Province, Afghanistan, of wounds sustained from a non-combat incident. The incident is under investigation.
Holmes was assigned to 1st Battalion, 118th Field Artillery Regiment, 48th Infantry Brigade Combat Team, Savannah, Georgia.
The Department of Defense announced today the death of a soldier who was supporting Operation Inherent Resolve.
Pfc. Michael A. Thomason, 28, from Lincoln Park, Michigan, died April 29, 2019, in Kobani, Syria, of wounds sustained from a non-combat incident.
Thomason was assigned to 2nd Battalion, 327th Infantry Regiment, 1st Brigade Combat Team, 101st Airborne Division (Air Assault), Fort Campbell, Kentucky.
War Casualties By Name
The People Behind The Sacrifice

Complete Military and Civilian Casualty Lists
Care for War on Terror Veterans


Save the Children is the world's leading independent organisation for children and has been working with families, communities and local authorities in Iraq since 1991, leading NGOs in general relief and development programs.Save the Children is currently responding to the needs of internally displaced persons (IDP) and the Syrian refugees in Iraq, in camps and non-camp settings. Our goal is for children in Iraq to be supported in raising their voices and attaining their rights, especially the right to participate in decisions affecting their lives. They should have access to quality education, health and protection services. We are increasing access to community based services that protect, educate and improve quality of life for children. We are ensuring that there is an increased participation of boys and girls in age appropriate activities and services. We are ensuring that children benefit from government actions that create an environment of awareness and accountability to uphold child rights. We are also developing new resources and innovative practices that support our work for children and youth.In Iraq, Save the Children's interventions include Child Protection, Education, Food Security and Livelihoods, Shelter and Water Sanitation and Hygiene (WASH), reaching vulnerble children and families in northern and central Iraq. Save the Children's programs are implemented through field offices in Erbil, Dohuk, Sulaymaniyah, Kirkuk and Kalar, with a country office located in Erbil.
A boy looks out from his family shelter at a Narwan brick factory
Let us  remember not only the cost that wars impose on soldiers, but also the costs often inflicted on children .
Iraq War Children
Please Never Forget.