12 Jun
United States Wars, News and Casualties
Damn The War Criminals,

Bush,Cheney,Rice,Rumsfeld,Wolfowitz, Powell and Blair from England
War News
Attack comes as Japan's PM arrives in Tehran in effort to ease US-Iranian tensions
Yemeni rebels said they fired a cruise missile at a civilian airport in Saudi Arabia, an attack Riyadh said hit the arrivals hall and wounded 26 people.
The attack is part of an increasingly sophisticated Houthi campaign targeting Saudi sites and is certain to lead to the Saudis launching severe reprisals in Yemen, and possibly against Iran, which is allied to the Houthis.
Diplomats have long feared that the Yemen civil war, now into its fifth year, could spill over into the wider Iran-Saudi conflict with Riyadh accusing Tehran of providing logistical and technical support for the Houthi attacks.
No fatalities were reported in the airport attack, but the number of civilians wounded was the largest in any attack by Houthi rebels in Saudi Arabia.
The Houthis' al-Masirah satellite news channel said the missile hit its intended target, Abha airport, near the Yemen border, disrupting flights. The Houthis have also been carrying out drone strikes on Saudi oil installations and may have been responsible for recent attacks on oil tankers off the coast of the United Arab Emirates.
Dan Sabbagh Defence and security editor
Former foreign secretary accused of showing 'total disregard' for civilians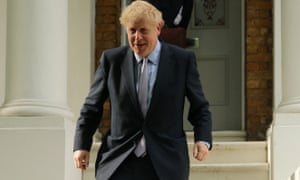 Boris Johnson recommended the sale for approval in August 2016. Photograph: Isabel Infantes/AFP/Getty Images
Tory leadership frontrunner Boris Johnson recommended that the UK allow Saudi Arabia to buy British bomb parts expected to be deployed in Yemen, days after an airstrike on a potato factory in the country had killed 14 people in 2016.
Campaigners accused the then foreign secretary of showing a "total disregard" for Yemeni civilians by allowing the sales, revealed for the first time in emails disclosed via a freedom of information request.
A day after the sale was recommended for approval by Johnson in August 2016, a village school in Yemen was hit by another deadly airstrike, prompting further complaints that the UK is complicit in breaches of international humanitarian law.
UK arms controls mean that the foreign secretary has to be consulted on whether the Department for International Trade should licence "precision guided weapons systems and munitions that are likely to be used by the Saudi Royal Air Force in Yemen".
An email dated 12 August 2016 to the Export Control Joint Unit, responsible for licensing UK arms deals, says that Johnson "was content" to advise that the licensing of components for Paveway bombs should go ahead.
Andrew Smith of Campaign Against Arms Trade accused the Conservative MP of showing a lack of compassion: "For Boris Johnson to approve a missile sale the day after a food factory was destroyed shows the total disregard that he and his colleagues hold for the rights and lives of Yemeni people."
The then cabinet minister has previously defended the arms sales during his time in office, saying in September 2016 that Saudi-led bombing campaign is not "in clear breach" of international humanitarian law.
The UK is estimated to have licensed the sale of over £4.7bn worth of arms to Saudi Arabia since bombing began in March 2015. The Gulf nation has been the largest buyer of British-made arms for decades.
The correspondence shows that the Foreign Office's Arms Policy Export Team has a duty to advise whether "there is a clear risk that these exports might be used in a serious violation of international humanitarian law".
Officials in the export team concluded that "this clear risk test has not been met" in an email dated 10 August.
In another email, dated 27 July, the Export Team declare: "We have increased confidence in the Saudi pre-planned and dynamic targeting processes."
That was criticised by the academic who originally obtained the emails, following a 20-month battle, Dr Anna Stavrianakis, a senior lecturer in international relations at the University of Sussex.
The academic said: "Coming days after an attack on a food factory, this information that suggests 'increased confidence' in Saudi processes is at odds with events on the ground."
The court of appeal is deciding on a claim brought by the Campaign Against Arms Trade against the legality of the export of UK arms to Saudi Arabia for use in Yemen. The high court had determined such sales were legal in July 2017, but two judges said that could be challenged in the higher court.
The Saudi-led coalition has been repeatedly accused of bombing indiscriminately during the Yemeni civil war, which is targeting Houthis and allied rebel groups backing the former president of Yemen, the late Ali Abdullah Saleh. Peace talks have led to a partial ceasefire.
Jeremy Hunt, who took over as foreign secretary in July 2018, and another Tory leadership contender, has defended arms sales to Saudi Arabia, arguing that halting them would be "morally bankrupt" because the UK would "surrender our influence".
Johnson was approached for comment but has not responded.
JALALABAD, Afghanistan (AP) — The Islamic State group has lost its caliphate in Syria and Iraq, but in the forbidding mountains of northeastern Afghanistan the group is expanding its footprint, recruiting new fighters and plotting attacks on the United States and other Western countries, according to U.S. and Afghan security officials.
Nearly two decades after the U.S.-led invasion, the extremist group is seen as an even greater threat than the Taliban because of its increasingly sophisticated military capabilities and its strategy of targeting civilians, both in Afghanistan and abroad. Concerns run so deep that many have come to see the Taliban, which have also clashed with IS, as a potential partner in containing it.

Bush's Five Big Lies That Led to the Iraq Quagmire
These are the five lies Bush told that Ralph Nader documented to impeach him.
Weapons of Mass Destruction. The weapons have still not been found. Nader emphasized, "Until the

1991

Gulf War, Saddam Hussein was our government's anti-communist ally in the Middle East. We also used him to keep Iran at bay. In so doing, in the

1980

s under Reagan and the first Bush, corporations were licensed by the Department of Commerce to export the materials for chemical and biological weapons that President George W. Bush and Vice President Dick Cheney later accused him of having." Those weapons were destroyed after the Gulf War. George W. Bush's favorite chief weapons inspector, David Kay, after returning from Iraq and leading a large team of inspectors and spending nearly half a billion dollars told the president

We were wrong.

See: David Kay testimony before Senate Armed Services Committee,

2004-01-28

.Tyler Drumheller, the former chief of the

CIA

(

C

entral

I

ntelligence

A

gency) 's Europe division, revealed that in the fall of

2002

, George W. Bush, Vice President Cheney, then-National Security Adviser Condoleezza Rice and others were told by

CIA

Director George Tenet that Iraq's foreign minister — who agreed to act as a spy for the United States — had reported that Iraq had no active weapons of mass destruction program.

Iraq Ties to Al Qaeda. The White House made this claim even though the

CIA

and

FBI

(

F

ederal

B

ureau of

I

nvestigation) repeatedly told the Administration that there was no tie between Saddam Hussein and Al Qaeda. They were mortal enemies — one secular, the other fundamentalist.

Saddam Hussein was a Threat to the United States. In fact, Saddam was a tottering dictator, with an antiquated, fractured army of low morale and with Kurdish enemies in Northern Iraq and Shiite adversaries in the South of Iraq. He did not even control the air space over most of Iraq.

Saddam Hussein was a Threat to his Neighbors. In fact, Iraq was surrounded by countries with far superior military forces. Turkey, Iran and Israel were all capable of obliterating any aggressive move by the Iraqi dictator.

The Liberation of the Iraqi People. There are brutal dictators throughout the world, many supported over the years by Washington, whose people need

liberation

from their leaders. This is not a persuasive argument since for Iraq, it's about oil. In fact, the occupation of Iraq by the United States is a magnet for increasing violence, anarchy and insurrection
Recent Casualties:
Color

 Denotes Today's Confirmation
None
War Casualties By Name

Complete Military and Civilian Casualty Lists
Care for War on Terror Veterans


Save the Children is the world's leading independent organisation for children and has been working with families, communities and local authorities in Iraq since 1991, leading NGOs in general relief and development programs.Save the Children is currently responding to the needs of internally displaced persons (IDP) and the Syrian refugees in Iraq, in camps and non-camp settings. Our goal is for children in Iraq to be supported in raising their voices and attaining their rights, especially the right to participate in decisions affecting their lives. They should have access to quality education, health and protection services. We are increasing access to community based services that protect, educate and improve quality of life for children. We are ensuring that there is an increased participation of boys and girls in age appropriate activities and services. We are ensuring that children benefit from government actions that create an environment of awareness and accountability to uphold child rights. We are also developing new resources and innovative practices that support our work for children and youth.In Iraq, Save the Children's interventions include Child Protection, Education, Food Security and Livelihoods, Shelter and Water Sanitation and Hygiene (WASH), reaching vulnerble children and families in northern and central Iraq. Save the Children's programs are implemented through field offices in Erbil, Dohuk, Sulaymaniyah, Kirkuk and Kalar, with a country office located in Erbil.
Afghan War Children
Please Never Forget.