14 Jun
United States Wars, News and Casualties
Damn The War Criminals,

Bush,Cheney,Rice,Rumsfeld,Wolfowitz, Powell and Blair from England
War News
US secretary of state accuses Tehran of 'lashing out' but Iran denies responsibility
The US military has released video footage which it says shows an Iranian military patrol boat approaching one of two tankers attacked in the Gulf of Oman, to support the Trump administration's claims that Iran was responsible.
The blurry black and white footage, taken from the air, shows a small military boat alongside the Japanese-owned Kokuka Courageous, and someone standing up on the prow of the boat to remove an object from the tanker's hull. The boat then pulls away from the tanker.
US officials were quoted as saying the boat was an Iranian Revolutionary Guard patrol boat approaching the tanker after it was attacked on Thursday, and the object removed was an unexploded limpet mine. It was unclear whether it was being alleged the Iranian sailors were detaching the mine in order to remove evidence.
Thursday's attacks increased tension between the US and Iran, which are locked in a standoff after Washington imposed economic sanctions on Tehran in an attempt to force the renegotiation of the 2015 Iran nuclear deal.
The incidents also added to security fears over oil tankers travelling through the strait of Hormuz – a chokepoint for the global oil and gas trade – and appeared to have ended a Japanese-led mediation effort between Tehran and Washington.
The US military also released a photo it claimed showed a mine on the side of the Kokuka Courageous and some damage to the hull.
The operator of the tanker suggested the vessel was struck by a missile. The crew saw "flying objects" just before it came under attack, according to Yutaka Katada, the president of the Tokyo-based owner, Kokuka Sangyo.
The vessel's crew had spotted an Iranian naval ship nearby, he added, but did not say whether that was before or after the attack, which damaged the tanker's starboard side.
Donald Trump called Iran a "nation of terror" on Friday and said the US had "exposed" Iran's responsibility for the attacks. "Iran did do it," the US president said in an interview with Fox & Friends.
On Thursday Mike Pompeo said the US believed the blasts were caused by the Iranian military "based on intelligence, the weapons used, the level of expertise needed to execute the operation". The US secretary of state claimed the attacks had such a high degree of sophistication they could not have been carried out by a proxy.
Pompeo took no questions after making his allegations. He said Iran had been responsible for previous attacks on tankers last month, but the official investigation into those incidents did not determine who had been responsible.
Tehran denied all responsibility for Thursday's attacks and its foreign minister, Javad Zarif, suggested others could be trying to provoke a conflict between Iran and the US.
On Friday he tweeted that the US had "immediately jumped to make allegations against Iran without a shred of factual or circumstantial evidence".
The incident took place on a day when Iran's supreme leader, Ayatollah Ali Khamenei, bluntly rejected the proposal of a resumption of US-Iranian talks, as suggested by Japan's prime minister, Shinzo Abe, on a visit to Tehran. Abe is widely thought to have had the blessing of Trump in offering to open a channel of communication between the US and Iranian leaders.
But after Khamenei's rejection and the tanker attacks, the US president followed suit, posting a tweet saying: "I personally feel that it is too soon to even think about making a deal. They are not ready, and neither are we!"
The blasts on the Kokuka Courageous and the Norwegian-owned Front Altair pushed oil prices up by 4% and could further raise insurance premiums for vessels operating in the Gulf.
Crew members from both vessels were rescued. One Kokuka Courageous crew member sustained burns on his hands and was treated by a US navy medical team.
Iran's English-language Press TV aired footage of rescued crewmen from the Front Altair, saying they are all in "full health".
"Everything is OK," said one of the vessel's "chief officers", presenting himself as Russian and thanking Iran for its "hospitality".
Press TV said 11 of the crew were Russian, 11 Filipino and one Georgian.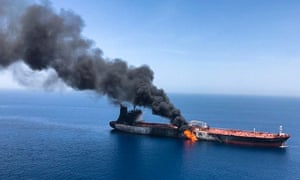 Oil prices rose 4% after the attack. Photograph: Reuters
Confirming the involvement of its ships, US Central Command issued a statement saying it would not tolerate any attempt to interfere in its operations but insisted it was not interested in conflict.
Saudi Arabia supported Pompeo's claims. Its foreign minister, Adel al-Jubeir, said on Thursday: "We have no reason to disagree with the secretary of state. We agree with him."
The UK foreign secretary, Jeremy Hunt, said his assumption was that the intelligence assessment of the US, Britain's closest allies, was correct, but that the UK would make its own inquiries. Hunt said he was "very worried that both sides in the crisis think the other side does not want war. The risk you have is that they do something provocative that leads to unintended catastrophic consequences."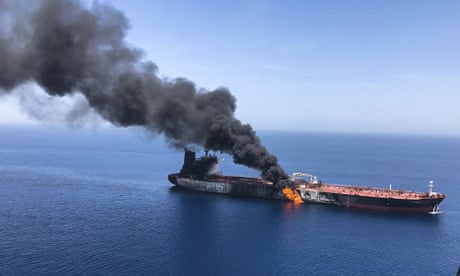 Khamenei dismissed the notion of talks with the US, saying in a series of tweets: "I do not consider Trump as a person worth exchanging any message with and I have no answer for him, nor will I respond to him in the future."
He said Iran had no plan to build nuclear weapons, but if it wished to do so, the US would be unable to stop it.
Pompeo said the attacks on the tankers were intended as an insult to the Japanese leader. "Iran's supreme leader rejected Abe's diplomacy today by saying he has no response to President Trump and will not answer," he said.
The US put its allegations before a closed session of the United Nations security council on Thursday. Iran responded by accusing the US of stoking tensions and mounting an "economic war" against its people.
WASHINGTON (Reuters) – U.S. President Donald Trump on Friday said the Strait of Hormuz, a key commercial shipping route, would not be closed following attacks on two oil tankers in the Gulf of Oman, or at least not for long.
Trump, in an interview on Fox News, blamed Iran for the attack on Thursday. Asked how to he planned to address Tehran and stop any further such incidents, Trump said: "We're going to see."
LONDON (Reuters) – U.S. President Donald Trump blamed Iran on Friday for attacks on two oil tankers at the entrance to the Gulf despite Tehran's denials, stoking fears of a confrontation in the vital oil shipping route.
Here are the latest developments:
**U.S. President Donald Trump blames Iran for Thursday's attacks and says any bid to close the Strait of Hormuz would not last long
**The U.S. military releases a video saying it shows Iran's Revolutionary Guard drawing up to side of the Japanese-owned Kokuka Courageous tanker and removing an unexploded mine from its hull
**The Iranian Foreign Ministry spokesman says accusing Iran is "convenient" for U.S. Secretary of State Mike Pompeo and other U.S. officials, adding Iran is responsible for security in the Strait of Hormuz
**Germany says U.S. video not enough to apportion blame.
**The European Union and China issue calls for restraint from all sides.
**Iran says it has dispatched experts to assess whether rescued crew – Iranian TV showed 23 crew believed to be from the Front Altair – could return to the vessel
**The U.S. Navy says 21 crew from the Kokuka Courageous were rescued by a Dutch tug and transferred to USS Bainbridge.
**Norway's Frontline, owner of the Front Altair, says a fire aboard the ship, which was carrying naphtha, has been extinguished
**Owner Kokuka Sangyo Co says two "flying objects" damaged the Kokuka Courageous but there was no damage to its cargo of methanol
**Dutch marine engineer Boskalis says it has been appointed to salvage both tankers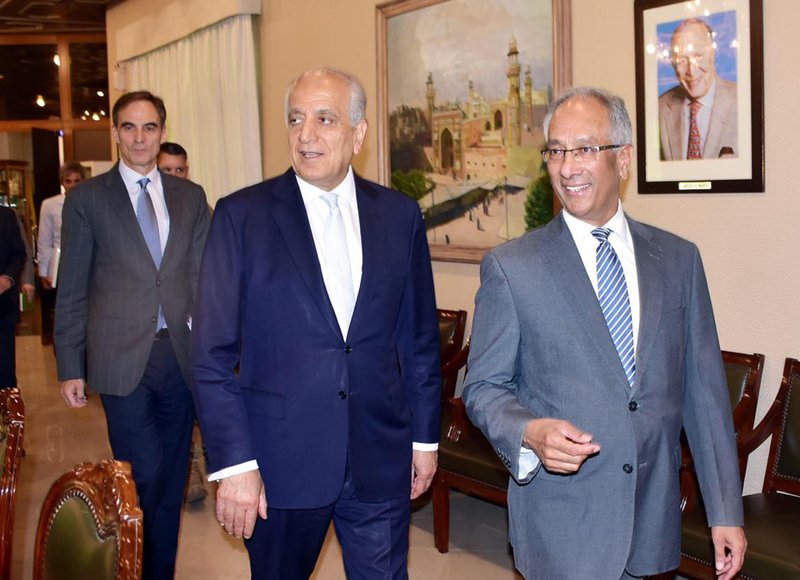 KABUL, Afghanistan (AP) — A suicide bomber walked up to an Afghan police vehicle in Jalalabad, the capital of eastern Nangarhar province, and detonated an explosive device that killed three police and six civilians on Thursday, said provincial health department official Shoaib Sahak. He said another 13 people were wounded, some of the seriously.
Attahullah Khogyani, spokesman for the provincial governor, said security forces were the target of the attack. Several of the injured were police, he said.
The Islamic State group, through its Amaq news agency, claimed responsibility for the suicide attack. The group claimed eight people were killed. Both IS and the Taliban operate in Nangarhar province, located on the border with Pakistan and considered an IS stronghold.
Afghanistan's security forces come under near-daily attacks by both Taliban and IS-affiliated fighters. Afghan forces have suffered staggering casualties in recent years, even as the Taliban hold peace talks with U.S. Peace Envoy Zalmay Khalilzad. He is currently in the Afghan capital, Kabul, trying to restart stalled peace talks aimed at ending the country's 18-year war and America's longest-running military engagement.
The Taliban have held talks with prominent Afghans, including former President Hamid Karzai and members of opposition political parties, but so far they have refused to hold direct talks with the Afghan government, calling them U.S. puppets
Late Wednesday, the Afghan government freed 490 Taliban prisoners from jails across the country in a goodwill gesture that doubled as an attempt to further the peace process.
The freed Taliban insurgents were either ailing or had less than a year remaining on their prison sentence, Feroz Bashari, a government media center chief, told The Associated Press on Thursday. They were part of a group of 887 inmates that Afghan President Ashraf Ghani ordered freed to mark the Eid-al-Fitr holiday that followed the end of the holy month of Ramadan earlier in June, he said. It wasn't known when the remaining prisoners would be released.

Bush's Five Big Lies That Led to the Iraq Quagmire
These are the five lies Bush told that Ralph Nader documented to impeach him.
Weapons of Mass Destruction. The weapons have still not been found. Nader emphasized, "Until the

1991

Gulf War, Saddam Hussein was our government's anti-communist ally in the Middle East. We also used him to keep Iran at bay. In so doing, in the

1980

s under Reagan and the first Bush, corporations were licensed by the Department of Commerce to export the materials for chemical and biological weapons that President George W. Bush and Vice President Dick Cheney later accused him of having." Those weapons were destroyed after the Gulf War. George W. Bush's favorite chief weapons inspector, David Kay, after returning from Iraq and leading a large team of inspectors and spending nearly half a billion dollars told the president

We were wrong.

See: David Kay testimony before Senate Armed Services Committee,

2004-01-28

.Tyler Drumheller, the former chief of the

CIA

(

C

entral

I

ntelligence

A

gency) 's Europe division, revealed that in the fall of

2002

, George W. Bush, Vice President Cheney, then-National Security Adviser Condoleezza Rice and others were told by

CIA

Director George Tenet that Iraq's foreign minister — who agreed to act as a spy for the United States — had reported that Iraq had no active weapons of mass destruction program.

Iraq Ties to Al Qaeda. The White House made this claim even though the

CIA

and

FBI

(

F

ederal

B

ureau of

I

nvestigation) repeatedly told the Administration that there was no tie between Saddam Hussein and Al Qaeda. They were mortal enemies — one secular, the other fundamentalist.

Saddam Hussein was a Threat to the United States. In fact, Saddam was a tottering dictator, with an antiquated, fractured army of low morale and with Kurdish enemies in Northern Iraq and Shiite adversaries in the South of Iraq. He did not even control the air space over most of Iraq.

Saddam Hussein was a Threat to his Neighbors. In fact, Iraq was surrounded by countries with far superior military forces. Turkey, Iran and Israel were all capable of obliterating any aggressive move by the Iraqi dictator.

The Liberation of the Iraqi People. There are brutal dictators throughout the world, many supported over the years by Washington, whose people need

liberation

from their leaders. This is not a persuasive argument since for Iraq, it's about oil. In fact, the occupation of Iraq by the United States is a magnet for increasing violence, anarchy and insurrection
Recent Casualties:
Color 

Denotes Today's Confirmation
None
War Casualties By Name

Complete Military and Civilian Casualty Lists
Care for War on Terror Veterans


Save the Children is the world's leading independent organisation for children and has been working with families, communities and local authorities in Iraq since 1991, leading NGOs in general relief and development programs.Save the Children is currently responding to the needs of internally displaced persons (IDP) and the Syrian refugees in Iraq, in camps and non-camp settings. Our goal is for children in Iraq to be supported in raising their voices and attaining their rights, especially the right to participate in decisions affecting their lives. They should have access to quality education, health and protection services. We are increasing access to community based services that protect, educate and improve quality of life for children. We are ensuring that there is an increased participation of boys and girls in age appropriate activities and services. We are ensuring that children benefit from government actions that create an environment of awareness and accountability to uphold child rights. We are also developing new resources and innovative practices that support our work for children and youth.In Iraq, Save the Children's interventions include Child Protection, Education, Food Security and Livelihoods, Shelter and Water Sanitation and Hygiene (WASH), reaching vulnerble children and families in northern and central Iraq. Save the Children's programs are implemented through field offices in Erbil, Dohuk, Sulaymaniyah, Kirkuk and Kalar, with a country office located in Erbil.
Afghan War Children
Please Never Forget.