22 Jun
United States Wars, News and Casualties
Damn The War Criminals,

Bush,Cheney,Rice,Rumsfeld,Wolfowitz, Powell and Blair from England
War News
The onus is on MPs to ensure the government respects a legal ruling criticising the export of weapons used in Yemen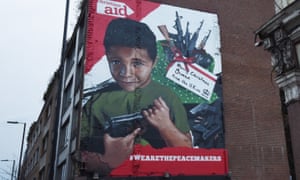 Artwork is seen on a London street depicting a young Yemeni boy holding a gun. A sackful of weaponry behind him is tagged: 'Merry Christmas Yemen from the UK.' Photograph: Facundo Arrizabalaga/EPA
T

his week's legal decision by the appeal court that UK arms sales to Saudi Arabia are unlawful finally opens the door to accountability for Britain's role in the war in Yemen and the humanitarian disaster it has caused.
But while Thursday was a day of celebration for campaigners, now the hard work begins of trying to get the government to respect the decision.
The government says it will not allow arms exports where there is a clear risk they might be used in serious violations of international humanitarian law. Yet for the past four years, it has provided diplomatic cover for the Saudi-led coalition's abuses committed primarily with UK and US supplied weapons.
The government has expended significant amounts of energy in trying not to know, or be seen to know, about those abuses. At every turn, in response to every criticism the government has mobilised doubt and ambiguity about what can be known about the conduct of the war and stuck to its claim to have one of the most robust control regimes in the world.
The court of appeal concluded on Thursday that the government has failed to assess the risk of misuse properly, as it has made no assessment of whether there is a past pattern of violations by the Saudi-led coalition in Yemen. The trade secretary, Liam Fox, whose signature goes on arms export licence approvals, has already tried to minimise the significance of the decision and indicated that the government intends to appeal.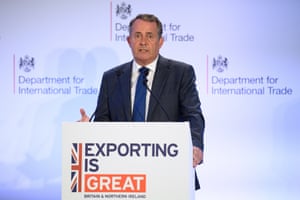 Liam Fox delivers a speech on the future of exports from the UK after Brexit. Photograph: Leon Neal/Getty Images
New data from Yemen indicates 11,700 civilian fatalities from direct targeting – two thirds of whom have been killed by the Saudi-led coalition – and famine and cholera continue to decimate the population. As the pursuit of accountability continues, three things are worth noting.
First, this decision sticks the final nail in the coffin of the tired argument that arms sales bring influence and leverage. The government has repeatedly claimed that its friendly relationship with Saudi Arabia brings special levels of insight into, and influence over, its conduct of the war. Yet the court was clear that without assessing whether there have been breaches of international law, and whether the training has actually made any difference to how the coalition is fighting the war, all this talk about training, support and influence are moot. The government uses this argument about leverage to justify what it wishes were true and to facilitate ongoing arms exports and diplomacy, rather than as an accurate description of reality.
Second, the decision vindicates the value of open-source information coming from non-governmental organisations and the UN. The government sought to diminish the significance of open-source information, claiming superior – but secret – information from intelligence and military sources. The court of appeal recognised that NGOs and the UN had representatives on the ground in Yemen who were able to bring evidence into the public domain of likely violations of international humanitarian law, and that their methods are rigorous and reliable. This is a significant victory for activists – and especially for the Yemeni and Yemen-based researchers, journalists, and fixers who undertake this work at great personal risk.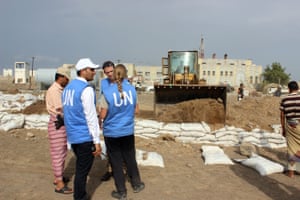 UN officials monitor the removal of sandbag barricades in the embattled Yemeni Red Sea port city of Hodeida. Photograph: AFP/Getty Images
Lastly, there has been significant effort within government to try to manage information, minimise paper trails, and not create a record of how it was (failing to) assess risk. The court drew attention to an undocumented Ministry of Defence decision in 2016 that there would be no attempt to answer the question of whether the Saudi-led coalition was breaching international law. And last week it was revealed that the Foreign Office has repeatedly sought to delay the release of information about its processes. It is now clear there has been a cross-government effort to minimise the possibility of scrutiny and accountability.
So what now? The court has found government policy to be unlawful, so the government has to make fresh decisions, this time lawfully. The government has committed not to issue new licences to the Saudi-led coalition for weapons to be used in the Yemen war. Deliveries under existing licences are not automatically suspended in the meantime – although that would be a prudent precautionary move, if the government were serious about correcting its policy. Parliament has a crucial role in keeping up pressure on the government to put this into practice. The parliamentary Committees on Arms Export Controls must resume their role as scrutineers of government policy and put Yemen firmly back on the agenda. Given that the current and former foreign secretaries are vying to be the country's next prime minister, the task of accountability has never been more urgent.
Dr Anna Stavrianakis is a senior lecturer in international relations at the University of Sussex
Andrew Murrison will raise concerns about country's conduct amid rising tensions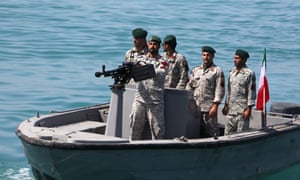 Iranian soldiers in the Strait of Hormuz in the Gulf of Oman, where two oil tankers were attacked on 13 June. Photograph: Atta Kenare/AFP/Getty Images
A Foreign Office minister is to visit Iran on Sunday and call for "urgent de-escalation in the region", amid heightening tensions between Tehran and Washington after an unmanned American drone was shot down.
Andrew Murrison, the MP for South West Wiltshire who covers the Middle East as part of his brief, will raise UK and international concerns about Iran's "regional conduct and its threat to cease complying with the nuclear deal to which the UK remains fully committed" during "frank and constructive" talks with the government in Tehran.
"At this time of increased regional tensions and at a crucial period for the future of the nuclear deal, this visit is an opportunity for further open, frank and constructive engagement with the government of Iran," the Foreign Office said.
Iran claimed the downed aircraft was "spying" in its airspace and had crossed a "red line". However, Washington said the incident had occurred in international airspace.
UK relations with Iran have been dominated by the ongoing imprisonment of Nazanin Zaghari-Ratcliffe, the British-Iranian national who has always denied the spying allegations upon which she has been held in Iran since 2016.
Speaking about Murrison's planned visit to Iran, her husband Richard Ratcliffe said: "I've been asked how hopeful I am. I'm not sure if I'm hopeful, but certainly will be watching very closely to see how things develop and what comes back."
Ratcliffe is on day eight of a hunger strike outside the Iranian embassy in London in solidarity with Zaghari-Ratcliffe. "[Murrison will] be talking to the foreign ministry; we'll be looking to see what reaction comes from inside the prison to those conversations," Ratcliffe said.
"The sooner the British government's able to work with the Iranian government and find a resolution, that's better for our family, for sure."
However, US-Iran relations have overshadowed her ongoing confinement, and while both countries have said they do not have any appetite for conflict Donald Trump told NBC on Friday that if it comes, Iran would experience "obliteration like you've never seen before … but I'm not looking to do that".
Trump said the US was "cocked and loaded" to retaliate against Iran, but that he had cancelled planned strikes just minutes before they were to be carried out on Thursday after being told 150 people could die.
Iran has vowed to defend its borders. "Regardless of any decision [US officials] make… we will not allow any of Iran's borders to be violated," the foreign ministry spokesman Abbas Mousavi, told Tasnim, a semi-official news agency. "Iran will firmly confront any aggression or threat by America.
Last year, the US unilaterally pulled out of the 2015 nuclear deal between Iran and six other powers and reimposed sanctions on the country. International sanctions had been lifted under the pact in return for Tehran curbing its nuclear programme.
A senior Arab diplomat said sharply increased tensions would further harm the crisis-hit Middle East region.
"De-escalation is very important because tempers are flaring… It's very important we avoid confrontation right now," they told Reuters, on condition of anonymity. "Confrontation, whatever we think about Trump or Iran, will be disastrous for everyone."
On Saturday, Etihad Airways followed Qantas, British Airways, Lufthansa and a number of other airlines and suspended "until further notice" operations through Iranian airspace over the Straits of Hormuz and the Gulf of Oman.
The United Arab Emirates-based carrier said "the safety of our passengers and staff is the highest priority" and that it would use alternative flight paths on a number of routes to and from Abu Dhabi.
The US has warned that commercial airliners could be mistakenly attacked after the US Navy Global Hawk drone was shot down on Thursday.
Tehran dismissed the concerns, which come 30 years after the US Navy accidentally shot down an Iranian civilian flight flying in Iranian airspace, killing almost 300 people.
Responses to Arron Merat's long read on the UK's role in Saudi strikes on Yemen, and this week's court ruling that British arms exports to Saudi Arabia are illegal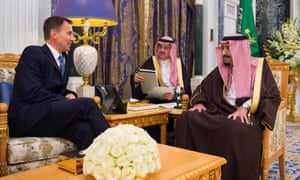 The UK's foreign secretary, Jeremy Hunt, with Saudi Arabia's King Salman. 'Not only did Jeremy Hunt want to continue UK arms sales to Saudi Arabia, but even more despicably he wanted to dissuade other countries from halting any sales,' writes Rae Street. Photograph: AP
In his illuminating long read ('They couldn't do it without us': the UK's role in Yemen's deadly war, 18 June), Arron Merat describes the increasingly shaky claims made by ministers that the UK is not a party to the Yemen conflict (despite the UK posting personnel to prepare and maintain Saudi Arabian fighter jets, and sending UK special forces to fight on the side of the Saudi-led coalition). Such claims are clearly designed to avoid responsibility under rules of the Geneva conventions and other international humanitarian law that bind parties to conflict.
Under the international law of state responsibility, however, the UK could still be liable for "aiding and assisting" another state that committed an internationally wrongful act or maintained a serious breach of a peremptory norm of international law. The overwhelming evidence collected on the ground by Mwatana, Ceasefire's partner organisation cited by Arron Merat, testifies to gross and systematic violations including repeated airstrikes against schools, hospitals, markets, farms and food storage sites, far from any military objective.
Nor is responsibility for war crimes restricted to individuals who are linked to a party to the conflict. The government's policy is again placing UK service personnel at risk of prosecution, including RAF liaison officers stationed in command and control centres in Saudi Arabia. Rumoured techniques such as walking out of the room whenever a sensitive civilian target is discussed may not be enough for officers to escape responsibility for aiding and abetting a war crime.
BAGHDAD (Reuters) – A bomb blast at a Shi'ite Muslim mosque in eastern Baghdad wounded at least seven people on Friday, security sources said, correcting earlier reports of seven killed.
Police sources said on Friday a suicide belt or improvised explosive device had been used in the attack in the Baladiyat neighbourhood, for which there was no immediate claim of responsibility.
The toll was initially put at seven dead and more than 20 wounded. But police and other security sources said on Saturday the attackers had leaked false news of casualties through witnesses that police relied on for their reports.
An investigation had been launched, they said.
It was a rare attack on a Shi'ite place of worship in the Iraqi capital.
Sunni extremists carried out high-profile bombings of Iraqi Shi'ite sites during the worst of the country's sectarian violence after the U.S. invasion that toppled dictator Saddam Hussein in 2003.
Baghdad's security improved significantly with the defeat of Islamic State in 2017 and bomb attacks of any kind in the city have been rare since then.
TIKRIT, Iraq (Reuters) – U.S. forces are preparing to evacuate hundreds of staff working for Lockheed Martin Corp and Sallyport Global from an Iraqi military base where they work as contractors, three Iraqi military sources said on Friday.
Nearly 400 contractors from the two firms are getting ready to leave Balad military base, which hosts U.S. forces some 80 km (50 miles) north of Baghdad, over "potential security threats", they said, without saying what those threats might be.
The U.S. military denied any planned evacuation from the sprawling Balad base, which last week was hit by three mortar shells. No one has claimed responsibility for the attack.
"There are no plans at this time to evacuate any personnel from Balad … Should there be increased threats to our people, the U.S. Air Force will put measures in place to provide the protections required," Air Force Colonel Kevin Walker said in a statement.
A spokeswoman for Lockheed in the Middle East said: "We are not evacuating Lockheed Martin employees right now from Balad Air Base." She did not say whether any other evacuation was being prepared.
A military official with knowledge of the base's daily operations said earlier that the U.S. military had informed Iraqi officials they would begin evacuating about half of the 800 employees who work for both companies at Balad.
The official said the evacuation would take about 10 days.
Two other military sources said the evacuation would take place in two stages and would be carried out by military aircraft.
"Americans informed us that they will only keep limited, necessary staff who work closely on the maintenance of Iraqi F-16 war planes." Lockheed Martin began delivering the first F-16s to Iraq in 2014.
WASHINGTON (AP) — The latest on The United States and Iran's tensions over the shoot-down of a massive U.S. drone (all times local):
8:10 p.m.
President Donald Trump says he abruptly called off the military strikes on Iran Thursday because the likely deaths of 150 Iranians would have been out of proportion to the shootdown of an unmanned American surveillance drone.
He is also indicating he still hopes for talks with Iranian leaders rather than any escalation of military conflict.
Trump says he is "in no hurry," adding that increasingly severe sanctions meant to push Iran to the nuclear negotiating table are "biting" the Iranian economy.
Iran, though, is showing no public inclination to negotiate. It is unclear whether Trump, who says the U.S. military had been "cocked and loaded" to hit Iran, is considering new military options.

Bush's Five Big Lies That Led to the Iraq Quagmire
These are the five lies Bush told that Ralph Nader documented to impeach him.
Weapons of Mass Destruction. The weapons have still not been found. Nader emphasized, "Until the

1991

Gulf War, Saddam Hussein was our government's anti-communist ally in the Middle East. We also used him to keep Iran at bay. In so doing, in the

1980

s under Reagan and the first Bush, corporations were licensed by the Department of Commerce to export the materials for chemical and biological weapons that President George W. Bush and Vice President Dick Cheney later accused him of having." Those weapons were destroyed after the Gulf War. George W. Bush's favorite chief weapons inspector, David Kay, after returning from Iraq and leading a large team of inspectors and spending nearly half a billion dollars told the president

We were wrong.

See: David Kay testimony before Senate Armed Services Committee,

2004-01-28

.Tyler Drumheller, the former chief of the

CIA

(

C

entral

I

ntelligence

A

gency) 's Europe division, revealed that in the fall of

2002

, George W. Bush, Vice President Cheney, then-National Security Adviser Condoleezza Rice and others were told by

CIA

Director George Tenet that Iraq's foreign minister — who agreed to act as a spy for the United States — had reported that Iraq had no active weapons of mass destruction program.

Iraq Ties to Al Qaeda. The White House made this claim even though the

CIA

and

FBI

(

F

ederal

B

ureau of

I

nvestigation) repeatedly told the Administration that there was no tie between Saddam Hussein and Al Qaeda. They were mortal enemies — one secular, the other fundamentalist.

Saddam Hussein was a Threat to the United States. In fact, Saddam was a tottering dictator, with an antiquated, fractured army of low morale and with Kurdish enemies in Northern Iraq and Shiite adversaries in the South of Iraq. He did not even control the air space over most of Iraq.

Saddam Hussein was a Threat to his Neighbors. In fact, Iraq was surrounded by countries with far superior military forces. Turkey, Iran and Israel were all capable of obliterating any aggressive move by the Iraqi dictator.

The Liberation of the Iraqi People. There are brutal dictators throughout the world, many supported over the years by Washington, whose people need

liberation

from their leaders. This is not a persuasive argument since for Iraq, it's about oil. In fact, the occupation of Iraq by the United States is a magnet for increasing violence, anarchy and insurrection
Recent Casualties:
Color 

Denotes Today's Confirmation
None
War Casualties By Name

Complete Military and Civilian Casualty Lists
Care for War on Terror Veterans


Save the Children is the world's leading independent organisation for children and has been working with families, communities and local authorities in Iraq since 1991, leading NGOs in general relief and development programs.Save the Children is currently responding to the needs of internally displaced persons (IDP) and the Syrian refugees in Iraq, in camps and non-camp settings. Our goal is for children in Iraq to be supported in raising their voices and attaining their rights, especially the right to participate in decisions affecting their lives. They should have access to quality education, health and protection services. We are increasing access to community based services that protect, educate and improve quality of life for children. We are ensuring that there is an increased participation of boys and girls in age appropriate activities and services. We are ensuring that children benefit from government actions that create an environment of awareness and accountability to uphold child rights. We are also developing new resources and innovative practices that support our work for children and youth.In Iraq, Save the Children's interventions include Child Protection, Education, Food Security and Livelihoods, Shelter and Water Sanitation and Hygiene (WASH), reaching vulnerble children and families in northern and central Iraq. Save the Children's programs are implemented through field offices in Erbil, Dohuk, Sulaymaniyah, Kirkuk and Kalar, with a country office located in Erbil.
Global Research Photo

Iraqi War Child
Please Never Forget.