24 Jun
United States Wars, News and Casualties
Damn The War Criminals,

Bush,Cheney,Rice,Rumsfeld,Wolfowitz, Powell and Blair from England

War News
The UN says tens of thousands of Islamic State fighters and family members being held in Iraq and Syria must be tried or released.
Human rights chief, Michelle Bachelet, also called on countries to take responsibility for their citizens and take them back them if not charged.
She said that children in particular had suffered "grievous violations" of their human rights.
The last IS strongholds fell in March and some 55,000 people are being held.
To inflict statelessness on children who have already suffered so much is an act of irresponsible cruelty," she said.
Who are the captives and where are they being held?
A vast number are at al-Hol camp in north-eastern Syria, which has seen a huge increase since the collapse of the last IS strongholds in Syria.
About 1,000 foreign IS fighters were captured by the US-backed Syrian Democratic Forces but several hundred have already been transferred to Iraq for trial. Those remaining are mostly family members.
The UN says there are about 29,000 children of foreign IS fighters in Syria, 20,000 of them from Iraq, but overall there are about 50 nationalities.
What has Ms Bachelet said?
The UN High Commissioner for Human Rights said there should be no doubt about what must happen to those being detained.
"Accountability through fair trials protects societies from future radicalisation and violence," she said, adding that continuing to detain individuals not suspected of crimes was not acceptable.
She added: "Foreign family members should be repatriated, unless they are to be prosecuted for crimes in accordance with international standards."
Ms Bachelet highlighted in particular the plight of children born to IS fighters, reported to number about 29,000.
"States should provide the same access to nationality for children born to their nationals in conflict zones as is otherwise applicable.
However, as most of the children were born in Syria, the governments of parents' nations have often refused to recognise them.
France, Russia, Morocco, Saudi Arabia and the Netherlands have taken back some. Australia also confirmed it had evacuated six children from a "bleak and complicated" situation at a Syrian refugee camp.
But many nations have shown unwillingness to allow repatriation. They fear prosecutions of IS fighters may be difficult and public opinion is often strongly against repatriation.
Trump official seeks to isolate Iran as Washington plans further sanctions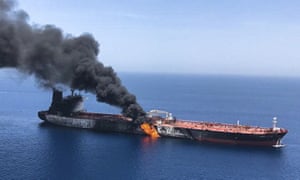 Iran denies responsibility for attacks on two tankers in the Gulf of Oman. Photograph: AP
The US is to propose an international maritime Gulf protection force, its special envoy on Iran has said, as the Trump administration prepared to announce fresh economic sanctions on Tehran.
Brian Hook said he had been holding extensive talks with US allies in the wake of the Gulf of Oman tanker attacks, when two vessels were damaged by explosions. He believed a global coalition to protect shipping was required.
"There have been too many attacks. We could have had an environmental disaster and extensive loss of life due to reckless Iranian provocations," he said.
Hook said the G20 summit this week in Japan would be a good forum for discussions. As many as 17 countries had been adversely effected by the recent tanker attacks either directly or through crew, insurance or contracts, he said, and an international force might isolate Iran diplomatically as well as make it more perilous for Tehran or its surrogates to mount further attacks.
Iran has denied responsibility for the blasts.
Hook, seen as one of the hawks on Iran inside the US administration, said Tehran faced a choice: "They can either start coming to the negotiating table or they can watch their economy continue to crumble."
Tensions with Iran have been mounting since Trump withdrew the US from the 2015 nuclear deal last year and began applying pressure on Tehran through economic sanctions.
The US secretary of state, Mike Pompeo, met Saudi Arabia's king and crown prince for talks on Monday as the US sought to promote an anti-Iran alliance at a time of mounting tensions in the region.
"You are a dear friend," King Salman told Pompeo, who was due to fly to the United Arab Emirates later on Monday for further discussions.
Before his departure from the US, Pompeo had said Saudi Arabia and the UAE were "great allies in the challenge that Iran presents".
He also reiterated Donald Trump's offer of dialogue to improve relations with Iran. "We're prepared to negotiate with no preconditions. They know precisely how to find us," Pompeo said.
Last week, the US pulled back from the brink of a military confrontation with Iran after Trump called off strikes ordered in retaliation for the shooting down of a US drone.
Iran has said it will not enter into discussions until sanctions are lifted. The fresh round of US sanctions is however an attempt to force the Iranian leadership to hold talks with the US. A near-total ban on oil exports is already in place.
On Sunday, the hawkish US national security adviser, John Bolton, said Tehran should not "mistake US prudence and discretion for weakness".
A drone strike on an airport in Saudi Arabia by Iranian-aligned Houthi rebels, which left one person dead and 21 injured, will have coloured the mood among Gulf states. It follows another attack on 12 June.
Hook is also to meet officials from Britain, France and Germany this week, but declined to say what pressure he will putting on those countries to follow the US out of the nuclear deal with Iran if, as Tehran has threatened, it breaches its permitted uranium enrichment stock levels on Thursday.
The EU has the choice of either putting the issue in the nuclear deal dispute mechanism, or threatening its own retaliatory measures.
The British foreign secretary, Jeremy Hunt, said the UK was focused on de-escalating the dispute and refused to comment directly on claims that London had not been consulted before Trump sanctioned and then cancelled the planned strike on Iran last Thursday. Hunt said the UK had the closest possible intelligence relationship with the US.
Germany appeared cool towards US talk of building a global coalition against Iran. A foreign ministry spokesman said on Monday that Berlin had "taken note via the media" of Pompeo's comments and added that "our top aim is and remains a de-escalation of the serious situation".
Hook claimed the EU was being subjected to nuclear blackmail by Iran, and claimed Iran had rejected the opportunity to take various diplomatic "off-ramps" in the past year.
The UK, together with France and Germany, is urging Tehran to wait for European countries to set up the much-delayed financial mechanism designed to help businesses in Europe trade with Iran, circumventing secondary US sanctions. Iran saw an increase in trade as one of the key benefits of the deal.
KABUL (Reuters) – Upcoming peace talks between the United States and the Taliban will focus on working out a timeline for the withdrawal of U.S.-led troops from Afghanistan and on a Taliban guarantee militants won't plot attacks from Afghan soil, sources said on Monday.
A seventh round of talks between the warring sides begins on Saturday in Qatar's capital of Doha, where U.S. and Taliban negotiators have been trying to hammer out a deal to end to the 18-year-long war since October.
"Once the timetable for foreign force withdrawal is announced, then talks will automatically enter the next stage," said Sohail Shaheen, a spokesman for the Taliban's political office in Doha.
"We don't need to wait for the completion of the withdrawal, both withdrawal and talks can move forward simultaneously."
The focus of the talks has been a Taliban demand for the withdrawal of U.S. and other foreign forces and a U.S. demand the Taliban guarantee that Afghanistan will not be used as a base for militant attacks.
Two other main issues in the process are a ceasefire and talks between the rival Afghan sides – the insurgents and the Western-backed government.
But the Taliban have long refused to talk to the Afghan government, denouncing it as foreign "puppet", and fighting has seen no let-up.
Two other sources with knowledge of the talks said the sixth round in May ended with unease on both sides, but since then informal meeting had taken place to work out what can be agreed on.
The U.S. special envoy for peace in Afghanistan, Zalmay Khalilzad, has also held informal meetings with the Taliban leadership in Doha.
"Based on my recent visits to Afghanistan and Qatar, I believe all sides want rapid progress," Khalilzad said on Twitter.
Khalilzad, an Afghan-born American diplomat has been leading the talks to secure a political settlement with the hardline Islamist group that now controls more Afghan territory than at any time since being toppled in 2001 by U.S.-led forces.
About 20,000 foreign troops, most of them American, are in Afghanistan as part of a U.S.-led NATO mission to train, assist and advise Afghan forces. Some U.S. forces carry out counter-terrorism operations.
At least 3,804 civilians were killed in the war last year, according to the United Nations. Thousands of Afghan soldiers, police and Taliban were also killed.
Nevertheless, the Taliban leader vowed this month to sustain the fight until their objectives were reached.
In March, a draft agreement was reached on the withdrawal of foreign forces in exchange for a commitment by the Taliban to cut ties with militant groups such as al Qaeda.
A Taliban source said both sides were expecting some clarity and results on the prime issues in the new round talks.
"A ceasefire and intra-Afghan talks will not be discussed during the seventh round," said the Taliban source, who declined to be identified.
Some Afghan government officials side fear the United States and the Taliban will strike a deal on the withdrawal of foreign forces, enabling the United States to get out of an unpopular war but leaving government forces to battle on alone.
BAGHDAD (AP) — Iraqi special forces say they have conducted an operation near the northern city of Kirkuk in which they killed 14 members of the Islamic State group.
A statement from Iraqi Counterterrorism Forces on Monday says that during the operation, Iraqi forces received support from warplanes of the U.S.-led coalition
The statement says the operation, just south of Kirkuk, lasted for two days and included Iraqi special forces rappelling from helicopters.
Although Iraq declared victory against IS in July 2017, the extremists have since been trying to mount a guerrilla-style insurgency, going into hiding and staging surprise attacks in different parts of the country.
KABUL, Afghanistan (AP) — The Taliban have issued a threat to Afghan media, saying journalists will be targeted unless news outlets stop broadcasting what they describe as government propaganda against the insurgents.
Monday's statement gives Afghan radio stations, TV channels and others a week to cease transmitting anti-Taliban announcements paid for by the government.
The Taliban say that Afghan media that refuse to do this will be considered enemy intelligence nests and their journalists and other staffers will not be safe.
The government in Kabul pays media outlets to regularly air please to the public to inform authorities if they see any suspicious Taliban activities.
The Taliban have targeted Afghan media, radio and TV stations in the past but this is the insurgents' first threat over a specific issue such as the government-paid announcements.
WASHINGTON (AP) — Kansas Sen. Jerry Moran has broken with most other Republican senators in voting to block President Donald Trump's administration from selling arms to Saudi Arabia.
The Kansas City Star reports that Moran supported two resolutions Thursday disapproving of Trump's use of emergency authority to make the sales.
Moran was among seven Republicans to vote for the two measures. Fellow Kansas Republican Pat Roberts voted against them.
One resolution objected to arm sales based on the Saudi regime's involvement in a civil war in Yemen and evidence of a role in the murder of U.S.-based columnist Jamal Khashoggi.
Moran said the resolutions prevent Congress from being bypassed on arm sales.
Trump is expected to veto the measures. They passed 53-45, well short of the two-thirds majority necessary to override a veto.

Bush's Five Big Lies That Led to the Iraq Quagmire
These are the five lies Bush told that Ralph Nader documented to impeach him.
Weapons of Mass Destruction. The weapons have still not been found. Nader emphasized, "Until the

1991

Gulf War, Saddam Hussein was our government's anti-communist ally in the Middle East. We also used him to keep Iran at bay. In so doing, in the

1980

s under Reagan and the first Bush, corporations were licensed by the Department of Commerce to export the materials for chemical and biological weapons that President George W. Bush and Vice President Dick Cheney later accused him of having." Those weapons were destroyed after the Gulf War. George W. Bush's favorite chief weapons inspector, David Kay, after returning from Iraq and leading a large team of inspectors and spending nearly half a billion dollars told the president

We were wrong.

See: David Kay testimony before Senate Armed Services Committee,

2004-01-28

.Tyler Drumheller, the former chief of the

CIA

(

C

entral

I

ntelligence

A

gency) 's Europe division, revealed that in the fall of

2002

, George W. Bush, Vice President Cheney, then-National Security Adviser Condoleezza Rice and others were told by

CIA

Director George Tenet that Iraq's foreign minister — who agreed to act as a spy for the United States — had reported that Iraq had no active weapons of mass destruction program.

Iraq Ties to Al Qaeda. The White House made this claim even though the

CIA

and

FBI

(

F

ederal

B

ureau of

I

nvestigation) repeatedly told the Administration that there was no tie between Saddam Hussein and Al Qaeda. They were mortal enemies — one secular, the other fundamentalist.

Saddam Hussein was a Threat to the United States. In fact, Saddam was a tottering dictator, with an antiquated, fractured army of low morale and with Kurdish enemies in Northern Iraq and Shiite adversaries in the South of Iraq. He did not even control the air space over most of Iraq.

Saddam Hussein was a Threat to his Neighbors. In fact, Iraq was surrounded by countries with far superior military forces. Turkey, Iran and Israel were all capable of obliterating any aggressive move by the Iraqi dictator.

The Liberation of the Iraqi People. There are brutal dictators throughout the world, many supported over the years by Washington, whose people need

liberation

from their leaders. This is not a persuasive argument since for Iraq, it's about oil. In fact, the occupation of Iraq by the United States is a magnet for increasing violence, anarchy and insurrection
Recent Casualties:
Color

 Denotes Today's Confirmation
None
War Casualties By Name

Complete Military and Civilian Casualty Lists


Save the Children is the world's leading independent organisation for children and has been working with families, communities and local authorities in Iraq since 1991, leading NGOs in general relief and development programs.Save the Children is currently responding to the needs of internally displaced persons (IDP) and the Syrian refugees in Iraq, in camps and non-camp settings. Our goal is for children in Iraq to be supported in raising their voices and attaining their rights, especially the right to participate in decisions affecting their lives. They should have access to quality education, health and protection services. We are increasing access to community based services that protect, educate and improve quality of life for children. We are ensuring that there is an increased participation of boys and girls in age appropriate activities and services. We are ensuring that children benefit from government actions that create an environment of awareness and accountability to uphold child rights. We are also developing new resources and innovative practices that support our work for children and youth.In Iraq, Save the Children's interventions include Child Protection, Education, Food Security and Livelihoods, Shelter and Water Sanitation and Hygiene (WASH), reaching vulnerble children and families in northern and central Iraq. Save the Children's programs are implemented through field offices in Erbil, Dohuk, Sulaymaniyah, Kirkuk and Kalar, with a country office located in Erbil.
Global Research Photo

Iraqi War Child
Please Never Forget.