28 Jun
United States Wars, News and Casualties
---
The Department of Defense announced today the deaths of two soldiers who were supporting Operation Freedom's Sentinel.
Both soldiers died June 25, 2019, in Uruzgan Province, Afghanistan as a result of wounds sustained from small arms fire while engaged in combat operations. The incident is under investigation.
The deceased are:
Master Sgt. Micheal B. Riley, 32, of Heilbronn, Germany. Riley was assigned to 2nd Battalion, 10th Special Forces Group (Airborne), Fort Carson, Colorado.
Sgt. James G. Johnston, 24, of Trumansburg, New York. Johnston was assigned to 79th Ordnance Battalion (Explosive Ordnance Disposal), 71st Ordnance Group, Fort Hood, Texas.
Damn The War Criminals,

Bush,Cheney,Rice,Rumsfeld,Wolfowitz, Powell and Blair from England

War News
Country may be waiting on outcome of talks setting out plans to kickstart trade with EU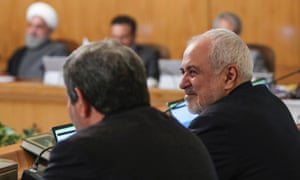 The Iranian foreign minister, Javad Zarif, attends a cabinet meeting in Tehran. Photograph: -/AFP/Getty Images
Iran has held back on its threat to make its first breach of the nuclear deal and may be waiting for the outcome of talks with EU powers, China and Russia in Vienna.
At the talks on Friday the EU countries will set out plans to kickstart trade between Tehran and the bloc, one of the Iranian preconditions for sticking with the deal.
Iran had threatened to break the 300kg limit for low-enriched uranium stockpiles on Thursday, but experts at the UN's International Atomic Energy Agency said the progress in increasing the stockpiles had been slower than expected and the limit may not be reached until the weekend
Iran was said to be adding to its stockpiles at a rate of 1kg a day and could have sped up the process if it had wished to do so. There was little mention of the stockpile limit in the official Iranian press.
The EU powers are expected to unveil a plan to set up a multimillion-euro credit line to kickstart a trading mechanism known as Instex designed to help EU businesses trade with Iran while avoiding US Treasury sanctions.
It is not known if the announcement of the relatively modest credit line will be enough to assuage Iran, which has been impatient regarding what it considers to be Europe's failure to meet its commitments under the deal, known as the joint comprehensive plan of action (JCPOA).
The EU has said it has been engaged in laborious legal work to set up Instex, and it is not yet able to identify companies that definitely wish to use the mechanism.
The expected size of the credit line may disappoint Iran, but European officials say technical meetings about Instex's progress were held last week in Tehran in a serious and good-natured atmosphere.
The Iranian restraint may reflect pressure from the three EU states warning that they will not stay committed to the nuclear deal indefinitely if Iran takes other steps to breach the deal's terms.
The EU countries have said they cannot tolerate a "less for less" arrangement in which both sides reduce their commitments to the deal. The JCPOA is not a treaty or a legally enforceable document.
Calls for Iran not to break from the deal despite heavy US economic sanctions were made repeatedly by diplomats including from Russia at a meeting of the UN security council on Wednesday.
Iran's UN ambassador, Majid Takht Ravanchi, said the EU three "must either prove their goodwill by taking timely, adequate, serious and practical steps to preserve the JCPOA, which is now in critical condition, or, along with the US, accept the full responsibility for any possible consequences."
The US special envoy on Iran, Brian Hook, one of the leading architects of the sanctions regime throttling the Iranian economy, was meeting European counterparts in Paris on Thursday. The EU will be trying to discover whether the US will react to Instex with sanctions, even though it is primarily aimed at easing trade in humanitarian goods.
Some of the diplomatic action will shift to the G20 summit in Japan, where the French president, Emmanuel Macron, will lead calls for all sides to de-escalate the crisis.
At the summit, which formally starts on Friday, Macron is also likely to press Donald Trump to clarify his negotiating objectives, since at times the US has appeared to focus purely on a renegotiation of the nuclear deal signed by Barack Obama in 2015, and at others it has tabled wider demands including an end to Iranian interference in Yemen, Syria and Iraq.
On Thursday, Iran's foreign minister Javed Zarif warned Trump that any belief that he could stage a short with Iran was an illusion, adding that misconceptions could lead to military conflict.
In a tweet Zarif said: "Sanctions aren't alternative to war; they ARE war, adding: "'Obliteration'=genocide=war crime. 'Short war' with Iran is an illusion. Whoever begins war will not be the one ending it. Negotiations and threats are mutually exclusive."
SAN DIEGO (Reuters) – The immediate superior of a Navy SEAL standing trial charged with murdering a helpless Iraqi prisoner and shooting unarmed civilians testified on Wednesday he had complete confidence in the defendant's combat tactics and decision-making.
U.S. Navy SEAL Special Operations Chief Edward Gallagher arrives at court with his wife Andrea and brother Sean (C) for the start of his court-martial trial at Naval Base San Diego in San Diego, California, U.S., June 18, 2019. REUTERS/Mike Blake
Master Chief Petty Officer Brian Alazzawi, the first defense witness called to the stand in the trial of Special Operations Chief Edward Gallagher, also described how one of the main accusers in the case had seemed to harbor a grudge against Gallagher.
Gallagher, a decorated career combat veteran, has denied all charges and says he is wrongly accused. The high-profile court-martial, conducted at U.S. Naval Base San Diego, has drawn the attention of President Donald Trump, who intervened months ago to ease the conditions of Gallagher's pre-trial confinement.
The judge later released Gallagher here from custody altogether while the proceedings remained under way. [nL2N23702P] The war crimes case stems from his 2017 deployment in Mosul, Iraq.
The Navy opened its investigation in September 2018, about a year after Gallagher and the platoon he led returned from Iraq.
Gallagher is charged with premeditated murder of a wounded, teenage Islamic State fighter in his custody by stabbing the youth in the neck with a knife. He also is charged with attempted murder in the wounding of two civilians – a school girl and an elderly man – shot from a sniper's perch.
MEDIC SAID HE DID IT
In a stunning setback to the government's case last week, a Navy SEAL medic testifying for prosecutors asserted it was he, not, Gallagher, who caused the Iraqi detainee's death by blocking the youth's breathing tube in what he described as a mercy killing here. [nL2N23R1TW]
Prosecutors accused the medic, Special Operator First Class Corey Scott, of changing his story under oath. Sources close to the case said on Wednesday the Navy is examining possible grounds under terms of Scott's immunity agreement that might allow him to be prosecuted for perjury.
The thrust of Gallagher's defense has been that fellow SEAL team members testifying against him, several under grants of immunity, are disgruntled subordinates fabricating the allegations to force him from the Navy.
Testimony from Alazzawi, a multiple bronze star recipient who served as Gallagher's supervising chief in Mosul, bolstered that narrative.
He told jurors some SEAL team members had complained about items they suspected Gallagher of taking from a platoon care package, and that one of the group, then-Petty Officer Craig Miller, also complained of poor tactics and unnecessary risks by Gallagher.
Alazzawi, however, said Miller and others among the disaffected troops were "very junior" personnel who were untrained for the daytime sniper operations the unit was engaged in under Gallagher's direction.
"I've had nothing but confidence in Chief Gallagher's tactics and quality of his decisions," Alazzawi said.
Miller testified last week for the prosecution that he saw Gallagher inexplicably stab the Islamic State prisoner in the neck at least twice with a custom-made knife as the detainee was being treated for severe injuries.
Alazzawi said on Wednesday that Miller did not accuse Gallagher of the stabbing, or of firing on civilians, until after the care package theft was investigated and it became clear no reprimand was coming.
Another Navy SEAL called by the defense, Joshua Graffam, disputed the charge that Gallagher shot an unarmed elderly man by the Tigris River.
Graffam said he was acting as Gallagher's "spotter" in a sniper's perch when the shooting occurred, and the person he targeted for Gallagher was an Islamic State fighter dressed in black.
"I was confident it was a good shot. I never saw the elderly man in white," Graffam said. He added, under questioning, that he would feel confident deploying with Gallagher again.
today
SAN DIEGO (AP) — A Navy SEAL who testified that it was he — not his platoon chief — who killed a wounded prisoner in Iraq may face perjury charges.
The Navy said Wednesday it is reviewing Corey Scott's testimony following his stunning testimony last week in the court-martial of Special Operations Chief Edward Gallagher.
Gallagher, 40, has pleaded not guilty to murder and attempted murder.
Witnesses at his San Diego trial had said they saw Gallagher stab a wounded young Islamic State captive in the neck and shoot at two civilians during his 2017 tour in Iraq.
Scott testified that he, in fact, actually killed him by plugging his breathing tube. Scott said he thought the boy would survive Gallagher's stabbing and wanted to spare him being tortured by Iraqi forces.
Prosecutors said Scott had never mentioned the asphyxiation in multiple conversations with them before the trial. Scott said they never asked him the cause of death.
The defense has repeatedly argued that Gallagher was being framed by tainted or even false evidence.
On Tuesday the Navy's legal adviser to the commander overseeing the court-martial notified Scott's lawyer, Brian Ferguson, that Scott's testimony could be used against him if he lied.
Capt. Donald King's email said Scott's testimony directly contradicted "previous official statements — thus exposing him to prosecution."
Cmdr. Tam Lawrence, Naval Special Warfare spokesperson, said Scott was granted immunity in exchange for the promise of truthful testimony.
Scott's statements were being reviewed but "no decisions have been made," she said.
Ferguson declined to comment.
Meanwhile, defense lawyers called their first witnesses Wednesday.
Gallagher's superior, Master Chief Petty Officer Brian Alazzawi, testified that Gallagher and his platoon were considered "rock stars" after returning from the 2017 deployment to Iraq in which they aided Iraqi forces in ousting ISIS from Mosul.
But he noticed some platoon members seemed dejected despite the praise.
A month after they were back in San Diego, Alazzawi said Special Operator First Class Craig Miller told him that Gallagher had stabbed a prisoner during the deployment on May 3.
Miller told Alazzawi that he was coming forward because Gallagher was being promoted and nominated for a Silver Star.
Alazzawi said he trusted Miller and found the report credible. He told the troop commander but the alleged war crime wasn't reported outside SEAL team 7 until January 2018 — when Alazzawi got word that several SEALs had planned to go as high as the Navy commodore because nothing was being done.
Alazzawi did not explain why he and the troop commander had taken no action.
Weber reported from Los Angeles.

Bush's Five Big Lies That Led to the Iraq Quagmire
These are the five lies Bush told that Ralph Nader documented to impeach him.
Weapons of Mass Destruction. The weapons have still not been found. Nader emphasized, "Until the

1991

Gulf War, Saddam Hussein was our government's anti-communist ally in the Middle East. We also used him to keep Iran at bay. In so doing, in the

1980

s under Reagan and the first Bush, corporations were licensed by the Department of Commerce to export the materials for chemical and biological weapons that President George W. Bush and Vice President Dick Cheney later accused him of having." Those weapons were destroyed after the Gulf War. George W. Bush's favorite chief weapons inspector, David Kay, after returning from Iraq and leading a large team of inspectors and spending nearly half a billion dollars told the president

We were wrong.

See: David Kay testimony before Senate Armed Services Committee,

2004-01-28

.Tyler Drumheller, the former chief of the

CIA

(

C

entral

I

ntelligence

A

gency) 's Europe division, revealed that in the fall of

2002

, George W. Bush, Vice President Cheney, then-National Security Adviser Condoleezza Rice and others were told by

CIA

Director George Tenet that Iraq's foreign minister — who agreed to act as a spy for the United States — had reported that Iraq had no active weapons of mass destruction program.

Iraq Ties to Al Qaeda. The White House made this claim even though the

CIA

and

FBI

(

F

ederal

B

ureau of

I

nvestigation) repeatedly told the Administration that there was no tie between Saddam Hussein and Al Qaeda. They were mortal enemies — one secular, the other fundamentalist.

Saddam Hussein was a Threat to the United States. In fact, Saddam was a tottering dictator, with an antiquated, fractured army of low morale and with Kurdish enemies in Northern Iraq and Shiite adversaries in the South of Iraq. He did not even control the air space over most of Iraq.

Saddam Hussein was a Threat to his Neighbors. In fact, Iraq was surrounded by countries with far superior military forces. Turkey, Iran and Israel were all capable of obliterating any aggressive move by the Iraqi dictator.

The Liberation of the Iraqi People. There are brutal dictators throughout the world, many supported over the years by Washington, whose people need

liberation

from their leaders. This is not a persuasive argument since for Iraq, it's about oil. In fact, the occupation of Iraq by the United States is a magnet for increasing violence, anarchy and insurrection
Recent Casualties:
Color

 Denotes Today's Confirmation
The Department of Defense announced today the deaths of two soldiers who were supporting Operation Freedom's Sentinel.
Both soldiers died June 25, 2019, in Uruzgan Province, Afghanistan as a result of wounds sustained from small arms fire while engaged in combat operations. The incident is under investigation.
The deceased are:
Master Sgt. Micheal B. Riley, 32, of Heilbronn, Germany. Riley was assigned to 2nd Battalion, 10th Special Forces Group (Airborne), Fort Carson, Colorado.
Sgt. James G. Johnston, 24, of Trumansburg, New York. Johnston was assigned to 79th Ordnance Battalion (Explosive Ordnance Disposal), 71st Ordnance Group, Fort Hood, Texas.
War Casualties By Name

Complete Military and Civilian Casualty Lists


Save the Children is the world's leading independent organisation for children and has been working with families, communities and local authorities in Iraq since 1991, leading NGOs in general relief and development programs.Save the Children is currently responding to the needs of internally displaced persons (IDP) and the Syrian refugees in Iraq, in camps and non-camp settings. Our goal is for children in Iraq to be supported in raising their voices and attaining their rights, especially the right to participate in decisions affecting their lives. They should have access to quality education, health and protection services. We are increasing access to community based services that protect, educate and improve quality of life for children. We are ensuring that there is an increased participation of boys and girls in age appropriate activities and services. We are ensuring that children benefit from government actions that create an environment of awareness and accountability to uphold child rights. We are also developing new resources and innovative practices that support our work for children and youth.In Iraq, Save the Children's interventions include Child Protection, Education, Food Security and Livelihoods, Shelter and Water Sanitation and Hygiene (WASH), reaching vulnerble children and families in northern and central Iraq. Save the Children's programs are implemented through field offices in Erbil, Dohuk, Sulaymaniyah, Kirkuk and Kalar, with a country office located in Erbil.
Yemen War Child
Please Never Forget.