03 Jul
United States Wars, News and Casualties
The dead & suffering children of Iraq.
Published 11 years ago
Leading To War – The Complete Film
Damn The War Criminals,

Bush,Cheney,Rice,Rumsfeld,Wolfowitz, Powell and Blair from England

War News
Department of Defense
The Department of Defense announced today the death of a soldier who was supporting Operation Freedom's Sentinel.
Sgt. 1st Class. Elliott J. Robbins, 31, from Ogden, Utah, died June 30, 2019, in Helmand Province, Afghanistan, from a non-combat related incident. The incident is under investigation.
Robbins was assigned to 2nd Battalion, 10th Special Forces Group (Airborne), Fort Carson, Colorado.
Focus is on averting further breaches and UK says it remains committed to 2015 deal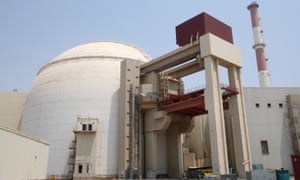 An Iranian nuclear power plant in 2010. Iran has threatened to enrich uranium to above 3.7%, the level required for a power plant, on 7 July. Photograph: Abedin Taherkenareh/EPA
European leaders have resisted calls to start reimposing sanctions on Iran after the country said it had for the first time broken the terms of the nuclear deal it signed with foreign powers in 2015.
Iran's foreign minister, Mohammad Javad Zarif, said on Monday it had allowed its stockpile of low-enriched uranium to exceed 300kg. The move is a carefully calibrated and reversible step intended to put pressure on Europe to do more to help mitigate the effect of crippling US sanctions.
The United Nations' atomic agency, which oversees Iran's compliance with the 2015 agreement, said its director general, Yukiya Amano, had confirmed to member states that Tehran had exceeded the cap.
The US withdrew from the nuclear deal last year, and Monday's move reflects Tehran's exasperation that EU states have been unable to do more to counterbalance the effect of US sanctions.
The UK foreign secretary, Jeremy Hunt, said he was "very worried" by the Iranian move, but he did not refer to any plan to activate the deal's formal dispute resolution mechanism, a staged process that could end with EU sanctions being reimposed in as little as 65 days. He said in a tweet that the UK "remains committed to making [the] deal work and using all diplomatic tools to de-escalate regional tensions".
A joint statement from the EU signatories to the deal – France, Germany and the UK – is likely within 48 hours.
European leaders had urged Iran not to breach the deal, but the focus may now be on dissuading Iran from taking further, more serious steps away from the terms.
One proposal is for the French president, Emmanuel Macron, to travel to Tehran, but there are also plans for a joint commission meeting at foreign minister level bringing together Iran and the other remaining signatories – Russia, China and the EU three.
The White House said it would continue to apply "maximum pressure" on Iran "until its leaders alter their course of action". It added that Iran should be held to a standard barring all uranium enrichment.
The Israeli prime minister, Benjamin Netanyahu, reiterated his pledge that Israel would not allow Tehran to develop nuclear weapons. "Today I call on all of the European countries: stick to your commitment," he said. "You committed to act as soon as Iran violates the nuclear deal, you committed to activate the mechanism of automatic sanctions that were determined by the security council. So I'm telling you: do it. Just do it."
At this stage the EU is focusing on trying to prevent Iran from raising the level to which it enriches uranium so that it does not go above 3.7%, which would be enough to fuel a commercial nuclear power plant. Iran has said it will do this on 7 July, a step denounced by Donald Trump as nuclear blackmail.
Uranium needs to be enriched to around 90% to become weapons-grade. However, once a country enriches uranium to around 20%, scientists say, the time needed to reach 90% is halved. Iran previously has enriched to 20%.
At a meeting with Iran in Vienna last Friday, the EU announced that it had set up its long planned EU-Iran trading mechanism, Instex, and said the first transactions had been completed.
But Tehran is convinced that Europe could do more to boost trade, which has collapsed over the past year. A threat of US secondary sanctions has deterred almost all large Europe firms, including banks, from trading with Iran.
At Friday's Vienna meeting, Iran said some of the steps announced by the EU three, including the involvement of seven other EU states in Instex and the provision of a credit line, were positive but not sufficient. Iran's UN envoy, Majid Takht-Ravanchi, described Instex as "a very lovely car but without any gasoline".
Tehran has been pressing Europe also to use Instex to establish larger credit lines to finance Iranian oil exports to Europe. At present Instex is confined solely to easing trade in humanitarian goods that are not subject to US sanctions, such as food and medicine.
China has given an undertaking that it will continue to purchase oil from Tehran. Iranian oil exports have fallen to around 400,000 barrels a day, harming public finances. Another idea is for the EU to fund the export of Iranian low-enriched uranium so that the stockpile limit is not breached.
In a speech broadcast live on state TV, Zarif vowed that Iran would never give in to US pressure. "If they want to talk to Iran, they should show respect," he said. "Never threaten an Iranian … Iran has always resisted pressure and has responded with respect when respected."
Zarif hailed Instex as potentially a historic route to combating the pernicious dominance of the dollar in international trade. "Although it does not meet the demands of the Islamic republic [or] Europeans' obligations … it has a strategic value [in showing] that the closest allies of the United States are distancing themselves from America in their economic relations. This will certainly have long-term effects," he said.
SAN DIEGO (Reuters) – A military jury in California was due to resume deliberations on Tuesday in the war crimes trial of a U.S. Navy SEAL charged with murdering a captured Islamic State fighter who had been brought to a U.S. outpost in Iraq for medical treatment.
Special Operations Chief Edward Gallagher, 39, is accused of killing the wounded teenaged fighter, by repeatedly stabbing him in the neck with a custom-made knife.
Gallagher also is charged with attempted murder in the wounding of two non-combatants — a schoolgirl and an elderly man — shot from a sniper's perch, as well as with obstruction of justice and unlawfully posing for photos with the detainee's corpse.
Gallagher has denied all charges, insisting that disgruntled subordinates with no prior battlefield experience fabricated allegations against him because of grievances with his leadership style and combat tactics.
U.S. President Donald Trump intervened in Gallagher's case months ago, ordering that he be moved from pretrial detention in a military brig to confinement at a Navy base. The presiding judge later released Gallagher from custody altogether.
The veteran platoon leader was arrested last year following his return from his eighth overseas deployment.
A verdict requires agreement of at least five of the seven-member jury of U.S. Marines and Navy personnel. If the jury convicts Gallagher, the same jurors will determine his sentence, which could be as severe as life in prison.
ISLAMABAD (AP) — A surprise announcement by President Donald Trump seemed to accelerate the expected time frame for U.S. troop withdrawal from Afghanistan ahead of an all-Afghan peace summit planned for July 7-8 in Qatar. The gathering apparently will be held on Taliban terms as there will be no official Afghan government representation.
Trump told Fox News Channel's Tucker Carlson Tonight on Monday that nearly half of all American troops have already been pulled out.
That pullout was expected to be announced as part of a time frame being negotiated by Washington's peace envoy Zalmay Khalilzad, who is in the middle of talks with the Taliban in Qatar.
"I've wanted to pull them out. And you know, I have pulled a lot out. We were at 16,000. We're down to about 9,000, which a lot of people don't know," Trump said, according to the transcript of the interview shared with The Associated Press. "So we've reduced the force very substantially in Afghanistan, which I don't talk about very much, and that's okay," Trump added.
The Taliban's spokesman in Doha, Suhail Shaheen, has said that talks with Khalilzad are focused on a timetable for withdrawal of U.S. and NATO troops from Afghanistan. In a tweet on Monday, Shaheen had said talks would come with an announcement of a timetable for withdrawal of the estimated 20,000 service personnel, nearly 14,000 of whom are Americans.
Trump's comments Monday would seem to contradict a statement made by U.S. Secretary of State Mike Pompeo during a visit to Kabul on June 25. Pompeo said then that Washington had made no decision on a timeframe for withdrawal.
Trump also said in the Monday TV interview that he wanted to leave a strong intelligence gathering force behind in Afghanistan.
"I'll tell you the problem is, look, I would like to just get out. The problem is, (Afghanistan) just seems to be a lab for terrorists. It seems — I call it the Harvard of terrorists. … But I would leave very strong intelligence there," he said, according to the transcript.
Meanwhile, on the upcoming all-Afghan dialogue, Germany's special representative Ambassador Markus Potzel said Tuesday that those attending "will participate only in their personal capacity and on an equal footing."
The Taliban have flatly refused to meet with Afghan President Ashraf Ghani's government, which they consider a U.S. puppet, while repeatedly offering talks with anyone who comes to the table as an ordinary Afghan. The Taliban have already twice met with prominent Afghans, including former president Hamid Karzai and even members of the government's peace council as well as opposition politicians. Those meetings have both been held in Moscow.
The announced talks come a day after the Taliban claimed responsibility for a devastating attack in the Afghan capital of Kabul that killed at least six people and wounded more than 100 others, many of them children attending two schools in the area, according to the Education Ministry.
Ghani has not responded to the announcement of next week's talks. He has previously demanded the Taliban talk directly with his government, some of whom have complained about their continuing exclusion from meetings between Taliban and the U.S. peace envoy Zalmay Khalilzad.
Khalilzad, who is currently holding a seventh round of direct talks with the Taliban in Doha, already held a battery of meetings with the Afghan president in Kabul last month. In an overnight tweet, he welcomed the announced all-Afghan talks. He tweeted that "this dialogue is an essential element of the four-part peace framework & and important step in advancing the #AfghanPeaceProcess."
Germany will co-sponsor the talks with Qatar, according to the statement issued by Potzel, who is the German special representative for Pakistan and Afghanistan.
An earlier intra-Afghan dialogue in Qatar was scuttled when the two sides couldn't agree on participants. Potzel said the invitations this time have been jointly issued by Germany and Qatar.
"Afghanistan stands at a critical moment of opportunity for progress toward peace," Potzel said in the statement. "Only Afghans themselves can decide the future of their country." He said both Qatar and Germany are hoping the talks will create trust between the warring sides.
But for ordinary Afghans battered by relentless violence there is mostly frustration.
"Peace will never come to Afghanistan," said an angry Sawab Gul, who was waiting in the Afghan capital of Kabul on Tuesday to open his partially destroyed bedding store.
At age 40, Gul said he has never seen peace in his country and holds out little hope for the current attempts at finding an end to Afghanistan's relentless wars.
"Every day people are dying. Afghanistan is like a hell for us Afghans," he said. "I don't think I will ever see peace."

A damaged oil station stands following Monday's attack in Kabul, Afghanistan, Tuesday, July 2, 2019. The Taliban set off a powerful bomb in downtown Kabul on Monday, killing a several people and wounding more than a hundred, and sending a cloud of smoke billowing over the Afghan capital. (AP Photo/Rahmat Gul)
KABUL, Afghanistan (AP) — The Taliban set off a powerful bomb in downtown Kabul on Monday, killing at least six people and wounding more than a hundred, and sending a cloud of smoke billowing over the Afghan capital.
At least 26 children were among the wounded, many of whom were cut by shards of glass when the bomb shattered nearby windows, government spokesman Feroz Bashari said. He said a total of 105 people were hurt.
An education ministry spokeswoman, Nooria Nazhat, later raised the number of students who were slightly wounded to 51, from two schools.
The Taliban claimed the attack, which came as the insurgents were holding their latest round of talks with U.S. envoy Zalmay Khalilzad in the Gulf state of Qatar, where they have a political office.
The attack ended nearly 10 hours after it began with all five attackers dead, according to Interior Ministry spokesman Nasrat Rahimi.
Two police, a child, a private security guard and two passers-by were killed in the attack that began with a powerful car bomb, followed by a series of smaller explosions and a daylong gun battle, said Rahimi.
The Italian-run Emergency Hospital in Kabul — one of the largest hospitals in the Afghan capital treating war victims — said in a statement that it had received two bodies, including a child. Dozens more injured were treated, many of them later released.
The insurgents struck during the morning commute, and ambulance sirens wailed across the downtown area.
Mohammad Karim, a police official in the area of the attack, said a car bomb exploded outside a Defense Ministry building. Militants then ran into a nearby high-rise located in a crowded market and began firing down on the ministry. Police and special Afghan security forces poured into the area and cordoned it off.
Mohammad Farooq, the owner of a nearby restaurant, said the explosion blew out the windows of a private school, wounding several students.
The capital has been relatively quiet in recent months following a spate of bombings, many claimed by the local Islamic State affiliate. The Taliban have carried out scores of attacks in Kabul in recent years, mostly targeting Afghan and U.S. military installations or convoys.
The U.S. condemned the attack. The statement from press secretary Stephanie Grisham said the "brazen attack demonstrates the Taliban's callous disregard for their fellow Afghans, who have repeatedly voiced the urgency of finding a peaceful resolution to the conflict."
Pakistan also condemned Monday's attack, saying "such attacks are detrimental to the cause of peace, security and stability in Afghanistan." Pakistan and Afghanistan routinely exchange accusations of harboring the other's militant enemies.
Pakistan has reportedly pressed the Taliban __ many of whom have homes in Pakistan __ into talks. Last week it hosted Afghan President Ashraf Ghani for the first time as the two countries sought to reset their troubled relationship.
The latest talks between the United States and the Taliban meanwhile stretched into a third day. The Taliban said their focus is on getting an announcement of a timetable for the withdrawal of U.S. and NATO troops from Afghanistan. The announcement is likely to be accompanied by a Taliban promise to hold intra-Afghan talks and agree to an eventual cease-fire.
Suhail Shaheen, spokesman for the Taliban's political office in Doha, told The Associated Press on Monday that "our main concern is to make sure a timeline for troop pullout is announced."
Bush's Five Big Lies That Led to the Iraq Quagmire
These are the five lies Bush told that Ralph Nader documented to impeach him.
Weapons of Mass Destruction. The weapons have still not been found. Nader emphasized, "Until the

1991

Gulf War, Saddam Hussein was our government's anti-communist ally in the Middle East. We also used him to keep Iran at bay. In so doing, in the

1980

s under Reagan and the first Bush, corporations were licensed by the Department of Commerce to export the materials for chemical and biological weapons that President George W. Bush and Vice President Dick Cheney later accused him of having." Those weapons were destroyed after the Gulf War. George W. Bush's favorite chief weapons inspector, David Kay, after returning from Iraq and leading a large team of inspectors and spending nearly half a billion dollars told the president

We were wrong.

See: David Kay testimony before Senate Armed Services Committee,

2004-01-28

.Tyler Drumheller, the former chief of the

CIA

(

C

entral

I

ntelligence

A

gency) 's Europe division, revealed that in the fall of

2002

, George W. Bush, Vice President Cheney, then-National Security Adviser Condoleezza Rice and others were told by

CIA

Director George Tenet that Iraq's foreign minister — who agreed to act as a spy for the United States — had reported that Iraq had no active weapons of mass destruction program.

Iraq Ties to Al Qaeda. The White House made this claim even though the

CIA

and

FBI

(

F

ederal

B

ureau of

I

nvestigation) repeatedly told the Administration that there was no tie between Saddam Hussein and Al Qaeda. They were mortal enemies — one secular, the other fundamentalist.

Saddam Hussein was a Threat to the United States. In fact, Saddam was a tottering dictator, with an antiquated, fractured army of low morale and with Kurdish enemies in Northern Iraq and Shiite adversaries in the South of Iraq. He did not even control the air space over most of Iraq.

Saddam Hussein was a Threat to his Neighbors. In fact, Iraq was surrounded by countries with far superior military forces. Turkey, Iran and Israel were all capable of obliterating any aggressive move by the Iraqi dictator.

The Liberation of the Iraqi People. There are brutal dictators throughout the world, many supported over the years by Washington, whose people need

liberation

from their leaders. This is not a persuasive argument since for Iraq, it's about oil. In fact, the occupation of Iraq by the United States is a magnet for increasing violence, anarchy and insurrection
Recent Casualties:
Color 

Denotes Today's Confirmation
The Department of Defense announced today the death of a soldier who was supporting Operation Freedom's Sentinel.
Sgt. 1st Class. Elliott J. Robbins, 31, from Ogden, Utah, died June 30, 2019, in Helmand Province, Afghanistan, from a non-combat related incident. The incident is under investigation.
Robbins was assigned to 2nd Battalion, 10th Special Forces Group (Airborne), Fort Carson, Colorado.
The Department of Defense announced today the deaths of two soldiers who were supporting Operation Freedom's Sentinel.
Both soldiers died June 25, 2019, in Uruzgan Province, Afghanistan as a result of wounds sustained from small arms fire while engaged in combat operations. The incident is under investigation.
The deceased are:
Master Sgt. Micheal B. Riley, 32, of Heilbronn, Germany. Riley was assigned to 2nd Battalion, 10th Special Forces Group (Airborne), Fort Carson, Colorado.
Sgt. James G. Johnston, 24, of Trumansburg, New York. Johnston was assigned to 79th Ordnance Battalion (Explosive Ordnance Disposal), 71st Ordnance Group, Fort Hood, Texas.
War Casualties By Name

Complete Military and Civilian Casualty Lists


Save the Children is the world's leading independent organisation for children and has been working with families, communities and local authorities in Iraq since 1991, leading NGOs in general relief and development programs.Save the Children is currently responding to the needs of internally displaced persons (IDP) and the Syrian refugees in Iraq, in camps and non-camp settings. Our goal is for children in Iraq to be supported in raising their voices and attaining their rights, especially the right to participate in decisions affecting their lives. They should have access to quality education, health and protection services. We are increasing access to community based services that protect, educate and improve quality of life for children. We are ensuring that there is an increased participation of boys and girls in age appropriate activities and services. We are ensuring that children benefit from government actions that create an environment of awareness and accountability to uphold child rights. We are also developing new resources and innovative practices that support our work for children and youth.In Iraq, Save the Children's interventions include Child Protection, Education, Food Security and Livelihoods, Shelter and Water Sanitation and Hygiene (WASH), reaching vulnerble children and families in northern and central Iraq. Save the Children's programs are implemented through field offices in Erbil, Dohuk, Sulaymaniyah, Kirkuk and Kalar, with a country office located in Erbil.
Yemen War Children
Please Never Forget.