06 Jul
United States Wars, News and Casualties
The dead & suffering children of Iraq.
Published 11 years ago
Leading To War – The Complete Film
Damn The War Criminals,

Bush,Cheney,Rice,Rumsfeld,Wolfowitz, Powell and Blair from England

War News
Concerns overcrowding at prisons for Isis suspects could fuel radicalisation
Juvenile cell at Tal Kayf prison in Iraq, taken in April 2019. Photograph: Human Rights Watch/Private
Photos have surfaced of overcrowded and "degrading" conditions in Iraqi detention centres used to hold thousands of men, women and children with suspected links to Islamic State.
Human Rights Watch (HRW) said on Thursday it had acquired rare photographic evidence of conditions falling short of the most basic international standards at three facilities in Nineveh province. HRW warned the situation could lead to the radicalisation of vulnerable prisoners.
In one photograph, taken at Tal Kayf prison, dozens of women and small children are so tightly packed into a cell that the floor is not visible and clothes and belongings are hung on the wall. In another, of a juvenile cell at Tal Kayf, there is so little room a sea of teenage boys are forced to sleep in the foetal position.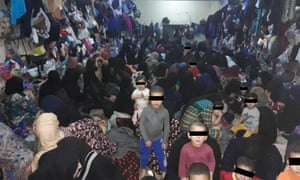 Women's cell at Tal Kayf prison. Photograph: Human Rights Watch/Private
Detention centres, police stations and prisons across Iraq have been overwhelmed in the two years since the government declared victory over Isis.
HRW and other rights groups have received multiple reports the overcrowding has led to infections and disease as well as mobility health issues. At least four people have died in custody and two people have had legs amputated.
"Concerns around overcrowding don't solely affect the detainees, but also the community as a whole," said Lama Fakih, HRW's acting Middle East director. "The authorities should ensure that the conditions in Iraq's prisons do not foster more grievances in the future."
The three pre-trial facilities named by HRW on Thursday, Tal Kayf, Tasfirat and Faisaliyah, were designed to hold about 2,500 people. They currently house about 4,500 people, including 1,300 who have already been tried and convicted and should have been moved to less crowded facilities in Baghdad.
Most are being held on terrorism charges under Iraq's sweeping counter-terrorism legislation. None have access to lawyers and there is no clear legal basis for their detentions, HRW says, calling for the use of pre-trial detention as a last resort and the release of detained children in accordance with UN rules.
As well as longstanding concerns over inhumane prison conditions and unfair trials, rights groups have repeatedly accused Iraqi forces of unlawful interrogations and torture and of executing men and boys believed to be former Isis fighters, which could amount to war crimes.
"We documented these abuses two years ago and very little has been done to alleviate the situation," said Belkis Wille, a senior Iraq researcher at HRW.
"As long as the policy is to detain anyone who may have assisted Isis, even if they were forced to, even if they were medical staff or clerics, this problem is going to persist. There is no discussion around national reconciliation or any alternative strategy."
The situation in Iraq's prisons could be set to worsen: Baghdad is in talks with the US to transfer and place on trial tens of thousands of suspected Isis fighters and their families from detention centres in Syria to Iraq for a multibillion-dollar fee.
Isis was defeated in its last stronghold, in Baghuz on the Syrian-Iraqi border, in March.
The thousands of international fighters and their families who are among the last remnants of the so-called caliphate pose a legal headache for their countries of origin, which are under pressure from the US to repatriate citizens for trial at home.
Conditions in Kurdish-run facilities in Syria for suspected Isis members are also dire. Al-Hol camp is home to 74,000 people, 65% of whom are children under the age of 12.
Reporting by Francois Murphy; Editing by Gareth Jones

FILE PHOTO: The Iranian flag flutters in front the International Atomic Energy Agency (IAEA) headquarters in Vienna, Austria March 4, 2019. REUTERS/Leonhard Foeger
VIENNA (Reuters) – The United States has called an emergency meeting of the U.N. atomic watchdog's 35-nation Board of Governors to discuss Iran, the U.S. mission to the agency said on Friday, after Tehran breached its 2015 nuclear deal with major powers.
Any country on the board can call a meeting, and the International Atomic Energy Agency confirmed in a note to member states that the meeting would be held next Wednesday at 2:30 p.m. (1230 GMT) after the IAEA this week said Iran had exceeded the maximum stock of enriched uranium allowed under the deal.
"Today … U.S. Ambassador to International Organizations in Vienna Jackie Wolcott requested a special meeting of the Board to discuss the IAEA Director General's latest, concerning report on the Iranian regime's nuclear program," the U.S. mission said in a statement, referring to the IAEA's report on Monday. "The international community must hold Iran's regime accountable."
What exactly the meeting would achieve, however, was unclear, diplomats said.
Parties to the deal have a separate forum they meet in called the Joint Commission, and the deal lays out possible action that can be taken there. Washington pulled out of both the deal and the Joint Commission last year.
The IAEA is in charge of verifying the restrictions on Iran's nuclear activities imposed by the deal, which also lifted international sanctions against Tehran. The IAEA has repeatedly said it is up to the parties to the deal to decide whether there has been a breach of its terms.
Iran has said it will go over the deal's nuclear restrictions one by one in retaliation against crippling economic sanctions Washington has imposed on it since the U.S. withdrawal. It has said that as of July 7 it will enrich uranium beyond the 3.67% purity cap imposed by the deal.
Other signatories to the 2015 deal, apart from Iran and the United States, are Russia, China, France, Britain and Germany. Those five countries are trying to keep the deal alive.
KABUL, Afghanistan (AP) — An Islamic State group affiliate has claimed responsibility for a bombing in a Shiite mosque in central Afghanistan's Ghazni province that killed two people and injured 20 others.
Provincial governor's spokesman Arif Noori says an explosive devise detonated during evening prayers on Friday when the mosque was full. Eight of the injured were children.
The IS claim said 40 worshippers were killed or wounded. The IS affiliate, known as Islamic State Khorasan Province reviles Shite Muslims as heretics. Afghanistan is a majority Sunni Muslim state.
President Ashraf Ghani on Saturday condemned the attack, slammed the perpetrators as terrorists and said such acts are against Islam.
KABUL, Afghanistan (AP) — An Afghan official says mortars fired by Taliban insurgents slammed into a busy market in Afghanistan's northern Faryab province killing at least 14 people and injuring 30 others, including several children.
Abdul Karim Yuresh, Faryab provincial police chief spokesman, said the likely target of Friday's attack in Khwaja Sabz Posh District was a nearby security post.
Taliban spokesman Zabihullah Mujahed said the mortars were fired by the government during a firefight.
Meanwhile, 18 Afghan security personnel were killed in separate Taliban attacks on Friday, one each in western Farah and Herat provinces.
The insurgents have been staging near daily attacks against Afghanistan's security personnel inflicting staggering casualties even as they talk peace with the United States.
BAGHDAD (AP) — Hospital and police officials say gunmen have killed five and wounded 10, in an attack on paramilitary fighters near Iraq's capital, Baghdad.
The officials say the attack occurred Friday north of the town of Fallujah that was liberated from the Islamic State group three years ago.
The officials spoke on condition of anonymity because they were not authorized to speak to the media.
The dead fighters were members of the Tribal Mobilization Forces, a mostly Sunni force that took part in the battles against IS.
IS militants have claimed responsibility for such attacks in the past months as the group is turning into an insurgency after losing the large parts of Syria and Iraq it once controlled and declared a caliphate.
Bush's Five Big Lies That Led to the Iraq Quagmire
These are the five lies Bush told that Ralph Nader documented to impeach him.
Weapons of Mass Destruction. The weapons have still not been found. Nader emphasized, "Until the

1991

Gulf War, Saddam Hussein was our government's anti-communist ally in the Middle East. We also used him to keep Iran at bay. In so doing, in the

1980

s under Reagan and the first Bush, corporations were licensed by the Department of Commerce to export the materials for chemical and biological weapons that President George W. Bush and Vice President Dick Cheney later accused him of having." Those weapons were destroyed after the Gulf War. George W. Bush's favorite chief weapons inspector, David Kay, after returning from Iraq and leading a large team of inspectors and spending nearly half a billion dollars told the president

We were wrong.

See: David Kay testimony before Senate Armed Services Committee,

2004-01-28

.Tyler Drumheller, the former chief of the

CIA

(

C

entral

I

ntelligence

A

gency) 's Europe division, revealed that in the fall of

2002

, George W. Bush, Vice President Cheney, then-National Security Adviser Condoleezza Rice and others were told by

CIA

Director George Tenet that Iraq's foreign minister — who agreed to act as a spy for the United States — had reported that Iraq had no active weapons of mass destruction program.

Iraq Ties to Al Qaeda. The White House made this claim even though the

CIA

and

FBI

(

F

ederal

B

ureau of

I

nvestigation) repeatedly told the Administration that there was no tie between Saddam Hussein and Al Qaeda. They were mortal enemies — one secular, the other fundamentalist.

Saddam Hussein was a Threat to the United States. In fact, Saddam was a tottering dictator, with an antiquated, fractured army of low morale and with Kurdish enemies in Northern Iraq and Shiite adversaries in the South of Iraq. He did not even control the air space over most of Iraq.

Saddam Hussein was a Threat to his Neighbors. In fact, Iraq was surrounded by countries with far superior military forces. Turkey, Iran and Israel were all capable of obliterating any aggressive move by the Iraqi dictator.

The Liberation of the Iraqi People. There are brutal dictators throughout the world, many supported over the years by Washington, whose people need

liberation

from their leaders. This is not a persuasive argument since for Iraq, it's about oil. In fact, the occupation of Iraq by the United States is a magnet for increasing violence, anarchy and insurrection
Recent Casualties:
Color

 Denotes Today's Confirmation
The Department of Defense announced today the death of a soldier who was supporting Operation Freedom's Sentinel.
Sgt. 1st Class. Elliott J. Robbins, 31, from Ogden, Utah, died June 30, 2019, in Helmand Province, Afghanistan, from a non-combat related incident. The incident is under investigation.
Robbins was assigned to 2nd Battalion, 10th Special Forces Group (Airborne), Fort Carson, Colorado.
The Department of Defense announced today the deaths of two soldiers who were supporting Operation Freedom's Sentinel.
Both soldiers died June 25, 2019, in Uruzgan Province, Afghanistan as a result of wounds sustained from small arms fire while engaged in combat operations. The incident is under investigation.
The deceased are:
Master Sgt. Micheal B. Riley, 32, of Heilbronn, Germany. Riley was assigned to 2nd Battalion, 10th Special Forces Group (Airborne), Fort Carson, Colorado.
Sgt. James G. Johnston, 24, of Trumansburg, New York. Johnston was assigned to 79th Ordnance Battalion (Explosive Ordnance Disposal), 71st Ordnance Group, Fort Hood, Texas.
War Casualties By Name

Complete Military and Civilian Casualty Lists


Save the Children is the world's leading independent organisation for children and has been working with families, communities and local authorities in Iraq since 1991, leading NGOs in general relief and development programs.Save the Children is currently responding to the needs of internally displaced persons (IDP) and the Syrian refugees in Iraq, in camps and non-camp settings. Our goal is for children in Iraq to be supported in raising their voices and attaining their rights, especially the right to participate in decisions affecting their lives. They should have access to quality education, health and protection services. We are increasing access to community based services that protect, educate and improve quality of life for children. We are ensuring that there is an increased participation of boys and girls in age appropriate activities and services. We are ensuring that children benefit from government actions that create an environment of awareness and accountability to uphold child rights. We are also developing new resources and innovative practices that support our work for children and youth.In Iraq, Save the Children's interventions include Child Protection, Education, Food Security and Livelihoods, Shelter and Water Sanitation and Hygiene (WASH), reaching vulnerble children and families in northern and central Iraq. Save the Children's programs are implemented through field offices in Erbil, Dohuk, Sulaymaniyah, Kirkuk and Kalar, with a country office located in Erbil.
Yemen War Children
Please Never Forget.