09 Jul
United States Wars, News and Casualties
The dead & suffering children of Iraq.
Published 11 years ago
Leading To War – The Complete Film
Damn The War Criminals,

Bush,Cheney,Rice,Rumsfeld,Wolfowitz, Powell and Blair from England

War News
July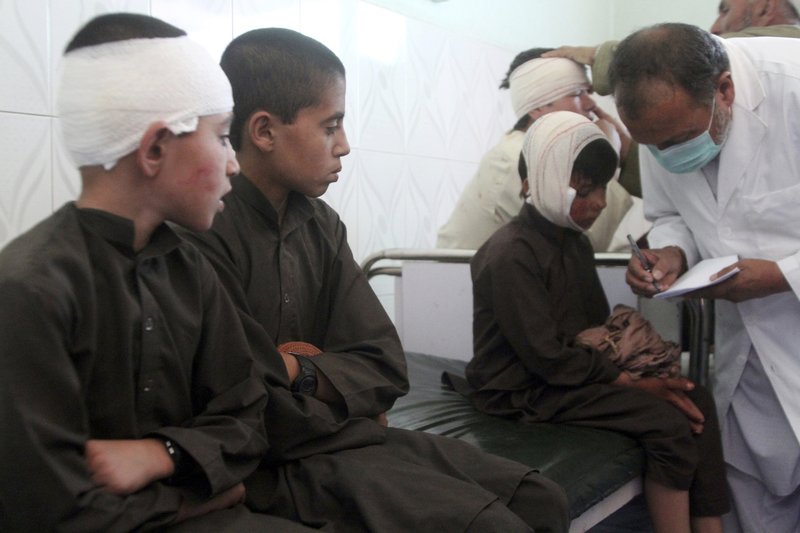 KABUL, Afghanistan (AP) — The Taliban carried out a devastating suicide car bombing in central Afghanistan Sunday that killed 12 people and wounded over 150 others, said Afghan officials.
The attack came as an all-Afghan peace conference, which includes the Taliban, was underway Sunday in Doha in an effort to end the country's relentless wars.
A provincial council member, Hasan Raza Yousafi, said the car bomb exploded nearby an intelligence department compound in Ghazni, the capital of the province of the same name. The dead included eight security personnel, he said.
Many of the wounded were students of a nearby high school, said the provincial health department chief, Zahir Shah Nekmal. He said most of the injured suffered cuts and abrasions from broken glass.
Taliban spokesman Zabihullah Mujahed claimed responsibility for the suicide attack saying the target was the intelligence service's compound in Ghazni. He said the bombing killed tens of intelligence employees. The Taliban often exaggerate such claims.
Meanwhile, U.S. Peace Envoy Zalmay Khalilzad hailed the intra-Afghan talks underway in Doha as a good first step toward substantive negotiations between Afghans on a framework for the country's future.
He said Washington's "aspiration" is to have that framework in place by Sept. 1 and ahead of the Afghan presidential election.
Khalilzad, who has been holding direct talks with the Taliban for the past six days also in Doha, told a press briefing on Saturday that included The Associated Press that the discussions were the most productive ever.
He will resume talks with the Taliban on Tuesday, he said.
Talks have covered a timeframe for the withdrawal of U.S. and NATO troops from Afghanistan, verifiable anti-terror guarantees from the Taliban, intra-Afghan negotiations and an eventual cease-fire.
Meanwhile in western Ghor province, a roadside mine killed Saturday seven children — the youngest was just 5 years old.
Abdul Hai Khateby, a spokesman for the provincial governor, said the Taliban planted the mine apparently to thwart a planned Afghan military offensive to retake nearby areas under the militants' control. The children were local shepherds who happened to be moving their herd along the road when the mine exploded, he said.
The EU has strongly urged Iran to reverse its decision to raise the level at which it enriches uranium beyond that allowed by a 2015 nuclear deal.
Spokeswoman Maja Kocijancic said the bloc was extremely concerned after Iran announced that it was producing material with a fissile purity of 4.5%.
European leaders fear it could speed up the potential development of a nuclear weapon – something Iran denies seeking.
Iran has said it is responding to sanctions the US reinstated last year.
The country has also accused European powers of failing to protect its economy from the sanctions' effects and insisted that its actions are in line with the deal – known formally as the Joint Comprehensive Plan of Action or JCPOA.
It has promised to keep reducing its commitments every 60 days unless it begins to see the accord's promised benefits, and warned the Europeans that "certain strange acts" will prompt it to "skip all the next steps" and implement the final one.
The five other parties to the deal – the UK, France, Germany, Russia and China – could refer the issue to a "joint commission", a process that could ultimately lead to the "snap back" of the UN and multilateral sanctions lifted three years ago.
"We are extremely concerned at Iran's announcement that it has started uranium enrichment above the limit of 3.67%," Ms Kocijancic told reporters on Monday.
"We strongly urge Iran to stop and reverse all activities inconsistent with its commitments… We are in contact with the other JCPOA participants regarding the next steps under the terms of the JCPOA, including a joint commission," she said.
Chinese foreign ministry spokesman Geng Shuang said the "root cause" of the crisis was "the maximum pressure exerted by the US on Iran".
US Vice-President Mike Pence said the pressure campaign would "change Iran's malign behaviour and hold the regime accountable for its destructive actions", and vowed that the US would "never allow Iran to obtain a nuclear weapon".
Reporting by Rupam Jain in Kabul, Eman Kamel in Doha; Editing by Robert Birsel
KABUL (Reuters) – The U.S. special envoy for peace in Afghanistan wound up on Tuesday the seventh round of talks he has held with the Taliban in Qatar, after signs of progress in efforts to end the longest war the United States has ever fought.
The U.S. envoy, Zalmay Khalilzad, met Taliban officials briefly a day after a delegation of Afghan citizens and the militants agreed on a "roadmap for peace", in particular a joint call to end civilian casualties in the 18-year war.
"Khalilzad will now brief his bosses and they will make an announcement. The seventh round has ended," said a senior official privy to the talks.
The United States and the Taliban are getting closer to a deal that is expected to be centered on a U.S. promise to withdraw troops in exchange for a Taliban promise not to let Afghanistan be used as a base for terrorism, officials say.
Last week, Khalilzad said the latest round of talks, which began on June 28, was the "most productive" since the effort began late last year, with progress on a counter-terrorism assurance, a troop withdrawal, dialogue between rival Afghans and a ceasefire.
Khalilzad, in a post on Twitter, said he was heading to China then back to Washington "to report and consult on the Afghan peace process". He did not elaborate.
Taliban officials were not immediately available for comment.
Senior Western officials and diplomats in Kabul who are privy to the talks, said the U.S. government was expected to make an announcement after a briefing from Khalilzad.
"The stage is now being set for a political settlement between the U.S. and the Taliban," said a senior western official who is privy to the negotiations.
While a deal between the United States and the Taliban might let the United States extricate itself from a war President Donald Trump is eager to end, it might not bring peace between the U.S.-backed government based in Kabul and the militants.
ZERO CIVILIAN CASUALTIES
The Taliban have refused to negotiate with the government, denouncing it as a U.S puppet, but in an effort to foster Afghan reconciliation, a 60-strong delegation of citizens met the Taliban for two days of talks in Qatar from Sunday.
The two sides said in a joint statement late on Monday they had agreed to a roadmap and were both "committed to respect and protect the dignity of people, their life and property and to minimize the civilian casualties to zero".
The two sides also promised to guarantee the security of public institutions such as schools, hospitals and markets.
But on Sunday, as the Afghan rivals sat down for talks in Qatar, Taliban fighters detonated a car bomb outside a government compound in the central town of Ghazni, killing 14 and wounding more than 100, including scores of children in a school.
Seven civilians were killed in a government air strike in the north late on Monday, the ministry of defense said in a statement, adding that strike was conducted for the "elimination of the enemy".
According to the United Nations, 3,804 civilians – including more than 900 children – were killed and 7,000 wounded in 2018, the deadliest year for civilians in the conflict.
The Taliban control and influence more territory than at any point since they were ousted in 2001.
Trump said he wanted to pull U.S. troops out of Afghanistan but was concerned that without a U.S. military presence, it could be used as a base for terrorist attacks on the United States.
U.S. Secretary of State Mike Pompeo said recently the United States wanted a deal with the Taliban by Sept. 1 – ahead of an Afghan presidential election due at the end of the month.
Reporting by Ghazwan Hassan in Tikrit; Writing by Ahmed Rasheed; Editing by Catherine Evans
TIKRIT, Iraq (Reuters) – At least three people were killed and four wounded when three mortar bombs hit the northern Iraqi town of Shirqat on Tuesday, police officials and hospital sources said.
Police officials in the area said Islamic State militants were involved in the attack and the mortars were fired from a nearby mountainous area were militants are still active.
"Daesh (Islamic State) fighters are hiding in (the) Makhoul mountains area and use it as a launchpad for their attacks," said Shirqat police colonel Khalil Sahan.
Islamic State has recently mounted a series of hit-and-run attacks aimed at undermining the government.
Iraq declared victory over the group, which once held large swathes of the country, in December 2017. But after they were defeated and driven out of areas they controlled for years, the militants have adapted their tactics to insurgent-style attacks.
Bush's Five Big Lies That Led to the Iraq Quagmire
These are the five lies Bush told that Ralph Nader documented to impeach him.
Weapons of Mass Destruction. The weapons have still not been found. Nader emphasized, "Until the

1991

Gulf War, Saddam Hussein was our government's anti-communist ally in the Middle East. We also used him to keep Iran at bay. In so doing, in the

1980

s under Reagan and the first Bush, corporations were licensed by the Department of Commerce to export the materials for chemical and biological weapons that President George W. Bush and Vice President Dick Cheney later accused him of having." Those weapons were destroyed after the Gulf War. George W. Bush's favorite chief weapons inspector, David Kay, after returning from Iraq and leading a large team of inspectors and spending nearly half a billion dollars told the president

We were wrong.

See: David Kay testimony before Senate Armed Services Committee,

2004-01-28

.Tyler Drumheller, the former chief of the

CIA

(

C

entral

I

ntelligence

A

gency) 's Europe division, revealed that in the fall of

2002

, George W. Bush, Vice President Cheney, then-National Security Adviser Condoleezza Rice and others were told by

CIA

Director George Tenet that Iraq's foreign minister — who agreed to act as a spy for the United States — had reported that Iraq had no active weapons of mass destruction program.

Iraq Ties to Al Qaeda. The White House made this claim even though the

CIA

and

FBI

(

F

ederal

B

ureau of

I

nvestigation) repeatedly told the Administration that there was no tie between Saddam Hussein and Al Qaeda. They were mortal enemies — one secular, the other fundamentalist.

Saddam Hussein was a Threat to the United States. In fact, Saddam was a tottering dictator, with an antiquated, fractured army of low morale and with Kurdish enemies in Northern Iraq and Shiite adversaries in the South of Iraq. He did not even control the air space over most of Iraq.

Saddam Hussein was a Threat to his Neighbors. In fact, Iraq was surrounded by countries with far superior military forces. Turkey, Iran and Israel were all capable of obliterating any aggressive move by the Iraqi dictator.

The Liberation of the Iraqi People. There are brutal dictators throughout the world, many supported over the years by Washington, whose people need

liberation

from their leaders. This is not a persuasive argument since for Iraq, it's about oil. In fact, the occupation of Iraq by the United States is a magnet for increasing violence, anarchy and insurrection
Recent Casualties:
Color

 Denotes Today's Confirmation
The Department of Defense announced today the death of a soldier who was supporting Operation Freedom's Sentinel.
Sgt. 1st Class. Elliott J. Robbins, 31, from Ogden, Utah, died June 30, 2019, in Helmand Province, Afghanistan, from a non-combat related incident. The incident is under investigation.
Robbins was assigned to 2nd Battalion, 10th Special Forces Group (Airborne), Fort Carson, Colorado.
The Department of Defense announced today the deaths of two soldiers who were supporting Operation Freedom's Sentinel.
Both soldiers died June 25, 2019, in Uruzgan Province, Afghanistan as a result of wounds sustained from small arms fire while engaged in combat operations. The incident is under investigation.
The deceased are:
Master Sgt. Micheal B. Riley, 32, of Heilbronn, Germany. Riley was assigned to 2nd Battalion, 10th Special Forces Group (Airborne), Fort Carson, Colorado.
Sgt. James G. Johnston, 24, of Trumansburg, New York. Johnston was assigned to 79th Ordnance Battalion (Explosive Ordnance Disposal), 71st Ordnance Group, Fort Hood, Texas.
War Casualties By Name

Complete Military and Civilian Casualty Lists


Save the Children is the world's leading independent organisation for children and has been working with families, communities and local authorities in Iraq since 1991, leading NGOs in general relief and development programs.Save the Children is currently responding to the needs of internally displaced persons (IDP) and the Syrian refugees in Iraq, in camps and non-camp settings. Our goal is for children in Iraq to be supported in raising their voices and attaining their rights, especially the right to participate in decisions affecting their lives. They should have access to quality education, health and protection services. We are increasing access to community based services that protect, educate and improve quality of life for children. We are ensuring that there is an increased participation of boys and girls in age appropriate activities and services. We are ensuring that children benefit from government actions that create an environment of awareness and accountability to uphold child rights. We are also developing new resources and innovative practices that support our work for children and youth.In Iraq, Save the Children's interventions include Child Protection, Education, Food Security and Livelihoods, Shelter and Water Sanitation and Hygiene (WASH), reaching vulnerble children and families in northern and central Iraq. Save the Children's programs are implemented through field offices in Erbil, Dohuk, Sulaymaniyah, Kirkuk and Kalar, with a country office located in Erbil.
Iraqi War Children
Please Never Forget.