17 Jul
United States Wars, News and Casualties
The dead & suffering children of Iraq.
Published 11 years ago
War News
Iran has rejected suggestions it is willing to discuss its missile programme with the US.
A spokesman for Iran's UN Mission said the weapons "are absolutely and under no condition negotiable".
His denial comes after Foreign Minister Mohammad Javad Zarif suggested in an interview the missiles could be up for discussion if sanctions are lifted.
The US unilaterally withdrew from a landmark 2015 nuclear deal last year and reimposed tight restrictions.
What did Iran say?
In a television interview on Monday, Mr Zarif told broadcaster NBC News that "room for negotiation is wide open" once the US removed its punishing sanctions.
Asked if this would include discussions about Iran's missiles – something absent from the original 2015 agreement – Iran's foreign minister said if the US wanted to discuss the programme "they need, first, to stop selling all these weapons, including missiles, to our region".
Trump administration wants to deport more than 1,400 Iraqi nationals, most of who are Chaldean – Iraqi Catholics who saw Trump as a 'savior' but now feel 'betrayed'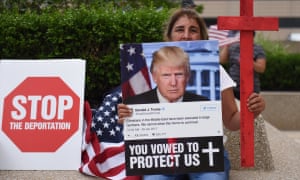 A Chaldean woman holds a photo of Donald Trump during a protest in Detroit. Photograph: Tanya Moutzalias/AP
T

en years ago, police caught Iraqi Chaldean immigrant Rani Yousuf with a small amount of marijuana. He completed probation, paid fines, and the conviction was dropped from his record when he turned 21.
Still, earlier this year, Yousuf found his car surrounded by Immigration and Customs Enforcement (Ice) officers who arrested him again over the charge. He sat for months in a Michigan county jail facing the prospect of deportation to Iraq, a country he left at four years old. He has no family there, doesn't speak Arabic, and is part of a religious minority targeted by extremists.
"As a Catholic who has tattoos of crosses, and Iraq being a Muslim country – they probably would kill me," he said.
Yousuf is one of over 1,400 Iraqi nationals who the Trump administration is attempting to deport. Most of those are Chaldean – Iraqi Catholics – living in metro Detroit, which holds the world's largest Chaldean population outside of Iraq.
The administration's deportation efforts are viewed by many Chaldeans as a shocking "betrayal", not least because many in the community have been enthusiastic supporters of Trump and voted for him in large numbers in 2016.
The generally conservative community with between 70,000 and 80,000 voters went big for Trump in the 2016 election in a state that he won by only 10,000 votes. They did so after Trump portrayed himself as a "savior" who would stand up for persecuted Christians. "Chaldeans For Trump" signs appeared at Trump rallies and in lawns in Oakland county, a wealthy metro Detroit area where the community is concentrated.
But just months into the Trump administration, Ice swept up 350 Chaldean men and Iraqi nationals. Now, some Chaldeans hold signs at protests reminding Trump "You vowed to protect us".
"Some people thought 'Here comes Trump who's talking a good game about Christians in the Middle East who are being persecuted,'" said Edward Bojoka, a Chaldean immigration attorney. "A lot of people in the Chaldean community jumped on that and said, 'Oh, he's on our side', and … some people feel like they were conned."
But while there's unanimous disappointment in the administration's plan to deport Chaldeans, some Chaldean leaders say they still view Trump as a "friend".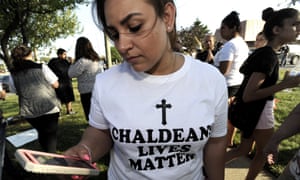 Just months into the Trump administration, Ice swept up 350 Chaldean men and Iraqi nationals. Photograph: Todd McInturf/AP
Among those is Martin Hanna, director of the Chaldean Foundation and publisher of the Chaldean News. He said that the political parties' priorities force Chaldeans to navigate Washington in an unusual fashion – Republicans seem more interested than Democrats in protecting persecuted Christian communities abroad, but Democrats are more helpful on immigration issues.
"People ask 'How come you're not denouncing Trump?' We always say we need everyone … and we hope through communication with everyone we can find resolution," he added.
The Trump administration has deported around 130 Iraqis, and others were removed during the Obama administration.
Ice repeatedly notes that those targeted have criminal records, but internal Ice emails obtained by the ACLU show Ice tactically targeted those with records first. It did so to "grease the skids" to more easily deport those with no criminal record later, said Michigan ACLU attorney Miriam Aukerman, who is representing Iraqi nationals in a class action suit.
Of the 1,400 Iraqi nationals with final deportation orders, about 800 do not have criminal records, and those with records were convicted of crimes ranging from minor offenses to more serious, violent charges, some of which occurred decades ago.
The ACLU argues Iraqi nationals deserve new hearings in front of immigration judges because Iraq is far more dangerous than even a few years ago. Under US law, those who commit certain crimes can be deported, but the law also prohibits Ice from deporting individuals to countries where they will be tortured or killed.
Aukerman said the vast majority of Iraqi nationals who receive new hearings are winning their cases because of that.
Much of Iraq is now lawless and Christian minorities are still persecuted – about 1.5 million Chaldeans lived in Iraq before the 2003 US invasion destabilized the country, and only about 250,000 remain.
The risks are greatest for Americanized Chaldeans. Some arrived in the US as children in the 1980s or following the 1990 Gulf War. Many don't speak Arabic and don't have a passport or Iraqi identification. Some no longer have family in Iraq, and would arrive with little more than the clothes on their backs. Some are veterans or worked with the US military.
"The reality is they cannot blend in anymore in Iraqi society," said Joseph Kassab, the Iraqi Christians Advocacy and Empowerment Institute's founder. "They do not speak the Arabic language, and they can be easily identified for kidnapping, killing, or for other punishment."
The ACLU is attempting to track those deportees and found some have been beaten, shot, have disappeared, or are "holed up in homes with machine guns" on self-imposed house arrest, Aukerman said.
So far, Iraq has largely refused to take deportees, effectively halting the process, but the US is putting diplomatic pressure on Baghdad to change course.
There is precedence for halting the orders. The Trump administration granted a reprieve to Liberians facing a similar situation, and could do the same with Iraqis.
In Congress, Michigan Democrat Andy Levin and Republican John Moolenaar introduced legislation that would grant Iraqi nationals with orders of removal two years of relief from detainment and deportation while they await individual hearing
Like others who made it in front of an immigration judge, Yousuf's story had a happy ending – after months in Ice detention, his deportation order was canceled, he was released, and he ultimately ended up receiving citizenship. Still, the lives of most of those targeted by Ice have been "totally destroyed", Bojoka said.
"The family lost the breadwinner who is in jail awaiting deportation to a place where survival is unlikely," he said. "That puts fear into the heart of anyone who is affected."
KABUL, Afghanistan (AP) — The Taliban forced a Swedish non-profit group to close 42 health facilities it runs in eastern Afghanistan, the organization said Wednesday, the latest attempt by the insurgents to show strength amid negotiations to end the country's nearly 18-year war.
In Sweden, the group's director called the closures "an obvious violation of human rights and international humanitarian law" and demanded the facilities be allowed to reopen right away.
The Taliban currently control nearly half of Afghanistan and are more powerful than at any time since the October 2001 U.S.-led invasion.
Sonny Mansson, the country director of the Swedish Committee for Afghanistan, told The Associated Press that the Taliban threatened the NGO's staff by saying that if they do not close the facilities, "it would have consequences for themselves and their families."
"We treat equally anyone who needs medical care regardless of who they are. Everyone who needs help gets it," Mansson said, adding the facilities that closed over the weekend were in a Taliban-controlled area of Maidan Wardan province while others are still open in the province's government-controlled areas.
Parwiz Ahmad Faizi, the group's communications manager, said the closures came after Afghan forces last week raided a clinic run by the NGO in Daimirdad district. The Afghan troops, acting on intelligence, were allegedly looking for suspected Taliban fighters hiding in the clinic.
Ahmad Khalid Fahim, program director for the Swedish group, said two staff members, a guard and a lab worker, and two other people were killed in the attack, while a fifth person has been missing.
Insurgents contacted the staff and ordered the NGO to shut down, Fahim added. Faizi said the closures would affect health services for around 6,000 patients, particularly women and children.
Taliban spokesman Zabihullah Mujahid confirmed the closure of the NGO's facilities.
The developments come amid stepped-up efforts by the United States to find a negotiated end to the country's conflict, America's longest war. Afghan talks that brought together the country's warring sides ended last week in Qatar's capital, Doha, with a statement that appeared to move closer to peace by laying down the outlines of a roadmap for the country's future.
The same Swedish-run health facility in Daimirdad was hit in 2016, in a joint raid by Afghan and foreign forces, said Fahim. Three people were killed in that attack, after which the NGO demanded an investigation but no probe results were ever released.
"We request the Afghan government give us an immediate response as to why the health facility came under attack," Fahim said.
(Reporting by Storay Karimi in Herat, Abdul Qadir Sediqi; Editing by Nick Macfie)
KABUL — Taliban militants killed at least 18 Afghan soldiers in clashes that erupted overnight when troops were trying to capture a senior Taliban leader, government officials said on Wednesday.
The clashes started after several soldiers were airdropped into the Ab Kamari district of western Badghis province to conduct a night raid on Taliban hideouts and arrest a designate district governor of the hardline Islamist group.
Farid Akhizai, a provincial council member in Badghis, said the Taliban encircled the soldiers, killed 18 and captured 11. Ten were missing.
The district governor of Ab Kamari said a lack of coordination was to blame.
"The operation was conducted to raid a hideout used by several Taliban commanders, but the insurgents had evacuated the area two days before," said Khudad, who goes by one name.
The Taliban in a statement confirmed that they had received a tip-off about the raid. They said their fighters killed 39 Afghan soldiers and captured 16.
The Taliban continue to stage major attacks against Afghan forces while they are engaged in a dialogue with the United States to negotiate an end to the 18-year long war.
President Ashraf Ghani said in January that more than 45,000 members of the security forces had been killed by militants since he took office in September 2014.
Bush's Five Big Lies That Led to the Iraq Quagmire
These are the five lies Bush told that Ralph Nader documented to impeach him.
Weapons of Mass Destruction. The weapons have still not been found. Nader emphasized, "Until the

1991

Gulf War, Saddam Hussein was our government's anti-communist ally in the Middle East. We also used him to keep Iran at bay. In so doing, in the

1980

s under Reagan and the first Bush, corporations were licensed by the Department of Commerce to export the materials for chemical and biological weapons that President George W. Bush and Vice President Dick Cheney later accused him of having." Those weapons were destroyed after the Gulf War. George W. Bush's favorite chief weapons inspector, David Kay, after returning from Iraq and leading a large team of inspectors and spending nearly half a billion dollars told the president

We were wrong.

See: David Kay testimony before Senate Armed Services Committee,

2004-01-28

.Tyler Drumheller, the former chief of the

CIA

(

C

entral

I

ntelligence

A

gency) 's Europe division, revealed that in the fall of

2002

, George W. Bush, Vice President Cheney, then-National Security Adviser Condoleezza Rice and others were told by

CIA

Director George Tenet that Iraq's foreign minister — who agreed to act as a spy for the United States — had reported that Iraq had no active weapons of mass destruction program.

Iraq Ties to Al Qaeda. The White House made this claim even though the

CIA

and

FBI

(

F

ederal

B

ureau of

I

nvestigation) repeatedly told the Administration that there was no tie between Saddam Hussein and Al Qaeda. They were mortal enemies — one secular, the other fundamentalist.

Saddam Hussein was a Threat to the United States. In fact, Saddam was a tottering dictator, with an antiquated, fractured army of low morale and with Kurdish enemies in Northern Iraq and Shiite adversaries in the South of Iraq. He did not even control the air space over most of Iraq.

Saddam Hussein was a Threat to his Neighbors. In fact, Iraq was surrounded by countries with far superior military forces. Turkey, Iran and Israel were all capable of obliterating any aggressive move by the Iraqi dictator.

The Liberation of the Iraqi People. There are brutal dictators throughout the world, many supported over the years by Washington, whose people need

liberation

from their leaders. This is not a persuasive argument since for Iraq, it's about oil. In fact, the occupation of Iraq by the United States is a magnet for increasing violence, anarchy and insurrection
Leading To War – The Complete Film
Damn The War Criminals,

Bush,Cheney,Rice,Rumsfeld,Wolfowitz, Powell and Blair from England

Recent Casualties:
Color Denotes Today's Confirmation
The Department of Defense announced today the death of a soldier who was supporting Operation Freedom's Sentinel.
Sgt. Maj. James G. Sartor, 40, of Teague, Texas, died July 13, 2019, in Faryab Province, Afghanistan, as a result of injuries sustained from enemy small arms fire during combat operations. This incident is under investigation.
Sartor was assigned to the 2nd Battalion, 10th Special Forces Group (Airborne), Fort Carson, Colorado.
The Department of Defense announced today the death of a soldier who was supporting Operation Freedom's Sentinel.
Sgt. 1st Class. Elliott J. Robbins, 31, from Ogden, Utah, died June 30, 2019, in Helmand Province, Afghanistan, from a non-combat related incident. The incident is under investigation.
Robbins was assigned to 2nd Battalion, 10th Special Forces Group (Airborne), Fort Carson, Colorado.
The Department of Defense announced today the deaths of two soldiers who were supporting Operation Freedom's Sentinel.
Both soldiers died June 25, 2019, in Uruzgan Province, Afghanistan as a result of wounds sustained from small arms fire while engaged in combat operations. The incident is under investigation.
The deceased are:
Master Sgt. Micheal B. Riley, 32, of Heilbronn, Germany. Riley was assigned to 2nd Battalion, 10th Special Forces Group (Airborne), Fort Carson, Colorado.
Sgt. James G. Johnston, 24, of Trumansburg, New York. Johnston was assigned to 79th Ordnance Battalion (Explosive Ordnance Disposal), 71st Ordnance Group, Fort Hood, Texas.
War Casualties By Name

Complete Military and Civilian Casualty Lists


Save the Children is the world's leading independent organisation for children and has been working with families, communities and local authorities in Iraq since 1991, leading NGOs in general relief and development programs.Save the Children is currently responding to the needs of internally displaced persons (IDP) and the Syrian refugees in Iraq, in camps and non-camp settings. Our goal is for children in Iraq to be supported in raising their voices and attaining their rights, especially the right to participate in decisions affecting their lives. They should have access to quality education, health and protection services. We are increasing access to community based services that protect, educate and improve quality of life for children. We are ensuring that there is an increased participation of boys and girls in age appropriate activities and services. We are ensuring that children benefit from government actions that create an environment of awareness and accountability to uphold child rights. We are also developing new resources and innovative practices that support our work for children and youth.In Iraq, Save the Children's interventions include Child Protection, Education, Food Security and Livelihoods, Shelter and Water Sanitation and Hygiene (WASH), reaching vulnerble children and families in northern and central Iraq. Save the Children's programs are implemented through field offices in Erbil, Dohuk, Sulaymaniyah, Kirkuk and Kalar, with a country office located in Erbil.
Iraqi War Children
Please Never Forget.