26 Jul
United States Wars, News and Casualties
The dead & suffering children of Iraq.
Published 11 years ago
War News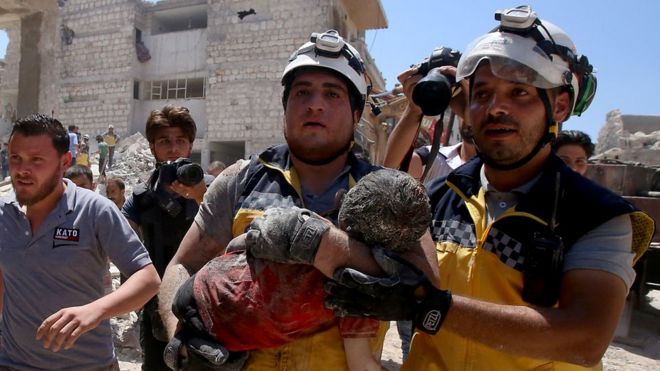 More than 100 people, including 26 children, have died in government attacks on hospitals, schools, markets and bakeries in the past 10 days, the UN's human rights chief said.
Michelle Bachelet said the deaths were part of a "relentless campaign of air strikes by the government and its allies", including Russia.
The civilian targets, she added, were unlikely to have all been accidental.
And yet the reports were being met with "apparent international indifference".
Speaking to reporters, Ms Bachelet hit out at the "failure of leadership by the world's most powerful nations".
The rising death toll in the rebel-held region of Idlib, she said, had been met with a "collective shrug". The conflict had fallen off the international radar while the UN Security Council was paralysed, she added.
She also warned those carrying out the attacks could be charged with war crimes.
"It seems highly unlikely, given the persistent pattern of such attacks, that they are all being hit by accident," Ms Bachelet said.
"Intentional attacks against civilians are war crimes, and those who have ordered them or carried them out are criminally responsible for their actions."
What is happening in Syria?
Idlib, along with northern Hama and western Aleppo province, is the last opposition stronghold in Syria after eight years of civil war.
It is supposedly covered by a truce brokered in September by Russia and opposition-backer Turkey that spared the 2.7 million civilians living there from a major government offensive.
Last week, the UN said more than 350 civilians had been killed and 330,000 forced to flee their homes since fighting escalated on 29 April.
However, this figure has now been revised, with 103 extra deaths in the last 10 days alone. The estimate for the number displaced stands at more than 400,000.
The government – which is backed by the Russian air force – said the increase in attacks was due to what they said were repeated truce violations by jihadists linked to al-Qaeda who dominate the opposition stronghold.
Alia Abdulnoor's case reveals the grim reality of human rights during the 'year of tolerance' in the United Arab Emirates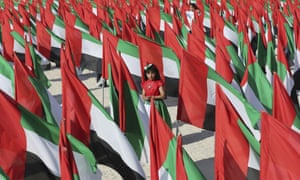 A girl walks inside a cluster of UAE flags. Photograph: Kamran Jebreili/AP
W

hen I learned of Alia Abdulnoor's death and the conditions of her detention, I was both saddened and outraged. Unjustly detained in the United Arab Emirates (UAE), Alia was denied her dignity along with a fair trial.
This death in custody should shame us all. Riddled with cancer, osteoporosis and liver fibrosis, she spent her final weeks chained to a bed, denied adequate care and made to sign a document stating that she didn't want treatment, according to reports by human rights monitors.
The list of rights denied to her is long. After being arrested and detained by state security forces in 2015, she was held incommunicado for months without charge. Deprived of contact with her family, she suffered degrading conditions that may have contributed to the deterioration of her health. She was, her family say, forced to sign a confession without being allowed to read it.
On 5 February 2017, Alia received a 10-year jail sentence for abetting al-Qaida-led terrorism, promoting its ideology and extending financial assistance to its members.
In a statement, the UAE public prosecution office claimed that Alia had received state-funded cancer treatment back in 2008, and suggested that: "During her incarceration, her cancer relapsed. The prison authorities shifted her to the jail hospital, but she refused treatment. Not only did she refuse the world-class treatment prescribed for her by the doctors, she also went on hunger strikes on occasions. She received the same level of medical attention and treatment given to all citizens and residents in the country."
This is the UAE's explanation of events, which I and other human rights experts reject as a shameful distortion of the truth.
Many believe her arrest was linked to her support of Syrian people after the outbreak of the uprising, specifically her fundraising that sent money to Syrian women and children. The authorities depicted this as support for terrorists abroad. While the UAE's anti-terror laws supposedly exist to protect people, in Alia's case – as with many others – they have become a tool of injustice, discrimination and abuse for political purposes. While the laws are there to protect the country, they were used against an individual endorsing other people's rights.
Any statement extorted using torture cannot and should not be accepted as evidence by justice mechanisms. Torture is prohibited by international law, as are the numerous human rights breaches that occur in UAE, an issue that is of growing concern to the UN Office of the High Commissioner for Human Rights.
Alia's case serves as a reminder of how human rights are viewed in the UAE. Hospitalised when it was too late, she received only palliative care. Not only did the denial of medical treatment and the refusal to release her violate international standards, it breached the UAE's own legislation. Emirati law provides for the compassionate release of prisoners on health grounds and for unimpeded access of family members to terminal detainees. Knowing all this they even rejected calls from UN human rights experts for Alia's release.
Authorities also ignored and dismissed repeated calls from her doctor, lawyers and the international community for her release. Alia should have been allowed to spend her last days surrounded by her family. The pain she suffered was entirely unnecessary. There is no doubt in my mind that the UAE bears responsibility for her death.
As a symbol of the cruelty of the UAE state security apparatus, its own justice system fails to recognise and deal with breaches of its own laws. Torture, denial of access to basic rights, isolation and other abuses have been reported by detainees throughout the country. Anti-terrorism laws and national security concerns are regularly cited when convicting activists.
Sheikh Khalifa bin Zayed declared 2019 as the UAE's "year of tolerance", but if this is their interpretation of "tolerance", we should all be terrified of what happens when intolerance is shown. Or was the labelling of 2019 simply a public relations exercise to lay the foundations for the hosting of the 2020 World Expo in Dubai?
This year alone there have been many cases of the UAE showing intolerance to any kind of differing opinion. The 26-year-old British football fan Ali Issa Ahmad was arrested and allegedly tortured for wearing a Qatar T-shirt. UAE authorities dispute this, saying his injuries were self-inflicted to gain publicity. British woman Laleh Shahravesh was detained in Dubai under controversial cybercrime laws for historical social media posts about her ex-husband's wife.
In calling for true commitment to put an end to the human rights violations by the authorities in the UAE, we also urge them to investigate the ongoing cases and to hold accountable those responsible for Alia's death. It would be a true show of force if other countries that believe in human rights and dignity were to withdraw their support for the Dubai Expo in 2020, which otherwise presents another opportunity for the repressive regime to paint a facade over its continued breach of international human rights laws.
Like so many others, Alia's case awaits justice and should not be forgotten – instead it should inspire action to prevent such an appalling story happening again.

FILE PHOTO: A White Helmets member uses a saw on rubble after an airstrike in this screen grab taken from a social media video said to be taken in Idlib, Syria on July 16, 2019. White Helmets/social media via REUTERS/File Photo
GENEVA/BEIRUT (Reuters) – Air strikes by the Syrian government and its allies on schools, hospitals, markets and bakeries have killed at least 103 civilians in the past 10 days, including 26 children, U.N. human rights chief Michelle Bachelet said in a statement on Friday.
"These are civilian objects, and it seems highly unlikely, given the persistent pattern of such attacks, that they are all being hit by accident," Bachelet said, adding that the rising toll had been met with "apparent international indifference".
The government began its offensive against the rebel enclave in northwest Syria, the last area of active insurgent opposition to President Bashar al-Assad, at the end of April, saying it was responding to violations of a truce.
Idlib and surrounding areas of the northwest were included in a "de-escalation" deal last year between Assad's main ally Russia and Turkey, which backs some rebel groups, to reduce warfare and bombardment.
Over the past three months, the offensive has driven hundreds of thousands of people from their homes or temporary shelters to seek refuge near the border with Turkey and has killed hundreds of civilians, according to war monitoring groups.
Both the Syrian government and its Russian ally, whose air power has been critical to Damascus' military gains in recent years, deny targeting civilians or civilian infrastructure.
Reporting by Tom Miles and Angus McDowall; Editing by Raissa Kasolowsky
July 4 party reportedly led to early redeployment
.
A Navy SEAL team is being sent home from Iraq following a "perceived deterioration of good order and discipline," military officials said, with an alcohol-fueled July 4 party reportedly leading to the early redeployment.
The SEAL team, which was operating in Iraq as part of the anti-ISIS Operation Inherent Resolve campaign, is being reassigned to San Diego, officials said.
"The commander of the Special Operations Joint Task Force Operation Inherent Resolve (in Iraq) ordered the early redeployment of a SEAL Team platoon to San Diego due to a perceived deterioration of good order and discipline within the team during non-operational periods," U.S. Special Operations Command said in a statement late Wednesday night. "The commander lost confidence in the team's ability to accomplish the mission."
"Commanders have worked to mitigate the operational impact as this SEAL platoon follows a deliberate redeployment," the statement continues. "All Department of Defense personnel are expected to uphold proven standards and to comply with laws and regulations. Alleged violations are thoroughly investigated."
The move follows a July 4 party at which the SEALs consumed alcohol, according to the Navy Times.
Naval Special Warfare spokeswoman Tamara Lawrence told the outlet that the incident is under further investigation.
"Naval Special Warfare insists on a culture where ethical adherence is equally important to tactical proficiency," she said. "Good order and discipline is critical to the mission — the loss of confidence outweighed potential operational risk."
CHICAGO (AP) — The Illinois National Guard is set to deploy about 400 soldiers to Afghanistan in what officials say is the largest mobilization of Guardsmen and women from the state in nearly a decade.
The Chicago Tribune reports that members of the 178th Infantry Regiment that's headquartered on Chicago's South Side and has companies from as far away as the Peoria area will start leaving this weekend to start a yearlong deployment to Afghanistan in support of "Operation Freedom's Sentinel."
The soldiers will first go to Fort Bliss in Texas before heading to Afghanistan about the time of the country's planned presidential election on Sept. 28.
The number of U.S. troops in Afghanistan has dropped in the past decade but there are still some 14,000 U.S. servicemen and women there.
KABUL, Afghanistan (AP) — An Afghan official says an hours-long gunbattle between the Taliban and police has left four police officers dead in the country's eastern Ghazni province.
Hassan Reza Yousufi, a provincial councilman, said Friday that the police chief of Khogyani district was among those killed in the fighting. He said nine police officers were also wounded in the clashes, which took place late Thursday.
Separately, Ahmad Khan Sirat, the spokesman for Ghazni province's police chief, said a tribal elder was assassinated in the provincial capital Friday. He said an investigation had been opened but that no suspects had been arrested.
The Taliban control around half of Afghanistan and have continued to launch daily assaults, mainly targeting Afghan security forces.
Bush's Five Big Lies That Led to the Iraq Quagmire
These are the five lies Bush told that Ralph Nader documented to impeach him.
Weapons of Mass Destruction. The weapons have still not been found. Nader emphasized, "Until the

1991

Gulf War, Saddam Hussein was our government's anti-communist ally in the Middle East. We also used him to keep Iran at bay. In so doing, in the

1980

s under Reagan and the first Bush, corporations were licensed by the Department of Commerce to export the materials for chemical and biological weapons that President George W. Bush and Vice President Dick Cheney later accused him of having." Those weapons were destroyed after the Gulf War. George W. Bush's favorite chief weapons inspector, David Kay, after returning from Iraq and leading a large team of inspectors and spending nearly half a billion dollars told the president

We were wrong.

See: David Kay testimony before Senate Armed Services Committee,

2004-01-28

.Tyler Drumheller, the former chief of the

CIA

(

C

entral

I

ntelligence

A

gency) 's Europe division, revealed that in the fall of

2002

, George W. Bush, Vice President Cheney, then-National Security Adviser Condoleezza Rice and others were told by

CIA

Director George Tenet that Iraq's foreign minister — who agreed to act as a spy for the United States — had reported that Iraq had no active weapons of mass destruction program.

Iraq Ties to Al Qaeda. The White House made this claim even though the

CIA

and

FBI

(

F

ederal

B

ureau of

I

nvestigation) repeatedly told the Administration that there was no tie between Saddam Hussein and Al Qaeda. They were mortal enemies — one secular, the other fundamentalist.

Saddam Hussein was a Threat to the United States. In fact, Saddam was a tottering dictator, with an antiquated, fractured army of low morale and with Kurdish enemies in Northern Iraq and Shiite adversaries in the South of Iraq. He did not even control the air space over most of Iraq.

Saddam Hussein was a Threat to his Neighbors. In fact, Iraq was surrounded by countries with far superior military forces. Turkey, Iran and Israel were all capable of obliterating any aggressive move by the Iraqi dictator.

The Liberation of the Iraqi People. There are brutal dictators throughout the world, many supported over the years by Washington, whose people need

liberation

from their leaders. This is not a persuasive argument since for Iraq, it's about oil. In fact, the occupation of Iraq by the United States is a magnet for increasing violence, anarchy and insurrection
Leading To War – The Complete Film
Damn The War Criminals,

Bush,Cheney,Rice,Rumsfeld,Wolfowitz, Powell and Blair from England

Recent Casualties:
Color Denotes Today's Confirmation
DOD Identifies Army Casualties
The Department of Defense announced today the death of a soldier who was supporting Operation Inherent Resolve.
Sgt. William Edward Friese, 30, from Rockport, West Virginia, died July 18, 2019 in Camp Buehring, Kuwait, from a non-combat related incident. The incident is under investigation.
Friese was assigned to 821st Engineer Company, 1092nd, Engineer Battalion, 111th Engineer Brigade, Summersville, West Virginia.
The Department of Defense announced today the death of a soldier who was supporting Operation Freedom's Sentinel.
Sgt. Maj. James G. Sartor, 40, of Teague, Texas, died July 13, 2019, in Faryab Province, Afghanistan, as a result of injuries sustained from enemy small arms fire during combat operations. This incident is under investigation.
Sartor was assigned to the 2nd Battalion, 10th Special Forces Group (Airborne), Fort Carson, Colorado.
The Department of Defense announced today the death of a soldier who was supporting Operation Freedom's Sentinel.
Sgt. 1st Class. Elliott J. Robbins, 31, from Ogden, Utah, died June 30, 2019, in Helmand Province, Afghanistan, from a non-combat related incident. The incident is under investigation.
Robbins was assigned to 2nd Battalion, 10th Special Forces Group (Airborne), Fort Carson, Colorado.
The Department of Defense announced today the deaths of two soldiers who were supporting Operation Freedom's Sentinel.
Both soldiers died June 25, 2019, in Uruzgan Province, Afghanistan as a result of wounds sustained from small arms fire while engaged in combat operations. The incident is under investigation.
The deceased are:
Master Sgt. Micheal B. Riley, 32, of Heilbronn, Germany. Riley was assigned to 2nd Battalion, 10th Special Forces Group (Airborne), Fort Carson, Colorado.
Sgt. James G. Johnston, 24, of Trumansburg, New York. Johnston was assigned to 79th Ordnance Battalion (Explosive Ordnance Disposal), 71st Ordnance Group, Fort Hood, Texas.
War Casualties By Name

Complete Military and Civilian Casualty Lists


Save the Children is the world's leading independent organisation for children and has been working with families, communities and local authorities in Iraq since 1991, leading NGOs in general relief and development programs.Save the Children is currently responding to the needs of internally displaced persons (IDP) and the Syrian refugees in Iraq, in camps and non-camp settings. Our goal is for children in Iraq to be supported in raising their voices and attaining their rights, especially the right to participate in decisions affecting their lives. They should have access to quality education, health and protection services. We are increasing access to community based services that protect, educate and improve quality of life for children. We are ensuring that there is an increased participation of boys and girls in age appropriate activities and services. We are ensuring that children benefit from government actions that create an environment of awareness and accountability to uphold child rights. We are also developing new resources and innovative practices that support our work for children and youth.In Iraq, Save the Children's interventions include Child Protection, Education, Food Security and Livelihoods, Shelter and Water Sanitation and Hygiene (WASH), reaching vulnerble children and families in northern and central Iraq. Save the Children's programs are implemented through field offices in Erbil, Dohuk, Sulaymaniyah, Kirkuk and Kalar, with a country office located in Erbil.
Iraqi War Child
Please Never Forget.