06 Aug
United States Wars, News and Casualties
The dead & suffering children of Iraq.
Published 11 years ago
War News
As violence escalates, more children have died in rebel-held areas in the past month than in all of 2018. But does anybody care?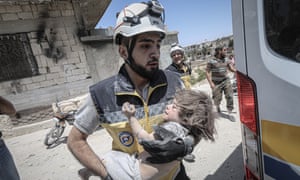 A rescue worker with a child saved from rubble in the Arihah district of Idlib after airstrikes by Russia and the Assad regime on 24 July. Photograph: Muhammed Said/Getty Images
M

urdered children are no longer news. International media coverage of the war in Afghanistan, where child deaths reached an all-time high last year, is sporadic at best. In Yemen it is estimated that at least 85,000 under-fives have died of starvation since 2015, a figure that numbs the mind. In Syria, especially, it is hard to keep count because children are being killed almost every day – and who is really counting?
Harrowing images briefly capture public attention. One of the more recent showed five-year-old Riham struggling amid the rubble of her bombed home in Ariha, in Syria's north-western Idlib province, to save her baby sister, Tuqa. Riham died later in hospital along with her mother and another sister. Thanks to her efforts, and White Helmet rescuers, Tuqa survived.
Britain shifts away from plans of European-led mission proposed by former foreign secretary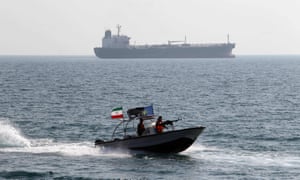 File photo of Iranian Revolutionary Guards driving a speedboat in front of an oil tanker. Photograph: Atta Kenare/AFP/Getty Images
The announcement by Boris Johnson's government will involve the UK's two Royal Navy ships in the Gulf collaborating with two US warships and Hunt's successor urged other countries to join in.
Dominic Raab, the new foreign secretary, said the UK had to respond to the "increased threat" now. He added: "Our aim is to build the broadest international support to uphold freedom of navigation in the region, as protected under international law."
France and Germany had indicated they would refuse to join any US-led mission, amid concerns about being too closely aligned to a Trump administration that has pulled out of the nuclear deal and contemplated airstrikes on the country.
Despite that, UK was still hoping that by joining the US other countries would be persuaded to participate. Whitehall sources said "there had to come a point" where countries had to act to secure shipping in the Gulf.
But on Monday those hopes were rebuffed again by Germany's foreign minister, Heiko Maas, who repeated that his country would not join in a US-led operation: "At the moment the Britons would rather join an American mission. We won't do that."
In an attempt to ally German and French concerns, Raab said that the UK "approach to Iran hasn't changed". The new government remained committed to de-escalation and to "maintain the nuclear deal", the minister added.
Meanwhile, Iran accused the US of engaging in "economic terrorism" against its people. The Iranian foreign secretary, Mohammad Javad Zarif, also warned Britain that acting in concert with the Trump administration would bring about a response from Tehran.
During a briefing Zarif accused the US of seeking "to tie the 'bread' to 'politics'" and added: "Britain is an accomplice in US economic terrorism, and this complicity will definitely bring about consequences for them."
Labour critics asked whether the shift in policy demonstrated by the naval announcement meant Johnson's government was edging closer to the Trump administration's Iran policy in terms of economic sanctions.
Lord Wood of Anfield, a Labour peer, said: "The question is: will we thereby effectively be joining the US in their mission to stop all Iranian oil exports, a position which the US strongly adheres to, but the UK and EU oppose."
The announcement comes more than a fortnight after Iran seized the British-flagged Stena Impero oil tanker, prompting Hunt's call for a "European-led" mission just days before his defeat in the leadership race by Boris Johnson and his eventual sacking.
With little prospect of the European mission coming together, stretched British forces will soon start working with the US, which has a command and control operation in Bahrain, to accompany tankers passing through the strait of Hormuz.
A fifth of the world's oil passes through the waterway, bounded to the north by Iran, which has been accused of pursuing a policy of disrupting shipping in an attempt to lift the world oil price to retaliate against US sanctions.
The Iranians seized the Stena Impero partly in response to the impounding of an Iran-flagged oil tanker, the Grace 1, in Gibraltar. Other ships in the Gulf had been sabotaged in recent weeks, damaged by mines above the waterline widely believed to have been planted by Iran's Revolutionary Guards.
The UK is patrolling the Gulf with two warships, HMS Duncan, a Type 45 Destroyer, which joined HMS Montrose, a Type 23 Frigate, at the end of last month. But when Stena Impero was seized in the strait, the Montrose was unable to intervene because it was 60 minutes' sail away.
A spokeswoman for the US Department of Defense said: "We welcome the decision of the UK to participate in the international maritime security construct to enhance maritime domain awareness, promote safe passage, and enhance freedom of navigation in the Arabian Gulf, strait of Hormuz, Arabian Sea, and Bab el-Mandeb."
GENEVA (Reuters) – War with Iran is the mother of all wars, Iranian President Hassan Rouhani said on Tuesday in a speech broadcast live on state TV, warning once again that shipping might not be safe in the Strait of Hormuz oil waterway.
Tensions have risen between Iran and the West since last year when the United States pulled out of an international agreement which curbed the Islamic Republic's nuclear program in return for an easing of economic sanctions on Iran.
"Peace with Iran is the mother of all peace, war with Iran is the mother of all wars," Rouhani said at the Foreign Ministry in a speech which also praised Foreign Minister Mohammad Javad Zarif after the United States imposed sanctions on him on July 31.
If the United States wants to have negotiations with Iran then it must lift all sanctions, Rouhani said, noting that Iran must be allowed to export oil.
Fuelling fears of a Middle East war with global repercussions, the Guards seized British tanker Stena Impero near the Strait of Hormuz in July for alleged marine violations, two weeks after British forces captured an Iranian oil tanker near Gibraltar accused of violating sanctions on Syria.
"A strait for a strait. It can't be that the Strait of Hormuz is free for you and the Strait of Gibraltar is not free for us," Rouhani said.
Approximately one-fifth of the world's oil traffic passes through the strategic Strait of Hormuz.
The Guards seized an Iraqi oil tanker in the Gulf on Wednesday which they said was smuggling fuel and detained seven crewmen, Iran's state media reported.
KABUL (Reuters) – The Taliban on Tuesday denounced as a sham a presidential election due next month, saying their fighters would do everything they could to block it, while urging people to stay away from rallies that could be attacked.
The warning came as both the United States and the Taliban reported progress in talks on a deal that is expected to bring a U.S. commitment to withdraw its troops in exchange for a Taliban promise the country will not be used to plot terrorist attacks.
The Taliban called for a boycott of the election scheduled for Sept. 28, and said foreign powers should instead focus on the effort to negotiate the deal with the United States on "ending the occupation of Afghanistan".
"This election process is nothing more than a ploy to deceive the common people … for satisfying the ego of a limited number of sham politicians," the Taliban said in a statement.
President Ashraf Ghani is widely expected to win a second term and has insisted the vote must go ahead as scheduled.
The U.S.-trained former World Bank official came to power in 2014 after winning a bitterly disputed election marred by accusations of cheating.
The Taliban said their fighters would block the vote and warned of attacks.
"To prevent losses … from being incurred by our fellow compatriots, they must stay away from gatherings and rallies that could become potential targets," the militants said.
Ghani's office, responding to the threat, said the people had the right to choose their leader and the government was ready to hold a transparent election across the country.
"They should show peace through their actions and not threaten people," the office said.
Ghani and his government are not involved in the peace talks because the Taliban refuse to deal with a government they say is a U.S. puppet.
Ghani's running mate, who last week survived a militant suicide attack on his Kabul office, condemned the Taliban as "sham Afghans".
"They are created and backed to suppress a nation, bring about medieval system in the name of religion to feed the greedy beast of Pakistani establishment," Amrullah Saleh said on Twitter.
Saleh, a former intelligence chief, is a fierce critic of Pakistan, which many Afghans accuse of backing the Taliban. Pakistan denies that.

FILE – In this March 30, 2019 file photo, women are treated for suspected cholera infection at Al-Sabeen hospital, in Sanaa, Yemen. An Associated Press investigation found some of the United Nations aid workers sent in to Yemen amid a humanitarian crisis caused by five years of civil war have been accused of enriching themselves from an outpouring of donated food, medicine and money. Documents from an internal probe of the U.N.'s World Health Organization uncovered allegations of large funds deposited in staffers' personal bank accounts, suspicious contracts, and tons of donated medicine diverted or unaccounted for. (AP Photo/Hani Mohammed, File)
CAIRO (AP) — The United Nations investigators assembled in the departure hall of Sanaa's airport were preparing to leave with precious evidence: laptops and external drives collected from the staff of the World Health Organization.
These computers, they believed, contained proof of corruption and fraud within the U.N. agency's office in Yemen.
But before they could board their flight out, armed militiamen from the Houthi rebels ruling northern Yemen marched into the hall and confiscated the computers, according to six former and current aid officials.
The stunned investigators were left unharmed, but flew out without the telltale devices.
The Houthis had been tipped off by a WHO staffer with connections to the rebel movement who feared her theft of aid funding would be uncovered, according to the six former and current officials who spoke on condition of anonymity because the seizure of the computers had not previously been made public.

Yemeni workers unload a truck with aid donations from donors in the town of Hajjah in September 2018. (AP Photo/Hammadi Issa, File)
The October 2018 scene at the Sanaa airport is another episode in the continuing struggle over corruption that has diverted donated food, medicine, fuel and money from desperate Yemenis amid their country's five-year civil war.
More than a dozen U.N. aid workers deployed to deal with the wartime humanitarian crisis have been accused of joining with combatants on all sides to enrich themselves from the billions of dollars in donated aid flowing into the country, according to individuals with knowledge of internal U.N. investigations and confidential documents reviewed by The Associated Press.
The AP obtained U.N. investigative documents, and interviewed eight aid workers and former government officials…………….
confidential report by a U.N. panel of experts on Yemen, obtained by the AP, said Houthi authorities constantly pressure aid agencies, forcing them to hire loyalists, intimidating them with threats to revoke visas and aiming to control their movements and project implementation.

Yemeni women rally outside U.N. offices in the capital of Sanaa in December 2018, holding banners demanding the reopening of the city's airport for medical aid. (AP Photo/Hani Mohammed, File)
Officials said it's unclear how many staffers may be aiding combatants. The officials said several incidents in recent years indicate the U.N. staffers may have been involved in the theft of aid supplies.
Internal U.N. reports from 2016 and 2017 obtained by the AP show several incidents where trucks carrying medical supplies were hijacked by Houthi rebels in the battleground province of Taiz. The supplies were later given to Houthi fighters on the front lines fighting the Saudi-led coalition or sold in pharmacies in territory controlled by the rebel group.
An official who help draft the reports said it was "obvious there were some individuals who were working with Houthis behind the scene because there was coordination on the movement of trucks."
Another official said the U.N.'s inability or unwillingness to address the alleged corruption in its aid programs harms the agency's efforts to help Yemenis affected by the war.
"This is scandalous to any agency and ruins the impartiality of U.N.," the aid official said.
Bush's Five Big Lies That Led to the Iraq Quagmire
These are the five lies Bush told that Ralph Nader documented to impeach him.
Weapons of Mass Destruction. The weapons have still not been found. Nader emphasized, "Until the

1991

Gulf War, Saddam Hussein was our government's anti-communist ally in the Middle East. We also used him to keep Iran at bay. In so doing, in the

1980

s under Reagan and the first Bush, corporations were licensed by the Department of Commerce to export the materials for chemical and biological weapons that President George W. Bush and Vice President Dick Cheney later accused him of having." Those weapons were destroyed after the Gulf War. George W. Bush's favorite chief weapons inspector, David Kay, after returning from Iraq and leading a large team of inspectors and spending nearly half a billion dollars told the president

We were wrong.

See: David Kay testimony before Senate Armed Services Committee,

2004-01-28

.Tyler Drumheller, the former chief of the

CIA

(

C

entral

I

ntelligence

A

gency) 's Europe division, revealed that in the fall of

2002

, George W. Bush, Vice President Cheney, then-National Security Adviser Condoleezza Rice and others were told by

CIA

Director George Tenet that Iraq's foreign minister — who agreed to act as a spy for the United States — had reported that Iraq had no active weapons of mass destruction program.

Iraq Ties to Al Qaeda. The White House made this claim even though the

CIA

and

FBI

(

F

ederal

B

ureau of

I

nvestigation) repeatedly told the Administration that there was no tie between Saddam Hussein and Al Qaeda. They were mortal enemies — one secular, the other fundamentalist.

Saddam Hussein was a Threat to the United States. In fact, Saddam was a tottering dictator, with an antiquated, fractured army of low morale and with Kurdish enemies in Northern Iraq and Shiite adversaries in the South of Iraq. He did not even control the air space over most of Iraq.

Saddam Hussein was a Threat to his Neighbors. In fact, Iraq was surrounded by countries with far superior military forces. Turkey, Iran and Israel were all capable of obliterating any aggressive move by the Iraqi dictator.

The Liberation of the Iraqi People. There are brutal dictators throughout the world, many supported over the years by Washington, whose people need

liberation

from their leaders. This is not a persuasive argument since for Iraq, it's about oil. In fact, the occupation of Iraq by the United States is a magnet for increasing violence, anarchy and insurrection
Leading To War – The Complete Film
Damn The War Criminals,

Bush,Cheney,Rice,Rumsfeld,Wolfowitz, Powell and Blair from England


Recent Casualties:
Color Denotes Today's Confirmation
DOD Identifies Army Casualties
The Department of Defense announced today the deaths of two soldiers who were supporting Operation Freedom's Sentinel.
Both soldiers died July 29, 2019, in Tarin Kowt, Uruzgan Province, Afghanistan, as a result of wounds sustained in a combat related incident. The incident is under investigation.
The deceased are:
Pfc. Brandon Jay Kreischer, 20, of Stryker, Ohio.
Spc. Michael Isaiah Nance, 24, of Chicago, Illinois.
Both soldiers were assigned to 1st Battalion, 505th Parachute Infantry Regiment, 3rd Brigade Combat Team, 82nd Airborne Division, Fort Bragg, North Carolina.
The Department of Defense announced today the death of a soldier who was supporting Operation Inherent Resolve.
Sgt. William Edward Friese, 30, from Rockport, West Virginia, died July 18, 2019 in Camp Buehring, Kuwait, from a non-combat related incident. The incident is under investigation.
Friese was assigned to 821st Engineer Company, 1092nd, Engineer Battalion, 111th Engineer Brigade, Summersville, West Virginia.
The Department of Defense announced today the death of a soldier who was supporting Operation Freedom's Sentinel.
Sgt. Maj. James G. Sartor, 40, of Teague, Texas, died July 13, 2019, in Faryab Province, Afghanistan, as a result of injuries sustained from enemy small arms fire during combat operations. This incident is under investigation.
Sartor was assigned to the 2nd Battalion, 10th Special Forces Group (Airborne), Fort Carson, Colorado.
War Casualties By Name

Complete Military and Civilian Casualty Lists


Save the Children is the world's leading independent organisation for children and has been working with families, communities and local authorities in Iraq since 1991, leading NGOs in general relief and development programs.Save the Children is currently responding to the needs of internally displaced persons (IDP) and the Syrian refugees in Iraq, in camps and non-camp settings. Our goal is for children in Iraq to be supported in raising their voices and attaining their rights, especially the right to participate in decisions affecting their lives. They should have access to quality education, health and protection services. We are increasing access to community based services that protect, educate and improve quality of life for children. We are ensuring that there is an increased participation of boys and girls in age appropriate activities and services. We are ensuring that children benefit from government actions that create an environment of awareness and accountability to uphold child rights. We are also developing new resources and innovative practices that support our work for children and youth.In Iraq, Save the Children's interventions include Child Protection, Education, Food Security and Livelihoods, Shelter and Water Sanitation and Hygiene (WASH), reaching vulnerble children and families in northern and central Iraq. Save the Children's programs are implemented through field offices in Erbil, Dohuk, Sulaymaniyah, Kirkuk and Kalar, with a country office located in Erbil.
Syria War Child
Please Never Forget