09 Aug
United States Wars, News and Casualties
The dead & suffering children of Iraq.
Published 11 years ago
War News
Lack of detail and strong opposition from Kurds means plan is unlikely to provide solution to region's problems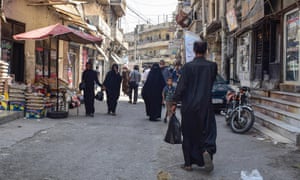 People walk along an alley in the northern Syrian flashpoint city of Manbij. Photograph: -/AFP/Getty Images
The announcement by Turkey and the US that they will set up a safe zone in Kurdish-run north-eastern Syria allays fears of an imminent Turkish incursion into the country, but will strain Washington's ties with a force that helped defeat Islamic State.
The announcement came as Ankara was finalising a troop buildup along its southern border, which it shares with Syrian Kurds. On Sunday, the Turkish president, Recep Tayyip Erdo?an, had threatened to invade within the next fortnight, creating a conundrum for Washington, which views both the Turks and the Kurds as allies and has increasingly struggled to keep them from conflict.
Though light on detail, the agreement suggests that a safe zone inside the Kurdish north-east would be jointly run by Turkish and US forces. No specifics were offered on the route that such a corridor might take or how deep it would extend into Syria. The lack of clarity led some observers to claim the US was buying time and was not committed to a plan that could seriously test its already faltering ties with the region's Kurds.
"It's basically an agreement to continue talking," said a former US official. "That's a net good. But with Trump having no commitment to Syria, and our forces now cut to the bone, there is little we can really do to support a safe zone. So it's a lot of wishful thinking."
Turkey suggested it would use the newly established zone to return Syrian refugees inside its borders whom officials have started rounding up and returning to Syria in recent weeks. Senior Kurdish officials said such moves would amount to demographically reshaping a border that is dominated by Kurds and which Ankara wants to transform into an Arab stronghold.
"We are aware of the Turkish government's intention, which is to change the demography of Syria just as the Ba'ath regime did in the 60s by building the Arab belt," said Jihad Omar, the co-chair of the Office of Diplomatic Relations in the Syrian Democratic Council. "It is something we stand against because it is a genocide against the Kurds.
Joint operation centre agreement follows Ankara threats to launch offensive against YPG

Kurdish YPG militia parading in celebration of a victory over Isis, in Qamishli, Syria. Photograph: Rodi Said/Reuters
Turkey and the US have agreed to establish a joint operation centre to manage tensions between US-backed Kurdish militia and Turkish forces in northern Syria.
The announcement from the Turkish government came after three days of tense negotiations with US officials hoping to forestall a Turkish attack on the Kurdish YPG group, which controls large swathes of northern Syria.
Turkey sees the YPG as a terrorist offshoot of the Kurdish PKK, which has fought a bloody insurgency inside its territory for the past 35 years.
The defence ministry said in a statement that Ankara had agreed with US officials to "implement without delay" the first measures aimed at eliminating Turkey's concerns.
"In that framework, to quickly create in Turkey a joint operation centre to coordinate and manage the implementation of the safe zone with the US."
Ankara has stepped up threats in recent days to launch an offensive against the YPG.
That put the United States in a difficult position as a Nato ally of Turkey but also a supporter of the YPG as its main frontline partner against the Islamic State.
Both sides agree that a buffer zone is needed to keep the YPG away from Turkey's borders, but they have diverged on how large it should be, or who should control it.
The defence ministry said Turkey's ultimate aim was to create a "peace corridor" that can "ensure that our Syrian brothers will be able to return to their country".
GENEVA (Reuters) – Any Israeli involvement in any maritime coalition in the Gulf is a "clear threat" to Iran's national security and the Islamic Republic has a right to confront the threat, Iran's Foreign Ministry spokesman Abbas Mousavi said on Friday, according to a statement on the Foreign Ministry website.
Israeli media had quoted Foreign Minister Israel Katz as telling a close-door meeting on Tuesday that Israel was part of discussions and intelligence-sharing with a possible U.S. maritime security coalition. Israeli officials declined to confirm or deny the reports.
SEOUL (Reuters) – U.S. Defense Secretary Mark Esper asked South Korea to send troops to join a U.S.-led maritime force in the Strait of Hormuz off the coast of Iran, Yonhap news agency said on Friday.
Esper made the request during a meeting with Defence Minister Jeong Kyeong-doo in South Korea, it added.
Jeong told Esper Seoul was considering various options, since South Korean people and vessels are also using the strait.
A South Korean defense ministry official did not have immediate comment.
KABUL, Afghanistan (AP) — Afghanistan faces a presidential election next month but few believe the vote will take place as the United States and the Taliban inch closer to a deal that could end the nearly 18-year war but bring uncertainty about almost everything else.
Few candidates — 18 are running for the country's top job — have openly campaigned after the Taliban last week attacked the office of President Ashraf Ghani's running mate on opening day of the campaign, killing at least 20 people. Amrullah Saleh, known for his fierce anti-Taliban stance, was unharmed.
This week, the Taliban declared the election a "sham" and warned fellow Afghans to stay away from campaign rallies and from the polls, saying such gatherings could be targeted. A day later, a Taliban car bomb aimed at Afghan security forces ripped through a Kabul neighborhood, killing 14 people and wounding 145 — most of them women, children and other civilians.
The developments came even as the Taliban and a U.S. envoy tasked with finding a peaceful resolution to the war in Afghanistan — America's longest conflict — reported progress on negotiations in Qatar on an agreement for the withdrawal of some 20,000 U.S. and NATO troops, along with Taliban guarantees that Afghanistan would not be a base for other extremist groups.
The Taliban spokesman in Qatar, Suhail Shaheen, told The Associated Press on Friday that he expects an agreement "at the end of this round of talks."
The deal would include a cease-fire and Taliban negotiations with other Afghan representatives, he said. However, it wasn't clear whether that meant the Taliban would agree to talk to Kabul government members in their official capacity or only as ordinary Afghans, as in the past.
President Donald Trump and the Qatari leader, Sheikh Tamim bin Hamad Al Thani, spoke by phone on Thursday about the Gulf nation's work to "support regional stability," the White House said, and the U.S. and Taliban lead negotiators have been traveling in recent days to brief several countries involved in the process on the latest developments.
The U.S. envoy, Zalmay Khalilzad, said on Friday he had been in Norway, which would facilitate the intra-Afghan discussions that would follow a deal.
But so far, the Taliban has refused to negotiate with the government, dismissing it as a U.S. puppet. And no one knows whether the thousands of Taliban fighters across Afghanistan will respect whatever deal is made.
KABUL, Afghanistan (AP) — The Latest on the explosion in the Afghan capital of Kabul (all times local):
Afghan officials say 14 people were killed and 145 others were wounded in a Taliban suicide car bombing outside a police station in Kabul earlier in the day.
Deputy Interior Minister Khoshal Sadat told reporters that 92 of the wounded are civilians.
The Taliban said they had targeted a recruitment center for security forces.
Wednesday morning's shattering explosion occurred a day after a United States envoy and the Taliban reported progress in their talks on negotiating an end to the nearly 18-year war in Afghanistan.
Even as those talks continue, a growing number of civilians are being killed in Afghanistan. The United Nations has said July saw the highest number of civilian casualties in a single month since 2017, with more than 1,500 killed or wounded as insurgent attacks spiked
Police say a huge explosion has gone off in the western part of Afghanistan's capital.
Spokesman Firdaus Faramarz told The Associated Press that there are no immediate details on any casualties or the nature of the explosion in Kabul on Wednesday.
Local media are showing footage of a large plume of smoke rising above that part of the city, which is home to many of the minority Hazara community.
Meanwhile, a security official confirms that an hours-long clearance operation is underway in eastern Kabul against insurgents on Wednesday. The official spoke on condition of anonymity because he was not authorized to talk with reporters.
Bush's Five Big Lies That Led to the Iraq Quagmire
These are the five lies Bush told that Ralph Nader documented to impeach him.
Weapons of Mass Destruction. The weapons have still not been found. Nader emphasized, "Until the

1991

Gulf War, Saddam Hussein was our government's anti-communist ally in the Middle East. We also used him to keep Iran at bay. In so doing, in the

1980

s under Reagan and the first Bush, corporations were licensed by the Department of Commerce to export the materials for chemical and biological weapons that President George W. Bush and Vice President Dick Cheney later accused him of having." Those weapons were destroyed after the Gulf War. George W. Bush's favorite chief weapons inspector, David Kay, after returning from Iraq and leading a large team of inspectors and spending nearly half a billion dollars told the president

We were wrong.

See: David Kay testimony before Senate Armed Services Committee,

2004-01-28

.Tyler Drumheller, the former chief of the

CIA

(

C

entral

I

ntelligence

A

gency) 's Europe division, revealed that in the fall of

2002

, George W. Bush, Vice President Cheney, then-National Security Adviser Condoleezza Rice and others were told by

CIA

Director George Tenet that Iraq's foreign minister — who agreed to act as a spy for the United States — had reported that Iraq had no active weapons of mass destruction program.

Iraq Ties to Al Qaeda. The White House made this claim even though the

CIA

and

FBI

(

F

ederal

B

ureau of

I

nvestigation) repeatedly told the Administration that there was no tie between Saddam Hussein and Al Qaeda. They were mortal enemies — one secular, the other fundamentalist.

Saddam Hussein was a Threat to the United States. In fact, Saddam was a tottering dictator, with an antiquated, fractured army of low morale and with Kurdish enemies in Northern Iraq and Shiite adversaries in the South of Iraq. He did not even control the air space over most of Iraq.

Saddam Hussein was a Threat to his Neighbors. In fact, Iraq was surrounded by countries with far superior military forces. Turkey, Iran and Israel were all capable of obliterating any aggressive move by the Iraqi dictator.

The Liberation of the Iraqi People. There are brutal dictators throughout the world, many supported over the years by Washington, whose people need

liberation

from their leaders. This is not a persuasive argument since for Iraq, it's about oil. In fact, the occupation of Iraq by the United States is a magnet for increasing violence, anarchy and insurrection
Leading To War – The Complete Film
Damn The War Criminals,

Bush,Cheney,Rice,Rumsfeld,Wolfowitz, Powell and Blair from England


Recent Casualties:
Color 

Denotes Today's Confirmation
DOD Identifies Army Casualties
The Department of Defense announced today the deaths of two soldiers who were supporting Operation Freedom's Sentinel.
Both soldiers died July 29, 2019, in Tarin Kowt, Uruzgan Province, Afghanistan, as a result of wounds sustained in a combat related incident. The incident is under investigation.
The deceased are:
Pfc. Brandon Jay Kreischer, 20, of Stryker, Ohio.
Spc. Michael Isaiah Nance, 24, of Chicago, Illinois.
Both soldiers were assigned to 1st Battalion, 505th Parachute Infantry Regiment, 3rd Brigade Combat Team, 82nd Airborne Division, Fort Bragg, North Carolina.
The Department of Defense announced today the death of a soldier who was supporting Operation Inherent Resolve.
Sgt. William Edward Friese, 30, from Rockport, West Virginia, died July 18, 2019 in Camp Buehring, Kuwait, from a non-combat related incident. The incident is under investigation.
Friese was assigned to 821st Engineer Company, 1092nd, Engineer Battalion, 111th Engineer Brigade, Summersville, West Virginia.
The Department of Defense announced today the death of a soldier who was supporting Operation Freedom's Sentinel.
Sgt. Maj. James G. Sartor, 40, of Teague, Texas, died July 13, 2019, in Faryab Province, Afghanistan, as a result of injuries sustained from enemy small arms fire during combat operations. This incident is under investigation.
Sartor was assigned to the 2nd Battalion, 10th Special Forces Group (Airborne), Fort Carson, Colorado.
War Casualties By Name

Complete Military and Civilian Casualty Lists


Save the Children is the world's leading independent organisation for children and has been working with families, communities and local authorities in Iraq since 1991, leading NGOs in general relief and development programs.Save the Children is currently responding to the needs of internally displaced persons (IDP) and the Syrian refugees in Iraq, in camps and non-camp settings. Our goal is for children in Iraq to be supported in raising their voices and attaining their rights, especially the right to participate in decisions affecting their lives. They should have access to quality education, health and protection services. We are increasing access to community based services that protect, educate and improve quality of life for children. We are ensuring that there is an increased participation of boys and girls in age appropriate activities and services. We are ensuring that children benefit from government actions that create an environment of awareness and accountability to uphold child rights. We are also developing new resources and innovative practices that support our work for children and youth.In Iraq, Save the Children's interventions include Child Protection, Education, Food Security and Livelihoods, Shelter and Water Sanitation and Hygiene (WASH), reaching vulnerble children and families in northern and central Iraq. Save the Children's programs are implemented through field offices in Erbil, Dohuk, Sulaymaniyah, Kirkuk and Kalar, with a country office located in Erbil.
Syria War Child
Please Never Forget