16 Aug
United States Wars, News and Casualties
The dead & suffering children of Iraq.
Published 11 years ago
War News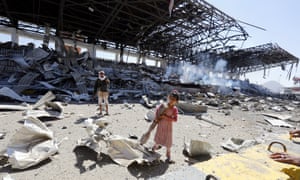 The aftermath of a Saudi-led airstrike on Houthi positions in Yemen in November 2017. Photograph: Yahya Arhab/EPA
An international law group has submitted new evidence to the UK government alleging that the Saudi-led coalition in Yemen has covered up evidence of its unlawful airstrikes on civilian targets.
The allegations will put pressure on the UK government as it prepares its response to a court order directing it to reconsider all existing British government licences to export arms to Saudi Arabia for use in Yemen.
In June the UK court of appeal said the previous method of granting new licences, largely depending on assurances from the Saudi government, was inadequate. The government is expected to provide its response next month in a move with big ramifications for future UK-Saudi relations.
A 288-page report submitted to the international trade secretary, Liz Truss, by the Global Legal Action Network (GLAN) and UK law firm Bindmans contains witness testimony as well as crater and bomb-fragment analysis from scores of strikes carried out by the coalition. It is the most comprehensive independent analysis of the Saudi bombing campaign compiled so far.
The report says the attacks appear to violate international humanitarian law by "targeting civilians and civilian infrastructure".
The evidence was largely compiled by Mwatana, an independent Yemeni human rights group. In many cases, its evidence, gathered very soon after Saudi bomb strikes, directly contradicts the post-strike investigations conducted by the Saudi-led coalition.
Mwatana, seen as impartial by the UN, has field researchers operating in 21 out of Yemen's 22 governorates.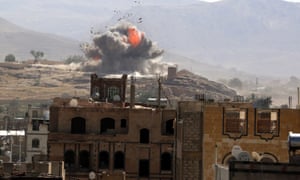 Saudi-led airstrikes on Houthi positions in Sana'a in September 2016. Photograph: Yahya Arhab/EPA
The evidence collated in the report was obtained by Arron Merat, a journalist and Commons researcher. It is also being submitted to the Commons committee on arms export controls.
"This evidence shows not only that Riyadh is targeting Yemeni civilians but that it is covering them up with whitewash 'investigations'," Merat said.
"What's worse is that the British government says that it bases its decisions on whether or not to approve arms sales to Saudi Arabia on information provided to it by Saudi Arabia."
The appeal court ruling on 20 June requires the Department for International Trade to review all existing export licences for arms that could be used in Yemen by the Saudi-led coalition, checking against past allegations of civilian attacks.
The appeal court ruled the government had unlawfully approved weapons transfers to the coalition by not formally assessing the record of alleged violations of international humanitarian law.
Under British law, it is illegal for the government to licence arms exports if there is a "clear risk" that they might be used to deliberately or recklessly kill civilians.
UK ministers have admitted in court filings they did not undertake any independent analysis, but had relied upon the ad hoc reports from the coalition's own Joint Incidents Assessment Team (JIAT).
Mwatana looked at more than 400 bombing incidents, and the GLAN/Bindmans report highlights 16 documented instances where evidence of an attack compiled by Mwatana was denied. In a further four instances, the report says JIAT claimed the attacks were justifiable assaults on military targets where on-the-ground evidence suggested otherwise.
The report says JIAT falsely denies responsibility for many attacks, including a 21 September 2016 attack on a funeral in Hodeidah city, which killed 23 people, including five children. The report includes photographs of the tail fins from guided missiles and a missile fragment which has been identified as coming from a US-made GBU-16 bomb. Only the coalition has the capacity to deliver such munitions.
"The explosion was powerful, and we were shaken around as if we were dummies," a witness to the attack told Mwatana. "I had never imagined that our neighbourhood would be bombed."
Similarly, JIAT also denied an attack on a market at the al-Khoukha roundabout in Hodeidah governorate on 10 March 2017, which killed 21 civilians including three children. A witness interviewed by Mwatana said that the market was "full of people" and that nobody was afraid when the bombing of the nearby military camp (about 200 metres away) started, because it was so frequently bombed.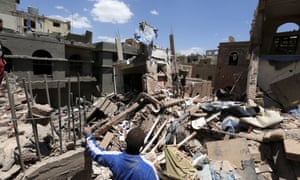 Yemenis stand over the rubble of houses destroyed by a Saudi-led airstrike on Sana'a, Yemen, in September 2015. Photograph: Yahya Arhab/EPA
JIAT also concluded no airstrike took place on in the Unesco-protected al-Feleihi district of Yemen's capital, Sana'a, on 18 September 2015. New evidence filed by Bindmans and Mwatana includes pieces of bomb fragmentation that have been identified as coming from an air-delivered explosive.
GLAN's director Gearóid Ó Cuinn said: "The UK government can either rely on discredited Saudi assurances or listen to those who have documented painstakingly the constant civilian deaths caused by coalition airstrikes."
Saudi Arabia has accused the Houthi rebels it has been fighting in Yemen of using civilian buildings to hide from airstrikes, but even if this were correct international law requires such strikes to be proportionate and justified by the high military value of the identified target.
Radhya Almutawakel, the chair of Mwatana for Human Rights, said: "The UK should have stopped selling arms to the Saudi coalition a long time ago. We hope this evidence helps them finally make the right decision."
Further evidence of alleged violations of international humanitarian law by the Saudi-led coalition are expected to be published later this month by the open-source investigators Bellingcat.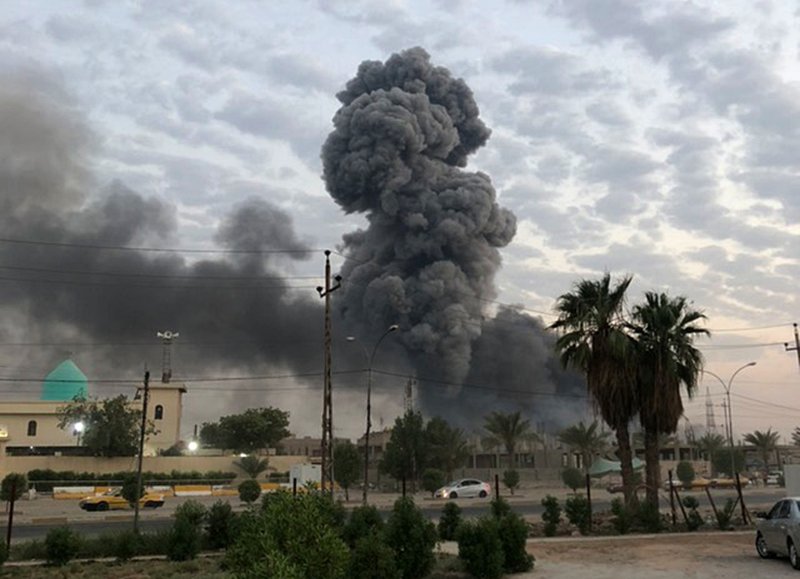 In this Monday, Aug. 12, 2019 photo, plumes of smoke rise after an explosion at a military base southwest of Baghdad, Iraq. Iraq is ordering all military camps and munitions warehouses to be moved outside Iraqi cities following a massive explosion Monday at an ammunition depot that killed one civilian and wounded 13. (AP Photo/Loay Hameed)
BAGHDAD (AP) — Iraq on Thursday banned unauthorized flights and ordered all military camps and munitions warehouses to be moved outside Iraqi cities following a massive explosion at a munitions depot southwest of Baghdad that killed one civilian and wounded 13 earlier this week.
The exact cause of Monday night's explosion at the al-Saqr military base is still unknown. The blast shook the Iraqi capital and sent explosives and mortar shells shooting into the sky, damaging nearby homes and terrifying residents who ran into the streets with their cellphones. Black smoke billowed over the city for hours afterward.
The federal police base houses a weapons depot belonging to a militia group under the umbrella of the mainly Iran-backed militias known as the Popular Mobilization Forces. The state-sanctioned PMF militias have fought alongside Iraq's regular armed forces against the Islamic State group.
Some officials blamed the explosion at the base, also known as Falcon Camp, on faulty storage that caused overheating amid typically high temperatures in Baghdad. But the blast has also given rise to a host of theories, including that Israel may have conducted an airstrike.
Israel has struck Iranian bases in neighboring Syria on numerous occasions, and there has been speculation that it might be expanding its campaign to target Iranian bases to Iraq. However, neither the Iraqi government nor Israel have addressed the reports.
Iraqi Prime Minister Adel Abdul-Mahdi ordered a "thorough investigation" into the incident, ordering the investigation be concluded within a week.
In a statement issued Thursday following a national security meeting, Abdul-Mahdi ordered the cancellation of all aviation approvals for flights throughout the country, unless authorized by the commander of the armed forces. The statement did not specify military or civilian flights but specifically cited reconnaissance, fighter jets and helicopters and drones of all kinds.
It said the directives applied to "Iraqi and non-Iraqi parties." Iraq hosts American troops and forces belonging to the coalition fighting the Islamic State group, which sometimes conduct operations and airstrikes in the country.
The statement urged all parties to abide by the directives, stating that any other flight activity "will be considered (an) enemy flight and dealt with from our air defenses immediately."
The statement called for the transfer of warehouses and camps belonging to the defense and interior ministries and the PMF and other factions that participated in fighting IS to be moved outside the cities. It said violators will be "considered an irregular presence and dealt with in accordance with the law and order."
Abdul-Mahdi also ordered that citizens who suffered human and material damage from the explosion be compensated.
A PMF official said their initial investigation showed a drone strike was responsible for Monday's blast, adding that blaming it on faulty storage was a way to avoid embarrassing the government. He estimated the losses to be in the millions and spoke on condition of anonymity because of the sensitivity of the information.
Abu Alaa al-Walae, a PMF commander, described in a tweet Abdul-Mahdi's "decision to ban American drones in Iraqi airspace" as brave.
Monday's blast is the latest of several mysterious explosions that have taken place recently at PMF bases in Iraq. Last month, an explosion took place at a base in Amirli, in Iraq's northern Salaheddin province, killing two Iranians and causing a huge fire.
That attack was blamed on an unmanned drone that dropped explosives, with some Shiite militias blaming it on the Islamic State group.
KABUL, Afghanistan (AP) — The United States ambassador to Afghanistan on Thursday openly questioned the Afghan government's commitment to fighting corruption after reports that a key figure in a massive banking scandal received an early prison release in return for a large campaign donation.
Ambassador John Bass' comments came after local media reports alleged that former Kabul Bank chief executive Khalilullah Ferozi was released into house arrest after a $30 million donation to President Ashraf Ghani's election campaign.
Presidential spokesman Sediq Seddiqi told The Associated Press that those reports are "a big lie" and said Ferozi was transferred into house arrest because of his deteriorating health.
The U.S. comments further strain relations with the Afghan government as a U.S. envoy and the Taliban near a deal to end America's longest war . The talks have excluded Ghani's government as the Taliban describe it as a U.S. puppet.
"To be honest, I'm very sad to see this," Seddiqi said of the ambassador's comments posted on Twitter.
The Kabul Bank scandal in 2010 drew global headlines and became a test of the Afghan government's ability and willingness to address widespread corruption. The country's largest private bank nearly collapsed, and Ferozi and chairman Sherkhan Farnood were sent to prison and told to repay more than $800 million.
Farnood recently died in prison, and Ghani's spokesman said the president approved Ferozi's transfer into house arrest after the judiciary system looked into his health.
The move was a "humanitarian act" and one to help ensure that Ferozi would stay alive to repay the hundreds of millions of dollars, Seddiqi said. He dismissed the idea of a campaign donation by Ferozi, saying that "if he had this much money, he would have" repaid it as required.
Ferozi has less than a year left in his sentence, Seddiqi said.
The U.S. ambassador said he was "disturbed" by allegations first raised this week by presidential candidate and former national intelligence chief Rahmatullah Nabil.
"Countless Afghans suffered in the past decade because international assistance funds were stolen for personal gain," the ambassador said.
Washington's Special Inspector General for Afghan Reconstruction, which monitors billions of dollars in U.S. aid to the country, said in a report earlier this year that Afghanistan may not be ready for peace unless it finds a way to reintegrate Taliban fighters into society and combat "endemic corruption."
By
Credit

Credit

Noorullah Shirzada/Agence France-Presse — Getty Images
The following report compiles all significant security incidents confirmed by New York Times reporters throughout Afghanistan from the past seven days. It is necessarily incomplete as many local officials refuse to confirm casualty information. The report includes government claims of insurgent casualty figures, but in most cases these cannot be independently verified by The Times. Similarly, the reports do not include Taliban claims for their attacks on the government unless they can be verified. Both sides routinely inflate casualty totals for their opponents.
At least nine pro-government forces and 11 civilians were killed in Afghanistan over the last week of fighting, during which only four attacks were carried out on government forces. The 20 verified deaths marked the lowest count in a single week since September 2018, when The Times started tracking casualties of pro-government forces and civilians. The Taliban implemented an unannounced cease-fire to observe three days of Eid al-Adha. The deadliest attack of the week took place in Paktia Province, in the Kolalgo area of Zurmat District, where 11 civilians were killed in a night raid carried out by special forces of the National Directorate of Security, Afghanistan's intelligence agency. Most of those killed were students or government employees who were visiting relatives. One was an employee of the Education Ministry and a second had recently gotten engaged to a third-year medical student in Kabul.
Aug. 15 Ghor Province: two pro-government militia members killed
The Taliban attacked pro-government militia members in Qotos village of Firozkoh, the provincial capital, killing two and taking two others prisoner, both of whom had been collecting their wheat harvest.
Aug. 14 Herat Province: one pro-government militia member killed
While traveling to the district center in Chesht-e-Sharif District, one pro-government militia member was taken prisoner by the Taliban and later killed in the village of Shirkhage.
Aug. 11 Paktia Province: 11 civilians killed
At least 11 civilians were killed in a night raid carried out by special forces of National Directorate of Security, Afghanistan's intelligence agency, in the Kolalgo area of Zurmat District. Seven houses were raided during the operation, during which forces descended from helicopters. Most of those killed were students or government employees who were visiting relatives for the Muslim holiday of Eid al-Adha.
Aug. 10 Jowzjan Province: two security forces killed
The Taliban attacked Qarqin district center, where fighting continued for five hours. The Taliban were eventually pushed back, but only after one soldier and one pro-government militia member were killed in the clash. Two other members of the security forces were wounded.
Aug. 10 Zabul Province: four soldiers killed
The Taliban attacked a military convoy on the highway connecting Kabul to Kandahar, destroying a truck in the process. Four soldiers were killed during battle when a Humvee was hit by a roadside bomb.
Bush's Five Big Lies That Led to the Iraq Quagmire
These are the five lies Bush told that Ralph Nader documented to impeach him.
Weapons of Mass Destruction. The weapons have still not been found. Nader emphasized, "Until the

1991

Gulf War, Saddam Hussein was our government's anti-communist ally in the Middle East. We also used him to keep Iran at bay. In so doing, in the

1980

s under Reagan and the first Bush, corporations were licensed by the Department of Commerce to export the materials for chemical and biological weapons that President George W. Bush and Vice President Dick Cheney later accused him of having." Those weapons were destroyed after the Gulf War. George W. Bush's favorite chief weapons inspector, David Kay, after returning from Iraq and leading a large team of inspectors and spending nearly half a billion dollars told the president

We were wrong.

See: David Kay testimony before Senate Armed Services Committee,

2004-01-28

.Tyler Drumheller, the former chief of the

CIA

(

C

entral

I

ntelligence

A

gency) 's Europe division, revealed that in the fall of

2002

, George W. Bush, Vice President Cheney, then-National Security Adviser Condoleezza Rice and others were told by

CIA

Director George Tenet that Iraq's foreign minister — who agreed to act as a spy for the United States — had reported that Iraq had no active weapons of mass destruction program.

Iraq Ties to Al Qaeda. The White House made this claim even though the

CIA

and

FBI

(

F

ederal

B

ureau of

I

nvestigation) repeatedly told the Administration that there was no tie between Saddam Hussein and Al Qaeda. They were mortal enemies — one secular, the other fundamentalist.

Saddam Hussein was a Threat to the United States. In fact, Saddam was a tottering dictator, with an antiquated, fractured army of low morale and with Kurdish enemies in Northern Iraq and Shiite adversaries in the South of Iraq. He did not even control the air space over most of Iraq.

Saddam Hussein was a Threat to his Neighbors. In fact, Iraq was surrounded by countries with far superior military forces. Turkey, Iran and Israel were all capable of obliterating any aggressive move by the Iraqi dictator.

The Liberation of the Iraqi People. There are brutal dictators throughout the world, many supported over the years by Washington, whose people need

liberation

from their leaders. This is not a persuasive argument since for Iraq, it's about oil. In fact, the occupation of Iraq by the United States is a magnet for increasing violence, anarchy and insurrection
Leading To War – The Complete Film
Damn The War Criminals,

Bush,Cheney,Rice,Rumsfeld,Wolfowitz, Powell and Blair from England


Recent Casualties:
Color

 Denotes Today's Confirmation
DOD Identifies Marine Casualty
The Department of Defense announced today the death of a Marine who was supporting Operation Inherent Resolve.
Gunnery Sergeant Scott A. Koppenhafer, 35, of Mancos, Colorado, died August 10, 2019, after being engaged by enemy small arms fire while conducting combat operations. This incident is under investigation.
Koppenhafer was assigned to the 2nd Marine Raider Battalion, Marine Forces Special Operations Command, Camp Lejeune, North Carolina.
DOD Identifies Army Casualties
The Department of Defense announced today the deaths of two soldiers who were supporting Operation Freedom's Sentinel.
Both soldiers died July 29, 2019, in Tarin Kowt, Uruzgan Province, Afghanistan, as a result of wounds sustained in a combat related incident. The incident is under investigation.
The deceased are:
Pfc. Brandon Jay Kreischer, 20, of Stryker, Ohio.
Spc. Michael Isaiah Nance, 24, of Chicago, Illinois.
Both soldiers were assigned to 1st Battalion, 505th Parachute Infantry Regiment, 3rd Brigade Combat Team, 82nd Airborne Division, Fort Bragg, North Carolina.
The Department of Defense announced today the death of a soldier who was supporting Operation Inherent Resolve.
Sgt. William Edward Friese, 30, from Rockport, West Virginia, died July 18, 2019 in Camp Buehring, Kuwait, from a non-combat related incident. The incident is under investigation.
Friese was assigned to 821st Engineer Company, 1092nd, Engineer Battalion, 111th Engineer Brigade, Summersville, West Virginia.
The Department of Defense announced today the death of a soldier who was supporting Operation Freedom's Sentinel.
Sgt. Maj. James G. Sartor, 40, of Teague, Texas, died July 13, 2019, in Faryab Province, Afghanistan, as a result of injuries sustained from enemy small arms fire during combat operations. This incident is under investigation.
Sartor was assigned to the 2nd Battalion, 10th Special Forces Group (Airborne), Fort Carson, Colorado.
War Casualties By Name

Complete Military and Civilian Casualty Lists


Save the Children is the world's leading independent organisation for children and has been working with families, communities and local authorities in Iraq since 1991, leading NGOs in general relief and development programs.Save the Children is currently responding to the needs of internally displaced persons (IDP) and the Syrian refugees in Iraq, in camps and non-camp settings. Our goal is for children in Iraq to be supported in raising their voices and attaining their rights, especially the right to participate in decisions affecting their lives. They should have access to quality education, health and protection services. We are increasing access to community based services that protect, educate and improve quality of life for children. We are ensuring that there is an increased participation of boys and girls in age appropriate activities and services. We are ensuring that children benefit from government actions that create an environment of awareness and accountability to uphold child rights. We are also developing new resources and innovative practices that support our work for children and youth.In Iraq, Save the Children's interventions include Child Protection, Education, Food Security and Livelihoods, Shelter and Water Sanitation and Hygiene (WASH), reaching vulnerble children and families in northern and central Iraq. Save the Children's programs are implemented through field offices in Erbil, Dohuk, Sulaymaniyah, Kirkuk and Kalar, with a country office located in Erbil.
Syria War Child
Please Never Forget