08 Nov
United States Wars, News and Casualties
 ************************
The War Criminal and His Two Buddies
Former U.S. Presidents, from left, Barack Obama, George Bush and Bill Clinton greet spectators on the first tee before the first round of the Presidents Cup at Liberty National Golf Club in Jersey City, N.J., Thursday, Sept. 28, 2017. (AP Photo/Julio Cortez)
The above picture makes me sick. It should make every decent human being sick. Why, one may ask? One reason follows.

We condemned children to death, some after many days of writhing in pain on bloodstained mats, without pain relievers. Some died quickly, wasted by missing arms and legs, crushed heads. As the fluids ran out of their bodies, they appeared like withered, spoiled fruits. They could have lived, certainly should have lived – and laughed and danced, and run and played- but instead they were brutally murdered. Yes, murdered!
The war ended for those children, but it has never ended for survivors who carry memories of them. Likewise, the effects of the U.S. bombings continue, immeasurably and indefensibly.
And the three play golf and have their picture taken. Bullshit!
The McGlynn
 ************************
War News
This data is based on 51,544 database entries from the beginning of the war to 28 Feb 2017, and on monthly preliminary data from that date onwards. Preliminary data is shown in grey when applicable, and is based on approximate daily totals in the Recent Events section prior to full analysis. The full analysis extracts details such as the names or demographic details of individuals killed, the weapons that killed them and location amongst other details. The current range contains 36,537–38,380 deaths (20%–19%, a portion which may rise or fall over time) based on single-sourced reports.
Graphs are based on the higher number in our totals. Gaps in recording and reporting suggest that even our highest totals to date may be missing many civilian deaths from violence.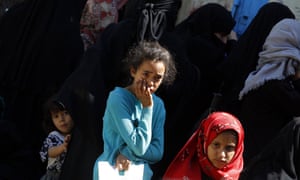 Yemeni children wait to receive food rations provided by a local charity amid severe food insecurity in Sana'a. Seven million people in Yemen are already on the brink of famine. Photograph: Yahya Arhab/EPA
Humanitarian groups and the UN have urged the Saudi-led coalition to reopen aid channels into Yemen, after a decision to seal the stricken country's air, sea and land borders.
The UN described the closure of aid channels as "catastrophic". Food, medicine and other essential supplies are "critical for the survival" of the country's 27 million population, weakened by war, the International Committee of the Red Cross (ICRC) added. Yemen is in the grip of the world's worst cholera outbreak and 7 million people are already on the brink of famine.
The coalition said on Monday it would close the borders to stem the flow of arms from Iran, after it intercepted a missile attack by Houthi rebels near the international airport in Riyadh, the Saudi capital. Iran has denied supplying the missiles. Humanitarian operations, including UN aid flights, are blocked because the air and sea ports, including Hodeidah, where most aid is delivered, are closed.
The UN reported it was not permitted flight clearance for two humanitarian flights bound for Yemen on Monday. A Red Cross shipment of chlorine tablets, to prevent cholera, was not allowed in at the country's northern border, the ICRC said. Medical supplies, including insulin, are expected.
Related:
UNITED NATIONS (Reuters) – Russia rejected on Tuesday a report by an international inquiry blaming the Syrian government for a deadly toxic gas attack, casting doubt on whether the U.N. Security Council can agree to extend the investigation's mandate before it expires next week.
Russia vetoed an initial U.S. bid to renew the joint inquiry by the U.N. and the Organization for the Prohibition of Chemical Weapons (OPCW) on Oct. 24, saying it wanted to wait for the release of the investigation's report two days later.
It has since proposed its own rival draft resolution, which deputy Russian U.N. Ambassador Vladimir Safronkov said on Tuesday aimed to enhance the effectiveness of the inquiry and correct "errors and systemic problems."
"Without a comprehensive change it will become a tool to settle accounts with the Syrian authorities," Safronkov told the 15-member Security Council on Tuesday during a meeting on the report by the U.N./OPCW Joint Investigative Mechanism (JIM).
BEIRUT (Reuters) – Syria's army and its allies will keep fighting in Syria after the battle ends in Deir al-Zor province, where Islamic State has its last significant stronghold, President Bashar al-Assad said on Tuesday.
He also indicated that he might take the war to the U.S.-backed Syrian Democratic Forces (SDF), which controls more than a quarter of Syria, by saying the war targeted those who seek to "divide and weaken states".
His comments came after a meeting with Ali Akbar Velayati, the foreign policy adviser to Iran's Supreme Leader Ayatollah Ali Khamenei.
"The victories against terrorist organizations, starting in Aleppo and not ending in Deir al-Zor, formed a critical strike that foiled partition projects and terrorist goals," Assad's office quoted him as saying.
BERLIN (Reuters) – Germany's foreign minister urged parliament on Tuesday to extend a military mission training Kurdish Peshmerga fighters in northern Iraq, saying to withdraw the German force would raise the risk of a new civil war there.
Germany resumed its military mission last month after a brief suspension following a referendum for independence in the semi-autonomous Kurdistan region of northern Iraq. The vote was rejected by Baghdad and triggered an Iraqi military offensive that recaptured disputed areas of the north from the Peshmerga.
German Foreign Minister Sigmar Gabriel, who will step down soon as his Social Democratic party returns to opposition after heavy losses in the Sept. 24 election, was appealing to likely participants in the next government, particularly the Greens, not to oppose an extension of Berlin's military mission in Iraq.
WASHINGTON (AP) — Iraq's highest-ranking Sunni leader said Tuesday the growing influence of Iranian-backed Shiite militias looms as the nation's most pressing future security threat and called for bolstering U.S. military aid to Sunni forces.
In Washington for talks this week with Trump administration officials and congressional leaders, Iraqi Vice President Osama al-Nujaifi is hoping the administration will deliver on pledges to counter Iran's growing influence inside Iraq and across the Middle East.
Al-Nujaifi is one of Iraq's three vice presidents, and his brother heads a prominent Iraqi defense faction. Both have been represented in Washington by the same lobbyist employed last year by Michael Flynn, President Donald Trump's first national security adviser. In February, Trump fired Flynn, who is now under investigation by special counsel Robert Mueller.
In remarks Tuesday at the U.S. Institute of Peace, al-Nujaifi described Shiite militias in Iraq operating as a "parallel army" that could divide the nation even as Iraq's military is driving out IS fighters with the aid of American troops.
The Iranian-backed factions "have gained a lot of power and maybe they can pose more problems," al-Nujaifi said.
BRUSSELS (Reuters) – NATO is set to agree on Thursday to increase its Afghanistan training mission by some 3,000 troops, alliance officials said, after the United States switched tack in long-running efforts to defeat Taliban militants and end the conflict.
Fresh NATO personnel will not have a combat role but the alliance hopes more soldiers can train the Afghan army and air force to complement U.S. President Donald Trump's strategy to send more American counter-terrorism troops to the country.
"We have decided to increase the number of troops … to help the Afghans break the stalemate, to send a message to the Taliban, to the insurgents that they will not win on the battleground," NATO Secretary-General Jens Stoltenberg told a news conference on Tuesday.
KABUL, Afghanistan — Gunmen wearing suicide vests attacked one of Afghanistan's leading television stations on Tuesday morning, killing two people, Afghan officials said.
The attack happened during business hours, but reports said that most of the roughly 150 employees of the station, Shamshad TV, had safely escaped the building in downtown Kabul, the Afghan capital.
The Islamic State claimed responsibility for the attack, according to online statements monitored by the SITE Intelligence Group. Shamshad TV stopped broadcasting during the attack but resumed a few hours later, saying it was over. Their anchorman appeared on air with his hands bandaged from injuries he had just suffered.
The district police chief for the area, Avas Akbari, said the attackers had killed a guard and wounded 16 Shamshad employees. They brought a large quantity of ammunition with them, he said, and also wore suicide vests, but for some reason did not detonate them.
By Khaama Press on 08 Nov 2017 2:25pm
The leader of Hezb-e-Islami Gulbuddin Hekmatyar says his party is prepared to support the Taliban and their demands if the group agrees to join peace process. Speaking during a gathering of the central council of Hezb-e-Islami in Kabul, Hekmatyar said the party will support the Taliban and their demands once they join the reconciliation process.
By Khaama Press on 08 Nov 2017 1:24pm
The NATO Secretary General Jens Stoltenberg hailed the Afghan people and the Afghan National Defense and Security Forces for their bravery and resilience amid a tough situation the country is facing. Speaking to reporters ahead of the NATO defense ministerial in Brussels, Stoltenberg said the alliance will review its mission, Resolute Support Mission in Afghanistan,
By Khaama Press on 08 Nov 2017 12:13pm
The first vice president of Afghanistan General Abdul Rashid Dostum condemned the attack on Shamshad TV station in Kabul, calling it an act against humanity and direct attack on the Afghan people. The office of the first vice president in a statement said the Taliban and ISIS terroris group have reaffirmed their opposition to freedom
By Khaama Press on 08 Nov 2017 10:33am
The Afghan security forces have repulsed a coordianted attack by the Taliban insurgents on a police academy in Maidan Wardak province of Afghanistan. According to the local officials, the Taliban insurgents launched a coordinated attack on the police academy in Syedabad district late on Tuesday night. Provincial governor Zondi Gul Zamani confirmed the incident and
Recent Casualties
Color Denotes Today's Confirmation
The Department of Defense announced today the death of a soldier who was supporting Operation Freedom's Sentinel.
Sgt. First Class Stephen B. Cribben, 33, of Simi Valley, California, died Nov. 4 in Logar Province, Afghanistan as a result of wounds sustained while engaged in combat operations. He was assigned to 2d Battalion, 10th Special Forces Group, Fort Carson, Colorado. The incident is under investigation.
The Department of Defense announced today the death of a soldier who was supporting Operation Freedom's Sentinel.
Chief Warrant Officer Jacob M. Sims, 36, of Juneau, Alaska, died Oct. 27 in Logar Province, Afghanistan, as a result of wounds sustained when he was involved in a helicopter crash. He was assigned to 4th Battalion, 160th Special Operations Aviation Regiment, Joint Base Lewis-McChord, Washington. The incident is under investigation.
Care for Veterans:
PTSD: National Center for PTSDPTSD Care for Veterans, Military, and FamiliesSee Help for Veterans with PTSD to learn how to enroll for VA health care and get an assessment.
All VA Medical Centers provide PTSD care, as well as many VA clinics.Some VA's have programs specializing in PTSD treatment. Use the VA PTSD ProgramLocator to find a PTSD program.If you are a war Veteran, find a Vet Center to help with the transition from military to civilian life.